Location : 3 West Road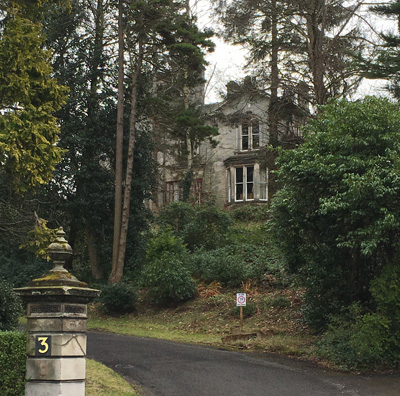 = Property still standing
Data linkage not complete. For Directory entries, Census records and Valuation Roll entries, there may be other entries not listed here.
Notes:
Part of a divided property. Other parts: Redhu (1 Shepherds Road) Thorndene (3 Shepherds Road)
Location and Old Maps
Latitude, longitude: 56.435256,-2.946461
View location on the 1855 6-inch map, the 1895 25-inch map, or a 1944-50 aerial photograph at the National Library of Scotland website.
Old Addresses (any dates are approximate and are usually the latest occurence of the address)
| | | |
| --- | --- | --- |
| Newburgh Road | | |
| Newburgh Road, West Newport | 1961 | |
House Names (any dates are approximate and are usually the latest occurence of the name)
Directory entries (before 1968) There are 146 entries
Source
Entry
1964 dir
Ramsay, Allan, Balmore house, Newburgh road
1954-55 dir
Lawson, Mrs M. W., Balmore, Newburgh road, West Newport
1953-54 dir
Lawson, Mrs M. W., Balmore, Newburgh road, West Newport
1952-53 dir
Lawson, Mrs M. W., Balmore, Newburgh road, West Newport
1951-52 dir
Lawson, J. Dougal (warehouseman, Dundee), Balmore, Newburgh road, West Newport
1950-51 dir
Lawson, J. Dougal (warehouseman, Dundee), Balmore, Newburgh road, West Newport
1949-50 dir
Lawson, J. Douglas (warehouseman, Dundee), Balmore, Newburgh road, West Newport
1948-49 dir
Lawson, J. Douglas (warehouseman, Dundee), Balmore, Newburgh road, West Newport
1947-48 dir
Lawson, J. Douglas (warehouseman, Dundee),. Balmore, Newburgh road, West Newport
1946-47 dir
Lawson, J. Douglas (warehouseman, Dundee), Balmore, Newburgh road, West Newport
1942-43 MacDonald dir
Lawson, Jas. D., Balmore, W. N.
1942-43 dir
Lawson, J. Douglas (warehouseman, Dundee), Balmore, Newburgh road, West Newport
1942-43 dir
Lawson, Miss, Balmore, Newburgh road, West Newport; Secretary, [under Newport Bird Protection Association]
1941-42 MacDonald dir
Lawson, Jas. D., Balmore, W. N.
1941-42 dir
Lawson, J. Douglas (warehouseman, Dundee), Balmore, Newburgh road, West Newport
1941-42 dir
Lawson, Miss, Balmore, Newburgh road, West Newport; Secretary, [under Newport Bird Protection Association]
1940-41 MacDonald dir
Lawson, Jas. D., Balmore, W. N.
1940-41 dir
Lawson, J. Douglas (warehouseman, Dundee), Balmore, Newburgh road, West Newport
1940-41 dir
Lawson, Miss, Balmore, Newburgh road, West Newport; Secretary, [under Newport Bird Protection Association]
1939-40 MacDonald dir
Lawson, Jas. D., Balmore, W. N.
1939-40 dir
Lawson, Miss, Balmore, Newburgh road, West Newport; Secretary, [under Newport Bird Protection Association]
1939-40 dir
Lawson, J. Douglas (warehouseman, Dundee), Balmore, Newburgh road, West Newport
1938-39 MacDonald dir
Lawson, Jas. D., Balmore, W. N.
1938-39 dir
Lawson, J. Douglas (warehouseman, Dundee), Balmore, Newburgh road, West Newport
1937-38 MacDonald dir
Lawson, Jas. D., Balmore, W. N.
1937-38 dir
Lawson, J. Douglas (warehouseman, Dundee), Balmore, Newburgh road, West Newport
1936-37 MacDonald dir
Lawson, Jas. D., Balmore, W. N.
1936-37 dir
Lawson, J. Douglas (warehouseman, Dundee), Balmore, Newburgh road, West Newport
1935-36 MacDonald dir
Lawson, Jas. D., Balmore, W. N.
1935-36 dir
Lawson, T. Douglas (warehouseman, Dundee), Balmore, Newburgh road, West Newport
1934-35 MacDonald dir
Lawson, Jas. D., Balmore, W. N.
1934-35 dir
Lawson, J. Douglas (warehouseman, Dundee), Balmore, Newburgh road, West Newport
1933-34 MacDonald dir
Lawson, Jas. D., Balmore, W. N.
1933-34 dir
Lawson, J. Douglas (warehouseman, Dundee), Balmore, Newburgh road, West Newport
1932-33 dir
Lawson, J. Douglas (warehouseman, Dundee), Balmore, Newburgh road, West Newport
1931-32 MacDonald dir
Lawson, Jas. D., Balmore, W. N.
1931-32 dir
Lawson, J. Douglas (Lawsons Ltd., Dundee), Balmore, Newburgh road, West Newport
1930-31 MacDonald dir
Lawson, Jas. D., Balmore. W. N.
1930-31 dir
Lawson, J. Douglas (Lawsons, Ltd., Dundee), Balmore, Newburgh road, West Newport
1929-30 MacDonald dir
Lawson, Jas. D., Balmore, W. N.
1929-30 dir
Lawson, J. Douglas (Lawsons, Ltd., Dundee), Balmore, Newburgh road, West Newport
1928-29 MacDonald dir
Lawson, Mrs, Balmore, W. N.
1928-29 dir
Lawson, J. Douglas (Lawsons, Ltd., Dundee), Balmore, Newburgh road, West Newport
1927-28 MacDonald dir
Lawson, Mrs, Balmore, W. N.
1927-28 dir
Lawson, Mrs Daniel, Balmore, Newburgh road, West Newport
1926-27 MacDonald dir
Lawson, Mrs, Balmore, W. N.
1926-27 dir
Lawson, Mrs Daniel, Balmore, Newburgh road, West Newport
1925-26 MacDonald dir
Lawson, Daniel, Balmore, W. N.
1925-26 dir
Lawson, Mrs Daniel, Balmore, Newburgh road, West Newport
1924-25 MacDonald dir
Lawson, Daniel, Balmore, W. N.
1923-24 MacDonald dir
Lawson, Daniel, Balmore, W. N.
1923-24 dir
Lawson, Daniel, Balmore, Newburgh road, West Newport
1923-24 dir
Lawson, Daniel, Balmore; [under Justices Of The Peace Resident At Newport]
1922-23 dir
Lawson, Daniel, Balmore, Newburgh road, West Newport
1922-23 dir
Lawson, Daniel, Balmore; [under Justices Of The Peace Resident At Newport]
1921-22 MacDonald dir
Lawson, Daniel, Balmore, W. N.
1921 Slater dir
Lawson Daniel, Balmoor, W
1920-21 dir
Lawson, Daniel, Balmore, West Newport
1920-21 dir
Lawson, Daniel, Balmore; [under Justices Of The Peace Resident At Newport]
1919-20 MacDonald dir
Robertson, Mrs, Balmore, Wester Newport
1918-19 dir
Robertson, Misses, Balmore, West Newport
1917-18 MacDonald dir
Robertson, Mrs, Balmore, Wester Newport
1916-17 MacDonald dir
Robertson, Mrs, Balmore, Wester Newport
1915-16 MacDonald dir
Robertson, Mrs, Balmore, Wester Newport
1915-16 dir
Robertson, Mrs William, Balmore, West Newport
1915 Slater dir
Robertson Mrs. Balmore, W
1914-15 MacDonald dir
Robertson, Mrs, Balmore, Wester Newport
1914-15 dir
Robertson, Mrs William, Balmore, West Newport
1913-14 MacDonald dir
Robertson, Mrs, Balmore, Wester Newport
1913-14 dir
Robertson, Mrs William, Balmore, West Newport
1912-13 MacDonald dir
Robertson, Mrs, Balmore, Wester Newport
1912-13 dir
Robertson, Mrs William, Balmore, West Newport
1911-12 MacDonald dir
Robertson, Mrs, Balmore, Wester Newport
1911-12 dir
Robertson, Mrs William, Balmore, West Newport
1911 Slater dir
Robertson Mrs. Balmore, W
1910-11 MacDonald dir
Robertson, Mrs, Balmore, Wester Newport
1910-11 dir
Robertson, Mrs William, Balmore, West Newport
1909-10 MacDonald dir
Robertson, Mrs, Balmore, Wester Newport
1909-10 dir
Robertson, Mrs William, Balmore, West Newport
1908-09 MacDonald dir
Robertson, Mrs, Balmore, Wester Newport
1908-09 dir
Robertson, Mrs William, Balmore, West Newport
1908 Tayside Annual
Robertson, Mrs Wm., Balmore, W.
1907-08 MacDonald dir
Robertson, Mrs, Balmore, Wester Newport
1907-08 dir
Robertson, Mrs William, Balmore, West Newport
1907 Tayside Annual
Robertson, Mrs Wm., Balmore, W.
1907 Slater dir
Robertson Mrs. Balmore, W
1906-07 MacDonald dir
Robertson, Mrs, Balmore, Wester Newport
1906-07 dir
Robertson, Mrs William, Balmore, West Newport
1905-06 MacDonald dir
Robertson, Mrs, Balmore, Wester Newport
1905-06 dir
Robertson, Mrs William, Balmore, West Newport
1904-05 MacDonald dir
Robertson, Mrs, Balmore, Wester Newport
1904-05 dir
Robertson, Mrs William, Balmore, West Newport
1903-04 MacDonald dir
Robertson, Mrs, Balmore, Wester Newport
1903-04 dir
Robertson, Mrs William, Balmore, West Newport
1903 Slater dir
Robertson Mrs. William, Balmore, W Newport
1902-03 MacDonald dir
Robertson, Mrs, Balmore, Wester Newport
1902-03 dir
Robertson, Mrs William, Balmore, West Newport
1901-02 MacDonald dir
Robertson, Mrs, Balmore, Wester Newport
1901-02 dir
Robertson, Mrs William, Balmore, West Newport
1900-01 dir
Robertson, Mrs William, Balmore, West Newport
1899-00 dir
Robertson, William, Balmore; [under Justices Of The Peace Resident At Newport]
1899-00 dir
Robertson, William (engineer, Dundee), Balmore, West Newport
1899 Telephone dir
Robertson William, engineer - Dundee, Balmore; tel. no. 69
1898-99 dir
Robertson, William, Balmore; [under Justices Of The Peace Resident At Newport]
1898-99 dir
Robertson, William (engineer, Dundee), Balmore, West Newport
1897-98 dir
Robertson, William, Balmore; [under Justices Of The Peace Resident At Newport.]
1897-98 dir
Robertson, William (engineer, Dundee), Balmore, West Newport
1896-97 dir
Robertson, William, Balmore; [under Justices Of The Peace Resident At Newport]
1896-97 dir
Robertson, William (engineer, Dundee), Balmore, West Newport
1896 Slater dir
Robertson William, Balmore, W
1895-96 dir
Robertson, William, Balmore; [under Justices Of The Peace Resident At Newport]
1895-96 dir
Robertson, William (engineer, Dundee), Balmore, West Newport
1894-95 dir
Robertson, William, Balmore; [under Justices Of The Peace Resident At Newport]
1894-95 dir
Robertson, William (engineer, Dundee), Balmore, West Newport
1893-94 dir
Robertson, William, Balmore; [under Justices Of The Peace Resident At Newport]
1893-94 dir
Robertson, William (engineer, Dundee), Balmore, West Newport
1892-93 dir
Robertson, William, Balmore; [under Justices Of The Peace Resident At Newport]
1892-93 dir
Robertson, William (engineer, Dundee), Balmore, West Newport
1891-92 dir
Robertson, William, Balmore; [under Justices Of The Peace Resident At Newport]
1891-92 dir
Robertson, William (engineer, Dundee), Balmore, West Newport
1890-91 dir
Robertson, William, Balmore; [under Justices Of The Peace Resident At Newport]
1890-91 dir
Robertson, William (engineer, Dundee), Balmore, West Newport
1889-90 dir
Robertson, William, Balmore ; [under Justices Of The Peace Resident At Newport.]
1889-90 dir
Robertson, William (engineer, Dundee), Balmore, West Newport
1889 Slater dir
Robertson William, Esq. J.P., Balmore, Newport, Fife
1888-89 dir
Robertson, William, Balmore; [under Justices Of The Peace Resident At Newport]
1888-89 dir
Robertson, William (engineer, Dundee), Balmore, West Newport
1887-88 dir
Robertson, William, Balmore; [under Justices Of The Peace Resident At Newport.]
1887-88 dir
Robertson, William (engineer, Dundee), Balmore, West Newport
1886-87 dir
Robertson, William (engineer, Dundee), Balmore, West Newport
1886-87 dir
Robertson, William, Balmore; [under Justices Of The Peace Resident At Newport]
1886 Slater dir
Robertson William, JP, Balmore, W N
1885-86 dir
Robertson, William (engineer, Dundee), Balmore, West Newport
1885-86 dir
Robertson, William, Balmore; Patron [under Newport Horticultural Society]
1885-86 dir
Robertson, William, Balmore; [under Justices Of The Peace Resident At Newport]
1885 Clark dir
Robertson, Wm., Balmore : Justices Of The Peace Resident At Newport
1884-85 dir
Robertson, William, Balmore; [under Justices Of The Peace Resident At Newport]
1884-85 dir
Robertson, William (engineer, Dundee), Balmore, West Newport
1884-85 dir
Robertson, William, Balmore ; Patron [under Newport Horticultural Society]
1882-83 dir
Robertson, William (engineer, Dundee), Balmore, West Newport
1882-83 dir
Robertson, William, Balmore; [under Justices Of The Peace Resident At Newport]
1882-83 dir
Robertson, William, Balmore; Patron [under Newport Horticultural Society]
1882 Slater dir
Robertson William, Esq. J.P. Balmore
1880-81 dir
Robertson, William (engineer, Dundee), Balmore, West Newport
1880-81 dir
Robertson, William, Balmore villa; Patron [under Newport Horticultural Society]
1880-81 dir
Robertson, William, Balmore; [under Justices Of The Peace Resident At Newport. ]
Census records
Valuation Roll entries (before 1923) There are 24 entries
Year
No.
Property
Proprietor
Tenant
Occupier
Value
1967-68
Ramsay
1922-23
933
Grounds
Daniel Lawson, warehouseman per Sturrock& Morrison, solicitors, Dundee
proprietor
20
View details
1922-23
932
House & Garden
Daniel Lawson, warehouseman per Sturrock& Morrison, solicitors, Dundee
proprietor
160
View details
1917-18
910
House & Garden
Trs of late William Robertson, engineer per Johnstone, Simpson & Thomson, 87 Commercial St, Dundee
Mrs Elizabeth Petrie or Robertson
160
View details
1917-18
911
Grounds
Trs of late William Robertson, engineer per Johnstone, Simpson & Thomson, 87 Commercial St, Dundee
Mrs Elizabeth Petrie or Robertson
20
View details
1912-13
914
House & Garden
Trs of late William Robertson, engineer per Johnstone, Simpson & Thomson, 87 Commercial St, Dundee
Mrs Elizabeth Petrie or Robertson
160
View details
1912-13
915
Grounds
Trs of late William Robertson, engineer per Johnstone, Simpson & Thomson, 87 Commercial St, Dundee
Mrs Elizabeth Petrie or Robertson
20
View details
1907-08
891
House & Garden
Trs of late William Robertson, engineer per Johnstone, Simpson & Thomson, 87 Commercial St, Dundee
Mrs Elizabeth Petrie or Robertson
160
View details
1907-08
892
Grounds
Trs of late William Robertson, engineer per Johnstone, Simpson & Thomson, 87 Commercial St, Dundee
Mrs Elizabeth Petrie or Robertson
20
View details
1903-04
861
Grounds
Trs of late William Robertson, engineer per Johnstone, Simpson & Thomson, 87 Commercial St, Dundee
Mrs Elizabeth Petrie or Robertson
20
View details
1903-04
860
House and Garden
Trs of late William Robertson, engineer per Johnstone, Simpson & Thomson, 87 Commercial St, Dundee
Mrs Elizabeth Petrie or Robertson
160
View details
1900-01
661
Grounds
Trs of late William Robertson, engineer per Johnstone, Simpson & Thomson, 87 Commercial St, Dundee
Mrs Elizabeth Petrie or Robertson
20
View details
1900-01
660
House and Garden
Trs of late William Robertson, engineer per Johnstone, Simpson & Thomson, 87 Commercial St, Dundee
Mrs Elizabeth Petrie or Robertson
160
View details
1896-97
558
House and Garden
William Robertson, engineer
proprietor
160
View details
1896-97
559
Grounds
William Robertson, engineer
proprietor
20
View details
1893-94
457
House and Garden
William Robertson, engineer
proprietor
160
View details
1893-94
458
Grounds
William Robertson, engineer
proprietor
20
View details
1889-90
384
House and Garden
William Robertson, engineer
proprietor
160
View details
1889-90
385
Grounds
William Robertson, engineer
proprietor
20
View details
1885-86
356
Grounds
William Robertson, engineer
proprietor
20
View details
1885-86
355
House and Garden
William Robertson, engineer
proprietor
160
View details
1881-82
251
Grounds
William Robertson, engineer
Said William Robertson
20
View details
1881-82
250
House, Garden, and Offices
William Robertson, engineer
Said William Robertson
160
View details
1878-79
242
House, Garden, and Offices
William Robertson, engineer
Said William Robertson
20
View details
Return to: Home Page Present-day Addresses Old House Names Directories Valuation Rolls Census