Location : Wormit Bay Golf Club, Bay Road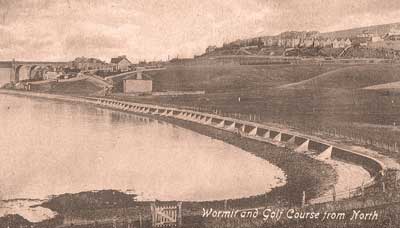 = Property demolished
Data linkage to other information currently on this site is practically complete. For Directory entries, Census records and Valuation Roll entries, there may be a few other entries not listed here.
Notes:
Location and Old Maps
Latitude, longitude: 56.421264,-2.987547
View location on the 1855 6-inch map, the 1895 25-inch map, or a 1944-50 aerial photograph at the National Library of Scotland website.
Introduction
More information on Golf's Missing Links.
Old Addresses (any dates are approximate and are usually the latest occurence of the address)
House Names (any dates are approximate and are usually the latest occurence of the name)
Directory entries (before 1968) There are 38 entries
Source
Entry
1942-43 dir
Forrest, Miss J., 13 Hillpark terrace, Wormit; Ladies, [under Wormit Bay Golf Club]
location 2
1942-43 dir
Stephenson, W. F., Glencairn, Birkhill avenue; Hon. Secretary and Treasurer, [under Wormit Bay Golf Club]
location 2
1941-42 dir
Forrest, Miss J., 13 Hillpark terrace, Wormit; Ladies, [under Wormit Bay Golf Club]
location 2
1941-42 dir
Stephenson, W. F., Glencairn, Birkhill avenue, Wormit ; Hon. Secretary and Treasurer, [under Wormit Bay Golf Club]
location 2
1940-41 dir
Stephenson, W. F., Glencairn, Birkhill avenue, Wormit ; Hon. Secretary and Treasurer, [under Wormit Bay Golf Club]
location 2
1940-41 dir
Forrest, Miss J., 13 Hillpark terrace, Wormit; Ladies, [under Wormit Bay Golf Club]
location 2
1939-40 dir
Forrest, Miss J., 13 Hillpark terrace, Wormit; Ladies, [under Wormit Bay Golf Club]
location 2
1939-40 dir
Stephenson, W. F., Glencairn, Birkhill avenue, Wormit ; Hon. Secretary and Treasurer, [under Wormit Bay Golf Club]
location 2
1938-39 dir
Stephenson, W. F., Glencairn, Birkhill avenue, Wormit; Hon. Secretary and Treasurer, [under Wormit Bay Golf Club]
location 2
1937-38 dir
Stephenson, W. F., Glencairn, Birkhill avenue, Wormit; Hon. Secretary and Treasurer, [under Wormit Bay Golf Club]
location 2
1936-37 dir
Stephenson, W. F., Glencairn, Birkhill avenue, Wormit; Hon. Secretary and Treasurer, [under Wormit Bay Golf Club]
location 2
1935-36 dir
Stephenson, W. F., Glencairn, Birkhill avenue, Wormit; Hon. Secretary and Treasurer, [under Wormit Bay Golf Club]
location 2
1934-35 dir
Stephenson, W. F., Glencairn, Birkhill avenue, Wormit; Hon. Secretary and Treasurer, [under Wormit Bay Golf Club]
location 2
1933-34 dir
Stephenson, W. F., Glencairn, Wormit; Hon. Secretary and Treasurer, [under Wormit Bay Golf Club]
location 2
1932-33 dir
Stephenson, W. F., Glencairn, Wormit; Hon. Secretary and Treasurer, [under Wormit Bay Golf Club]
location 2
1931-32 dir
Brown, J. D. Taylor, Hill crescent, Wormit; Hon. Secretary, [under Wormit Bay Golf Club]
location 2
1930-31 dir
Brown, J. D. Taylor, Hill crescent, Wormit; Hon. Secretary, [under Wormit Bay Golf Club]
location 2
1929-30 dir
Wishart, E., Fernbrae, Newburgh road, Wormit; Hon. Secretary, [under Wormit Bay Golf Club]
1928-29 dir
Jack, D. G.; Hon. Treasurer, [under Wormit Bay Golf Club]
1928-29 dir
Smith, F. G. H.; Captain, [under Wormit Bay Golf Club]
1928-29 dir
Wishart, E., Fernbrae, Newburgh road, Wormit; Hon. Secretary, [under Wormit Bay Golf Club]
1927-28 dir
Wishart, E., Fernbrae, Newburgh road, Wormit; Hon. Secretary, [under Wormit Bay Golf Club]
1927-28 dir
Jack, D. G.; Hon. Treasurer, [under Wormit Bay Golf Club]
1927-28 dir
Smith, F. G. H.; Captain, [under Wormit Bay Golf Club]
1926-27 dir
Dott, J. M.; Captain, [under Wormit Bay Golf Club]
1926-27 dir
Wishart, E., Fernbrae, Newburgh road, Wormit; Hon. Secretary, [under Wormit Bay Golf Club]
1926-27 dir
Cram, A. S.; Hon. Treasurer, [under Wormit Bay Golf Club]
1925-26 dir
Dott, J. M., Bellevue, Newburgh road, Wormit; Hon. Secretary, [under Wormit Bay Golf Club]
1925-26 dir
Geddes, J. C.; Captain, [under Wormit Bay Golf Club]
1925-26 dir
Cram, A. S.; Hon. Treasurer, [under Wormit Bay Golf Club]
1923-24 dir
Blair, G., Kincraig, Wormit; Hon. Secretary, [under Wormit Bay Golf Club]
location 2
1923-24 dir
Strachan, A. G.; Hon. Treasurer, [under Wormit Bay Golf Club]
1923-24 dir
Geddes, H. H.; Captain, [under Wormit Bay Golf Club]
1922-23 dir
Turnbull, Thomas; Captain, [under Wormit Bay Golf Club]
1922-23 dir
Geddes, H. H.; Hon. Treas., [under Wormit Bay Golf Club]
1922-23 dir
Peebles, D. A., 4 Hillpark terrace, Wormit; Hon. Secretary, [under Wormit Bay Golf Club]
1920-21 dir
Maxwell, D. C., Westmount, Wormit; Hon. Secretary and Treasurer, [under Wormit Bay Golf Club]
location 2
1920-21 dir
Cowley, William R.; Captain, [under Wormit Bay Golf Club]
Census records
Valuation Roll entries (before 1923) There are 10 entries
Year
No.
Property
Proprietor
Tenant
Occupier
Value
1922-23
1367
Land
Lady Mabel Blair, London, per DM Gibb & Son, SSC, 18 York Place, Edinburgh
Trs for Wormit Golf Club per Secretary
same
3
View details
1922-23
23
Land, Golf Course
Lady Mabel Blair, London, per DM Gibb & Son, SSC, 18 York Place, Edinburgh
Trs for Wormit Golf Club per Secretary
same
14
View details
1922-23
1369
Land, Golf Course
Col. Henry Scrymgeour Wedderburn, per DM Gibb & Son, SSC, 18 York Place, Edinburgh
Trs for Wormit Golf Club per Secretary
same
5
View details
1922-23
24
Pavilion
Wormit Bay Golf Club per Hon Treasurer
Proprietor
8-5-0
View details
1922-23
21
Land
Col. Henry Scrymgeour Wedderburn, per DM Gibb & Son, SSC, 18 York Place, Edinburgh
Trs for Wormit Golf Club per Secretary
same
35
View details
1917-18
21
Land
Col. Henry Scrymgeour Wedderburn, per DM Gibb & Son, SSC, 18 York Place, Edinburgh
Trs for Wormit Golf Club per Secretary
same
35
View details
1917-18
1329
Land
Mrs Mabel Blair, London, per DM Gibb & Son, SSC, 18 York Place, Edinburgh
Trs for Wormit Golf Club per Secretary
same
3
View details
1917-18
23
Land, Golf Course
Mrs Mabel Blair, London, per DM Gibb & Son, SSC, 18 York Place, Edinburgh
Trs for Wormit Golf Club per Secretary
same
14
View details
1917-18
1331
Land, Golf Course
Col. Henry Scrymgeour Wedderburn, per DM Gibb & Son, SSC, 18 York Place, Edinburgh
Trs for Wormit Golf Club per Secretary
same
5
View details
1917-18
24
Pavilion
Wormit Bay Golf Club per Hon Treasurer
Proprietor
7-10-0
View details
Return to: Home Page Present-day Addresses Old House Names Directories Valuation Rolls Census