History of the Church in Forgan Parish, Rev. A P Bogie, MA, FSA Scot, 1974
THE CHURCH IN FORGAN PARISH.
A short history to commemorate the anniversary of the founding of a church in Forgan in A.D. 1124, by the Rev. A. P. Bogie, M.A., F.S.A. Scot., Minister at Forgan.
FOREWORD.
I am indebted to Messrs D. C. Thomson, Printers, Dundee, for allowing me to quote from J. S. Neish's book, "History Of Newport And The Parish Of Forgan;" also to Professor Gordon Donaldson, D. Litt., Professor of Scottish History in Edinburgh University, for two quotes from his book, "Thirds Of Benefices", and also to Ian B. Cowan, Ph.D., treasurer of the Scottish Historical Society, for quotations used from his book; and to Miss Annie Dunlop, O.B.E., LL.D, D. Litt., for permission to quote from her "Calendar Of Scottish Supplications To Rome, 1428-1432."
I am indebted to Forgan Kirk Session who suggested I should write this account. I hope this effort will enlighten and please you. Much, much more can be written about the Old Parish, but as this is a short history I restricted it to the Church in Forgan Parish. The money received from the sale of each copy will go to help our present repairs to Church and Manse.
Forgan, March 1974. A. P. Bogie.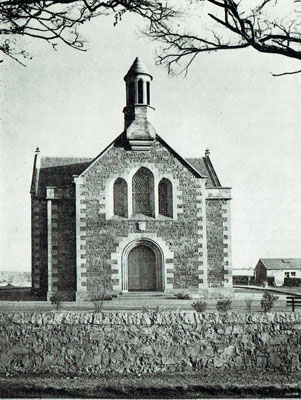 A HISTORY OF THE CHURCH IN FORGAN, 1124 - 1974. DATES TO NOTE
1124
Founding of St Fillan's Church at Kirkton, Forgan.
1150
King David I granted this church with its tithes to the Priory of St Andrews. This charter was later confirmed by King Malcolm IV (1153-1165).
1400-1500
Applications by vicars to the Pope for the Vicarage of Forgan.
1560
The Reformation in Scotland — the change from Roman Catholic worship to the Presbyterian form of worship and Church Government.
1560-1600
The church, founded in 1124, was built up and repaired.
1650
Seating in churches for all members was being introduced.
1652
Two Communion cups of pure silver, minted in the Dundee Mint, were gifted by the minister, Alexander Wedderburn, to Forgan Church and are still used.
1770
Extensive repairs were carried out, and building of the Northern Aisle, or Laird's Gallery, in church at Kirkton, Forgan.
1800
Forgan Church, Kirkton, re-seated.
1803
New manse built on present site. Present manse now 170 years old (1973).
1841
Forgan Church, Kirkton, was disused and new church was built on present site.
1843
The Disruption. The Rev. Charles Nairn, minister at Forgan, left Forgan Church and founded Free Church of St Fillan's, Newport-on-Tay (1843). Present St Fillan's Church built in 1868.
1924
800th anniversary of founding of a church in Forgan Parish.
1929
Re-union of the Churches - Parish and Free Churches.
1969-1970
Central and North Fife Preservation Society preserved the old Church of St Fillan's, Kirkton, Forgan.
1973
Repairs to present Forgan Church - removal of harling.
8th August 1973
Old church listed as of special architectural or historic interest. Also present Forgan Church 1841. See addenda.
1974
Celebration of 850th anniversary of the old church at Kirkton. Forgan.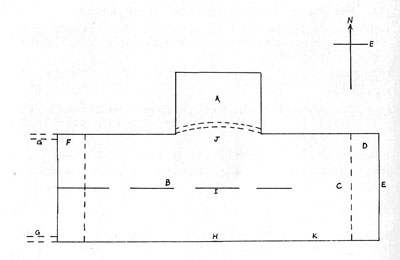 PLAN OF ST FILLAN'S CHURCH, KIRKTON, FORGAN, founded in 1124.
A. Laird's Gallery or North Aisle.
B. The Nave.
C. The Chancel.
D. Boatmen's Loft or Gallery.
E. East Window.
F. Farmers' Loft or Gallery.
G. Old foundations dug up in 1972.
H. Pulpit.
I. Communion Table.
J. Well-preserved arch.
K. Slab to Mrs Catherine Trail, 1578.
Length of Church 67ft. 4in. ; Breadth of Church 19ft. 5in. ; Length of North Aisle 17ft. 5in. ; Breadth of North Aisle 16ft. 2in.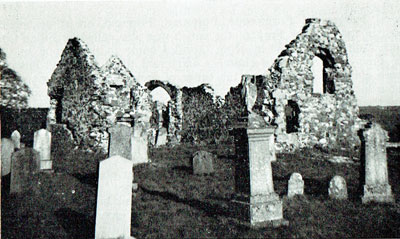 St. Fillan's Parish Church, Kirkton, Forgan, founded 1124, closed 1841.
Notice:—
(1) No windows in north wall of Nave and Chancel.
(2) Door and window in north aisle, fireplaces (below and above), an aumbry, peep-hole, arch in north aisle.
(3) In south wall, 2 doors, one near west (blocked) and one door at east end, and three windows.
(4) Two windows in west gable, one below, one above.
(5) One window in east gable with small window above to Boatmen's Loft.
(6) Evidence of an outer stairway to door to Laird's Gallery.
(7) Door and window in north-west wall of north aisle.
(8) The slab in the Chancel (C) is in memory of Mrs Catherine Trail, wife of William Ramsay, Laird of Scotscraig. It bears the date 1578.
A HISTORY OF THE CHURCH IN FORGAN PARISH.
Forgenude, Forgromde, Forgrond, Forgund, are some spellings used in the past for Forgan; the parish was also called St Fillan's, and once Adhenachten. When King David I came to the throne in 1124, his policy was to found churches and grant them land and later give these churches (parish) and the tithes of their revenues, by charter, to some local or distant, abbey, priory or cathedral. And it is only in his charter that we first hear of many a parish church. In 1124, King David I had a church built at Kirkton, Forgan, dedicated to St Fillan, and granted the church land. For there is evidence that about 1150, David I granted St Fillan's Church, Kirkton, Forgan, with a full mensal toft (a grazing hillock for animals) to the priory of St Andrews. This gift was later confirmed to the priory by a charter of Malcom IV's, who added half a caracute of land, called Chingothe. Near the end of the 12th century, Alan de Lascelles, son of Alan and Julian, granted to the priory, the mother church of his land, Adhenachten, and a caracute of land. This was merely confirming the charters of the two kings plus his own gift of land to the priory. Adhenachten is now Naughton. The patron saint was St Fillan, but St Andrew was substituted before 1154-59. The ruins of the old 1124 church are situated in the churchyard at Kirkton. Besides the chapel of Adhenachten, there was a chapel of St Thomas at "Sea Mylnes of Inverdovat". Ninewells, in the east part of the parish, may indicate that there was a chapel dedicated to the nine maidens. (Register: Priory of St Andrews. Register: Great Seal.)
An abbey, priory or cathedral had anything from 16 to 36 such parish churches granted to it, and, only too often, the abbey, priory or cathedral took for its own use a disproportionate share of the revenues given by the parish churches, and left very little money to pay the vicars or canons, which it was obliged to assign to work the parish churches, and left very little money for the upkeep of those country parish churches.
The vicar, or canon, would celebrate Mass each day in St Fillan's Church, Kirkton, Forgan, and he would administer the sacraments. This lack of funds to repair parish churches found many such churches in near ruin just before the Reformation (1560), and often Reformers were blamed for destroying churches which neglect, and lack of funds, had all but destroyed.
The place names in Forgan Parish are arresting and testify to the work of the mediaeval Roman Catholic Church — names such as Friarton, Kirktonbarns, Prior Inch, Vicarsford - but not St Fort, which is a corruption of Sanford, or Sandford. The parish extended from Scotscraig to Naughton.
The old church at Kirkton presents many problems regarding its architecture. The ruins we dug up in 1972 adjoining the west gable of the church, were these the ruins of Naughton Chapel? For we are told that Naughton Chapel adjoined St Fillan's Church, Kirkton, Forgan. And, if not, were they the base of a tower? Or a vestry? These are very teasing questions! Or was the 1124, oblong, plain, church longer originally than the present ruin by some 15 feet west of the present west gable? Or was the original church shortened by 15 feet at the Reformation? There has been so much alteration done to the original 1124 church! Why, for example, does there seem to have been, in the original church, a wall one foot in from the present south wall? But all these problems just make the old church at Kirkton all the more interesting and likeable!
Between the years 1400-1500, Forgan Church (Kirkton) was much sought after by vicars who petitioned the Pope for the vicarage. For example:- 6th August, 1429, Laurence Pyot, Priest, St Andrews Diocese, B.A. — that Pope would provide him to perpetual vicarage of parish church of Forgenude, said diocese (£10 sterling), void by death outwith Roman Court of John Hunter, last possessor, or void in whatsoever way, notwithstanding that he is litigating anent perpetual vicarage of parish church of Langforgund, said diocese (20 marks sterling).
In the Thirds of Benefices, the following thirds are allotted to Forgan — Vicarage of Forgounde £6-13-4, and in the accounts of collectors of Thirds of Benefices it says — Vicarages of Lathrisk and Forgund (Mr Thomas Methven, factor for David, his brother) 1565.
The extensive parish of Forgan could be divided into a landward area with its farming, and a riverside area with its fishing, ferrying and horse-hiring. It is interesting to note that there were four ferries across the Tay, namely Ferry-Port-on-Craig to Broughty, Newport to Dundee, Woodhaven to Dundee, and Balmerino to Dundee. Balmerino, or Balmirny, means Mary's Town, or Mirren's Town. Many notables were ferried across the Tay, church dignitaries, Mary Queen Of Scots, Dr Sam Johnson and Jamie Boswell, Rob Roy and, no doubt, many members of the Royal House of Stewart who used Fife as their happy hunting ground while staying at Falkland Palace.
There are three stages in the history of St Fillan's Church, Kirkton, Forgan: (1) 1124-1560, (2) 1560-1841, (3) 1841-1974.
(1) 1124-1560
As I have already indicated, the old church at Kirkton was founded by King David I and given by Royal Charter to the Priory of St Andrews. This was later confirmed by King Malcolm IV and by Alan de Lascelles. The vicars must have laboured under severe financial difficulties, they celebrated Mass daily and administered Sacraments. The old church at Kirkton, with its tithes — and probably more — going to help to build up the Priory of St Andrews and later the Cathedral of St Andrews, was certainly playing its part in the church life of that time. And the vicar, or canon, in addition to his daily and extra services, had a very large parish to attend to, in which he would be expected to be priest, teacher, counsellor, judge and friend. And, latterly, its peace and tranquility must have been disturbed by the turbulent nobility and the common folk as they transferred their allegiance to the Reformation cause — reading the banned Bibles which had been smuggled in by ships from Europe and landed at Leith, Dundee or the Fife ports, listening to Reformed preachers and partaking of Communion in bread and wine also forbidden. The vicarage would be no sinecure with Cardinal Beaton living like a king in his castle at St Andrews only nine miles away!
(2) 1560-1841
The church at Kirkton in the year 1560 would probably be in much need of repair and alteration, and that would be the first job and responsibility of the local lairds and heritors. There was no settled minister in the now Reformed Presbyterian Church at Kirkton, and the congregation had only an exhorter or reader. Nor was there any revenue until the question of the Thirds of Benefices was settled. Before the Reformation (1560) the Church of Rome possessed about half the land in Scotland. At the Reformation this should have fallen to the Reformed Church of Scotland. Alas, it did not! For much of the church lands had got into the hands of powerful families, one of whose number was probably Abbot, Cardinal, Prior or Bishop, or the head of the family was sometimes the secular head of the cathedral and all its lands. The land had gradually been transferred some time before the Reformation from the churchmen to the laymen. The new Reformed Church was too weak to challenge such powerful families as the Gordons, Lovats, Kennedys and Beatons. And so, lands which should have benefitted the Church of Scotland remained in the hands of powerful Roman Catholic families. Further, some of the nobility and lairds who supported the Reformation stood to gain much land and wealth by their new allegiance. The new Reformed Church was impoverished at a time when it needed money most for John Knox's great work of building a church in every parish, a school in every parish, money for education and sending youth to universities and money for poor relief. The new Church of Scotland's crowning act of mercy was to allow Roman Catholic prelates and priests to draw their stipends until they died! And the new church was in desperate need of money! Just how kind can institutions and people get? It was not until about 1590 that Forgan Church (Kirkton) had a settled minister who stayed any length of time.
By 1770 the post-Reformation church at Kirkton underwent a thorough repair, and I think it was about this time that the North Aisle, or Laird's Gallery, was added, thus converting the old, plain, oblong church into a T-shaped church, very common in Scotland.
Generally speaking, before 1650, there was no seating in churches as we understand seating today. Any seats erected before this date were done by individuals, or by corporate bodies like guilds or trades or town councils. The ordinary people brought their stools, or just stood through a service of 2 and 1/2 hours duration. They stood on the hard-baked ground perhaps with their dogs at their feet. After 1650, the idea of seating for all began to catch on and, by 1800, Forgan Church (Kirkton) had been re-seated!
About 1800 the boatmen from Waterside (south bank of the Tay) built, at their own expense, a gallery or loft at the east gable of the church and it was known as the Boatmen's Loft, of which I have two panels in my manse. At the west gable there was another loft called the Farmers' Loft. About 1770 the Laird built himself the North Aisle, with a gallery and seating accommodation under the gallery. The Laird's Loft was reached by an outside stair, evidence of which still remains. The under-gallery was reached by a door in the north-west part of the North Aisle. There was a fireplace below and above and the Laird had a little room upstairs to which he and his family retired to eat a lunch between the long morning and afternoon services. There's a peep-hole through which the Laird and his family could be seen approaching the church, and thus the minister could be timeously notified that the Laird was on his way. And there is a little aumbry near the peep-hole for the Laird's personal belongings.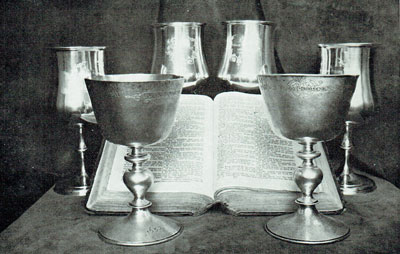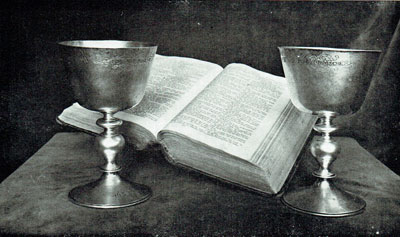 (left) Six Communion cups used in Forgan Church, including two of date 1652. (right) Two Communion cups minted in Dundee Mint in 1652, gifted by the minister, Alexander Wedderburn, MA
We still use (1973) two of the Communion cups which were used in the old Kirkton church, cups bearing the date 1652 and inscribed "Forgan Parosche, A.W.M.", that is Alexander Wedderburn, Minister. They have the hallmark of pure silver and a pot of lilies, with the initials R.C. and, on either side, the emblem of the Virgin Mary as seen in the city arms of Dundee, showing that the cups had been minted in the Dundee Mint!
The ministers between 1560-1841 would have two very long services, morning and afternoon, each service lasting 2 or 2 and 1/2 hours, each Sunday which most members would attend. A sermon then lasted at least one hour to 1 and 1/2 hours and was regarded as the main part of the service. Ministers visited their congregations regularly, catechising the young who were about to join the church.
People in those days read their Bibles, and the sermon included much Biblical quotation, reference and explanation. The clergy did all in their power to promote education, both private and public, and also to promote the reading of good books. They would go round the parish on foot, or horseback or pony and gig. The heritors were responsible for the upkeep of church and manse and the minister's salary came from teinds — landowners and tenants paid so much yearly to the church. From about 1800 the ministers had a glebe to help their stipends.
The Kirk Session records lodged in the Register House, Edinburgh date from 1695 for baptisms and 1719 for marriages. The kirk then, and now, was interested in work at home and abroad. According to the Kirk Session's records, money was collected on one occasion for the repair of the harbour at Eyemouth (Berwickshire), another collection went to help the repair of a bridge at Bervie, yet another collection was sent abroad to help captives taken by the Moors. But charity also began at home, money being given to help "ane puir man at the kirk door"; " a New Testament for a puir woman"; a pair of shoes for a church member!
(3) 1841-1973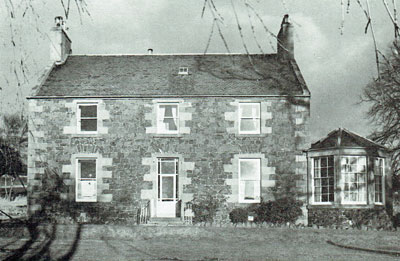 Forgan Manse, built in 1803.
In 1837 a young assistant minister from Cupar Parish Church, Charles Nairn by name, was inducted to Forgan Church (Kirkton) as minister. He petitioned the heritors to build a new church which would be more central for the parishioners. And so a piece of ground was obtained from St Fort Estate and our present church of Forgan was built in 1841 — a cruciform church, Georgian in architecture and in furnishing.
It was completed during the storm over the Intrusion controversy which led to the Disruption when nearly half the ministers, elders and congregations of the parish churches left the church to become The Free Church Of Scotland. In short, it was a protest against the Laird having the sole right to appoint a minister to the parish instead of the congregation choosing its own minister. The Rev. Charles Nairn was one of the ministers who walked out, taking with him four elders and about half the congregation of Forgan. He founded a temporary church on the site of the present St Fillan's Church, Newport-on-Tay, which church included a school for Free Church children. That was in 1843. Twenty-five years later the temporary church was replaced by the fine modern church of today with its very graceful spire.
The old church at Kirkton, after a public auction, when its glass, wood, slates, stones and metal were sold, was allowed to fall into ruin to become the haunt of wild birds and nightly hooting owls.
By 1871 Newport was growing rapidly and it was felt necessary to build a church there for the people and so the Church of St Thomas was erected. It was called after the ancient chapel of St Thomas of the Sea-Mylnes which stood near this site. The Rev. Dr Thomson of Forgan dedicated the Church of St Thomas and preached the sermon and, very understandingly, gave the Forgan congregation a holiday that Sunday. The Rev. Mr Fraser was appointed the first minister of St Thomas's. In 1887 he received his D.D. St Thomas's celebrated its centenary in 1971 and may it go on to serve the people of Newport at least as long as the old church at Kirkton served the people of Forgan Parish - from Scotscraig to Naughton.
In 1871 the Rev. Dr Thomson offered prayer at the foundation ceremony of the Tay Bridge on Saturday, 22nd July. The year 1929 saw the union of the churches between Parish Churches and Free Churches of Scotland generally. The old Forgan Parish is now divided into five parishes being served by five Church of Scotland churches, Balmerino, Wormit Parish Church, St Thomas's, St Fillan's (Newport) and Forgan.
Meanwhile, the old St Fillan's Church, Kirkton, Forgan, "the mother of four of them", lay derelict. But in 1969-70 the Central and North Fife Preservation Society removed the ivy from the old church and pointed the stonework and showed us again a T-shaped church — the original oblong and North Aisle and very well preserved arch. It is my hope that one day it may be re-roofed, and amidst the peace and beauty of the countryside, the word of God may again be preached there and the sacraments administered to a generation that needs peace and healing and, above all, wholeness! Who knows, who can tell?
Much stranger things have happened!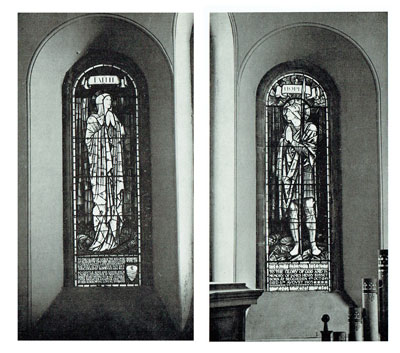 Two stained glass windows in Forgan Parish Church, one in memory of Mrs Elizabeth Soote, the other in memory of James Henry Bisset.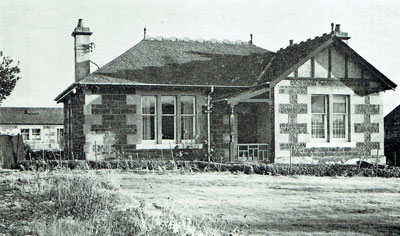 House for Beadles built about 1900 by Forgan congregation.
ADDENDA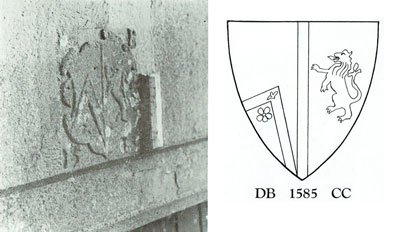 The David Balfour and Catherine Crichton coat-of-arms on stone from Kirkton House. The shield is parted per pale: Dexter, on a chevron an otter's head erased and in base a Cinque foil, for Balfour, sinister, a lion rampant, for Chrichton.
(a) KIRKTON HOUSE, home of the Balfours, Gillespies and others. Latterly used as manse till 1803.
This is a ruin standing within 90 yards of the old church of Forgan. Nothing remains except the north wall with part of the return walls, all thickly covered with ivy. The house, which dates from the 16th century, has been three-storeyed and oblong in plan, lying east and west and having a circular tower, containing chambers, projecting from the north-west angle; behind it has been a courtyard, entered through a semi-circular archway, which is still to be seen on the north. The entrance to the house is centred in the north wall. The only surviving features of interest are a few fireplace surrounds — some not earlier than the 18th century — and a gun-loop set in the western re-entrant angle beside the tower. The lintel of the hall fireplace has been removed and rebuilt into the gable of the barn of the adjacent farm at Kirkton Barns. It is 9ft. 5in. in length and is moulded with a filletted angle-roll. In the centre is a panel containing a shield flanked by the initials D.B. for David Balfour, and C.C. for his wife Catherine Chrichton, with the date 1585.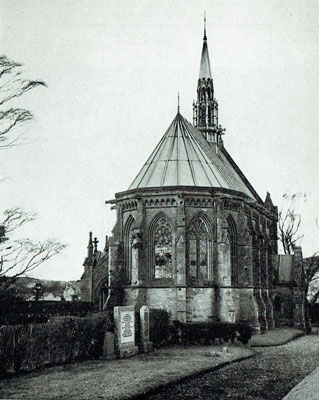 The Leng Memorial Chapel, built by Mr. Leng for his family and descendants.
(b) THE LENG MEMORIAL CHAPEL.
The church on the hill in Vicarsford Cemetery is not Forgan Parish Church, as so many visitors think, but the Leng Memorial Chapel built by the Leng family. There is a small endowment amounting to a capital sum of about £300 administered by Fife County Council to provide for the upkeep of this chapel.
(c) THE NEWPORT CHURCHES.
THE CONGREGATIONAL CHURCH : Mr Just broke away from the Church of Scotland and joined the Tabernacle in Dundee. In 1801 a congregation was formed in Newport consisting of 16 members. Mr Taylor became their pastor on 5th January, 1803. He opened a day school to augment his stipend. He resigned his charge and emigrated to America. This was the beginning of the Congregational Church in Newport. Mr Just, one of the Congretional Church members, thereafter became their minister in 1806 with a congregation of 25 members. The present Congregational Church in Kilnburn was opened in 1869 (April 23rd). The Rev. Dr Thomson spoke at the evening social.
With the growth of the burgh, Churches multiplied. St Thomas Church of Scotland was built in 1871; Trinity Church (United Presbyterian) in 1881; St Mary's (Scottish Episcopal) in 1887; and St Fillan's (Roman Catholic) in 1893. In Wormit the present west hall for the Church of Scotland in 1895, and the present Wormit Parish Church for the United Free Church in 1900.
(d) COPY OF LETTER SENT BY COUNTY CLERK.
BUILDINGS OF SPECIAL ARCHITECTURAL OR HISTORIC INTEREST.
"Notice is hereby given that the building known as Forgan Parish Kirk, situated in the parish of Forgan, County of Fife, has been included in the list of buildings of special architectural or historic interest in that area compiled by the Secretary of State under Section 28 of the Town and Country Planning (Scotland) Act 1947 on the 8th day of August 1973."
AUTHOR'S COMMENT : It is fitting that Forgan Old Church, founded by David I, should be listed by the present Queen's Secretary of State as of special architectural or historic interest. The wheel has indeed come full circle!
(e) One of Forgan Church records, still in use, is a book dating back to 30th April, 1716, in the ministry of the Rev. James Nairne, containing lists of the elders who have made up the Kirk Sessions of Forgan from 1716 to the present day — a continuous record of 258 years!
The elders of the Kirk Session in 1716 were: W. Somson, A. Walker, James Thomson, David Mordoch, Tho. Matheson, Wil. Justaice and Wil. Baillie.
The present Kirk Session (1973) consists of the elders D. C. Maxwell (treasurer), F. Macmillan (ordained 1942), and K. N. Cunningham. The present Congregational Board consists of these three elders plus David Pringle, Douglas Napier and Eric Gray.
Book with names of elders of Forgan Kirk from 1716-1974.
1561 - LIST OF READERS, EXHORTERS AND MINISTERS - 1954
Mar. 1561-2
DAVID BELL, Exhorter at the Parish of Newthouses, called St Fillan's Kirk.
18th Jan. 1565-6
JOHN FLAGEAR. Canon of St Andrew's Priory, Reader.
Feb. 1571 & July 1573
JOHN SMYT, Reader.
12th Sept. 1573
DAVID METHVEN, Vicar; demitted office or departed before 12th Sept. 1573.
12th Sept. 1573
ANDREW BENNETT, Reader, presented to vicarage vacancy by removal of David Mason.
21st May 1589
WILLIAM BALFOUR, M.A., Presented to vicarage. Vacancy by demission of James Tullis.
25th Sept. 1590
ROBERT BUCHANAN, M.A., Presented to vicarage.
2nd Sept. 1599
WILLIAM MARCHE, M.A., Regent in St Leonard's College, St Andrews, for 13 years; presented to the vicarage by King James VI, 29th June, 1599, and admitted 2nd Sept., 1599; died in 1606, aged 49.
28th May 1606
DAVID LINDSAY, M.A., Translated from Second Charge, St Andrews, to the vicarage by King James VI, 28th May, 1606; translated to Second Charge of South Leith, 30th July, 1609.
20th June 1609
SIMEON DURIE, M.A., Translated from Ferryport-on-Craig; presented to the vicarage by King James VI, 20th June, 1609; translated to Arbroath in 1628.
24th May 1628
HENRY SCRIMGEOUR, M.A. (St Andrews, 16th July, 1620); presented by Charles I, 24th May, 1628; D.D.; departed before 26th August, 1639.
1640
DAVID FORRET, M.A.; Translated from Dunino; admitted in 1640; translated to Kilconquhar 27th May, 1646.
10th Feb. 1647
ALEXANDER WEDDERBURN, M.A. presented to vicarage October, 1646; admitted 10th February, 1647; suspended 5th April, 1664.
20th Aug. 1665
JOHN ALEXANDER, M.A. (St Andrews, 14th July, 1660); had certificate for license from presbytery 24th August, 1664, and for ordination 20th July, and was admitted 20th August, 1665; died 1674, aged about 34.
12th Aug. 1674
WILLIAM SCOTT, M.A. (St. Andrews, 14th July, 1660); admitted 12th August, 1674; died 2nd August, 1677, aged about 35.
16th Jan. 1678
ALEXANDER SHARP, sometime a minister in Ireland; admitted 16th January, 1678; translated to Bourtie in 1678.
25th Sept. 1678
JAMES STRACHAN, M.A., Regent in Old College St Andrews; admitted 25th September, 1678; deprived by the Privy Council 29th August, 1679, for not reading the Proclamation of the Estates.
1679 ?
JAMES RHYMER, probably Regent at Old College, St Andrews, prior to 1676. Translated from Forgan to St Andrews before 27th November, 1689.
1690
HUGH KEMP. Admitted in 1690, was appointed Presbytery Clerk on 18th April, 1693; translated to Dunfermline 1st May, 1701.
29th July 1702
JAMES NAIRNE, M.A., called 29th July, 1702, ordained 2nd February, 1703; translated to Anstruther Easter 7th August, 1717.
22nd Jan. 1716
JAMES RUSSELL, M.A. (St Andrews 10th May, 1705); licensed by presbytery 21st November, 1715; called 22nd January, 1716; ordained 20th August, 1716; died 1728.
22nd Jan. 1729
JOHN GELLATLY; called 22nd January, 1729; ordained 24th April, 1729; translated to third charge Dundee, 18th July, 1745.
15th July 1746
WILLIAM BEAT, schoolmaster at Kilconquhar; licensed by Presbytery of St Andrews 29th October, 1740; called 15th July, 1746; and ordained 25th September, 1746: translated to Kilrenny 5th November, 1760.
7th May 1761
JAMES BURN, born 1734; licensed by Presbytery of Kirkcaldy, 29th December, 1757; presented to Kilconquhar 6th April, 1759, but not settled; ordained by the Presbytery Classes of Newcastle, Minister of Castlegarth Meeting House, 10th December, 1760; presented by George III 23rd January 1761 and admitted 7th May; died 22nd February, 1800.
30th April 1800
ALEXANDER MAULE, D.D., educated at University of St Andrews; licensed by Presbytery of Dundee, 5th December, 1787; presented by George III 30th April, 1800; ordained 24th March, 1801; D.D. (St Andrews, 1st May, 1824); died unmarried 28th July, 1835.
3rd Feb. 1836
CHARLES NAIRN, born 7th July, 1803: educated at Royal High School and University of Edinburgh; licensed by Dunblane Presbytery 4th August, 1826, assistant at Cupar Parish Church; presented by King George IV, 22nd September, 1835; ordained 3rd February, 1836; left Forgan Church and joined and built Free Church, St Fillan's, Newport, in 1843; went to Madeira as Free Church missionary; admitted to St David's Free Church, Dundee; died 17th March, 1873.
21st Sept. 1843
DAVID THOMSON, D.D.; born Duns 20th October, 1811; father was classics master at Ayr Academy; educated at Ayr Academy and University of St Andrews; M.A. 1826. In 1841 licensed by Presbytery of St Andrews; assistant to Professor James Hunter in Logic Class and College Church; afterwards assistant to Principal Haldane in the Parish Church of St Andrews; presented by Queen Victoria 12th July, 1843; ordained 21st September, 1843; D.D. St Andrews 1883; died 28th May, 1884.
18th Dec. 1884
THOMAS MARTIN, M.A. B.D.; translated from St Stephen's, Perth, and admitted to Forgan 18th December, 1884; translated to Cramond 23rd April, 1890; ELECTED MODERATOR OF THE GENERAL ASSEMBLY 18th MAY, 1920; his son, Hugh Forgan Martin, was rector of Dollar Academy.
12th Feb. 1891
THOMAS MUNN; born Glasgow 13th May, 1859; M.A. Glasgow University, 1885; ordained 12th February, 1891, and admitted to Forgan, resigned 24th November, 1920. Mr and Mrs Munn were great benefactors to Forgan church, manse and parish.
13th April 1921
HUGH FULTON FRAME, M.A.; born Bellshill, 24th May, 1893; educated at Hamilton Academy and University of Glasgow; licensed by Presbytery of Glasgow 30th June, 1920; ordained 13th April, 1921, and admitted to Forgan; called to Lesmahagow Parish Church in 1942.
1942
JOHN MACDOUGALL, M.A. He came from Daviot, Inverness-shire, to Forgan. In the First World War he enlisted as a combatant and served as a chaplain from 1916 to 1918. He held charges at Aberfoyle, Fort William, West Calder and Bonhill Parish Church, Dumbartonshire. He retired in 1953.
1954
ALBERT PENMAN BOGIE, M.A.; born 28th August, 1914; educated at Prestonpans Public School and Preston Lodge, M.A. Edinburgh University; licensed by Presbytery of Haddington and Dunbar, 1939; minister at Reay, Caithness, 1945-54; called to Forgan 12th August, 1954.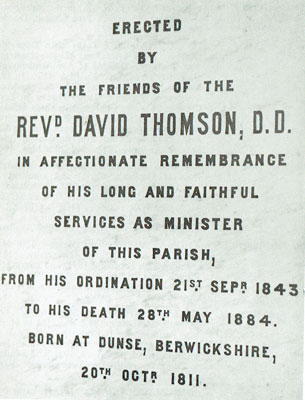 Memorial tablet to the Rev. Dr. Thomson, D.D.
Original booklet printed by S. Kostka-Matwin, 72-76 Castle Street, Tayport, Fife, Scotland. March 1974
Return to: Library Contents