Maps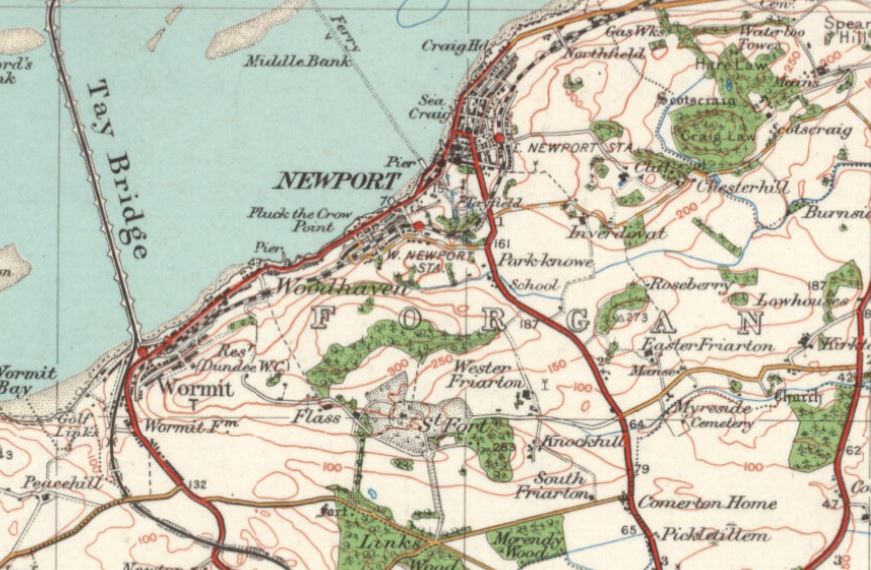 Ordnance Survey One-inch to the mile, Popular edition, Scotland, 1920-1930.
Reproduced with the permission of the National Library of Scotland National Library of Scotland
Quick Links:
Maps on this site:
Links to Maps on other Sites:
Aerial photos:
| | |
| --- | --- |
| NCAP - the National Collection of Aerial Photography | NCAP - the National Collection of Aerial Photography (part of Historic Environment Scotland) has a huge collection of aerial photos from arounfd the world. There are several hundred views of Newport, Wormit & Forgan, taken at various dates from the 1940s, possibly even earlier. Keep enlarging the map to find the location of the centre of each photo. |
| Britain From Above | has a smaller collection, probably a sub-set of those on the NCAP site, and are not easily searched. |
Maps:
National Library of Scotland map collection
The best site for Scottish maps.
Scotlands Places: Forgan page
Amongst the lists of photographs are catalogue entries for maps and plans held by the National Archives of Scotland, Edinburgh. (If you 'Filter the Results' for 'NRS' only, you will get a listing of the maps & plans only: Filtered Results)
Only 2 of the plans are online at present:
Vision of Britain
Land Utilisation Maps (1930s), and others.
PastMap
Mapping showing the location of historical buildings and archaeological sites recorded by the Royal Commission on the Ancient and Historical Monuments of Scotland, Edinburgh.
Scotland's Land Information Service
The Registers of Scotland map of Scottish present-day land ownership.