Location : Rock House [3], Woodhaven Pier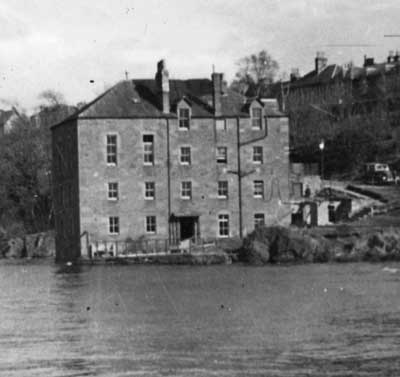 = Property still standing
Notes:
Part of a divided property. Other parts: Rock House [1] Rock House [2] Rock House [4]
Introduction
Built as a granary at Woodhaven Pier for St Fort estate; used by the 'Mars' as housing for staff, and later as a hospital for the boys. Used by Squadron 333, Ro. Norwegian Air Force , Feb. 1942 - 1945.
Location and Old Maps
Latitude, longitude: 56.431633,-2.960709
View location on the 1855 6-inch map, the 1895 25-inch map, the 1914 25-inch map, the 1966 25-inch map, or a 1944-50 aerial photograph at the National Library of Scotland website.
Nearby properties (demolished in red): 2 St Fort Road 4 St Fort Road 6 St Fort Road 8 St Fort Road Rock House [1], Woodhaven Pier Rock House [2], Woodhaven Pier Rock House [4], Woodhaven Pier
Information and Photographs on Other Sites (open in a new window)
Old Addresses (any dates are approximate and are usually the latest occurence of the address)
House Names (any dates are approximate and are usually the latest occurence of the name)
| | | |
| --- | --- | --- |
| Rock House [3] | | |
| Mars houses [3] | 1869-1885 | |
| Mars Hospital [3] | 1889-1929 | |
| Granary, Woodhaven [3] | pre-1869 | |
Directory entries (before 1972) There are 17 entries
Source
Entry
1954-55 dir
Prince, Mrs Frances, Rock house, Woodhaven, Wormit
1953-54 dir
Prince, Mrs Frances, Rock house, Woodhaven, Wormit
1952-53 dir
Prince, Mrs Frances, Rock house, Woodhaven, Wormit
1951-52 dir
Prince, Mrs Frances, Rock house, Woodhaven, Wormit
1949-50 dir
Tice, Donald, meteorologist, Rock house, Woodhaven, Wormit
1941-42 dir
Haynes, Miss Nellie, Rock house, Woodhaven, Wormit
1941-42 dir
Prince, Mrs John H., Rockhouse, Woodhaven, Wormit
1940-41 dir
Haynes, Miss Nellie, Rock house, Woodhaven, Wormit
1940-41 dir
Prince, Mrs John H., Rockhouse, Woodhaven, Wormit
1939-40 dir
Haynes, Miss Nellie, Rock house, Woodhaven, Wormit
1939-40 dir
Prince, Mrs John H., Rockhouse, Woodhaven, Wormit
1938-39 dir
Haynes, Miss Nellie, Rock house, Woodhaven, Wormit
1938-39 dir
Prince, Mrs John H., Rockhouse, Woodhaven, Wormit
1937-38 dir
Haynes, Miss Nellie, Rock house, Woodhaven, Wormit
1937-38 dir
Prince, John H., janitor, Rockhouse, Woodhaven, Wormit
1936-37 dir
Prince, John H. janitor, Rockhouse, Woodhaven, Wormit
1935-36 dir
Prince, John H., janitor, Rockhouse, Woodhaven, Wormit
Census records
Valuation Roll entries There are 13 entries
| Year | No. | Property | Proprietor | Tenant | Occupier | Value | | |
| --- | --- | --- | --- | --- | --- | --- | --- | --- |
| 1969-70 | 3687 | House | John H Prince, per Lickley Proctor & Burnett, solicitors, 23 South Tay St, Dundee | | proprietor | 30 | View details | |
| 1967-68 | 1546 | House | John H Prince, 6 Dymoke Drive, Horncastle, Lincs & Mrs Hilda F Millar per former | | said John H Prince | 30 | View details | |
| 1964-65 | 1546 | House | John H Prince, 59 Cranbrook Ave, Cottingham Rd, Hull & Mrs Hilda F Millar per former | | said John H Prince | 30 | View details | |
| 1961-62 | 4212 | House | John H Prince, 59 Cranbrook Ave, Cottingham Rd, Hull & Mrs Hilda F Millar per former | | said John H Prince | 30 | View details | |
| 1957-58 | 1441 | House & Garden | John H Prince & Mrs Hilda Millar | | said John H Prince | 16 | View details | |
| 1952-53 | 1407 | House & Garden | Mrs Frances M Prince | | proprietor | 16 | View details | |
| 1947-48 | 1370 | House & Garden | Mrs Frances M Prince | | proprietor | 16 | View details | |
| 1942-43 | 1348 | House & Garden | Mrs Frances M Prince per T R McDougall, 94 Commercial St, Dundee | | Air Ministry per Treasury Valuer | 16 | View details | |
| 1940-41 | 1346 | House & Garden | Mrs Frances M Prince per T R McDougall, 94 Commercial St, Dundee | | Proprietor | 16 | View details | |
| 1937-38 | 1365 | House & Garden | Mrs Frances M Prince per T R McDougall, 94 Commercial St, Dundee | | proprietor | 16 | View details | |
| 1935-36 | 1300 | House & Garden | Mrs Frances M Prince per T R McDougall, 94 Commercial St, Dundee | | proprietor | 16 | View details | |
| 1885-86 | 65 | House | Reps. of late Mrs Jane Fraser Stewart per Lindsay Howe & Co., WS, 32 Charlotte Sq., Edinburgh | Committee of Management Mars Training Ship | Edward Betsworth, instructor 'Mars'; IO | | View details | |
| 1885-86 | 67 | House | Reps. of late Mrs Jane Fraser Stewart per Lindsay Howe & Co., WS, 32 Charlotte Sq., Edinburgh | Committee of Management Mars Training Ship | Henry McMachan, instructor 'Mars'; IO | | View details | |
Other Sightings:
| Year | Detail | Source |
| --- | --- | --- |
| 1845 | Building shown on map: Ref. 99, Granary, owner Henry Stewart, occupiers James Ronald, Alexander Kermath & Thomas Welch. | National Records of Scotland, Plan: RHP85254, Glasgow & Dundee Junction Railway |
Early Sasines:
Return to: Home Page Present-day Addresses Properties Map Old House Names Directories Valuation Rolls Sasines Census