Location : formerly 6a, Gowrie Street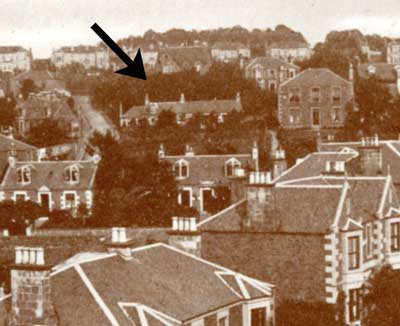 = Property demolished or site redeveloped
Notes: nearer road; property subdivided briefly 1885; demolished
Using the information here, it is impossible to be certain who lived in each property or part of the building before 1865. Other properties involved : former 6 Gowrie Street One possible interpretation is given below.
Location and Old Maps
Latitude, longitude: 56.440573,-2.937261
View location on the 1855 6-inch map, the 1895 25-inch map, the 1914 25-inch map, the 1966 25-inch map, or a 1944-50 aerial photograph at the National Library of Scotland website.
Nearby properties (demolished in red): 2 Gowrie Street 4 Gowrie Street (formerly 6, Gowrie Street) 29 Gowrie Street 31 Gowrie Street 33 Gowrie Street 35 Gowrie Street 37 Gowrie Street 3 Myrtle Terrace 4 Myrtle Terrace 2 Queen Street 4 Queen Street 6 Queen Street
1909-10 Finance Act - Valuation Office: Field Surveys
Reference no. &nbsp236 (no transcripts on this site)
Old Addresses (any dates are approximate and are usually the latest occurence of the address)
House Names (any dates are approximate and are usually the latest occurence of the name)
| | | |
| --- | --- | --- |
| Bloomfield Cottages | | |
| Gowrie Bank | | |
Directory entries (before 1970) There are 79 entries
Source
Entry
1958-59 dir
Blicharski, John, The Leather Shop, Pierhead ; h. Gowrie bank
location 2
1957-58 dir
Blicharski, John, The Leather Shop, Pierhead ; h. Gowrie bank
location 2
1950-51 dir
Brown, Mrs David, Gowriebank, Gowriehill
1949-50 dir
Brown, Mrs David, Gowriebank, Gowriehill
1948-49 dir
Brown, Mrs David, Gowriebank, Gowriehill
1947-48 dir
Brown, Mrs David, Gowriebank, Gowriehill
1946-47 dir
Brown, Mrs David, Gowriebank, Gowriehill
1942-43 dir
Brown, Mrs David, Gowriebank, Gowriehill
1941-42 dir
Brown, Mrs David, Gowriebank, Gowriehill
1940-41 dir
Brown, Mrs David, Gowriebank, Gowriehill
1939-40 dir
Brown, Mrs David, Gowriebank, Gowriehill
1938-39 dir
Brown, Mrs David, Gowriebank, Gowriehill
1937-38 dir
Brown, Mrs David, Gowriebank, Gowriehill
1936-37 dir
Brown, Mrs David, Gowriebank, Gowriehill
1935-36 dir
Brown, David, Gowriebank, Gowriehill : Gardeners (Landscape).
1935-36 dir
Brown, David, gardener, Gowriebank, Gowriehill
1934-35 dir
Brown, David, gardener, Gowriebank, Gowriehill
1934-35 dir
Brown, David, Gowriebank, Gowriehill : Gardeners (Landscape).
1933-34 dir
Brown, David, Gowriebank, Gowriehill : Gardeners (Landscape).
1932-33 dir
Brown, David, gardener, Gowriebank, Gowriehill, East Newport
1932-33 dir
Brown, David, Gowriebank, Gowriehill : Gardeners (Landscape).
1931-32 dir
Brown, David, Gowriebank, Gowriehill : Gardeners (Landscape).
1931-32 dir
Brown, David, gardener, Gowriebank, Gowriehill, East Newport
1930-31 dir
Brown, David, Gowriebank, Gowriehill : Gardeners (Landscape).
1930-31 dir
Brown, David, gardener, Gowriebank, Gowriehill, East Newport
1929-30 dir
Brown, David, gardener, Gowriebank, Gowriehill, East Newport
1929-30 dir
Brown, David, Gowriebank, Gowriehill : Gardeners (Landscape).
1928-29 dir
Brown, David, gardener, Gowriebank, Gowriehill, East Newport
1928-29 dir
Brown, David, Gowriebank, Gowriehill : Gardeners (Landscape).
1927-28 dir
Brown, David, Gowriebank, Gowriehill : Gardeners (Landscape).
1927-28 dir
Brown, David, gardener, Gowriebank, Gowriehill, East Newport
1926-27 dir
Brown, David, gardener, Gowriebank, Gowriehill, East Newport
1926-27 dir
Brown, David, Gowriebank, Gowriehill : Gardeners (Landscape).
1925-26 dir
Brown, David, Gowriebank, Gowriehill : Gardeners (Landscape).
1925-26 dir
Brown, David, gardener, Growriebank, East Newport
1923-24 dir
Brown, David, gardener, Gowriebank, East Newport
1923-24 dir
Brown, David, Gowriebank, Gowriehill : Gardeners (Landscape).
1922-23 dir
Brown, David, gardener, Gowriebank, East Newport
1920-21 dir
Brown, David, gardener, Gowriebank, East Newport
1918-19 dir
Brown, David, gardener, Gowriebank, East Newport
1915-16 dir
Brown, David, gardener, Gowriebank, East Newport
1914-15 dir
Brown, David, gardener, Gowriebank, East Newport
1913-14 dir
Brown, David, gardener, Gowriebank, East Newport
1912-13 dir
Brown, David, gardener, Gowriehill, East Newport
1911-12 dir
Duncan, Alexander, clerk, Gowriebank, East Newport
1911-12 dir
Duncan, Alex., Gowriebank, East Newport; Hon. Secretary, [under Newport Liberal Club]
1910-11 dir
Duncan, Alexander, clerk, Gowriebank, East Newport
1909-10 dir
Duncan, Alexander, clerk, Gowriebank, East Newport
1908-09 dir
Duncan, Alexander, clerk, Gowriebank, East Newport
1908 Tayside Annual
Duncan, Alex., clerk, Gowrie Bank.
1907-08 dir
Duncan, Alexander, clerk, Gowriebank, East Newport
1906-07 dir
Duncan, Alexander, clerk, Gowriebank, East Newport
1905-06 dir
Ramsay, John, insurance agent, Gowriebank cottage
1904-05 dir
Ramsay, John, insurance agent, Gowriebank cottage
1903-04 dir
Ramsay, John, insurance agent, Gowriebank cottage
1902-03 dir
Donaghey, W. N., Gowriebank cottage, East Newport
1902-03 dir
Donaghey, Mrs W. N., dressmaker, Gowriebank cottage, East Newport
1901-02 dir
Donaghey, Mrs W. N., dressmaker, Gowriebank cottage, East Newport
1901-02 dir
Donaghey, W. N., Gowriebank cottage, East Newport
1900-01 dir
Donaghey, Mrs W. N., dressmaker, Gowriebank cottage. East Newport
1900-01 dir
Donaghey, W. N., agent, Prudential Assurance Co., Gowriebank cottage, East Newport
1899-00 dir
Stephen, Mrs, apartments, Gowriebank cottage. East Newport
1898-99 dir
Stiven, John, gardener, Gowriebank
1897-98 dir
Stiven, John, gardener, Gowriebank
1896-97 dir
Stiven, John, gardener, Gowriebank
1895-96 dir
Stiven, John, gardener, Gowriebank
1894-95 dir
M'Gillivray, Miss, Gowriebank, William street
1893-94 dir
M'Gillivray, Miss, Gowriebank
1893 Slater dir
Macgillivray Miss Mary, Gowrie Bank, E N
1892-93 dir
M'Gillivray, Miss, Gowriebank
1885-86 dir
Robertson, James, signalman, East Station ; h. Bloomfield cottage
1884-85 dir
Robertson, James, signalman. East Station ; h. Bloomfield cottage
1877 Worrall dir
M'Gillivray Miss Mary, Bloomfield Cottage
1873 Slater dir
M'Gillivray Jane, mistress, Free Church School, Newport : Academies & Schools.
location 2
1871-72 dir
M'Gillivray, Jane, dressmaker, Bloomfield Cottage, East Newport
1867-68 dir
M'Gillivray, Finlay, builder, Bloomfield Cottage
1866 Fife dir
McGillivray, Finlay, summer lodgings prop., E Newport
1866 Fife dir
McGillvary, The Misses, dressmaker / milliner, E Newport
1862 Fife dir
McGillvary, The Misses, dressmaker / milliner, E Newport
Entries in the Registers of Voters
Source
Enrol Date
Name
Occup.
Address
Qualification
Property
at
Notes
1900 Male Voters
Donaghey, William N.
Insurance Agent
Gowrie Bank, Newport
Tenant of House
Gowrie Bank
Census records
Valuation Roll entries There are 44 entries
| Year | No. | Property | Proprietor | Tenant | Occupier | Value | | |
| --- | --- | --- | --- | --- | --- | --- | --- | --- |
| 1969-70 | 1202 | Premises | Stewart Forbes (unknown) | | empty | 0 | View details | |
| 1967-68 | 161 | Premises | Mrs Elizabeth Bartlett, USA per Dickie Gray McDonald & Fair WS, Dundee | | empty | 0 | View details | |
| 1964-65 | 161 | House | Mrs Elizabeth Bartlett, USA per W B Dickie & Sons, solicitors, Dundee | | condemned | 0 | View details | |
| 1961-62 | 419 | House | Mrs Elizabeth Bartlett, USA per W B Dickie & Sons, solicitors, Dundee | | condemned | 0 | View details | |
| 1957-58 | 299 | House & Garden | Mrs Elizabeth Bartlett, USA per W B Dickie & Sons, solicitors, Dundee | | Mrs Helen Blicharska | 18-11-8 | View details | |
| 1952-53 | 271 | House & Garden | Mrs Elizabeth Bartlett, USA per W B Dickie & Sons, solicitors, Dundee | | Mrs Helen Blicharska | 18-11-8 | View details | |
| 1947-48 | 267 | House & Garden | Mrs Elizabeth Bartlett, USA per W B Dickie & Sons, solicitors, Dundee | | David Ness Brown | 18-11-8 | View details | |
| 1942-43 | 273 | House & Garden | Harry M McGillivray, USA per W B Dickie & Sons, solicitors, Dundee | | David Ness Brown | 18-11-8 | View details | |
| 1940-41 | 271 | House & Garden | Harry M McGillivray, USA per W B Dickie & Sons, solicitors, Dundee | | David Ness Brown | 18-11-8 | View details | |
| 1937-38 | 275 | House & Garden | Harry M McGillivray, USA per W B Dickie & Sons, solicitors, Dundee | | David Ness Brown | 18-11-8 | View details | |
| 1935-36 | 267 | House & Garden | Harry M McGillivray, USA per W B Dickie & Sons, solicitors, Dundee | | D Ness Brown | 18-11-8 | View details | |
| 1932-33 | 264 | House & Garden | Harry M McGillivray, USA per W B Dickie & Sons, solicitors, Dundee | | David Brown, gardener | 18-11-8 | View details | |
| 1930-31 | 259 | House & Garden | Harry M McGillivray, USA per W B Dickie & Sons, solicitors, Dundee | | David Brown, gardener | 18-11-8 | View details | |
| 1927-28 | 255 | House & Garden | Harry M McGillivray, USA per W B Dickie & Sons | | David Brown, gardener | 18-11-8 | View details | |
| 1922-23 | 229 | House & Garden | Harry M McGillivray, USA per W B Dickie & Sons | David Brown, gardener | same | 18-11-8 | View details | |
| 1917-18 | 219 | House & Garden | Henry M McGillivray, USA per W B Dickie & Sons | David Brown, gardener | same | 13 | View details | |
| 1915-16 | 217 | House & Garden | Henry M McGillivray, USA per W B Dickie & Sons | David Brown, gardener | same | 13 | View details | |
| 1912-13 | 516 | House & Garden | Henry M McGillivray, USA per W B Dickie & Sons | David Brown, gardener | same | 13 | View details | |
| 1907-08 | 496 | House & Garden | Henry M McGillivray, USA per W B Dickie & Sons | Alexander Duncan, clerk | same | 13 | View details | |
| 1905-06 | 485 | House and Garden | Harry M M'Gillivray, USA per George Murdoch, Woodhaven, Wormit | James Ramsay, insurance agent | same | 13 | View details | |
| 1903-04 | 476 | House and Garden | Harry M M'Gillivray, USA per Henry Murdoch, Woodhaven, Wormit | James Ramsay, insurance agent | same | 13 | View details | |
| 1901-02 | 1071 | House and Garden | Harry M M'Gillivray, USA per James Murdoch, Woodhaven, Newport | William Nixon Donachey, insurance agent | same | 13 | View details | |
| 1900-01 | 1054 | House and Garden | Rev Finlay M'Gillivray, USA per James Murdoch, Woodhaven, Wormit | William Nixon Donachey, insurance agent | same | 13 | View details | |
| 1899-00 | 1018 | House and Garden | Rev Finlay M'Gillivray, USA per James Murdoch, Woodhaven, Wormit | Mrs Mary Stephen | same | 13 | View details | |
| 1897-98 | 963 | House and Garden | Rev Finlay M'Gillivray, USA per James Murdoch, Woodhaven, Newport | John Stephen, gardener | same | 13 | View details | |
| 1896-97 | 935 | House and Garden | Rev Finlay M'Gillivray, USA per James Murdoch, Woodhaven, Wormit | John Stephen, gardener | same | 12-10-0 | View details | |
| 1895-96 | 898 | House and Garden | Rev Finlay McGillivray, USA per James Murdoch, Woodhaven, Newport | John Stephen, gardener | same | 12-10-0 | View details | |
| 1894-95 | 854 | House and Garden | Miss Mary M'Gillivray | | proprietor | 10-10-0 | View details | |
| 1893-94 | 830 | House and Garden | Miss Mary M'Gillivray | | proprietor | 10-10-0 | View details | |
| 1892-93 | 813 | House and Garden | Miss Mary M'Gillivray | | proprietor | 10-10-0 | View details | |
| 1891-92 | 796 | House and Garden | Miss Mary M'Gillivray | | proprietor | 10-10-0 | View details | |
| 1890-91 | 749 | House and Garden | Miss Mary M'Gillivray | | proprietor | 10-10-0 | View details | |
| 1889-90 | 723 | House and Garden | Miss Mary M'Gillivray | | proprietor | 10-10-0 | View details | |
| 1885-86 | 686 | House and Garden | Miss Mary M'Gillivray | | proprietor | 3 | View details | |
| 1885-86 | 687 | House and Garden | Miss Mary M'Gillivray | James Robertson, station agent | same | 7-10-0 | View details | |
| 1881-82 | 577 | House and Garden | Miss Mary M'Gillivray | | Said Miss M M'Gillivray | 10 | View details | |
| 1878-79 | 546 | House and Garden | Mrs Jane M'Gillivray, wife of - Robertson, cabinetmaker | | Said Mrs Robertson | 10 | View details | |
| 1875-76 | 431 | House and Garden | Miss Jane M'Gillivray, dressmaker | | Said Miss M'Gillivray | 10 | View details | |
| 1871-72 | 388 | House and Garden | Miss Jane McGillivray | | Miss Jane McGillivray | 10 | View details | |
| 1867-68 | 203 | House and Garden | Finlay M'Gillivray, mason | | Said Finlay M'Gillivray | 12 | View details | |
| 1865-66 | 190 | House, Outhouse and Garden | Finlay M'Gillivray, mason | | Said Finlay M'Gillivray | 10 | View details | |
| 1864-65 | 180 | House, Outhouse, and Garden | Finlay M'Gillivray, mason | | Said Finlay M'Gillivray | 11 | View details | |
| 1860-61 | 252 | Houses, garden & ground | Finlay McGillivray, mason | | Finlay McGillivray | 21 | View details | |
| 1855-56 | 156 | House and Garden | Finlay McGillvray, mason | | said Finlay McGillvray | 10 | View details | |
Early Sasines:
Sasine Plots:
Sasine Abridgements:
| Ref | In Brief | Abridgement | Recorded | Plots | |
| --- | --- | --- | --- | --- | --- |
| 1869.00587 | Trs F McGillivray to Mary McGillivray (36 poles) | Feu disp by Trs deceased Finlay McGillivray to daughter Mary McGillivray of 36 pol grnd & ho t/on, : E by property of Free Church, Newport | 7 Aug 1869 | 75, 116 | |
Brief explanation of sasine abridgements Explanation of the format of a sasine
Abbreviations in the notes
t/on - thereon; t/p - turnpike; dw - dwelling; ho - house; pt - part; pce - piece; grnd - ground; bldg - building; Tr/Trs - Trustee/Trustees; ... - words omitted; pol - poles; yd - square yards; : - bounded
Return to: Home Page Present-day Addresses Properties Map Old House Names Directories Valuation Rolls Sasines Census