Location : formerly garage, 20, Boat Road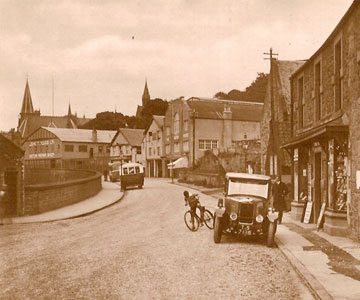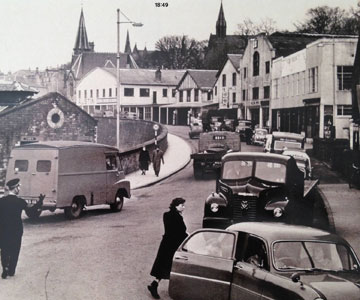 = Property demolished or site redeveloped
Notes:
Part of a sometimes divided property. Other parts: part of Motor Works
Introduction
The Motor Works gradually increased in size over the years. Built c.1905, additions were made in the 1920s, 1930s and 1950s. At various times, parts were let out - as shops, a workroom, an office and a hair-dressing saloon.
Location and Old Maps
Latitude, longitude: 56.438159,-2.942958
View location on the 1855 6-inch map, the 1895 25-inch map, the 1914 25-inch map, the 1966 25-inch map, or a 1944-50 aerial photograph at the National Library of Scotland website.
Nearby properties (demolished in red): 14 Boat Road showroom, 16, Boat Road 18 Boat Road (Newport Smithy, Boat Road) (Seamills Dairy & Stables, Boat Road) saloon, part of 16, Boat Road (part of motor works, Boat Road) (Tayside Cottages [SW], Boat Road) (4 High Road) (Chapel House [1], High Road) (Seamills Farmhouse, High Road) (Seamills Farm Cottage / Bothy, High Road) (part of Chapel House [2], High Road) (part of Chapel House [3], High Road) (Cycle Store, High Road)
1909-10 Finance Act - Valuation Office: Field Surveys
Reference no. &nbsp416
Old Addresses (any dates are approximate and are usually the latest occurence of the address)
House Names (any dates are approximate and are usually the latest occurence of the name)
Directory entries (before 1972) There are 166 entries
Source
Entry
1971 dir
Young, John T., Ltd., 20 Boat Road : Motor Engineers, Hirers And Agents
1971 dir
Young, John T., Ltd. motor engineers, 20 Boat Road
1970 MacDonald dir
Young, John T., Ltd., The Motor House, Newport; Austin retail dealers; cars for hire. Phones Newport, 3128 and 3129 : Motor Engineers And Agents
1970 dir
Young, John T., Ltd., motor engineers, 20 Boat Road, Tel. 3128/9
1970 dir
Young, John T., Ltd., 20 Boat Road : Motor Engineers, Hirers And Agents
1969 MacDonald dir
Young, John T., Limited. The Motor House. also Motor Car Agents. Cars For Hire Night And Day. Phones: Newport, 3128 and 3129. : Motor Engineers And Agents
1969 dir
Young, John T., Ltd., Boat Road : Motor Engineers, Hirers And Agents
1969 dir
Young, John T., Ltd., motor engineers, Boat Road, Tel. 3128/9
1968 dir
Young, John T., Ltd., Boat Road : Motor Engineers, Hirers And Agents
1968 dir
Young, John T., Ltd., motor engineers, Boat Road, Tel. 3128/9
1967 dir
Young, John T., Ltd., Boat road : Motor Engineers, Hirers, And Agents.
1967 dir
Young, John T., Ltd., motor engineers, Boat road, Tel. 3128/9
1966 dir
Young, John T., Ltd., motor engineers, Boat road, Tel. 3128/9
1966 dir
Young, John T., Ltd., Boat road : Motor Engineers, Hirers, And Agents.
1965 dir
Young, John T., Ltd., motor engineers, Boat road, Tel. 3128/9
1965 dir
Young, John T., Ltd., Boat road : Motor Engineers, Hirers, And Agents.
1964 dir
Young, John T., Ltd., motor engineers, Boat road, Tel. 3128/9
1963-64 MacDonald dir
Young, John T., Limited, The Motor House (Near Landing Pier) Also Motor Car Agents Cars For Hire Night And Day Phones 3128 and 3129. : Motor Engineers And Agents
1963 dir
Young, John T., Ltd., motor engineers, Boat road, Tel. 3128/9
1963 dir
Young, John T., Ltd., Boat road : Motor Engineers, Hirers, And Agents.
1962 dir
Young, John T., Ltd., Boat road : Motor Engineers, Hirers, And Agents.
1962 dir
Young, John T., Ltd., motor engineers, Boat road, Tel. 3128/9
1961 dir
Young, John T., Ltd., Boat road : Motor Engineers, Hirers, And Agents.
1961 dir
Young, John T., Ltd., motor engineers, Boat road, Tel. 3128/9
1960 dir
Young, John T., Ltd., motor engineers, Boat road, Tel. 31281/9
1960 dir
Young, John T., Ltd., Boat road : Motor Engineers, Hirers, And Agents.
1958-59 dir
Young, John T., Ltd., Boat road : Motor Engineers, Hirers, And Agents.
1958-59 dir
Young, John T., Ltd., motor engineers, Boat road
1957-58 MacDonald dir
Young, John T., Ltd., The Motor House : near landing pier: also motor car agents: cars for hire night and day. Phones 3128 and 3129 : Motor Engineers And Agents
1957-58 dir
Young, John T., Ltd., Boat road : Motor Engineers, Hirers, And Agents.
1957-58 dir
Young, John T., Ltd., motor engineers, Boat road
1956-57 dir
Young, John T., Ltd., Boat road : Motor Engineers, Hirers, And Agents.
1956-57 dir
Young, John T., Ltd., motor engineers, Boat road
1955-56 dir
Young, John T., Ltd., motor engineers, Boat road, East Newport
1955-56 dir
Young, John T., Ltd., Boat road : Motor Engineers, Hirers, And Agents
1954-55 dir
Young, John T., Ltd., Boat road : Motor Engineers, Hirers, And Agents.
1954-55 dir
Young, John T., Ltd., motor engineers, Boat road, East Newport
1953-54 dir
Young, John T., Ltd., motor engineers, Boat road, East Newport
1953-54 dir
Young, John T., Ltd., Boat road : Motor Engineers, Hirers, And Agents.
1952-53 dir
Young, John T., Ltd., motor engineers, Boat road, East Newport
1952-53 dir
Young, John T., Ltd., Boat road : Motor Engineers, Hirers, And Agents.
1951-52 dir
Young, John T., Ltd., Boat road : Motor Engineers, Hirers, And Agents.
1951-52 dir
Young, John T., Ltd., motor engineers, Boat road, East Newport
1950-51 dir
Young, John T., Ltd., motor engineers, Boat road
1950-51 dir
Young, John T., Ltd., Boat road : Motor Engineers, Hirers, And Agents.
1949-50 MacDonald dir
Young, John T., Ltd., The Motor House; accommodation for 150 cars. Tel. add. 'The Motor House, Newport'. Phone 3128 : Motor Garages
1949-50 MacDonald dir
Young, John T., Ltd., The Motor House; near landing pier; also motor car agents; cars for hire, night and day. Phone 3128 : Motor Engineers
1949-50 dir
Young, John T., Ltd. motor engineers, Boat road
1949-50 dir
Young, John T., Ltd., Boat road : Motor Engineers, Hirers, And Agents.
1948-49 dir
Young, John T., Ltd., Boat road : Motor Engineers, Hirers, And Agents.
1948-49 dir
Young, John T., Ltd., motor engineers, Boat road
1947-48 dir
Young, John T., Ltd., Boat road : Motor Engineers, Hirers, And Agents.
1947-48 dir
Young, John T., Ltd., motor engineers, Boat road
1946-47 dir
Young, John T., Ltd., motor engineers, Boat road
1946-47 dir
Young, John T., Ltd., Boat road : Motor Engineers, Hirers, And Agents.
1942-43 MacDonald dir
Young, John T., Ltd., The Motor House; near landing pier; also motor car agents, cars for hire, night and day. Phone 3128 : Motor Engineers
1942-43 MacDonald dir
Young, John T., Ltd., The Motor House; accommodation for 150 cars. Tel. add. 'The Motor House, Newport', Phone 3128 : Motor Garages
1942-43 dir
Young, John T., Ltd., motor engineers, Boat road
1941-42 MacDonald dir
Young, John T., Ltd., The Motor House; accommodation for 150 cars. Tel. add, 'The Motor House, Newport'; Phone 3128 : Motor Garages
1941-42 MacDonald dir
Young, John T., Ltd., The Motor House; near landing pier; also motor car agents; cars for hire, night and day. Phone 3128 : Motor Engineers
1941-42 dir
Young, John T., Ltd., motor engineers, Boat road
1941-42 dir
Young, John T., Ltd., Boat road : Motor Engineers, Hirers, And Agents
1940-41 MacDonald dir
Young, John T., Ltd., The Motor House; accommodation for 180 cars. Tel. add. 'The Motor House, Newport'. Phone 3128 : Motor Garages
1940-41 MacDonald dir
Young, John T., Ltd., The Motor House; near landing pier; also motor car agents; cars for hire, night and day. Phone 3128 : Motor Engineers
1940-41 dir
Young, John T., Ltd., motor engineers, Boat road
1940-41 dir
Young, John T., Ltd., Boat road : Motor Engineers, Hirers, And Agents.
1939-40 MacDonald dir
Young, John T., Ltd., The Motor House, accommodation for 150 cars. Tel. add. 'The Motor House, Newport'. Phone No. 28 : Motor Garages
1939-40 MacDonald dir
Young, John T., Ltd., The Motor House; near landing pier; also motor car agents; cars for hire, night and day. Phone No. 211 : Motor Engineers
1939-40 dir
Young, John T., Ltd., motor engineers, Boat road
1939-40 dir
Young, John T., Ltd., Boat road : Motor Engineers, Hirers, And Agents.
1938-39 MacDonald dir
Young, John T., Ltd., The Motor House; accommodation for 150 cars. Tel. add. 'The Motor House, Newport' Phone No. 28 : Motor Garages
1938-39 MacDonald dir
Young, John T., Ltd., The Motor House; near landing pier; also motor car agents; cars for hire, night and day. Phone No. 28 : Motor Engineers
1938-39 dir
Young, John T., Ltd., motor engineers, Boat road
1938-39 dir
Young, John T., Ltd., Boat road : Motor Engineers, Hirers, And Agents.
1937-38 MacDonald dir
Young, John T., Ltd., The Motor House; near landing pier; also motor car agents, cars for hire, night and day. Phone No. 28 : Motor Engineers
1937-38 MacDonald dir
Young, John T., Ltd., The Motor House, accommodation for 150 cars. Tel. add. 'The Motor House, Newport', Phone No. 28 : Motor Garages
1937-38 dir
Young, John T., Ltd., motor engineers, Boat road
1937-38 dir
Young, John T., Ltd., Boat road : Motor Engineers, Hirers, And Agents.
1936-37 MacDonald dir
Young, John T., Ltd., The Motor House; near landing pier; also motor car agents; cars for hire, night and day. Phone No. 28 : Motor Engineers
1936-37 MacDonald dir
Young, John T., Ltd., The Motor House; accommodation for 150 cars. Tel. add. 'The Motor House, Newport'; Phone No. 28 : Motor Garages
1936-37 dir
Young, John T., Ltd., motor engineers, Boat road
1936-37 dir
Young, John T., Ltd., Boat road : Motor Engineers, Hirers, And Agents.
1935-36 MacDonald dir
Young, John T., Ltd., The Motor House; accommodation for 150 cars. Tel. add. 'The Motor House, Newport'; Phone No. 28 : Motor Garages
1935-36 MacDonald dir
Young, John T., Ltd., The Motor House; near landing pier; also motor car agents; cars for hire, night and day. Phone No. 28 : Motor Engineers
1935-36 dir
Young, John T., Ltd., Boat road : Motor Engineers, Hirers, And Agents.
1935-36 dir
Young, John T., Ltd., motor engineers, Boat road
1934-35 MacDonald dir
Young, John T. Ltd., The Motor House; near landing pier; also motor car agents; cars for hire, night and day. Phone No. 28 : Motor Engineers
1934-35 MacDonald dir
Young, John T., Ltd., The Motor House. Accommodation for 180 cars. Tel. add. 'The Motor House, Newport'. Phone No. 28 : Motor Garages
1934-35 dir
Young, John T., Ltd., Boat road : Motor Engineers, Hirers, And Agents.
1934-35 dir
Young, John T., Ltd., motor engineers, Boat road, East Newport
1933-34 MacDonald dir
Young, John T., Ltd., The Motor House; near landing pier; also motor car agents; cars for hire, night and day. Phone No. 28 : Motor Engineers
1933-34 MacDonald dir
Young, John T., Ltd., The Motor House; accommodation for 150 cars. Tel. add., 'The Motor House, Newport'. Phone No. 28 : Motor Garages
1933-34 dir
Young, John T., Ltd., Boat road : Motor Engineers, Hirers, And Agents.
1933-34 dir
Young, John T., Ltd., motor engineers, Boat road, East Newport
1932-33 dir
Young, John T., Ltd., motor engineers, Boat road, East Newport
1932-33 dir
Young, John T., Ltd., Boat road : Motor Engineers, Hirers, And Agents.
1931-32 MacDonald dir
Young, John T., Ltd., The Motor House; accommodation for 150 cars. Tel. add. 'The Motor House, Newport'. Phone No. 28 : Motor Garages
1931-32 MacDonald dir
Young, John T., Ltd., The Motor House; near landing pier; also motor car agents; cars for hire, night and day. Phone No. 28 : Motor Engineers
1931-32 dir
Young, John T., Ltd., Boat road : Motor Engineers, Hirers, And Agents.
1931-32 dir
Young, John T., Ltd., motor engineers, Boat road, East Newport
1930-31 MacDonald dir
Young, John T., Ltd., The Motor House; accommodation for 150 cars. Tel. add. 'The Motor House, Newport'. Phone No. 28 : Motor Garages
1930-31 MacDonald dir
Young, John T., Ltd., The Motor House; near landing pier; also motor car agents; cars for hire, night and day. Phone No. 28 : Motor Engineers
1930-31 dir
Young, John T., Ltd., Boat road : Motor Engineers, Hirers, And Agents.
1930-31 dir
Young, John T., Ltd., motor engineers, Boat road, East Newport (Telephone No. N. 28)
1929-30 MacDonald dir
Young, John T., Ltd., The Motor House; accommodation for 180 cars. Tel. add. 'The Motor House, Newport'. Phone No. 28 : Motor Garages
1929-30 MacDonald dir
Young, John T., Ltd., The Motor House; near landing pier; also motor car agents; cars for hire, night and day. Phone No. 28 : Motor Engineers
1929-30 dir
Young, John T., Ltd., Boat road : Motor Engineers, Hirers, And Agents.
1929-30 dir
Young, John T., Ltd., motor engineers, Boat road, East Newport (Telephone No. N. 28)
1928-29 MacDonald dir
Young, John T., Ltd., The Motor House; accommodation for 150 cars. Tel. add. 'The Motor House, Newport'. Phone No. 28 : Motor Garages
1928-29 MacDonald dir
Young, John T., Ltd., The Motor House; cars for hire night and day. Phone No. 28 : Motor Engineers
1928-29 dir
Young, John T., Ltd., Boat road : Motor Engineers, Hirers And Agents.
1928-29 dir
Young, John T., Ltd., motor engineers, Boat road, East Newport (Telephone No. N. 28)
1928 Kelly dir
Young J. T. Ltd. motor agts. Boat rd. E.; T 28 [under Commercial]
1927-28 MacDonald dir
Young, John T., Ltd., The Motor House; night and day service. Tel. add. 'The Motor House, Newport'. Phone No. 28 : Motor Engineers
1927-28 MacDonald dir
Young, John T., Ltd., The Motor House; accommodation for 150 cars, Tel. add. 'The Motor House, Newport'. Phone No. 28 : Motor Garages
1927-28 dir
Young, John T., Ltd., motor engineers, Boat road, East Newport (Telephone No. N. 28)
1927-28 dir
Young, John T., Ltd., Boat road : Motor Engineers, Hirers, And Agents.
1926-27 MacDonald dir
Young, John T., Ltd., The Motor House; accommodation for 159 cars. Tel. add. 'The Motor House, Newport'. Phone No. 28 : Motor Garages
1926-27 MacDonald dir
Young, John T., Ltd., The Motor House; night and day service. Tel. add. 'The Motor House, Newport'. Phone No. 28 : Motor Engineers
1926-27 dir
Young, John T., Ltd., Boat road : Motor Engineers, Hirers, And Agents.
1926-27 dir
Young, John T., Ltd., motor engineers, Boat road, East Newport (Telephone No. N. 28)
1925-26 MacDonald dir
Young, John T., Ltd., The Motor House; accommodation for 150 cars. Tel. add. 'The Motor House, Newport'. Phone No. 28 : Motor Garages
1925-26 MacDonald dir
Young, John T., Ltd., The Motor House; night and day service. Tel. add. 'The Motor House, Newport'. Phone No. 28 : Motor Engineers
1925-26 dir
Young, John T., Ltd., motor engineers, The Motor House, Boat road, East Newport (Telephone No. N. 28)
1925-26 dir
Young, John T., Ld., The Motor House : Motor Engineers And Agents.
1925-26 dir
Young, John T., Ltd., The Motor House : Coach Proprietors And Motor Hirers.
1924-25 MacDonald dir
Young, John T., Ltd., The Motor House; accommodation for 160 cars. Tel. add. 'The Motor House, Newport'. Phone No. 28 : Motor Garages
1924-25 MacDonald dir
Young, John T., Ltd., The Motor House; night and day service. Tel. add. 'The Motor House, Newport'. Phone No. 28 : Motor Engineers
1923-24 MacDonald dir
Young, John T., Ltd., The Motor House; night and day service. Tel. add. 'The Motor House, Newport'. Phone No. 28 : Motor Engineers
1923-24 MacDonald dir
Young, John T., Ltd., The Motor House; accommodation for 150 cars. Tel. add. 'The Motor House, Newport', Phone No. 28 : Motor Garages
1923-24 dir
Young, John T., H., The Motor House : Motor Engineers And Agents.
1923-24 dir
Young, John T., Ltd., motor and cycle engineers, The Motor House, East Newport
1923-24 dir
Young, John T., Ltd., The Motor House : Coach Proprietors And Motor Hirers.
1922-23 dir
Young, John T., Ltd., motor and cycle engineers. The Motor House, East Newport
1921-22 MacDonald dir
Young, John T., Ltd., Boat road : Cycle & Motor Agents
1921 Slater dir
Young J. T. Ltd. motor agts.; Boat rd. E [under Commercial]
1920-21 dir
Young, John T., Ltd., motor and cycle engineers, The Motor House, East Newport
1919-20 MacDonald dir
Young, John T., Ltd., Boat road : Agents (Cycle And Motor)
1918-19 MacDonald dir
Young, John T., Ltd., Boat road : Agents (Cycle And Motor)
1918-19 dir
Young, John T., Ltd., motor and cycle engineers, The Motor House, East Newport
1917-18 MacDonald dir
Young, John T., Ltd., Boat road : Agents (Cycle And Motor)
1916-17 MacDonald dir
Young, John T., Ltd., Boat road : Agents (Cycle And Motor)
1915-16 MacDonald dir
Young, John T., Boat road : Agents (Cycle And Motor)
1915-16 dir
Young, John T., Ltd., motor and cycle engineers, The Motor House, East Newport
1915 Slater dir
Young John T. Ltd. motor agts. Seamills. E [under Commercial]
1914-15 MacDonald dir
Young, John T., Boat road : Agents (Cycle And Motor)
1914-15 dir
Young, John T., Ltd., motor and cycle engineers, The Motor House, East Newport
1913-14 MacDonald dir
Young, John T., Boat road : Agents (Cycle And Motor)
1913-14 dir
Young, John T., Ltd., motor and cycle engineers, The Motor House, East Newport
1912-13 MacDonald dir
Young, John T., Boat road : Agents (Cycle And Motor)
1912-13 dir
Young, John T., Ltd., motor and cycle engineers, The Motor House, East Newport
1911-12 MacDonald dir
Young, John T., Boat road : Agents (Cycle And Motor)
1911-12 dir
Young, John T., Ltd., motor and cycle engineers, The Motor House, East Newport
1911 Slater dir
Young John T. Ltd. motor agts. Sea mills, E [under Commercial]
1910-11 MacDonald dir
Young, John T., Boat road : Agents (Cycle And Motor)
1910-11 dir
Young, John T., Ltd., motor and cycle engineers, The Motor House, East Newport
1909-10 MacDonald dir
Young, John T., Boat road. Telephone No. 5X : Agents (Cycle And Motor)
1909-10 dir
Young, John T., cycle and motor agent. East Newport ; h. Ashbrook, Victoria street
location 2
1908-09 MacDonald dir
Young, John T., Pierhead : Agents (Cycle And Motor)
1908-09 dir
Young, John T., cycle and motor agent, East Newport ; h. Ashbrook, Victoria street
location 2
1908 Tayside Annual
Young, John T., garage [advert p.ii]
1908 Tayside Annual
Young, John T., Boat Road. : Cycle Agent And Motor Garage.
1907-08 MacDonald dir
Young, John T., Pierhead : Agents (Cycle And Motor)
1907-08 dir
Young, John T., cycle and motor agent. East Newport ; h. Ashbrook, Victoria street
location 2
1907 Slater dir
Young John T. cycle & motor agent, Sea mills, E [under Commercial]
location 2
1906-07 MacDonald dir
Young, John T., Pierhead : Agents (Cycle And Motor)
Census records
Valuation Roll entries There are 25 entries
| Year | No. | Property | Proprietor | Tenant | Occupier | Value | | |
| --- | --- | --- | --- | --- | --- | --- | --- | --- |
| 1969-70 | 2070 | Garage, Pumps etc & | John T Young Ltd | | proprietor | 1250 | View details | |
| 1967-68 | 744 | Garage, Pumps etc & | John T Young Ltd | | proprietor | 1250 | View details | |
| 1964-65 | 744 | Garage, Pumps etc & | John T Young Ltd | | proprietor | 1250 | View details | |
| 1961-62 | 2214 | Garage, Pumps etc & Workshop | John T Young Ltd | | proprietor | 1250 | View details | |
| 1958-59 | 916 | Garage & Workshop | John T Young Ltd | | proprietor | 296 | View details | |
| 1957-58 | 893 | Garage & Workshop | John T Young Ltd | | proprietor | 266 | View details | |
| 1952-53 | 868 | Garage & Workshop | John T Young Ltd | | proprietor | 266 | View details | |
| 1947-48 | 841 | Garage & Workshop | John T Young Ltd | | proprietor | 320 | View details | |
| 1942-43 | 827 | Garage & Workshop | John T Young Ltd | | proprietor | 270 | View details | |
| 1940-41 | 828 | Garage & Workshop | John T Young Ltd | | proprietor | 320 | View details | |
| 1937-38 | 839 | Garage & Workshop | John T Young Ltd | | proprietor | 320 | View details | |
| 1935-36 | 810 | Garage & Workshop | John T Young Ltd | | proprietor | 260 | View details | |
| 1932-33 | 782 | Garage & Workshop | John T Young Ltd | | proprietor | 260 | View details | |
| 1930-31 | 780 | Garage & Workshop | John T Young Ltd | | proprietor | 260 | View details | |
| 1927-28 | 771 | Garage | John T Young Ltd | | proprietor | 230 | View details | |
| 1925-26 | 753 | Motor Works | John T Young Ltd | | proprietor | 160 | View details | |
| 1922-23 | 771 | Motor Works | John T Young Ltd, motor engineers | | proprietor | 95 | View details | |
| 1920-21 | 753 | Motor Works | John T Young Ltd, motor engineers | | proprietor | 95 | View details | |
| 1917-18 | 751 | Motor Works | John T Young Ltd, motor engineers | | proprietor | 95 | View details | |
| 1915-16 | 747 | Motor Works | John T Young Ltd, motor engineers | | proprietor | 95 | View details | |
| 1912-13 | 726 | Motor Works | John T Young Ltd, motor engineers | | proprietor | 75 | View details | |
| 1910-11 | 715 | Motor Works | John T Young Ltd, motor engineers | | proprietor | 75 | View details | |
| 1909-10 | 711 | Motor Works | John T Young Ltd, motor engineers | | proprietor | 75 | View details | |
| 1907-08 | 707 | Motor Garage | John Thomson Young, cycle agent | | proprietor | 35 | View details | |
| 1905-06 | 691 | Motor Garage | John Thomson Young, cycle agent, Seamills | | proprietor | 5 | View details | |
Early Sasines:
Return to: Home Page Present-day Addresses Properties Map Old House Names Directories Valuation Rolls Sasines Census