Location : 6 High Level, Naughton Road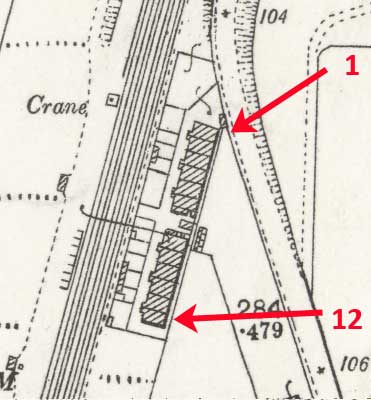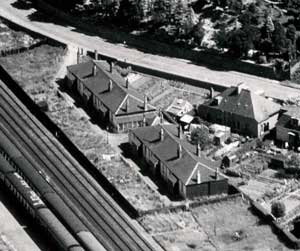 Photo / old map: OS 25 inch map, 1895. Reproduced with the permission of the National Library of Scotland.

= Property demolished or site redeveloped
Notes: demolished
Using the information here, it is impossible to be certain who lived in each property or part of the building before 1899. One possible interpretation is given below.
Introduction
The sequence of occupiers along the row differs between the valuation rolls and the censuses. Other sources (directories, Council minutes and school records) give numbers which agree with the valuation roll sequence at least as far back as 1899. Before that, there is no proof. The valuation roll sequence has been used here throughout, this giving the 'best guess' as to who lived where.
Location and Old Maps
Latitude, longitude: 56.42186,-2.98243
View location on the 1855 6-inch map, the 1895 25-inch map, the 1914 25-inch map, or a 1944-50 aerial photograph at the National Library of Scotland website.
Nearby properties (demolished in red): 12 Naughton Road 14 Naughton Road 16 Naughton Road 18 Naughton Road 20 Naughton Road Wormit Farm Cottages, 22, Naughton Road (1 High Level, Naughton Road) (2 High Level, Naughton Road) (3 High Level, Naughton Road) (4 High Level, Naughton Road) (5 High Level, Naughton Road) (7 High Level, Naughton Road) (8 High Level, Naughton Road) (9 High Level, Naughton Road) (10 High Level, Naughton Road) (11 High Level, Naughton Road) (12 High Level, Naughton Road)
Old Addresses (any dates are approximate and are usually the latest occurence of the address)
House Names (any dates are approximate and are usually the latest occurence of the name)
| | | |
| --- | --- | --- |
| 6 High Level | | |
| 6 Telephone Row | | |
| Line Side | 1897 | |
| 6 Railway Cottages | 1911 | |
Directory entries (before 1970) There are 3 entries
Source
Entry
1908 Tayside Annual
Low, James, railway servant, High Level. [in Wormit directory]
1907 Tayside Annual
Low, James, railway servant High Level. [in Wormit directory]
1893-94 dir
Murray, Andrew B., coal and lime merchant and contractor, Wormit station ; h. 6 Wormit cottages
location 2
Census records
Year
Head
Notes
1911
Foulis
Thomas
1901
Wishart
Lawrence
View household
[? different order from VR]
1891
Uninhabited
View household
[? different order from VR]
Valuation Roll entries There are 33 entries
| Year | No. | Property | Proprietor | Tenant | Occupier | Value | | |
| --- | --- | --- | --- | --- | --- | --- | --- | --- |
| 1958-59 | 1551 | House | British Transport Commission per Estate & Rating Surveyor, 90 West Nile St, Glasgow | | empty (condemned) | 0 | View details | |
| 1957-58 | 1525 | House | British Transport Commission per Estate & Rating Surveyor, St Enoch Station, Glasgow | | empty (condemned) | 0 | View details | |
| 1952-53 | 1484 | House | British Transport Commission per Estate & Rating Surveyor, St Enoch Station, Glasgow | | George Scott | 8-15-7 | View details | |
| 1947-48 | 1442 | House | London & North-Eastern Railway Co, per Factor (Scotland), 23 Waterloo Pl, Edinburgh | | George Scott, railway servant | 8-15-7 | View details | |
| 1942-43 | 1418 | House | London & North-Eastern Railway Co, per Factor (Scotland), 47 Leith St, Edinburgh | | George Scott, railway servant | 8-15-7 | View details | |
| 1940-41 | 1418 | House | London & North-Eastern Railway Co, per Factor (Scotland), 47 Leith St, Edinburgh | | Thomas Foulis, railway servant | 8-15-7 | View details | |
| 1937-38 | 1439 | House | London & North-Eastern Railway Co, per John Hay, 47 Leith St, Edinburgh | | Thomas Foulis, railway servant | 8-15-7 | View details | |
| 1935-36 | 1359 | House | London & North-Eastern Railway Co, per John Hay, 47 Leith St, Edinburgh | | Thomas Foulis, railway servant | 8-15-7 | View details | |
| 1932-33 | 1335 | House | London & North-Eastern Railway Co, per John Hay, 47 Leith St, Edinburgh | | Thomas Foulis, railway servant | 8-15-7 | View details | |
| 1930-31 | 1322 | House | London & North-Eastern Railway Co, per John Hay, 47 Leith St, Edinburgh | | Thomas Foulis, railway servant | 8-15-7 | View details | |
| 1927-28 | 1308 | House | London & North-Eastern Railway Co, per John Hay, 47 Leith St, Edinburgh | | Thomas Foulis, railway servant | 8-15-0 | View details | |
| 1922-23 | 1254 | House | North British Railway Co, per John Hay, 47 Leith St, Edinburgh | Thomas Foulis, railway servant | same | 8-15-0 | View details | |
| 1917-18 | 1228 | House | North British Railway Co, per John Hay, 23 Waterloo Place, Edinburgh | Thomas Foulis, railway servant | same | 5-4-0 | View details | |
| 1915-16 | 1221 | House | North British Railway Co, per John Hay, 23 Waterloo Place, Edinburgh | Thomas Foulis, railway servant | same | 5-4-0 | View details | |
| 1912-13 | 1058 | House | North British Railway Co, per John Cathles, 2 Waterloo Place, Edinburgh | Thomas Foulis, railway servant | same | 5-4-0 | View details | |
| 1910-11 | 1045 | House | North British Railway Co, per John Cathles, 23 Waterloo Place, Edinburgh | Thomas Foulis, railway servant | same | 5-4-0 | View details | |
| 1909-10 | 1039 | House | North British Railway Co, per John Cathles, 23 Waterloo Place, Edinburgh | James Low, railway servant | same | 5-4-0 | View details | |
| 1907-08 | 1034 | House | North British Railway Co, per John Cathles, 23 Waterloo Place, Edinburgh | James Low, railway servant | same | 5-4-0 | View details | |
| 1905-06 | 1011 | House | North British Railway Co. per John Cathles, 23 Waterloo Pl., Edinburgh | James Low, railway servant | same | 5-4-0 | View details | |
| 1903-04 | 997 | House | North British Railway Co. per John Cathles, 23 Waterloo Pl., Edinburgh | Lawrence Wishart, railway servant | same | 5-4-0 | View details | |
| 1901-02 | 176 | House | North British Railway Co. per John Cathles, 23 Waterloo Pl., Edinburgh | Lawrence Wishart, railway servant | same | 4-11-0 | View details | |
| 1900-01 | 175 | House | North British Railway Co. per John Cathles, 4 Princes St., Edinburgh | Lawrence Wishart, railway servant | same | 4-11-0 | View details | |
| 1899-00 | 166 | House | North British Railway Co. per John Cathles, 4 Princes St., Edinburgh | Lawrence Wishart, railway servant | same | 4-11-0 | View details | |
| 1898-99 | 157 | House | North British Railway Co. per John Cathles, 4 Princes St., Edinburgh | | Lawrence Wishart, railway servant | 4-11-0 | View details | |
| 1897-98 | 151 | House | North British Railway Co. per John Cathles, 4 Princes St., Edinburgh | Lawrence Wishart, railway servant | same | 4-11-0 | View details | |
| 1896-97 | 152 | House | North British Railway Co. per John Cathles, 4 Princes St., Edinburgh | Lawrence Wishart, railway servant | same | 4-11-0 | View details | |
| 1895-96 | 149 | House | North British Railway Co. per John Cathles, 4 Princes St., Edinburgh | L Wishart, railway seervant | same | 4-11-0 | View details | |
| 1894-95 | 205 | House | North British Railway Co. per John Cathles, 4 Princes St., Edinburgh | George Elder, signalman | same | 4-11-0 | View details | |
| 1893-94 | 199 | House | North British Railway Co. per John Cathles, 4 Princes St., Edinburgh | George Elder, signalman | same | 4-11-0 | View details | |
| 1892-93 | 204 | House | North British Railway Co per G B Wieland, 4 Princes St, Edinburgh | James Stewart, railway servant | same | 4-11-0 | View details | |
| 1891-92 | 203 | House | North British Railway Co per G B Wieland, 4 Princes St, Edinburgh | Mrs King | same | 5 | View details | |
| 1890-91 | 199 | House | North British Railway Co per G B Wieland, 4 Princes St, Edinburgh | | empty | 4-11-0 | View details | |
| 1889-90 | 192 | House | North British Railway Co per G B Wieland, 4 Princes St, Edinburgh | | empty | 5 | View details | |
Early Sasines:
Return to: Home Page Present-day Addresses Properties Map Old House Names Directories Valuation Rolls Sasines Census