Location : Pluck-the-Crow [centre], West Road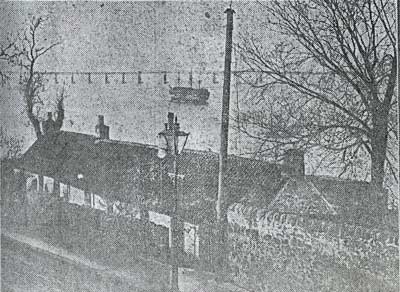 = Property demolished or site redeveloped
Notes: Demolished.
Using the information here, it is impossible to be certain who lived in each property or part of the building before 1881. Other properties involved : Pluck-the-Crow [west] Pluck-the-Crow [east] One possible interpretation is given below.
Introduction
Up to at least 1851 the row was divided into 4 cottages. The additional occupier is included in Pluck-the-Crow [east]
Location and Old Maps
Latitude, longitude: 56.433417,-2.954325
View location on the 1855 6-inch map, the 1895 25-inch map, the 1914 25-inch map, the 1966 25-inch map, or a 1944-50 aerial photograph at the National Library of Scotland website.
Nearby properties (demolished in red): 2 Castle Brae (Pluck-ye-Craw ground, West Road) 80 West Road (Pluck-the-Crow [east], West Road) (Pluck-the-Crow [west], West Road)
1854 Ordnance Survey Name Book Entry (originals at ScotlandsPlaces) (more information on the O.S. Name Books page)
| | | | | | | |
| --- | --- | --- | --- | --- | --- | --- |
| List of names to be corrected if necessary | Orthography, as recommended to be used in the new plans | Other modes of spelling the name | Authorities for these other modes of spelling when known | Situation | Descriptive remarks or other general observations which may be considered of interest | Source |
| Pluck the Crow | Pluck the Crow | Pluck the Crow; Pluck the Crow | John Berry Esq. Tayfield; Mr. Smith, Factor, Chapelhouse | In the West end of the Village of Newport. | A row of cottages of one story high and in good repair, with gardens attached. Occupied by labouring people. Feued from John Berry Esq. of Tayfield. | OS1/13/33/41 |
1909-10 Finance Act - Valuation Office: Field Surveys
Reference no. &nbsp385 &nbsp386
Old Addresses (any dates are approximate and are usually the latest occurence of the address)
| | | |
| --- | --- | --- |
| Newburgh Road, West Newport | | |
House Names (any dates are approximate and are usually the latest occurence of the name)
| | | |
| --- | --- | --- |
| Pluck the Crow [centre] | | |
| Pluck-the-Craw | | |
| The Cottages, Newburgh Road | | |
Directory entries (before 1970) There are 13 entries
Source
Entry
1936-37 dir
Robertson, James, gardener, The Cottage, Newburgh rd., West Newport
1935-36 dir
Robertson, James, gardener, The Cottage, Newburgh rd., West Newport
1934-35 dir
Robertson, James, gardener, The Cottage, Newburgh rd., West Newport
1933-34 dir
Robertson, James, gardener, The Cottage, Newburgh rd., West Newport
1932-33 dir
Robertson, James, gardener, The Cottage, Newburgh rd., West Newport
1931-32 dir
Robertson, James, gardener, The Cottage, Newburgh rd., West Newport
1930-31 dir
Robertson, James, gardener, The Cottage, Newburgh rd., Wrest Newport
1929-30 dir
Robertson, James, gardener, The Cottage, Newburgh rd., West Newport
1928-29 dir
Robertson, James, gardener, The Cottage, Newburgh rd., West Newport
1927-28 dir
Robertson, James, gardener, The Cottage, Newburgh rd., West Newport
1925-26 dir
Bisset, John, joiner, The Cottages, Newburgh road
1923-24 dir
Bisset, John, joiner, The Cottages, Newburgh road
1871-72 dir
Cameron, Duncan, builder, West Newport
Census records
Valuation Roll entries There are 27 entries
| Year | No. | Property | Proprietor | Tenant | Occupier | Value | | |
| --- | --- | --- | --- | --- | --- | --- | --- | --- |
| 1935-36 | 1030 | House & Garden | John Berry per Hagart & Burn Murdoch WS, 10 Atholl Cresc, Edinburgh | | James Robertson | 9 | View details | |
| 1932-33 | 981 | House & Garden | William Berry per Hagart & Burn Murdoch WS, 10 Atholl Cresc, Edinburgh | | James Robertson | 9 | View details | |
| 1930-31 | 978 | House & Garden | William Berry per Hagart & Burn Murdoch WS, 10 Atholl Cresc, Edinburgh | | James Robertson | 9 | View details | |
| 1927-28 | 967 | House & Garden | William Berry per Hagart & Burn Murdoch WS, 10 Atholl Cresc, Edinburgh | | James Robertson | 9 | View details | |
| 1922-23 | 920 | House & Garden | William Berry per Hagart & Burn Murdoch WS, 140 Princes St, Edinburgh | J Bisset, joiner | same | 8-10-0 | View details | |
| 1917-18 | 897 | House & Garden | William Berry per Hagart & Burn Murdoch WS, 140 Princes St, Edinburgh | Miss Margaret Mackay | same | 6 | View details | |
| 1915-16 | 890 | House & Garden | William Berry per Hagart & Burn Murdoch WS, 140 Princes St, Edinburgh | Robert Finlay | same | 6 | View details | |
| 1912-13 | 681 | House & Garden | William Berry per Hagart & Burn Murdoch WS, 140 Princes St, Edinburgh | | | uninhabitable | View details | |
| 1907-08 | 662 | House & Garden | William Berry per Hagart & Burn Murdoch WS, 140 Princes St, Edinburgh | | | uninhabitable | View details | |
| 1905-06 | 643 | House and Garden | William Berry Esq. per Haggart & Burn Murdoch, WS, 140 Princes St, Edinburgh | | | uninhabitable | View details | |
| 1903-04 | 635 | House and Garden | William Berry Esq. per Haggart & Burn Murdoch, WS, 140 Princes St, Edinburgh | | | uninhabitable | View details | |
| 1901-02 | 423 | House and Garden | William Berry Esq. per Haggart & Burn Murdoch, WS, 140 Princes St, Edinburgh | | | uninhabitable | View details | |
| 1900-01 | 410 | House and Garden | William Berry Esq. per Haggart & Burn Murdoch, WS, 140 Princes St, Edinburgh | | | uninhabitable | View details | |
| 1899-00 | 381 | House and Garden | William Berry Esq. per Haggart & Burn Murdoch, WS, 140 Princes St, Edinburgh | | | uninhabitable | View details | |
| 1897-98 | 333 | House and Garden | William Berry Esq. per Haggart & Burn Murdoch, WS, 140 Princes St, Edinburgh | George Paton, car driver | same | 5 | View details | |
| 1896-97 | 311 | House and Garden | William Berry Esq. per Haggart & Burn Murdoch, WS, 140 Princes St, Edinburgh | Miss Alison Gulland | same | 5 | View details | |
| 1895-96 | 285 | House and Garden | William Berry Esq. per Haggart & Burn Murdoch, WS, 140 Princes St, Edinburgh | Miss Alison Gulland | same | 5 | View details | |
| 1894-95 | 121 | House and Garden | William Berry Esq. per Haggart & Burn Murdoch, WS, 140 Princes St, Edinburgh | Miss Alison Gulland | same | 5 | View details | |
| 1893-94 | 114 | House and Garden | William Berry Esq. per Haggart & Burn Murdoch, WS, 140 Princes St, Edinburgh | Miss Alison Gulland | same | 5 | View details | |
| 1892-93 | 118 | House and Garden | William Berry Esq. per Haggart & Burn Murdoch, WS, 140 Princes St, Edinburgh | Miss Alison Gulland | same | 5 | View details | |
| 1891-92 | 117 | House and Garden | William Berry Esq. per Haggart & Burn Murdoch, WS, 140 Princes St, Edinburgh | Miss Alison Gulland | same | 5 | View details | |
| 1890-91 | 112 | House and Garden | William Berry Esq. per Haggart & Burn Murdoch, WS, 140 Princes St, Edinburgh | Miss Alison Gulland | same | 5 | View details | |
| 1889-90 | 108 | House and Garden | William Berry Esq. per Haggart & Burn Murdoch, WS, 140 Princes St, Edinburgh | Miss Alison Gulland | same | 5 | View details | |
| 1885-86 | 100 | House and Garden, Pluck-the-Craw | William Berry Esq. per Haggart & Burn Murdoch, WS, Edinburgh | Miss Alison Gulland | same | 5 | View details | |
| 1881-82 | 49 | House and Garden, Pluck-the-Craw | William Berry Esq. (a minor), per J D Hannan, factor | same | Miss Alison Gulland | 5 | View details | |
| 1878-79 | 52 | House and Garden, Pluck-the-Craw | William Berry Esq. (a minor) | same | Miss Alison Gulland | 4-14-6 | View details | |
| 1875-76 | 52 | House and Garden, Pluck-the-Craw | John Berry Esq. | same | David Gulland | 4-14-6 | View details | |
Early Sasines:
Return to: Home Page Present-day Addresses Properties Map Old House Names Directories Valuation Rolls Sasines Census