Location : Slaughter House, Granary Lane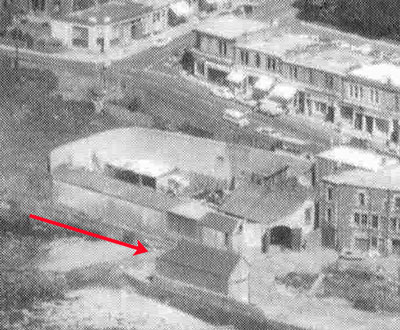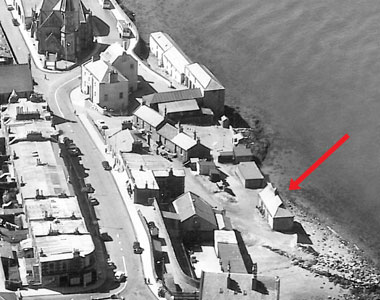 = Property demolished or site redeveloped
Notes: Original building demolished; new building erected 1899. Now demolished.
Introduction
Opened 14 August 1899 on site 'in close proximity to the old condemned slaughter house'. Builder - David Mackie; joinery - Robert Matthewson; architect - T Cappon; cost over £200. [Dundee Courier 15 August 1899]
Listed in Valuation Roll under High Street. Used as smithy & workshop from c.1940 - c.1960.
Location and Old Maps
Latitude, longitude: 56.439873,-2.942373
View location on the 1855 6-inch map, the 1895 25-inch map, the 1914 25-inch map, the 1966 25-inch map, or a 1944-50 aerial photograph at the National Library of Scotland website.
Nearby properties (demolished in red): (formerly garages & workshop, 9, Boat Road) (former house [1], Granary Lane) (former house [2], Granary Lane) (formerly 5, Granary Lane) (Smithy, formerly 9, Granary Lane) (Burgh Yard, formerly 11, Granary Lane) (part of Gas Works Lane Granary [1], Granary Lane) (part of Gas Works Lane Granary [2], Granary Lane) (part of Gas Works Lane Granary [3], Granary Lane) (part of Gas Works Lane Granary [4], Granary Lane) (part of Gas Works Lane Granary [5], Granary Lane) (part of Gas Works Lane Granary [6], Granary Lane) (former house [3], Granary Lane) (former house [4], Granary Lane) (former house [5], Granary Lane) (former house [6], Granary Lane) 3 High Street 5 High Street 7 High Street shop, 9, High Street shop, 11, High Street shop, 13, High Street shop, 15, High Street (house at gasworks, High Street) (Gas Office, High Street) downstairs property, 9, High Street
Information and Photographs on Other Sites (open in a new window)
1909-10 Finance Act - Valuation Office: Field Surveys
Reference no. &nbsp401 &nbsp403
Old Addresses (any dates are approximate and are usually the latest occurence of the address)
House Names (any dates are approximate and are usually the latest occurence of the name)
Directory entries (before 1972) There are 26 entries
Source
Entry
1958-59 dir
Don, John J., blacksmith, Old Pier road; h. Seamills, High road
location 2
1958-59 dir
Don, John J., Old Pier road : Blacksmiths.
1957-58 dir
Don, John J. blacksmith, Old Pier road; h. Seamills, High road
location 2
1957-58 dir
Don, John J., Old Pier road : Blacksmiths.
1956-57 dir
Don, John J., blacksmith, Old Pier road; h. Seamills
location 2
1956-57 dir
Don, John J., Old Pier road : Blacksmiths.
1955-56 dir
Don, John J., Old Pier road : Blacksmiths.
1955-56 dir
Don, John J., blacksmith, Old Pier road ; h. Seamills, East Newport
location 2
1954-55 dir
Don, John J., Old Pier road : Blacksmiths.
1954-55 dir
Don, John J., blacksmith, Old Pier road ; h. Seamills, East Newport
location 2
1953-54 dir
Don, John J., blacksmith, Old Pier road ; h. Seamills, East Newport
location 2
1953-54 dir
Don, John J., Old Pier road : Blacksmiths.
1952-53 dir
Don, John J., Old Pier road : Blacksmiths.
1952-53 dir
Don, John J., blacksmith, Old Pier road ; h. Seamills, East Newport
location 2
1951-52 dir
Don, John J., Old Pier road : Blacksmiths.
1951-52 dir
Don, John J., blacksmith, Old Pier road ; h. Seamills, East Newport
location 2
1950-51 dir
Don, John J., blacksmith, Old Pier road ; h. Seamills, East Newport
location 2
1950-51 dir
Don, John J., Old Pier road : Blacksmiths.
1949-50 dir
Don, John J., Old Pier road : Blacksmiths.
1949-50 dir
Don, John J., blacksmith, Old Pier road ; h. Seamills, East Newport
location 2
1948-49 dir
Don, John J., Old Pier road : Blacksmiths.
1948-49 dir
Don, John J., blacksmith, Old Pier road; h. Seamills, East Newport
location 2
1947-48 dir
Don, John J., blacksmith, Old Pier road ; church-officer, St Thomas' Church ; h. Seamills, East Newport
location 2
1947-48 dir
Don, John J., Old Pier road : Blacksmiths.
1946-47 dir
Don, John J., Old Pier road Newport : Blacksmiths.
1946-47 dir
Don, John J., blacksmith, Old Pier road ; church-officer, St Thomas' Church ; h. Seamills, East Newport
location 2
Census records
Valuation Roll entries There are 38 entries
| Year | No. | Property | Proprietor | Tenant | Occupier | Value | | |
| --- | --- | --- | --- | --- | --- | --- | --- | --- |
| 1958-59 | 961 | Slaughter House Site | John Berry PhD per Hagart & Burn Murdoch WS, 10 Atholl Cres, Edinburgh | | John J Don | 5 | View details | |
| 1958-59 | 1006 | Workshop | John J Don, blacksmith | | proprietor | 12 | View details | |
| 1957-58 | 940 | Slaughter House Site | John Berry PhD per Hagart & Burn Murdoch WS, 10 Atholl Cres, Edinburgh | | John J Don | 5 | View details | |
| 1957-58 | 987 | Workshop | John J Don, blacksmith | | proprietor | 12 | View details | |
| 1952-53 | 914 | Slaughter House Site | John Berry per Hagart & Burn Murdoch WS, 10 Atholl Cres, Edinburgh | | John J Don | 5 | View details | |
| 1952-53 | 963 | Workshop | John J Don, blacksmith | | proprietor | 12 | View details | |
| 1947-48 | 882 | Slaughter House Site | John Berry per Hagart & Burn Murdoch WS, 10 Atholl Cres, Edinburgh | | George T Morrison, butcher | 5 | View details | |
| 1947-48 | 931 | Workshop | George T Morrison, butcher, 4 St Phillans Place | | John J Don, blacksmith | 12 | View details | |
| 1942-43 | 863 | Slaughter House Site | John Berry per Hagart & Burn Murdoch WS, 10 Atholl Cres, Edinburgh | | George T Morrison, butcher | 5 | View details | |
| 1942-43 | 912 | Workshop | George T Morrison, butcher | | John J Don, blacksmith | 12 | View details | |
| 1940-41 | 863 | Slaughter House Site | John Berry per Hagart & Burn Murdoch WS, 10 Atholl Cres, Edinburgh | | George T Morrison, butcher | 5 | View details | |
| 1937-38 | 866 | Slaughter House Site | John Berry per Hagart & Burn Murdoch WS, 10 Atholl Cres, Edinburgh | | George T Morrison, butcher | 5 | View details | |
| 1935-36 | 835 | Slaughter House Site | John Berry per Hagart & Burn Murdoch WS, 10 Atholl Cres, Edinburgh | | George T Morrison, butcher | 5 | View details | |
| 1932-33 | 802 | Slaughter House Site | William Berry per Hagart & Burn Murdoch WS, 10 Atholl Cres, Edinburgh | | Matthew Morrison, butcher | 5 | View details | |
| 1930-31 | 800 | Slaughter House Site | William Berry per Hagart & Burn Murdoch WS, 10 Atholl Cres, Edinburgh | | Matthew Morrison, butcher | 5 | View details | |
| 1927-28 | 793 | Slaughter House Site | William Berry per Hagart & Burn Murdoch WS, 10 Atholl Cres, Edinburgh | | Matthew Morrison, butcher | 5 | View details | |
| 1925-26 | 774 | Slaughter House Site | William Berry per Hagart & Burn Murdoch WS, 140 Princes St, Edinburgh | Matthew Morrison, butcher | same | 5 | View details | |
| 1922-23 | 751 | Slaughter House Site | William Berry per Hagart & Burn Murdoch WS, 140 Princes St, Edinburgh | Matthew Morrison, butcher | same | 5 | View details | |
| 1920-21 | 731 | Slaughter House Site | William Berry per Hagart & Burn Murdoch WS, 140 Princes St, Edinburgh | Matthew Morrison, butcher | same | 5 | View details | |
| 1917-18 | 729 | Slaughter House Site | William Berry per Hagart & Burn Murdoch WS, 140 Princes St, Edinburgh | Matthew Morrison, butcher | same | 5 | View details | |
| 1915-16 | 725 | Slaughter House Site | William Berry per Hagart & Burn Murdoch WS, 140 Princes St, Edinburgh | Matthew Morrison, butcher | same | 5 | View details | |
| 1912-13 | 711 | Slaughter House Site | William Berry per Hagart & Burn Murdoch WS, 140 Princes St, Edinburgh | Matthew Morrison, butcher | same | 5 | View details | |
| 1907-08 | 691 | Slaughter House Site | William Berry per Hagart & Burn Murdoch WS, 140 Princes St, Edinburgh | Matthew Morrison, butcher | same | 5 | View details | |
| 1905-06 | 675 | Slaughter House Site | William Berry Esq. per Haggart & Burn Murdoch, WS, 140 Princes St, Edinburgh | Matthew Morrison, butcher | same | 5 | View details | |
| 1903-04 | 666 | Slaughter House Site | William Berry Esq. per Haggart & Burn Murdoch, WS, 140 Princes St, Edinburgh | Matthew Morrison, butcher | same | 5 | View details | |
| 1901-02 | 455 | Slaughter House Site | William Berry Esq. per Haggart & Burn Murdoch, WS, 140 Princes St, Edinburgh | Matthew Morrison, butcher | same | 5 | View details | |
| 1900-01 | 442 | Slaughter House Site | William Berry Esq. per Haggart & Burn Murdoch, WS, 140 Princes St, Edinburgh | Matthew Morrison, butcher | same | 5 | View details | |
| 1899-00 | 413 | Slaughter House Site | William Berry Esq. per Haggart & Burn Murdoch, WS, 140 Princes St, Edinburgh | Matthew Morrison, butcher | same | 5 | View details | |
| 1897-98 | 364 | Slaughter House Site | William Berry Esq. per Haggart & Burn Murdoch, WS, 140 Princes St, Edinburgh | Mrs Matthew Morrison, butcher | same | 5 | View details | |
| 1896-97 | 342 | Slaughter House Site | William Berry Esq. per Haggart & Burn Murdoch, WS, 140 Princes St, Edinburgh | Mrs Matthew Morrison, butcher | same | 5 | View details | |
| 1893-94 | 497 | Slaughter House | Matthew Morrison sen., retired flesher, Gowrie Bank | | empty | 4 | View details | |
| 1892-93 | 486 | Slaughter House | Matthew Morrison sen., retired flesher, Gowrie Bank | Matthew Morrison jun., flesher | same | 4 | View details | |
| 1891-92 | 473 | Slaughter House | Matthew Morrison sen., retired flesher, Gowrie Bank | Matthew Morrison jun., flesher | same | 4 | View details | |
| 1890-91 | 445 | Slaughter House | Matthew Morrison sen., retired flesher, Craighead | Matthew Morrison jun., flesher | same | 4 | View details | |
| 1889-90 | 424 | Slaughter House | Matthew Morrison sen., retired flesher, Craighead | Matthew Morrison jun., flesher | same | 4 | View details | |
| 1885-86 | 395 | Slaughter House | Matthew Morrison sen., flesher, Craighead | Matthew Morrison jun., flesher | same | 4 | View details | |
| 1881-82 | 271 | Slaughter House | Matthew Morrison, flesher | | Said Matthew Morrison | 4 | View details | |
| 1878-79 | 261 | Slaughter House | Matthew Morrison, flesher | | Said Matthew Morrison | 4 | View details | |
Early Sasines:
Return to: Home Page Present-day Addresses Properties Map Old House Names Directories Valuation Rolls Sasines Census