Location : Bogearn [1]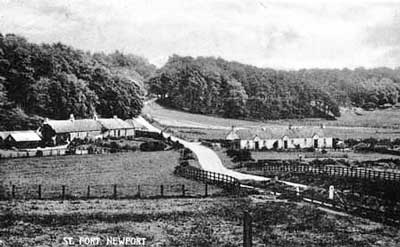 = Property demolished or site redeveloped
Notes: On left of photo, originally part of Bogton, the other part (on the south side of the road, right of photo) being in Kilmany parish.
Part of a combination of previously separate properties. Other parts: Bogearn [2] Bogearn [3]
Location and Old Maps
Latitude, longitude: 56.408040,-2.953201
View location on the 1855 6-inch map, the 1895 25-inch map, the 1914 25-inch map, or a 1944-50 aerial photograph at the National Library of Scotland website.
Nearby properties (demolished in red): (Bogearn [2]) (Bogearn [3])
Information and Photographs on Other Sites (open in a new window)
Bogearn source: The Place-Names of Fife, by Simon Taylor with Gilbert Markus, University of Glasgow (see a map of all the placenames in Forgan parish.)
Old Addresses (any dates are approximate and are usually the latest occurence of the address)
House Names (any dates are approximate and are usually the latest occurence of the name)
Directory entries (before 1972) There are 8 entries
Source
Entry
1964 dir
Fairlie, James, radio and television engineer, Royal Buildings, Tay street; h. Bogton cottage, St. Fort, Wormit
location 2
1963 dir
Fairlie, James, radio and television engineer, Royal Buildings, Tay street; h. Bogton cottage, St. Fort, Wormit
location 2
1962 dir
Fairlie, James, radio and television engineer, Royal Buildings, Tay street; h. Bogton cottage, St. Fort, Wormit
location 2
1928 Kelly dir
Peebles Alexander, dairyman, Bogton (letters via Wormit, Fifeshire) [under Forgan Commercial]
1921 Slater dir
Peebles Alexander, dairyman, Bogton (letters via Wormit, Fifeshire) [under Forgan Commercial]
1915 Slater dir
Peebles Alexander, dairyman, Bogton (letters via Wormit, Fifeshire) [under Forgan Commercial]
1911 Slater dir
Peebles Alexander, dairyman, Bogton (letters via Wormit, Fifeshire) [under Forgan Commercial]
1907 Slater dir
Peebles Alexander, dairyman [under Forgan Commercial]
Entries in the Registers of Voters
Source
Enrol Date
Name
Occup.
Address
Qualification
Property
at
Notes
1879-1880 Voters
Peebles, James
labourer
Bogearn
1878-1879 Voters
Peebles, James
labourer
Bogearn
1874 Voters
Peebles, James
labourer
1873 Voters
Peebles, James
labourer
Census records
Valuation Roll entries There are 47 entries
| Year | No. | Property | Proprietor | Tenant | Occupier | Value | | |
| --- | --- | --- | --- | --- | --- | --- | --- | --- |
| 1958-59 | 38 | House | Andrew Mylius per Lindsay Howe & Co, WS, 32 Charlotte Sq, Edinburgh | | William Rodger, IO | | View details | |
| 1957-58 | 38 | House | Andrew Mylius per Lindsay Howe & Co, WS, 32 Charlotte Sq, Edinburgh | | William Rodger, IO | | View details | |
| 1952-53 | 44 | House | Trs for Andrew Mylius (minor) per Lindsay Howe & Co, WS, 32 Charlotte Sq, Edinburgh | | William Rodger, IO | | View details | |
| 1947-48 | 42 | House | Trs for Andrew Mylius (minor) per Lindsay Howe & Co, WS, 32 Charlotte Sq, Edinburgh | | empty, IO £3 | | View details | |
| 1942-43 | 83 | House & Land | Trs for Andrew Mylius (minor) per Lindsay Howe & Co, WS, 32 Charlotte Sq, Edinburgh | | James Peebles, market gardener | 15 | View details | |
| 1940-41 | 82 | House & Land | Trs for Andrew Mylius (minor) per Lindsay Howe & Co, WS, 32 Charlotte Sq, Edinburgh | | James Peebles, market gardener | 15 | View details | |
| 1937-38 | 86 | Houses | Mrs Lesbia Mylius per Lindsay, Howe & Co WS, 32 Charlotte Sq, Edinburgh | | James Peebles, market gardener | 9 | View details | |
| 1937-38 | 87 | Land | Mrs Lesbia Mylius per Lindsay, Howe & Co WS, 32 Charlotte Sq, Edinburgh | | James Peebles, market gardener | 11 | View details | |
| 1935-36 | 86 | Houses | Mrs Lesbia Mylius per Lindsay, Howe & Co WS, 32 Charlotte Sq, Edinburgh | | James Peebles, market gardener | 9 | View details | |
| 1935-36 | 87 | Land | Mrs Lesbia Mylius per Lindsay, Howe & Co WS, 32 Charlotte Sq, Edinburgh | | James Peebles, market gardener | 38-15-0 | View details | |
| 1932-33 | 84 | Houses | Mrs Lesbia Mylius per Lindsay, Howe & Co WS, 32 Charlotte Sq, Edinburgh | | James Peebles, market gardener | 9 | View details | |
| 1932-33 | 85 | Land | Mrs Lesbia Mylius per Lindsay, Howe & Co WS, 32 Charlotte Sq, Edinburgh | | James Peebles, market gardener | 38-15-0 | View details | |
| 1930-31 | 85 | Houses | Mrs Lesbia Mylius per Pagan & Osborne, Cupar | | James Peebles, market gardener | 9 | View details | |
| 1930-31 | 86 | Land | Mrs Lesbia Mylius per Pagan & Osborne, Cupar | | James Peebles, market gardener | 38-15-0 | View details | |
| 1927-28 | 121 | Houses | Trs of late Mrs Jane Fraser Stewart [sic, should be Mrs Lesbia Mylius] | | Alexander Peebles, market gardener | 9 | View details | |
| 1927-28 | 122 | Land | Trs of late Mrs Jane Fraser Stewart [sic, should be Mrs Lesbia Mylius] | | Alexander Peebles, market gardener | 38-15-0 | View details | |
| 1925-26 | 112 | Houses & Land | Trs of late Mrs Jane Fraser Stewart, per David Osborne, Cupar | Alexander Peebles, market gardener | same | 47-15-0 | View details | |
| 1922-23 | 102 | Houses & Land | Trs of late Mrs Jane Fraser Stewart, per David Osborne, Cupar | Alexander Peebles, market gardener | same | 47-15-0 | View details | |
| 1920-21 | 94 | Houses & Land | Trs of late Mrs Jane Fraser Stewart, per David Osborne, Cupar | Alexander Peebles, market gardener | same | 47-15-0 | View details | |
| 1917-18 | 93 | Houses & Land | Trs of late Mrs Jane Fraser Stewart, per David Osborne, Cupar | Alexander Peebles, market gardener | same | 47-15-0 | View details | |
| 1915-16 | 92 | Houses & Land | Trs of late Mrs Jane Fraser Stewart, per David Osborne, Cupar | Alexander Peebles, market gardener | same | 47-15-0 | View details | |
| 1912-13 | 90 | Houses & Land | Trs of late Mrs Jane Fraser Stewart, per David Osborne, Cupar | Alexander Peebles, market gardener | same | 47-15-0 | View details | |
| 1907-08 | 85 | Houses & Land | Trs of late Mrs Jane Fraser Stewart, per David Osborne, Cupar | Alexander Peebles, market gardener | same | 32 | View details | |
| 1905-06 | 77 | Houses and Land | Trs. of late Mrs Jane Fraser Stewart per David Osborne, Cupar | Alexander Peebles, market gardener | same | 22 | View details | |
| 1903-04 | 78 | Houses and Land | Trs. of late Mrs Jane Fraser Stewart per David Osborne, Cupar | Alexander Peebles, market gardener | same | 22 | View details | |
| 1901-02 | 101 | Houses and Land | Trs. of late Mrs Jane Fraser Stewart per James Curr, land agent, St Fort | Alexander Peebles, market gardener | same | 22 | View details | |
| 1900-01 | 101 | Houses and Land | Trs. of late Mrs Jane Fraser Stewart per James Curr, land agent, St Fort | James Peebles, market gardener | same | 22 | View details | |
| 1899-00 | 94 | Houses and Land | Trs. of late Mrs Jane Fraser Stewart per James Curr, land agent, St Fort | James Peebles, market gardener | same | 22 | View details | |
| 1897-98 | 84 | Houses and Land | Trs. of late Mrs Jane Fraser Stewart per James Curr, land agent, St Fort | James Peebles, market gardener | same | 22 | View details | |
| 1896-97 | 84 | Houses and Land | Trs. of late Mrs Jane Fraser Stewart per James Curr, land agent, St Fort | James Peebles, market gardener | same | 22 | View details | |
| 1895-96 | 83 | Houses and Land | Trs. of late Mrs Jane Fraser Stewart per James Curr, land agent, St Fort | James Peebles, market gardener | same | 22 | View details | |
| 1894-95 | 87 | Houses and Land | Trs. of late Mrs Jane Fraser Stewart per James Curr, land agent, St Fort | James Peebles, market gardener | same | 22 | View details | |
| 1893-94 | 82 | Houses and Land | Trs. of late Mrs Jane Fraser Stewart per James Curr, land agent, St Fort | James Peebles, market gardener | same | 22 | View details | |
| 1892-93 | 87 | Houses and Land | Trs. of late Mrs Jane Fraser Stewart per James Curr, land agent, St Fort | James Peebles, market gardener | same | 22 | View details | |
| 1891-92 | 87 | Houses and Land | Trs. of late Mrs Jane Fraser Stewart per James Curr, land agent, St Fort | James Peebles, market gardener | same | 22 | View details | |
| 1890-91 | 83 | Houses and Land | Trs. of late Mrs Jane Fraser Stewart per Lindsay Howe & Co., WS, 32 Charlotte Sq., Edinburgh | James Peebles, market gardener | same | 22 | View details | |
| 1889-90 | 79 | Houses and Land | Trs. of late Mrs Jane Fraser Stewart per Lindsay Howe & Co., WS, 32 Charlotte Sq., Edinburgh | James Peebles, market gardener | same | 23-10-0 | View details | |
| 1885-86 | 72 | Houses and Land, Bogearn | Reps. of late Mrs Jane Fraser Stewart per Lindsay Howe & Co., WS, 32 Charlotte Sq., Edinburgh | James Peebles, market gardener | same | 28-10-0 | View details | |
| 1881-82 | 30 | Houses and Land, Bogearn | Mrs Alexander Storrar, Abercrombie | same | James Peebles, labourer | 30 | View details | |
| 1878-79 | 32 | Houses and Land, Bogearn | Mrs Mary Greig Russell, wife of Alex. Storrar, farmer, Craigfoodie | same | James Peebles, labourer | 30 | View details | |
| 1875-76 | 33 | Houses and Land, Bogearn | Mrs Mary Greig Russell, wife of Alex. Storrar, farmer, Craigfoodie | same | James Peebles, labourer | 30 | View details | |
| 1871-72 | 34 | Houses & land | Miss Mary Greig Russell, Kinnaird | | James Peebles, labourer | 14-10-0 | View details | |
| 1867-68 | 33 | Bogearn Land and Houses | James Russell, Argyle, St Andrews | | Heirs of late James Walker | 13 | View details | |
| 1865-66 | 33 | Bogearn Land and Houses | James Russell, Byrhills | said James Walker | James Walker | 13 | View details | |
| 1864-65 | 30 | Bogearn Land and Houses | James Russell, Boarhills, St Andrews | | James Walker | 13 | View details | |
| 1860-61 | 39 | Land & house | James Russell, Boarhills | | James Walker | 14 | View details | |
| 1855-56 | 73 | House and Land | James Russell of Boarhills, St Andrews | James Walker | said James Walker | 14 | View details | |
Early Sasines:
Return to: Home Page Present-day Addresses Properties Map Old House Names Directories Valuation Rolls Sasines Census