Location : house above former post office, Boat Road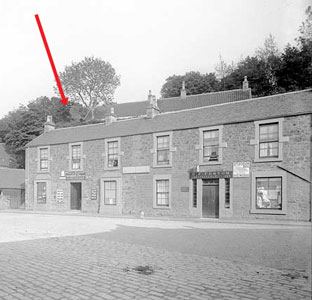 = Property still standing
Notes: upstairs. Often included with post office below.
Part of a previously divided property. Other parts: former post office, 8 Boat Road
Location and Old Maps
Latitude, longitude: 56.437649,-2.944055
View location on the 1855 6-inch map, the 1895 25-inch map, the 1914 25-inch map, the 1966 25-inch map, or a 1944-50 aerial photograph at the National Library of Scotland website.
Nearby properties (demolished in red): 1 Boat Brae 2 Boat Brae 4 Boat Brae 5 Boat Brae 8 Boat Brae 10 Boat Brae 12 Boat Brae 14 Boat Brae 6 Boat Brae part of 1, Boat Brae part of 5, Boat Brae 3 Boat Brae (house and shop on site of 1, Boat Brae) formerly Ferry Terminal, 1-3, Boat Road 4 Boat Road (formerly 5, Boat Road) 6 Boat Road former Post Office, 8, Boat Road (formerly store, 12, Boat Road) (Newport Smithy, Boat Road) (formerly workshop, 10, Boat Road) (former shop at pier, Boat Road) (former Mission Hall, Boat Road) shop, part of 6, Boat Road (former store near Post Office, Boat Road) Seamills Cottage [east half], 6, High Road Seamills Cottage [west half], High Road
Old Addresses (any dates are approximate and are usually the latest occurence of the address)
House Names (any dates are approximate and are usually the latest occurence of the name)
Directory entries (before 1970) There are 79 entries
Source
Entry
1957-58 dir
Ferguson, Mrs Margaret, Pierhead
1956-57 dir
Ferguson, Mrs Margaret, Pierhead
1955-56 dir
Ferguson, Mrs Margaret Pierhead
1954-55 dir
Ferguson, Mrs Margaret, Pierhead
1953-54 dir
Ferguson, Mrs Margaret, Pierhead
1952-53 dir
Ferguson, Mrs Margaret, Pierhead
1951-52 dir
Ferguson, Mrs, Pierhead
1950-51 dir
Ferguson, Mrs, Pierhead
1949-50 dir
Ferguson, Mrs, Pierhead
1948-49 dir
Ferguson, Mrs, Pierhead
1947-48 dir
Ferguson, Mrs, Pierhead
1946-47 dir
Ferguson, Mrs, Pierhead
1942-43 dir
Ferguson, Mrs, Pierhead
1941-42 dir
Ferguson, Mrs, Pierhead
1940-41 dir
Ferguson, Mrs, Pierhead
1939-40 dir
Ferguson, Mrs, Pierhead
1938-39 dir
Ferguson, Mrs, Pierhead
1937-38 dir
Ferguson, Mrs, Pierhead
1936-37 dir
Ferguson, Mrs, Pierhead
1935-36 dir
Ferguson, Mrs, Pierhead
1934-35 dir
Ferguson, Mrs, Pierhead, East Newport
1933-34 dir
Ferguson, Mrs, Pierhead, East, Newport
1932-33 dir
Ferguson, Mrs, Pierhead, East Newport
1931-32 dir
Ferguson, Mrs, Pierhead, East Newport
1930-31 dir
Ferguson, Mrs, Pierhead, East Newport
1929-30 dir
Ferguson, Mrs, Pierhead, East Newport
1928-29 dir
Ferguson, Mrs, Pierhead, East Newport
1925-26 dir
Ferguson, Mrs Margaret, Pierhead, East Newport
1923-24 dir
Ferguson, Mrs Margaret, Pierhead, East Newport
1922-23 dir
Ferguson, Mrs Margaret, Pierhead, East Newport
1915-16 dir
Anderson, Alexander M., optician and jeweller, Post Office, Pierhead
location 2
1915 Slater dir
Anderson, Alexander M., postmaster; [under Post Office Newport]
location 2
1915 Slater dir
Anderson Alex. M. bookseller, Pierhead, E [under Commercial]
location 2
1914-15 dir
Anderson, Alexander M., optician and jeweller, Post Office, Pierhead
location 2
1913-14 dir
Anderson, Alexander M., optician and jeweller, Post Office, Pierhead
location 2
1912-13 dir
Anderson, Alexander M., optician and jeweller, Post Office, Pierhead
location 2
1911-12 dir
Anderson, Alex. M., optician and fancy goods merchant, Post Office, Pierhead
location 2
1911 Slater dir
Anderson Alex. M. bookseller, Pierhead, E [under Commercial]
location 2
1910-11 dir
Anderson, Alex. M., optician and fancy goods mer. Post Office, Pierhead
location 2
1909-10 dir
Anderson, Alex. M., optician and fancy goods mer., Post Office, Pierhead
location 2
1908-09 dir
Anderson, Alex. M., optician and fancy goods mer., Post Office, Pierhead
location 2
1908 Tayside Annual
Anderson, Alex. M., postmaster, photographer, and fancy goods merchant, Pierhead.
location 2
1907-08 dir
Anderson, Alex. M., optician and fancy goods mer., Post Office, Pierhead
location 2
1907 Tayside Annual
Anderson, Alex. M., postmaster, photographer, and fancy goods merchant, Pierhead
location 2
1907 Slater dir
Anderson Alexander M. bookseller & stationer, Pierhead, E [under Commercial]
location 2
1907 Slater dir
Anderson, Alexander M., postmaster; [under Post Office Newport]
location 2
1906-07 dir
Anderson, Alex. M., optician and fancy goods mer., Post Office, Pierhead
location 2
1905-06 dir
Anderson, Alex. M., optician and fancy goods mer., Post Office, Pierhead
location 2
1904-05 dir
Anderson, Alex. M., watchmaker and jeweller, Post Office, Pierhead
location 2
1903-04 dir
Anderson, Alex. M., watchmaker and jeweller, Post Office, Pierhead
location 2
1903 Slater dir
Anderson Alexander M. bookseller & stationer, Pierhead, E Newport (Commercial)
location 2
1903 Slater dir
Anderson, Alexander M., postmaster; [under Newport Post Office]
location 2
1902-03 dir
Anderson, Alex. M., watchmaker and jeweller, Post Office, Pierhead
location 2
1901-02 dir
Anderson, Alex. M., watchmaker and jeweller. Post Office, Pierhead
location 2
1900-01 dir
Anderson, Alex. M., watchmaker and jeweller, Post Office, Pierhead
location 2
1899-00 dir
Anderson, Alex. M., watchmaker and jeweller. Post Office, Pierhead
location 2
1899 Slater dir
Anderson Alexander M. bookseller & stationer, Pierhead, E [under Commercial]
location 2
1899 Slater dir
Anderson, Alexander M., postmaster; [under Post Office Newport]
location 2
1898-99 dir
Anderson, Alex. M., watchmaker and jeweller, Post Office, Pierhead
location 2
1897-98 dir
Anderson, Alex. M., watchmaker and jeweller. Post Office, Pierhead
location 2
1896-97 dir
Anderson, Alex. M., watchmaker and jeweller, Post Office, Pierhead
location 2
1896 Slater dir
Anderson, Alexander M., postmaster; [under Post Office Newport]
location 2
1896 Slater dir
Anderson Alexander M. bookseller & stationer, Pierhead, E [under Commercial]
location 2
1895-96 dir
Anderson, Alex. M., watchmaker and jeweller. Post Office, Pierhead
location 2
1895 Clarke dir
Anderson, Alex. M., Newport : Watchmakers & Jewellers
location 2
1894-95 dir
Anderson, Alex. M., watchmaker and jeweller. Post Office, Pierhead
location 2
1893-94 dir
Anderson, Alex. M., watchmaker and jeweller, Post Office, Pierhead
location 2
1893 Slater dir
Anderson Alexander M., Pierhead : Booksellers And Stationers.
location 2
1893 Slater dir
Anderson Alexander M., Post Master : Post, Telegraph And Money Order Office And Savings Bank, Newport,
location 2
1892-93 dir
Anderson, Alex. M., watchmaker and jeweller, Post Office, Pierhead
location 2
1891-92 Lamburn dir
Green, John, Pierhead : Gardeners.
1891-92 dir
Green, John, jobbing gardener. Pierhead, Newport
1890-91 dir
Green, John, jobbing gardener, Pierhead, Newport
1889-90 dir
Green, John, jobbing gardener. Pierhead, Newport
1888-89 dir
Green, John, jobbing gardener, Pierhead, Newport
1887-88 dir
Green, John, jobbing gardener. Pierhead, Newport
1882-83 dir
M'Naughton, Rev. James H., Pierhead
1882 Slater dir
M'Naughton Rev. James H., Pier head, Newport
1880-81 dir
M'Naughton, Rev, James H., Pierhead
Entries in the Registers of Voters
Source
Enrol Date
Name
Occup.
Address
Qualification
Property
at
Notes
1900 Male Voters
Anderson, Alexander M'Farlane
Postmaster
Pierhead, Newport
Tenant of House
Newport
Census records
Valuation Roll entries There are 31 entries
| Year | No. | Property | Proprietor | Tenant | Occupier | Value | | |
| --- | --- | --- | --- | --- | --- | --- | --- | --- |
| 1957-58 | 901 | House | John Berry PhD per Hagart & Burn Murdoch WS, 10 Atholl Cresc., Edinburgh | | Mrs Margaret Ferguson | 13-10-0 | View details | |
| 1952-53 | 875 | House | John Berry per Hagart & Burn Murdoch WS, 10 Atholl Cresc., Edinburgh | | Mrs Margaret Ferguson | 13-10-0 | View details | |
| 1947-48 | 846 | House | John Berry per Hagart & Burn Murdoch WS, 10 Atholl Cresc., Edinburgh | | Mrs Margaret Ferguson | 13-10-0 | View details | |
| 1942-43 | 832 | House | John Berry per Hagart & Burn Murdoch WS, 10 Atholl Cresc., Edinburgh | | Mrs Margaret Ferguson | 13-10-0 | View details | |
| 1940-41 | 833 | House | John Berry per Hagart & Burn Murdoch WS, 10 Atholl Cresc., Edinburgh | | Mrs Margaret Ferguson | 13-10-0 | View details | |
| 1937-38 | 844 | House | John Berry per Hagart & Burn Murdoch WS, 10 Atholl Cresc., Edinburgh | | Mrs Margaret Ferguson | 13-10-0 | View details | |
| 1935-36 | 814 | House | John Berry per Hagart & Burn Murdoch WS, 10 Atholl Cresc., Edinburgh | | Mrs Margaret Ferguson | 13-10-0 | View details | |
| 1932-33 | 787 | House | William Berry per Hagart & Burn Murdoch WS, 10 Atholl Cresc., Edinburgh | | Mrs Margaret Ferguson | 13-10-0 | View details | |
| 1930-31 | 785 | House | William Berry per Hagart & Burn Murdoch WS, 10 Atholl Cresc., Edinburgh | | Mrs Margaret Ferguson | 13-10-0 | View details | |
| 1922-23 | 728 | House | William Berry per Hagart & Burn Murdoch WS, 140 Princes St, Edinburgh | Mrs Margaret Ferguson | same | 10 | View details | |
| 1917-18 | 706 | House | William Berry per Hagart & Burn Murdoch WS, 140 Princes St, Edinburgh | Alex McFarlane Anderson, postmaster | same | 10 | View details | |
| 1915-16 | 702 | House | William Berry per Hagart & Burn Murdoch WS, 140 Princes St, Edinburgh | Alex McFarlane Anderson, postmaster | same | 10 | View details | |
| 1912-13 | 698 | House | William Berry per Hagart & Burn Murdoch WS, 140 Princes St, Edinburgh | Alex McFarlane Anderson, postmaster | same | 10 | View details | |
| 1907-08 | 678 | House | William Berry per Hagart & Burn Murdoch WS, 140 Princes St, Edinburgh | Alex McFarlane Anderson, postmaster | same | 10 | View details | |
| 1905-06 | 662 | House | William Berry Esq. per Haggart & Burn Murdoch, WS, 140 Princes St, Edinburgh | Alex. McFarlane Anderson, postmaster | same | 10 | View details | |
| 1903-04 | 654 | House | William Berry Esq. per Haggart & Burn Murdoch, WS, 140 Princes St, Edinburgh | Alex. McFarlane Anderson, postmaster | same | 10 | View details | |
| 1901-02 | 443 | House | William Berry Esq. per Haggart & Burn Murdoch, WS, 140 Princes St, Edinburgh | Alex. McFarlane Anderson, postmaster | same | 10 | View details | |
| 1900-01 | 430 | House | William Berry Esq. per Haggart & Burn Murdoch, WS, 140 Princes St, Edinburgh | Alex. McFarlane Anderson, postmaster | same | 10 | View details | |
| 1899-00 | 401 | House | William Berry Esq. per Haggart & Burn Murdoch, WS, 140 Princes St, Edinburgh | Alex. McFarlane Anderson, postmaster | same | 10 | View details | |
| 1897-98 | 352 | House | William Berry Esq. per Haggart & Burn Murdoch, WS, 140 Princes St, Edinburgh | Alex. McFarlane Anderson, postmaster | same | 10 | View details | |
| 1896-97 | 330 | House | William Berry Esq. per Haggart & Burn Murdoch, WS, 140 Princes St, Edinburgh | Alex. McFarlane Anderson, postmaster | same | 10 | View details | |
| 1895-96 | 303 | House | William Berry Esq. per Haggart & Burn Murdoch, WS, 140 Princes St, Edinburgh | Alex. McFarlane Anderson, postmaster | same | 10 | View details | |
| 1894-95 | 136 | House | William Berry Esq. per Haggart & Burn Murdoch, WS, 140 Princes St, Edinburgh | Alex. McFarlane Anderson, postmaster | same | 10 | View details | |
| 1893-94 | 129 | House | William Berry Esq. per Haggart & Burn Murdoch, WS, 140 Princes St, Edinburgh | Alex. McFarlane Anderson, postmaster | same | 10 | View details | |
| 1892-93 | 133 | House | William Berry Esq. per Haggart & Burn Murdoch, WS, 140 Princes St, Edinburgh | Alex. McFarlane Anderson, postmaster | same | 10 | View details | |
| 1891-92 | 131 | House | William Berry Esq. per Haggart & Burn Murdoch, WS, 140 Princes St, Edinburgh | John Green, gardener | same | 10 | View details | |
| 1890-91 | 126 | House | William Berry Esq. per Haggart & Burn Murdoch, WS, 140 Princes St, Edinburgh | John Green, gardener | same | 10 | View details | |
| 1889-90 | 122 | House | William Berry Esq. per Haggart & Burn Murdoch, WS, 140 Princes St, Edinburgh | John Green, gardener | same | 10 | View details | |
| 1885-86 | 113 | House | William Berry Esq. per Haggart & Burn Murdoch, WS, Edinburgh | | empty | 12 | View details | |
| 1881-82 | 62 | House | William Berry Esq. (a minor), per J D Hannan, factor | same | Rev. J. H. M'Naughton | 12 | View details | |
| 1878-79 | 69 | House | William Berry Esq. (a minor) | same | Rev. J. H. M'Naughton | 12 | View details | |
Early Sasines:
Return to: Home Page Present-day Addresses Properties Map Old House Names Directories Valuation Rolls Sasines Census