Location : Bowling Green, High Street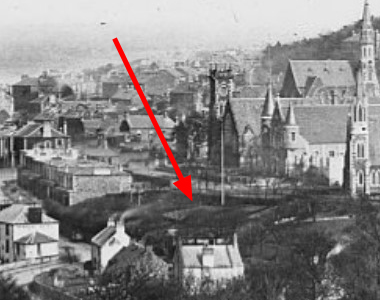 Photo / old map: Image Courtesy of the University of St Andrews Library, ID JV-972

= Property demolished or site redeveloped
Notes: site used by St Mary's Church
Introduction
Developed by the proprietor of the Newport Inn in the 1850s, the green sat alongside a garden, and a quoiting ground (1861), on ground tenanted by the Inn. Interest appears to have waned in the 1860s and eventually the Newport Bowling Club was formed to play on a green, not here but at Seacraig in 1869. Photo shows the green, complete with flagpole, in early 1878. Site now occupied by St Mary's Church.
Location and Old Maps
Latitude, longitude: 56.439229,-2.941588
View location on the 1855 6-inch map, the 1895 25-inch map, the 1914 25-inch map, the 1966 25-inch map, or a 1944-50 aerial photograph at the National Library of Scotland website.
Nearby properties (demolished in red): 3 High Street 4 High Street 5 High Street office at front, 6, High Street 7 High Street 8 High Street shop, 9, High Street 10 High Street St Mary's Church, High Street shop, 11, High Street 12 High Street shop, 13, High Street 14 High Street shop, 15, High Street shop, 16, High Street 18 High Street 20 High Street 22 High Street shop, 24, High Street 26 High Street 28a, High Street shop, 28, High Street shop, 30, High Street shop, 32, High Street 34 High Street 36 High Street shop, 38, High Street shop, 40, High Street (house at gasworks, High Street) (Gas Office, High Street) downstairs property, 9, High Street (cottage south of 4, High Street) (old house [south 2], High Street) (old house [south 3], High Street) (old house [south 4], High Street) (Congregational Church, Kilnburn) (the Waterside (East Water), Old Places)
Later use of the site : St Mary's Church
Information and Photographs on Other Sites (open in a new window)
Old Addresses (any dates are approximate and are usually the latest occurence of the address)
House Names (any dates are approximate and are usually the latest occurence of the name)
Directory entries (before 1972)
Census records
Valuation Roll entries There are 4 entries
| Year | No. | Property | Proprietor | Tenant | Occupier | Value | | |
| --- | --- | --- | --- | --- | --- | --- | --- | --- |
| 1867-68 | 65 | Garden | John Berry | | William Brown, innkeeper | 5 | View details | |
| 1865-66 | 66 | Garden | John Berry of Tayfield | said William Brown | William Brown, innkeeper | 5 | View details | |
| 1864-65 | 62 | Garden | John Berry of Tayfield | | William Brown, innkeeper | 5 | View details | |
| 1860-61 | 71 | Garden | John Berry of Tayfield | | William Brown, innkeeper | 5 | View details | |
Early Sasines:
Return to: Home Page Present-day Addresses Properties Map Old House Names Directories Valuation Rolls Sasines Census