Location : 93 Tay Street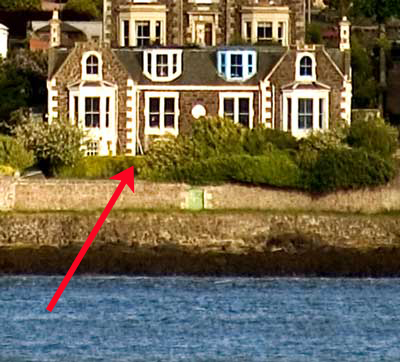 = Property still standing
Notes:
Introduction
Link with the Tay Bridge: Albert Grothe & Frederick Reeves lived here. Thomas Bouch visited.
Location and Old Maps
Latitude, longitude: 56.445481,-2.937299
View location on the 1855 6-inch map, the 1895 25-inch map, the 1914 25-inch map, the 1966 25-inch map, or a 1944-50 aerial photograph at the National Library of Scotland website.
Nearby properties (demolished in red): 83 Tay Street 85 Tay Street 87 Tay Street 89 Tay Street 91 Tay Street 95 Tay Street 97 Tay Street 99 Tay Street 103 Tay Street
1909-10 Finance Act - Valuation Office: Field Surveys
Reference no. &nbsp328 (no transcripts on this site)
Old Addresses (any dates are approximate and are usually the latest occurence of the address)
House Names (any dates are approximate and are usually the latest occurence of the name)
Directory entries (before 1970) There are 83 entries
Source
Entry
1949-50 dir
Sturrock, G. B., Myrtlebank, East Tay street, East Newport; Secretary, [under Wormit Boating Club]
location 2
1948-49 dir
Sturrock, G. B., Myrtlebank, East Tay street, East Newport; Secretary, [under Wormit Boating Club]
location 2
1947-48 dir
Sturrock, Mrs J., Myrtlebank, East Tay street
1946-47 dir
Sturrock, Mrs J., Myrtlebank, East Tay street
1942-43 dir
Sturrock, J. Percy, Myrtlebank, East Tay street
1941-42 dir
Sturrock, J. Percy, Myrtlebank, East Tay street
1940-41 dir
Sturrock, J. Percy, Myrtlebank, East Tay street
1939-40 dir
Sturrock, J. Percy, Myrtlebank, Tay street
1938-39 dir
Sturrock, J. Percy, Myrtlebank, Tay street
1937-38 dir
Sturrock, J. Percy, Myrtlebank, Tay street
1936-37 dir
Sturrock, J. Percy, Myrtlebank, Tay street
1935-36 dir
Sturrock, J. Percy, Myrtlebank, Tay street
1934-35 dir
Sturrock, J. Percy, Myrtlebank, Tay street, East Newport
1931-32 MacDonald dir
Robertson, W., Myrtlebank, E. N.
1930-31 MacDonald dir
Robertson, W., Myrtlebank, E. N.
1929-30 MacDonald dir
Robertson, W., Myrtlebank, E. N.
1929-30 dir
Robertson, Walter (merchant, Dundee), Myrtlebank, Tayport road
1929-30 dir
Robertson, Charlotte (dressmaker, Dundee), Myrtlebank, Tayport road, East Newport
[could have been either house]
location 2
1928-29 MacDonald dir
Robertson, W., Myrtlebank, E. N.
1928-29 dir
Robertson, Walter (merchant, Dundee), Myrtlebank, Tayport road
1928-29 dir
Robertson, Charlotte (dressmaker, Dundee), Myrtlebank, Tayport road, East Newport
[could have been either house]
location 2
1927-28 MacDonald dir
Robertson, W., Myrtlebank, E. N.
1927-28 dir
Robertson, Charlotte (dressmaker, Dundee), Myrtlebank, Tayport road, East Newport
[could have been either house]
location 2
1927-28 dir
Robertson, Walter (merchant, Dundee), Myrtlebank, Tayport road
1926-27 MacDonald dir
Robertson, W., Myrtlebank, E. N.
1926-27 dir
Robertson, Walter (merchant, Dundee), Myrtlebank, Tayport road
1925-26 MacDonald dir
Robertson, W., Myrtlebank, E. N.
1925-26 dir
Robertson, Walter (merchant, Dundee), Myrtlebank, Tayport road
1924-25 MacDonald dir
Robertson, W., Myrtlebank. E. N.
1923-24 MacDonald dir
Robertson, W., Myrtlebank, E. N.
1923-24 dir
Robertson, Walter (merchant, Dundee), Myrtlebank, Tayport road
1923-24 dir
Robertson, Walter, jun. (jute merchant, Dundee), Myrtlebank, Tayport road, East Newport
1922-23 dir
Robertson, Walter (merchant, Dundee), Myrtlebank, Tayport road; East Newport
1922-23 dir
Robertson, Walter, jun. (jute merchant, Dundee), Myrtlebank, Tayport road, East Newport
1921-22 MacDonald dir
Robertson, W., Myrtlebank, E. N.
1920-21 dir
Robertson, Walter (merchant, Dundee), Myrtlebank, East Newport
1919-20 MacDonald dir
Fraser, Miss, Myrtle Bank
1918-19 MacDonald dir
Fraser, Miss, Myrtle Bank
1918-19 dir
Robertson, Walter (merchant, Dundee), Myrtlebank, East Newport
1917-18 MacDonald dir
Fraser, Miss, Myrtle Bank
1916-17 MacDonald dir
Fraser, Miss, Myrtle Bank
1915-16 MacDonald dir
Fraser, John, Myrtle Bank
1915-16 dir
Robertson, Walter (merchant, Dundee), Myrtlebank, East Newport
1915 Slater dir
Fraser Mrs. Myrtle bank, E
1914-15 MacDonald dir
Fraser, John, Myrtle Bank
1913-14 MacDonald dir
Fraser, John, Myrtle Bank
1913-14 dir
Fraser, John (picture frame maker, Dundee), Myrtlebank, E. Newport
1912-13 dir
Fraser, John (picture frame maker, Dundee), Myrtlebank, E. Newport
1908-09 dir
Lloyd, Miss, teacher, Myrtlebank, Tayport road
1908-09 dir
Meyer and Lloyd, Misses (teachers, Dundee), Tayport rd., East Newport
1908 Tayside Annual
Meyer, Miss, teacher, Myrtle Bank,
1907-08 MacDonald dir
Mayer, Miss, Myrtle Bank
1907-08 dir
Lloyd, Miss, teacher, Myrtlebank, Tayport road
1907-08 dir
Meyer and Lloyd, Misses (teachers, Dundee), Tayport rd., East Newport
1907 Tayside Annual
Meyer, Miss, teacher, Myrtle Bank,
1907 Slater dir
Meyer Miss, Myrtle bank, E
1906-07 MacDonald dir
Mayer, Miss, Myrtle Bank
1906-07 dir
Lloyd, Miss, teacher, Myrtlebank, Tayport road
1906-07 dir
Meyer and Lloyd, Misses (teachers, Dundee), Tayport rd., East Newport
1905-06 dir
Meyer and Lloyd, Misses (teachers, Dundee), Tayport rd., East Newport
1896-97 dir
Keddie, Mrs Robert, Myrtlebank, Tayport road
1896 Slater dir
Keddie, Agnes (Mrs.), householder, Myrtle bank, Ferry road. E [under Commercial]
1895-96 dir
Keddie, Mrs Robert, Myrtlebank, Tayport road
1894-95 dir
Kiddie, Mrs Robert, Myrtlebank, Tayport road
1893-94 dir
Kiddie, Mrs Robert, Myrtlebank, East Newport
1893 Slater dir
Keddie Mrs. Agnes, Myrtle Bank, E N
1892-93 dir
Kiddie, Mrs Robert, Myrtlebank, East Newport
1889 Slater dir
Kiddie Mr Robert, Myrtle Bank, Tay st. Newport, Fife
1886-87 dir
Calder, John F. (solicitor, Dundee), Myrtlebank, East Newport
[could have been either house]
location 2
1886 Slater dir
Calder John F, Myrtle Bank, Tay St
[could have been either house]
location 2
1885-86 dir
Calder, C. Campbell (solicitor, Dundee), Myrtlebank, East Newport
[could have been either house]
location 2
1885-86 dir
Calder, John F. (solicitor, Dundee), Myrtlebank, East Newport
[could have been either house]
location 2
1885-86 dir
Allison, Matthew (rope and sail maker, Dundee), Myrtlebank, E. Newport
[could have been either house]
location 2
1884-85 dir
Allison, Matthew (rope and sail maker, Dundee), Myrtlebank, E. Newport
[could have been either house]
location 2
1884-85 dir
Calder, C. Campbell (solicitor, Dundee), Myrtlebank, East Newport
[could have been either house]
location 2
1884-85 dir
Calder, John F. (solicitor, Dundee), Myrtlebank, East Newport
[could have been either house]
location 2
1882-83 dir
Allison, Matthew (rope and sail maker, Dundee), Myrtlebank, E. Newport
[could have been either house]
location 2
1878 Slater dir
Reeves Fred. W., civil engineer, Tay bridge : Miscellaneous.
location 2
1878 Slater dir
Reeves Mr. Frederick W., Myrtle Bank Villa
1877 Worrall dir
Reeves Mr. Frederick W., Myrtlebank
1876-77 dir
Reeves, Frederick William, C.E., Taybridge Works ; h. Myrtlebank villa. East Newport
1874-75 dir
Reeves, Frederick Wm., C.E, Tay Bridge, Myrtlebank villa, E. Newport
location 2
1869-70 dir
Low, James (of James Low & Co., Dundee), Myrtlebank
Entries in the Registers of Voters
Source
Enrol Date
Name
Occup.
Address
Qualification
Property
at
Notes
1900 Female Voters
Chapman, Mrs Helen
Myrtlebank, Newport
Tenant of House
Myrtle Bank
1874 Voters
Reeves, W F
engineer
Census records
Valuation Roll entries There are 38 entries
| Year | No. | Property | Proprietor | Tenant | Occupier | Value | | |
| --- | --- | --- | --- | --- | --- | --- | --- | --- |
| 1969-70 | 1606 | House | Mrs D'Arcy Maria Sturrock per Sturrock Morrison & Gilruth, solicitors, Dundee | | proprietor | 82 | View details | |
| 1967-68 | 490 | House | Mrs D'Arcy Maria Sturrock per Sturrock Morrison & Gilruth, solicitors, Dundee | | proprietor | 82 | View details | |
| 1964-65 | 490 | House | Mrs D'Arcy Maria Sturrock per Sturrock Morrison & Gilruth, solicitors, Dundee | | proprietor | 70 | View details | |
| 1961-62 | 1623 | House | Mrs D'Arcy Maria Sturrock per Sturrock Morrison & Gilruth, solicitors, Dundee | | proprietor | 70 | View details | |
| 1957-58 | 716 | House & Garden | Mrs D'Arcy Maria Sturrock per Sturrock Morrison & Gilruth, solicitors, Dundee | | proprietor | 32-10-0 | View details | |
| 1952-53 | 691 | House & Garden | Mrs D'Arcy Maria Sturrock | | proprietor | 32-10-0 | View details | |
| 1947-48 | 666 | House & Garden | Mrs D'Arcy Maria Sturrock | | proprietor | 32-10-0 | View details | |
| 1942-43 | 657 | House & Garden | D'Arcy Maria wife of James P Sturrock | | said James P Sturrock | 32-10-0 | View details | |
| 1940-41 | 657 | House & Garden | D'Arcy Maria wife of James P Sturrock | | said James P Sturrock | 32-10-0 | View details | |
| 1937-38 | 660 | House & Garden | D'Arcy Maria wife of James P Sturrock | | said James P Sturrock | 32-10-0 | View details | |
| 1935-36 | 633 | House & Garden | D'Arcy Maria wife of James P Sturrock | | said James P Sturrock | 32-10-0 | View details | |
| 1932-33 | 607 | House & Garden | D'Arcy Maria wife of James P Sturrock | | said James P Sturrock | 32-10-0 | View details | |
| 1930-31 | 603 | House & Garden | Walter Robertson, 40 Bracken Edge, Harehills Lane, Leeds | | empty | 32-10-0 | View details | |
| 1927-28 | 595 | House & Garden | Walter Robertson | | proprietor | 32-10-0 | View details | |
| 1922-23 | 549 | House & Garden | Walter Robertson | | proprietor | 27-6-0 | View details | |
| 1917-18 | 526 | House & Garden | Mrs Mary P Jobson, St Keirans, Melrose | Miss Isabella Fraser | same | 21 | View details | |
| 1915-16 | 521 | House & Garden | Mrs Mary P Jobson, Greenriver, Bonchester Bridge, Hawick | Miss Isabella Fraser | same | 21 | View details | |
| 1912-13 | 619 | House & Garden | Mrs Mary P Jobson, Greenriver, Bonchester Bridge, Hawick | John Fraser, retired | same | 21 | View details | |
| 1907-08 | 599 | House & Garden | Mrs Mary P Jobson, The Green, Galashiels | Miss Charlotte Mayer, teacher | same | 27-10-0 | View details | |
| 1905-06 | 588 | House and Garden | Mrs Mary P Jobson, The Green, Galashiels | Miss Mayer, teacher | same | 27-10-0 | View details | |
| 1903-04 | 579 | House and Garden | Mrs Mary P Jobson, Hawthorn Bank, Galashiels | | empty | 32 | View details | |
| 1901-02 | 1170 | House and Garden | Mrs Mary P Jobson, Hawthorn Bank, Galashiels | Mrs Helen Chapman | same | 32 | View details | |
| 1900-01 | 1153 | House and Garden | Mrs Mary P Jobson, Hawthorn Bank, Galashiels | Mrs Helen Chapman | same | 32 | View details | |
| 1899-00 | 1115 | House and Garden | Mrs Mary P Jobson, Hawthorn Bank, Galashiels | Mrs Helen Chapman | same | 32 | View details | |
| 1897-98 | 1053 | House and Garden | Mrs Mary P Jobson, Hawthorn Bank, Galashiels | Mrs Agnes Keddie | same | 34 | View details | |
| 1896-97 | 1020 | House and Garden | Mrs Mary P Jobson, Hawthorn Bank, Galashiels | Mrs Agnes Keddie | same | 34 | View details | |
| 1895-96 | 975 | House and Garden | Mrs Mary P Jobson, Sunnyside, Melrose | Mrs Agnes Keddie | same | 34 | View details | |
| 1894-95 | 928 | House and Garden | Mrs Mary P Jobson, Newbury Farm, Ettrick, Selkirk | Mrs Agnes Keddie | same | 34 | View details | |
| 1893-94 | 902 | House and Garden | Mrs Mary P Jobson, Sunnyside, Montrose | Mrs Agnes Keddie | same | 34 | View details | |
| 1892-93 | 881 | House and Garden | Mrs Mary P Jobson, Sunnyside, Melrose | Mrs Agnes Keddie | same | 30 | View details | |
| 1891-92 | 860 | House and Garden | Mrs Mary P Jobson | Mrs Agnes Keddie | same | 30 | View details | |
| 1890-91 | 815 | House and Garden | Mrs Mary P Jobson | Mrs Agnes Keddie | same | 30 | View details | |
| 1889-90 | 787 | House and Garden | Mrs Mary P Jobson | Mrs Agnes Keddie | same | 30 | View details | |
| 1885-86 | 750 | House and Garden | Trs of late William Tosh, hotelkeeper, Auchtermuchty; Mrs Catherine Tosh wife of James S Young, manufacturer, Dundee; Mrs Agnes Tosh or Pirnie, widow, Greenock; per J & E Shepherd house factors, Dundee | William Anderson, bricklayer | same | 30 | View details | |
| 1881-82 | 632 | House and Garden | Mrs Mary Tosh liferentrix | same | James Pirnie, shipmaster | 36-10-0 | View details | |
| 1878-79 | 602 | House and Garden | Reps of late Robert Tosh, shipowner | same | James Pirnie, shipmaster | 36-10-0 | View details | |
| 1875-76 | 472 | House and Garden | Robert Tosh, shipowner | same | Frederick William Reeves, engineer | 36 | View details | |
| 1871-72 | 422 | House and Garden | Robert Tosh, shipowner | James Low, draper | Albert Grothe, engineer | 33 | View details | |
Early Sasines:
Sasine Plots:
Sasine Abridgements:
| Ref | In Brief | Abridgement | Recorded | Plots | |
| --- | --- | --- | --- | --- | --- |
| 1864.02759 | loan repaid | Dundee Property & Investment Co grant disch of bond & disp £300 by Robert Tosh (21 Sep 1853) declaring 53 pol grnd, lot 3 of Craighead feuing plan, disburdened thereof (see v.6, 02187) | 27 Aug 1864 | 69 | |
| 1853.02187 | loan by Dundee Property & Investment Co | Dundee Property & Investment Co gets bond & disp £300 by Robert Tosh over 58 poles grnd lot 3 on plan of Craighead on N side of road Newport - Ferryport | 22 Sep 1853 | 69 | |
| 1853.02042 | Eastern Bank to Robert Tosh | Robert Tosh seised 58 poles grnd Craighead on N of public road Newport to Ferryport on feu ch between him & Eastern Bank of Scotland | 1 Jul 1853 | 69, 67 | |
Brief explanation of sasine abridgements Explanation of the format of a sasine
Abbreviations in the notes
t/on - thereon; t/p - turnpike; dw - dwelling; ho - house; pt - part; pce - piece; grnd - ground; bldg - building; Tr/Trs - Trustee/Trustees; ... - words omitted; pol - poles; yd - square yards; : - bounded
Return to: Home Page Present-day Addresses Properties Map Old House Names Directories Valuation Rolls Sasines Census