Location : 56 West Road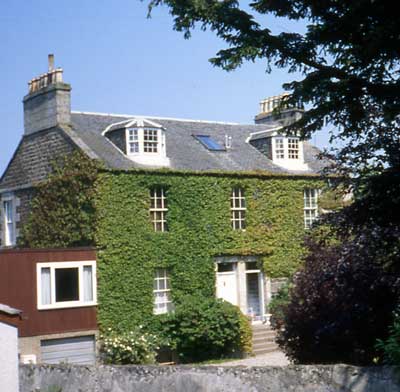 = Property still standing
Notes:
Other properties at the same location : 54 West Road
Using the information here, it is impossible to be certain who lived in each property or part of the building between 1938 and 1951. Other properties involved : 58 West Road One possible interpretation is given below.
Location and Old Maps
Latitude, longitude: 56.434493,-2.951661
View location on the 1855 6-inch map, the 1895 25-inch map, the 1914 25-inch map, the 1966 25-inch map, or a 1944-50 aerial photograph at the National Library of Scotland website.
Nearby properties (demolished in red): 25 West Road 27 West Road 31 West Road 33 West Road 35 West Road 37 West Road 50 West Road 52 West Road 54 West Road 58 West Road 60 West Road 62 West Road Well Cottage, West Road part of 37, West Road
1909-10 Finance Act - Valuation Office: Field Surveys
Reference no. &nbsp437 (no transcripts on this site)
Old Addresses (any dates are approximate and are usually the latest occurence of the address)
| | | |
| --- | --- | --- |
| Newburgh Road, West Newport | 1961 | |
House Names (any dates are approximate and are usually the latest occurence of the name)
| | | |
| --- | --- | --- |
| Heathfield House | | |
| Mackie House | 1947 | |
| Mackie Place | 1947 | |
Directory entries (before 1972) There are 87 entries
Source
Entry
1963 dir
Cobban, Miss A., dressmaker, Heathfield house, Newburgh road, Wormit
1962 dir
Cobban, Miss A., dressmaker, Heathfield house, Newburgh road, Wormit
1940-41 MacDonald dir
Wedderspoon, Mrs, Mackie pl., W. N
1939-40 MacDonald dir
Wedderspoon, Mrs, Mackie pl., W. N
1938-39 MacDonald dir
Wedderspoon, Mrs, Mackie pl., W. N
1938-39 dir
Wedderspoon, Mrs J., Mackie house, Newburgh road, West Newport
1937-38 MacDonald dir
Wedderspoon, Mrs. Mackie pl., W. N
1937-38 dir
Wedderspoon, Mrs J., Mackie house, Newburgh road, West Newport
1936-37 MacDonald dir
Wedderspoon, Mrs., Mackie pl., W. N
1936-37 dir
Wedderspoon, Mrs J., Mackie house, Newburgh road, West Newport
1935-36 MacDonald dir
Wedderspoon, Mrs, Mackie pl., W. N.
1935-36 dir
Wedderspoon, Mrs J., Mackie house, Newburgh road, West Newport
1934-35 MacDonald dir
Wedderspoon, Mrs, Mackie pl., W. N
1934-35 dir
Wedderspoon, Mrs J., Mackie house, Newburgh road, West Newport
1933-34 MacDonald dir
Wedderspoon, Mrs, Mackie pl., W. N
1933-34 dir
Wedderspoon, Mrs J., Mackie house, Newburgh road, West Newport
1932-33 dir
Wedderspoon, Mrs J., Mackie house, Newburgh road, West Newport
1931-32 MacDonald dir
Wedderspoon, Mrs, Mackie pl., W. N.
1931-32 dir
Wedderspoon, Mrs J., Mackie house, Newburgh road, West Newport
1930-31 MacDonald dir
Wedderspoon, Mrs, Mackie pl., W. N.
1930-31 dir
Wedderspoon, Mrs J., Mackie house, Newburgh road, West Newport
1929-30 MacDonald dir
Wedderspoon, Mrs, Mackie pl., W. N.
1929-30 dir
Wedderspoon, Mrs J., Mackie house, Newburgh road, West Newport
1928-29 MacDonald dir
Wedderspoon, Mrs, Mackie pl., W. N.
1928-29 dir
Wedderspoon, Mrs J., Mackie house, Newburgh road, West Newport
1928 Kelly dir
Wedderspoon Mrs. Mackie house, W
1927-28 MacDonald dir
Wedderspoon, Mrs, Mackie pl., W. N.
1927-28 dir
Wedderspoon, Mrs J., Mackie house, Newburgh road, West Newport
1926-27 MacDonald dir
Wedderspoon, Mrs, Mackie pl., W. N.
1926-27 dir
Wedderspoon, Mrs J., Mackie house, Newburgh road, West Newport
1925-26 MacDonald dir
Wedderspoon, Mrs, Mackie pl., W. N.
1925-26 dir
Wedderspoon, Mrs J., Mackie house, Newburgh road, West Newport
1924-25 MacDonald dir
Wedderspoon, Mrs., Mackie pl., W. N.
1923-24 MacDonald dir
Wedderspoon, Mrs, Mackie pl., W. N.
1923-24 dir
Wedderspoon, Mrs J., Mackie house, Newburgh road, West Newport
1921 Slater dir
Wedderspoon Mrs. Mackie house, W
1918-19 dir
Laing, Miss, Mackie house, Woodhaven road, West Newport
1915-16 dir
Laing, Miss, Mackie house, Woodhaven road, West Newport
1915 Slater dir
Laing Miss. Mackie house, W
1914-15 dir
Laing, Miss, Mackie house, West Newport
1913-14 dir
Laing, Miss, Mackie house, West Newport
1911 Slater dir
Laing Miss, Mackie house, W
1910-11 dir
Dalton, Michael, civil servant, Mackie house. West Newport
1909-10 dir
Dalton, Michael, civil servant, Mackie house, West Newport
1908-09 dir
Dalton, Michael, civil servant, Mackie house. West Newport
1908 Tayside Annual
Dalton, John P., M.A., research scholar, Mackie Place, W.
1907-08 dir
Dalton, Michael, civil servant, Mackie house, West Newport
1907 Tayside Annual
Dalton, John P., M.A., research scholar, Mackie Place, W.
1907 Tayside Annual
Dalton, Michael, civil service clerk, Mackie Place, W.
1906-07 dir
Dalton, Michael, civil servant, Mackie house, West Newport
1905-06 dir
Dalton, Michael, civil servant, Mackie house, West Newport
1904-05 dir
Dalton, Michael, civil servant, Mackie house, West Newport
1903-04 dir
Dalton, Michael, civil servant, Mackie house, West Newport
1903 Slater dir
Doulton Michael, Mackie house, W Newport
1902-03 dir
Dalton, Michael, civil servant, Mackie house, West Newport
1897-98 dir
Mitchell, David, clerk, Mackie house, West Newport
1896-97 dir
Mitchell, David, clerk, Mackie house, West Newport
1896 Slater dir
Mitchell David, Mackie place, W
1895-96 dir
Mitchell, David, clerk, Mackie house, West Newport
1894-95 dir
Mitchell, David, clerk, Mackie house. West Newport
1893-94 dir
Mitchell, David, clerk, Mackie house. West Newport
1893 Slater dir
Mitchell Mr. David, Mackie pl. W N
1892-93 dir
Mitchell, David, clerk, Mackie house, West Newport
1891-92 dir
Mitchell, David, clerk, Mackie house. West Newport
1890-91 dir
Mitchell, David, clerk, Mackie house, West Newport
1889-90 dir
Mitchell, David, clerk, Mackie house, West Newport
1889 Slater dir
Mitchell Mr David, Mackie pl. West Newport, Fife
1888-89 dir
Mitchell, David, clerk, Mackie house, West Newport
1887-88 dir
Mitchell, David, clerk, Mackie house, West Newport
1886-87 dir
Mitchell, David, clerk, Mackie house. West Newport
1886 Slater dir
Mitchell David, Mackie pl, W N
1885-86 dir
Mitchell, David, clerk, Mackie house. West Newport.
1884-85 dir
Mitchell, David, clerk, Mackie house, West Newport
1882-83 dir
Mitchell, David, Mackie house, West Newport
1882 Slater dir
Mitchell David, clerk, Mackie pl. W N : Miscellaneous.
1880-81 dir
Mitchell, David (Cal. Railway., Dundee), Mackie place, West Newport
1878 Slater dir
Meldrum Mr. David M., Mackie place, W N
1877 Worrall dir
Meldrum Mr. E., Mackie place, W.
1876-77 dir
Meldrum, D. M. (umbrella maker and India rubber merchant, Dundee), Mackie place. West Newport [* ms. alteration - entry deleted]
1876-77 dir
Meldrum, Andrew Mackie (of Young & Meldrum, Dundee), Mackie place, West Newport
1874-75 dir
Neish, Amelia, Mackie place, West Newport
1871-72 dir
Neish, Misses, West Newport
1869-70 dir
Neish Misses, West Newport
1867-68 dir
Neish, Mrs, West Newport
1867 Slater dir
Neish Mrs. -, Newport
1866 Fife dir
Neish, Mrs W, W Newport
1862 Fife dir
Neish, Mrs, W Newport
Entries in the Registers of Voters
Source
Enrol Date
Name
Occup.
Address
Qualification
Property
at
Notes
1900 Male Voters
Keenan, Thomas, junr.
Clerk
Mackie Place, West Newport
Tenant of House
Mackie Place
Census records
Valuation Roll entries There are 46 entries
| Year | No. | Property | Proprietor | Tenant | Occupier | Value | | |
| --- | --- | --- | --- | --- | --- | --- | --- | --- |
| 1969-70 | 2482 | House | Mrs Joan L Rennie per David Duncan & Son, 41 Reform St, Dundee | | proprietor for occupier | 80 | View details | |
| 1967-68 | 1052 | House | Mrs Joan L Rennie per David Duncan & Son, 41 Reform St, Dundee | | proprietor for occupier | 80 | View details | |
| 1964-65 | 1052 | House | Mrs Joan L Rennie per David Duncan & Son, 41 Reform St, Dundee | | Alice Cobban | 80 | View details | |
| 1961-62 | 2825 | House | Mrs Joan L Rennie per David Duncan & Son, 41 Reform St, Dundee | | Alice Cobban | 80 | View details | |
| 1957-58 | 1117 | House & Garden | Mrs Joan L Rennie per David Duncan & Son, 41 Reform St, Dundee | | Alice Cobban | 32 | View details | |
| 1952-53 | 1082 | House & Garden | Mrs Joan L Rennie per David Duncan & Son, 41 Reform St, Dundee | | Alice Cobban | 32 | View details | |
| 1947-48 | 1049 | House & Garden | Captain Frank Rollo, 22 Victoria Tce, Tayport per David Duncan & Son, 41 Reform St, Dundee | | Alfred Stewart | 26 | View details | |
| 1942-43 | 1030 | House & Garden | Captain Frank Rollo, 22 Victoria Tce, Tayport per David Duncan & Son, 41 Reform St, Dundee | | David A McLaren | 26 | View details | |
| 1940-41 | 1029 | House & Garden | Captain Frank Rollo, 22 Victoria Tce, Tayport per David Duncan & Son, 41 Reform St, Dundee | | David A McLaren | 32 | View details | |
| 1937-38 | 1048 | House & Garden | Captain Frank Rollo, 22 Victoria Tce, Tayport per David Duncan & Son, 41 Reform St, Dundee | | Mrs Sarah A C Wedderspoon | 37-4-4 | View details | |
| 1935-36 | 1011 | House & Garden | Captain Frank Rollo, 22 Victoria Tce, Tayport per David Duncan & Son, 41 Reform St, Dundee | | Mrs Sarah A C Wedderspoon | 37-4-4 | View details | |
| 1932-33 | 965 | House & Garden | Captain Frank Rollo, 22 Victoria Tce, Tayport per David Duncan & Son, 41 Reform St, Dundee | | Mrs S A C Wedderspoon | 37-4-4 | View details | |
| 1930-31 | 962 | House & Garden | Captain Frank Rollo, 22 Victoria Tce, Tayport per David Duncan & Son, 41 Reform St, Dundee | | Mrs S A C Wedderspoon | 37-4-4 | View details | |
| 1927-28 | 951 | House & Garden | Captain Frank Rollo, 22 Victoria Tce, Tayport per David Duncan & Son, 41 Reform St, Dundee | | Mrs S A E Wedderspoon | 37-4-4 | View details | |
| 1922-23 | 904 | House & Garden | Captain Frank Rollo, 22 Victoria Tce, Tayport per David Duncan & Son, 41 Reform St, Dundee | Mrs S A E Wedderspoon | same | 37-4-4 | View details | |
| 1920-21 | 883 | House & Garden | Captain Frank Rollo, 22 Victoria Tce, Tayport per David Duncan & Son, 41 Reform St, Dundee | Alexander B McGarry, teacher | same | 28 | View details | |
| 1917-18 | 881 | House & Garden | Miss Isa M Laing | | proprietor | 28 | View details | |
| 1915-16 | 874 | House & Garden | Miss Isa M Laing | | proprietor | 24 | View details | |
| 1912-13 | 754 | House & Garden | Miss Isa M Laing | | proprietor | 24 | View details | |
| 1910-11 | 743 | House & Garden | Miss Isa M Laing | Michael Dalton, civil service clerk | same | 27 | View details | |
| 1909-10 | 738 | House & Garden | Miss Isa M Laing | Michael Dalton, civil service clerk | same | 27 | View details | |
| 1907-08 | 734 | House & Garden | Miss Isa M Laing | Michael Dalton, civil service clerk | same | 27 | View details | |
| 1905-06 | 717 | House and Garden | John Rodgers, bank accountant, West Newport | Michael Dalton, civil service clerk | same | 27 | View details | |
| 1903-04 | 705 | House and Garden | Miss E M Brown, 8 Thirlestane Rd, Edinburgh, James G Brown, Lochmaben, & another per Miss I M Laing, here | Michael Dalton, civil service clerk | same | 27 | View details | |
| 1901-02 | 505 | House and Garden | Miss E M Brown, 8 Thirlestane Rd, Edinburgh, James G Brown, Lochmaben, & another per first named | Thomas Keenan jun., clerk | same | 26 | View details | |
| 1900-01 | 493 | House and Garden | Miss E M Brown, 8 Thirlestane Rd, Edinburgh, James G Brown, Lochmaben, & another per John D Bruce, SSC, 69 Reform St, Dundee | Thomas Keenan jun., clerk | same | 26 | View details | |
| 1899-00 | 463 | House and Garden | Miss E M Brown, 8 Thirlestane Rd, Edinburgh, James G Brown, Lochmaben, & another per John D Bruce, SSC, 69 Reform St, Dundee | Thomas Keenan jun., clerk | same | 22 | View details | |
| 1897-98 | 414 | House and Garden | Miss E M Brown, 8 Thirlstane Rd, Edinburgh, James G Brown, Lochmaben and another per John D Bruce, SSC, 69 Reform St, Dundee | David Mitchell, clerk, Caledonian Railway Co. | same | 24 | View details | |
| 1896-97 | 391 | House and Garden | The Judicial Factor on the Estate of the late Miss M'Kay per John D Bruce, SSC, 69 Reform St, Dundee | David Mitchell, clerk, Caledonian Railway Co. | same | 24 | View details | |
| 1895-96 | 360 | House and Garden | The Judicial Factor on the Estate of the late Miss M'Kay per John D Bruce, SSC, 69 Reform St, Dundee | David Mitchell, clerk, Caledonian Railway Co. | same | 24 | View details | |
| 1894-95 | 327 | House and Garden | The Judicial Factor on the Estate of the late Miss M'Kay per John D Bruce, SSC, 69 Reform St, Dundee | David Mitchell, clerk, Caledonian Railway Co. | same | 24 | View details | |
| 1893-94 | 310 | House and Garden | The Judicial Factor on the Estate of the late Miss M'Kay per John D Bruce, solicitor, Dundee | David Mitchell, clerk, Caledonian Railway Co. | same | 24 | View details | |
| 1892-93 | 299 | House and Garden | The Judicial Factor on the Estate of the late Miss M'Kay per John D Bruce, SSC, 116 Seagate, Dundee | David Mitchell, clerk, Caledonian Railway Co. | same | 24 | View details | |
| 1891-92 | 289 | House and Garden | The Judicial Factor on the Estate of the late Miss M'Kay per John D Bruce, SSC, 116 Seagate, Dundee | David Mitchell, clerk, Caledonian Railway Co. | same | 24 | View details | |
| 1890-91 | 262 | House and Garden | The Judicial Factor on the Estate of the late Miss M'Kay per John D Bruce, SSC, 116 Seagate, Dundee | David Mitchell, clerk, Caledonian Railway Co. | same | 24 | View details | |
| 1889-90 | 243 | House and Garden | The Judicial Factor on the Estate of the late Miss M'Kay per John D Bruce, solicitor, Dundee | David Mitchell, clerk, Caledonian Railway Co. | same | 24 | View details | |
| 1885-86 | 219 | House and Garden | The Judicial Factor on the Estate of the late Miss M'Kay per John D Bruce, solicitor, Dundee | David Mitchell, clerk, Caledonian Railway Co. | same | 24 | View details | |
| 1881-82 | 126 | House and Garden | The Judicial Factor on the Estate of the late Miss M'Kay per John D Bruce, solicitor, Dundee | same | David Mitchell, clerk, Caledonian Railway Co. | 24 | View details | |
| 1878-79 | 129 | House and Garden | George Sandeman, accountant, Dundee, Judicial Factor on the Estate of the late Miss M'Kay | | | 30 | View details | |
| 1875-76 | 130 | House and Garden | George Sandeman, accountant, Dundee, Judicial Factor on the Estate of the late Miss M'Kay | same | David M. Meldrum, umbrella manufacturer | 30 | View details | |
| 1871-72 | 125 | House and Garden | Miss McKay's estate's judicial factor | | Mrs Neish | 26 | View details | |
| 1867-68 | 129 | House and garden | Trustees of late Miss Mackay | | Mrs William Neish | 23 | View details | |
| 1865-66 | 125 | House and garden | Trustees of late Miss Mackay | said Mrs Neish | Mrs W. Neish | 23 | View details | |
| 1864-65 | 117 | House and garden | Trustees of late Miss Mackay | | Mrs W. Neish | 23 | View details | |
| 1860-61 | 106 | House and Garden | Trustees of late Margaret Mackay | | Mrs Neish | 23 | View details | |
| 1855-56 | 163 | House and Garden | Miss Margaret Mackie | Mrs Dr. Stewart | said Mrs Dr. Stewart | 26 | View details | |
Early Sasines:
Return to: Home Page Present-day Addresses Properties Map Old House Names Directories Valuation Rolls Sasines Census