Location : Kinbrae, West Road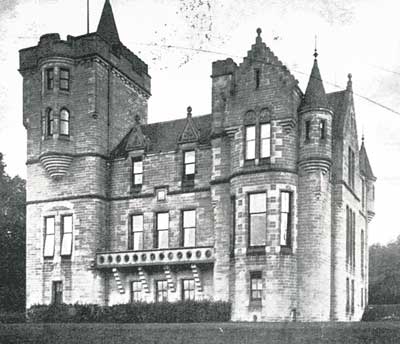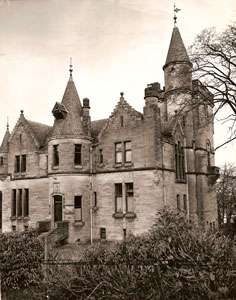 = Property demolished or site redeveloped
Notes: Demolished.
Introduction
The property was demolished in 1960; the site was redeveloped and became Kinbrae Court and Kinbrae Park, but not Kinbrae Park Gardens.
Location and Old Maps
Latitude, longitude: 56.435637,-2.945028
View location on the 1855 6-inch map, the 1895 25-inch map, the 1914 25-inch map, the 1966 25-inch map, or a 1944-50 aerial photograph at the National Library of Scotland website.
Nearby properties (demolished in red): 1 Kinbrae Court 2 Kinbrae Court 3 Kinbrae Court 4 Kinbrae Court 5 Kinbrae Court 6 Kinbrae Court 7 Kinbrae Court 8 Kinbrae Court 7 Kinbrae Park 9 Kinbrae Park 11 Kinbrae Park 13 Kinbrae Park 15 Kinbrae Park 17 Kinbrae Park 19 Kinbrae Park 21 Kinbrae Park 23 Kinbrae Park 25 Kinbrae Park 26 Kinbrae Park 27 Kinbrae Park 28 Kinbrae Park 29 Kinbrae Park 30 Kinbrae Park 31 Kinbrae Park 32 Kinbrae Park 33 Kinbrae Park 35 Kinbrae Park 37 Kinbrae Park
Information and Photographs on Other Sites (open in a new window)
Old Addresses (any dates are approximate and are usually the latest occurence of the address)
| | | |
| --- | --- | --- |
| Newburgh Road, West Newport | | |
House Names (any dates are approximate and are usually the latest occurence of the name)
Directory entries (before 1972) There are 169 entries
Source
Entry
1953-54 dir
Dunn, William, Kinbrae, Newburgh road, West Newport
1953-54 dir
Dunn, William, Kinbrae ; [under Justices Of The Peace Resident At Newport]
1952-53 dir
Dunn, William, Kinbrae, Newburgh road, West Newport
1952-53 dir
Dunn, William, Kinbrae ; [under Justices Of The Peace Resident At Newport]
1951-52 dir
Dunn, William, Kinbrae, Newburgh road, West Newport
1951-52 dir
Dunn, William, Kinbrae ; [under Justices Of The Peace Resident At Newport]
1950-51 dir
Dunn, William, Kinbrae, Newburgh road, West Newport
1950-51 dir
Dunn, William, Kinbrae ; [under Justices Of The Peace Resident At Newport]
1949-50 dir
Dunn, William, Kinbrae ; [under Justices Of The Peace Resident At Newport]
1949-50 dir
Dunn, William, Kinbrae, Newburgh road, West Newport
1948-49 dir
Dunn, William, Kinbrae, Newburgh road. West Newport
1948-49 dir
Dunn, William, Kinbrae; [under Justices Of The Peace Resident At Newport]
1947-48 dir
Dunn, William, Kinbrae, Newburgh road, West Newport
1947-48 dir
Dunn, William, Kinbrae ; [under Justices Of The Peace Resident At Newport]
1946-47 dir
Dunn, William, Kinbrae, Newburgh road. West Newport
1946-47 dir
Dunn, William, Kinbrae ; [under Justices Of The Peace Resident At Newport]
1942-43 MacDonald dir
Dunn. Wm., Kinbrae, W. N.
1942-43 dir
Dunn, William, Kinbrae, Newburgh road, West Newport
1942-43 dir
Dunn, William, Kinbrae ; [under Justices Of The Peace Resident At Newport]
1941-42 MacDonald dir
Dunn, Wm., Kinbrae, W. N.
1941-42 dir
Dunn, William, Kinbrae, Newburgh road, West Newport
1940-41 MacDonald dir
Dunn, Wm., Kinbrae, W. N.
1940-41 dir
Dunn, William, Kinbrae, Newburgh road, West Newport
1939-40 MacDonald dir
Dunn, Wm., Kinbrae, W. N.
1939-40 dir
Dunn, William, Kinbrae, Newburgh road, West Newport
1938-39 MacDonald dir
Dunn, Wm., Kinbrae, W. N.
1938-39 dir
Dunn, William, Kinbrae, Newburgh road, West Newport
1937-38 MacDonald dir
Dunn, Wm., Kinbrae, W. N.
1937-38 dir
Dunn, William, Kinbrae, Newburgh road, West Newport
1936-37 MacDonald dir
Dunn, Wm., Kinbrae, W. N.
1936-37 dir
Dunn, William, Kinbrae, Newburgh road, West Newport
1935-36 dir
Dunn, William, Kinbrae, Newburgh road, West Newport
1934-35 MacDonald dir
Dunn, Wm., Kinbrae, W. N.
1934-35 dir
Dunn, William, Kinbrae, Newburgh toad, West Newport
1933-34 MacDonald dir
Dunn, Wm., Kinbrae, W. N.
1933-34 dir
Dunn, William, Kinbrae, Newburgh road, West Newport
1932-33 dir
Dunn, William, Kinbrae, Newburgh road, West Newport
1931-32 MacDonald dir
Dunn, Wm., Kinbrae. W. N.
1931-32 dir
Dunn, Miss Margaret, Kinbrae, West Newport; Secretary, [under Newport Liberal Club Women's Branch]
1931-32 dir
Dunn, William, Kinbrae, Newburgh road, West Newport
1930-31 MacDonald dir
Dunn, Wm., Kinbrae, W. N.
1930-31 dir
Dunn, William, Kinbrae, Newburgh road. West Newport
1929-30 MacDonald dir
Dunn, Wm., Kinbrae. W. N.
1929-30 dir
Dunn, William, Kinbrae, Newburgh road, West Newport
1928-29 MacDonald dir
Dunn, Wm., Kinbrae, W. N.
1928-29 dir
Dunn, William, Kinbrae, Newburgh road, West Newport
1928 Kelly dir
Dunn William. Kinbrae, W
1927-28 MacDonald dir
Dunn, Wm., Kinbrae, W. N.
1927-28 dir
Dunn, William, Kinbrae, Newburgh road, West Newport
1926-27 MacDonald dir
Dunn, Wm., Kinbrae, W. N.
1926-27 dir
Dunn, William, Kinbrae, Newburgh road, West Newport
1925-26 MacDonald dir
Dunn, Wm., Kinbrae, W. N.
1925-26 dir
Dunn, William, Kinbrae, Newburgh road, West Newport
1924-25 MacDonald dir
Dunn, Wm., Kinbrae, W. N.
1923-24 MacDonald dir
Dunn, Wm., Kinbrae, W. N.
1923-24 dir
Dunn, William, Kinbrae, Newburgh road, West Newport
1922-23 dir
Dunn, William, Kinbrae, Newburgh road, West Newport
1921-22 MacDonald dir
Dunn, Wm., Kinbrae, W. N.
1921 Slater dir
Dunn William. Kinbrae, W
1920-21 dir
Dunn, William, Kinbrae, West Newport
1919-20 MacDonald dir
Leng, Dame Mary, Kinbrae House
1918-19 MacDonald dir
Leng, Dame Mary, Kinbrae House
1918-19 dir
Leng, Lady, Kinbrae (Telephone No. N. 33)
1917-18 MacDonald dir
Leng, Dame Mary, Kinbrae House
1916-17 MacDonald dir
Leng, Dame Mary, Kinbrae House
1915-16 MacDonald dir
Leng, Dame Mary, Kinbrae House
1915-16 dir
Leng, Lady, Kinbrae (Telephone No. N. 33)
1915 Slater dir
Leng Lady, Kinbrae, W
1914-15 MacDonald dir
Leng, Dame Mary, Kinbrae House
1914-15 dir
Leng, Lady, Kinbrae (Telephone No. N. 33)
1913-14 MacDonald dir
Leng, Dame Mary, Kinbrae House
1913-14 dir
Leng, Lady, Kinbrae (Telephone No. N. 33)
1912-13 MacDonald dir
Leng, Dame Mary, Kinbrae
1912-13 dir
Leng, Lady, Kinbrae (Telephone No. N. 33)
1911-12 MacDonald dir
Leng, Dame Mary, Kinbrae
1911-12 dir
Leng, Lady, Kinbrae (Telephone No. N. 33)
1911 Slater dir
Leng Lady, Kinbrae, W
1910-11 MacDonald dir
Leng, Dame Mary, Kinbrae
1910-11 dir
Leng, Lady, Kinbrae (Telephone No. N. 33)
1909-10 MacDonald dir
Leng, Lady, Kinbrae
1909-10 dir
Leng, Lady, Kinbrae (Telephone No. N. 33)
1908-09 MacDonald dir
Leng, Lady, Kinbrae
1908-09 dir
Leng, Lady, Kinbrae (Telephone No. N. 33)
1908 Tayside Annual
Leng, Lady, Kinbrae.
1907-08 MacDonald dir
Leng, Sir John, M.P , Kinbrae
1907-08 dir
Leng, Lady, Kinbrae (Telephone No. N. 33)
1907 Tayside Annual
Leng, Sir John, LL.D., publisher, Kinbrae.
1907 Tayside Annual
Leng, Sir John, LL.D., Kinbrae; [under Newport Justices Of The Peace]
1907 Tayside Annual
Sturrock, John Leng, Newspaper Director, Kinbrae.
1907 Slater dir
Leng Lady, Kinbrae, W
1906-07 MacDonald dir
Leng, Sir John, M.P , Kinbrae
1906-07 dir
Sturrock, J. Leng (Advertiser office, Dundee), Kinbrae (Teleph. No. N. 33)
1906-07 dir
Leng, Sir John, L.L.D., Kinbrae; [under Justices of the Peace Resident at Newport]
1906-07 dir
Leng, Sir John, LL.D., newspaper proprietor, Kinbrae (Telephone No N. 33)
1905-06 MacDonald dir
Leng, Sir John, M.P , Kinbrae
1905-06 dir
Sturrock, J. Leng (Advertiser office, Dundee), Kinbrae (Teleph. No. N. 33)
1905-06 dir
Leng, Sir John, M.P., Kinbrae; [under Justices Of The Peace Resident At Newport]
1905-06 dir
Leng, Sir John, M.P. (managing proprietor of Dundee Advertiser), Kinbrae (Telephone No. N. 33) ; London address, House of Commons
1904-05 MacDonald dir
Leng, Sir John, M.P , Kinbrae
1904-05 dir
Leng, Sir John, M.P., Kinbrae; [under Justices Of The Peace Resident At Newport]
1904-05 dir
Leng, Sir John, M.P. (managing proprietor of Dundee Advertiser), Kinbrae (Telephone No. N. 33) ; London address, House of Commons
1903-04 MacDonald dir
Leng, Sir John, M.P., Kinbrae
1903-04 dir
Leng, Sir John, M.P., Kinbrae; [under Justices Of The Peace Resident At Newport]
1903-04 dir
Leng, Sir John, M.P. (managing proprietor of Dundee Advertiser), Kinbrae (Telephone No. N. 33) ; London address, House of Commons
1903 Slater dir
Leng Sir John M.P., D.L, J.P. Kinbrae, W. ; 143 Ashley Gardens S W & National Liberal club, S W London Newport
1902-03 MacDonald dir
Leng, Sir John, M.P., Kinbrae
1902-03 dir
Leng, Sir John, M.P. (managing proprietor of Dundee Advertiser), Kinbrae (Telephone No. N. 33) ; London address. House of Commons
1902-03 dir
Leng, Sir John, M.P., Kinbrae; [under Justices Of The Peace Resident At Newport]
1901-02 MacDonald dir
Leng, Sir John, M.P., Kinbrae
1901-02 dir
Leng, Sir John, M.P., Kinbrae; [under Justices Of The Peace Resident At Newport]
1901-02 dir
Leng, Sir John, M.P. (managing proprietor of Dundee Advertiser), Kinbrae (Telephone No. N. 33) ; London address. House of Commons
1900-01 dir
Leng, Sir John, M.P. (managing proprietor of Dundee Advertiser), Kinbrae (Telephone No. N. 33); London address, House of Commons
1900-01 dir
Leng, Sir John, M.P., Kinbrae; [under Justices Of The Peace Resident At Newport]
1899-00 dir
Leng, Sir John, M.P., Kinbrae; [under Justices Of The Peace Resident At Newport]
1899-00 dir
Leng, Sir John, M.P. (managing proprietor of Dundee Advertiser), Kinbrae ; London address. House of Commons
1899 Telephone dir
Leng Sir John, MP, Kinbrae; tel. no. 33
1899 Slater dir
Leng Sir John M.P., D.L., J.P. Kinbrae, W; 186 Fleet street E C & National Liberal club, S W London
1898-99 dir
Leng, Sir John, M.P., Kinbrae; [under Justices Of The Peace Resident At Newport]
1898-99 dir
Leng, Sir John, M. P. (managing proprietor of Dundee Advertiser), Kinbrae ; London address, House of Commons
1897-98 dir
Leng, Sir John, M.P. (managing proprietor of Dundee Advertiser), Kinbrae ; London address, House of Commons
1897-98 dir
Leng, Sir John, M.P., Kinbrae; [under Justices Of The Peace Resident At Newport.]
1896-97 dir
Leng, Sir John, M.P. (managing proprietor of Dundee Advertiser), Kinbrae ; London address, House of Commons
1896-97 dir
Leng, Sir John, M.P., Kinbrae; [under Justices Of The Peace Resident At Newport]
1896 Slater dir
Leng Sir John M.P. J.P. Kinbrae, W.; 186 Fleet street E C & National Liberal club, London S W
1895-96 dir
Leng, Sir John, M. P. (managing proprietor of Dundee Advertiser), Kinbrae ; London address. House of Commons
1895-96 dir
Leng, Sir John, M.P., Kinbrae; [under Justices Of The Peace Resident At Newport]
1894-95 dir
Leng, Sir John, M.P. (managing proprietor of Dundee Advertiser), Kinbrae ; London address. House of Commons
1894-95 dir
Leng, Sir John, M.P, Kinbrae; [under Justices Of The Peace Resident At Newport]
1893-94 dir
Leng, Sir John, M.P., Kinbrae; [under Justices Of The Peace Resident At Newport]
1893-94 dir
Leng, John, M.P. (managing proprietor of Dundee Advertiser), Kinbrae ; London address, House of Commons
1893 Slater dir
Leng John, Esq. M.P., J.P., Kinbrae
1892-93 dir
Leng, John, M.P., Kinbrae; [under Justices Of The Peace Resident At Newport]
1892-93 dir
Leng, John, M.P. (managing proprietor of Dundee Advertiser), Kinbrae ; London address, House of Commons
1891-92 dir
Leng, John, M. P. (managing proprietor of Dundee Advertiser), Kinbrae ; London address. House of Commons
1891-92 dir
Leng, John, M.P., Kinbrae; [under Justices Of The Peace Resident At Newport]
1890-91 dir
Leng, John, M.P., Kinbrae; [under Justices Of The Peace Resident At Newport]
1890-91 dir
Leng, John, M.P., managing proprietor and editor of Dundee Advertiser, Kinbrae ; London address, House of Commons
1890-91 dir
Leng, William C. (newspaper proprietor, Dundee), Kinbrae
1889-90 dir
Leng, John, Kinbrae ; [under Justices Of The Peace Resident At Newport.]
1889-90 dir
Leng, John, newspaper proprietor, Kinbrae
1889 Slater dir
Leng John, Esq. J.P. Kinbrae, Newport, Fife
1888-89 dir
Leng, John, newspaper proprietor, Kinbrae
1888-89 dir
Leng, John, Kinbrae; [under Justices Of The Peace Resident At Newport]
1887-88 dir
Leng, John, newspaper proprietor, Kinbrae
1887-88 dir
Leng, John, Kinbrae; [under Justices Of The Peace Resident At Newport.]
1886-87 dir
Leng, John, Kinbrae; [under Justices Of The Peace Resident At Newport]
1886-87 dir
Leng, John, newspaper proprietor, Kinbrae
1886 Slater dir
Leng John, JP, Kinbrae
1885-86 dir
Leng, John, Kinbrae; Patron [under Newport Horticultural Society]
1885-86 dir
Leng, John, Kinbrae; [under Justices Of The Peace Resident At Newport]
1885-86 dir
Leng, John, newspaper proprietor, Kinbrae
1885 Clark dir
Leng, John, Kinbrae. : Justices Of The Peace Resident At Newport
1884-85 dir
Leng, John, Kinbrae; [under Justices Of The Peace Resident At Newport]
1884-85 dir
Leng, John, newspaper proprietor, Kinbrae
1884-85 dir
Leng, John, Kinbrae ; Patron [under Newport Horticultural Society]
1882-83 dir
Leng, John, Kinbrae; [under Justices Of The Peace Resident At Newport]
1882-83 dir
Leng, John (managing proprietor of Dundee Advertiser), Kinbrae
1882-83 dir
Leng, John, Kinbrae; Patron [under Newport Horticultural Society]
1882 Slater dir
Leng John, Esq. J.P. Kinbrae
1880-81 dir
Leng, John (managing proprietor of Dundee Advertiser), Kinbrae
1880-81 dir
Leng, John, Kinbrae, President; [under Newport Horticultural Society]
1878-79 dir
Leng, John, Kinbrae, President ; [under Newport Horticultural Society]
1878-79 dir
Leng, John (managing proprietor of Dundee Advertiser), Kinbrae
1878 Slater dir
Leng John, Esq. Kinbrae
1877 Worrall dir
Leng John, Esq. Kinbrae House
1876-77 dir
Leng, John (managing proprietor and editor, Dundee Advertiser), Kinbrae, West Newport
1874-75 dir
Leng, John (managing proprietor and editor of Dundee Advertiser), Kinbrae
1873 Slater dir
Leng John, Esq. Kinbrae, Newport
1871-72 dir
Leng, J., managing proprietor and editor, Dundee Advertiser, Kinbrae
Entries in the Registers of Voters
Source
Enrol Date
Name
Occup.
Address
Qualification
Property
at
Notes
1900 Male Voters
Leng, Sir John
M.P.
Kinbrae, Newport
Proprietor of House
Kinbrae
1879-1880 Voters
Leng, John
publisher
Kinbrae
1878-1879 Voters
Leng, John
publisher
Kinbrae
1874 Voters
Leng, John
publisher
1873 Voters
Leng, John
publisher
Census records
Valuation Roll entries There are 63 entries
| Year | No. | Property | Proprietor | Tenant | Occupier | Value | | |
| --- | --- | --- | --- | --- | --- | --- | --- | --- |
| 1961-62 | 2911 | Ground | Provost, Magistrates & Councillors of Burgh of Newport-on-Tay per burgh chamberlain | | W Alexander & Sons, 15 Hope St, Glasgow | | View details | |
| 1958-59 | 1157 | House, Offices & Grounds | Provost, Magistrates & Councillors of Burgh of Newport-on-Tay per burgh chamberlain | | empty | 165 | View details | |
| 1957-58 | 1136 | House, Offices & Grounds | Provost, Magistrates & Councillors of Burgh of Newport-on-Tay per burgh chamberlain | | empty | 168 | View details | |
| 1952-53 | 1103 | House, Offices & Grounds | William Dunn, timber merchant | | proprietor | 185 | View details | |
| 1947-48 | 1069 | House, Offices & Grounds | William Dunn, timber merchant | | proprietor | 185 | View details | |
| 1942-43 | 1050 | House, Offices & Grounds | William Dunn, timber merchant | | proprietor | 185 | View details | |
| 1940-41 | 1049 | House, Offices & Grounds | William Dunn, timber merchant | | proprietor | 185 | View details | |
| 1937-38 | 1070 | House, Offices & Grounds | William Dunn, timber merchant | | proprietor | 185 | View details | |
| 1935-36 | 1034 | House, Offices & Grounds | William Dunn, timber merchant | | proprietor | 185 | View details | |
| 1932-33 | 990 | House, Offices & Grounds | William Dunn, timber merchant | | proprietor | 185 | View details | |
| 1930-31 | 987 | House, Offices & Grounds | William Dunn, timber merchant | | proprietor | 185 | View details | |
| 1927-28 | 977 | House, Offices & Grounds | William Dunn, timber merchant | | proprietor | 185 | View details | |
| 1925-26 | 957 | House, Offices & Grounds | William Dunn, timber merchant | | proprietor | 185 | View details | |
| 1922-23 | 929 | House & Garden | William Dunn, timber merchant | | proprietor | 150 | View details | |
| 1922-23 | 930 | Policy Ground | William Dunn, timber merchant | | proprietor | 26 | View details | |
| 1920-21 | 908 | House & Garden | William Dunn, timber merchant per Wilson & Carmichael, solicitors, Alloa | | proprietor | 150 | View details | |
| 1920-21 | 909 | Policy Ground | William Dunn, timber merchant per Wilson & Carmichael, solicitors, Alloa | | proprietor | 26 | View details | |
| 1917-18 | 907 | House & Garden | Trs of Sir John Leng per Sturrock & Morrison, solicitors, 10 Whitehall St, Dundee | | Dame Mary Leng | 150 | View details | |
| 1917-18 | 908 | Policy Ground | Trs of Sir John Leng per Sturrock & Morrison, solicitors, 10 Whitehall St, Dundee | | Dame Mary Leng | 26 | View details | |
| 1915-16 | 900 | House & Garden | Trs of Sir John Leng per Sturrock & Morrison, solicitors, 10 Whitehall St, Dundee | | Dame Mary Leng | 150 | View details | |
| 1915-16 | 901 | Policy Ground | Trs of Sir John Leng per Sturrock & Morrison, solicitors, 10 Whitehall St, Dundee | | Dame Mary Leng | 26 | View details | |
| 1912-13 | 917 | House & Garden | Trs of Sir John Leng per Sturrock & Morrison, solicitors, 10 Whitehall St, Dundee | | Dame Mary Leng | 150 | View details | |
| 1912-13 | 918 | Policy Ground | Trs of Sir John Leng per Sturrock & Morrison, solicitors, 10 Whitehall St, Dundee | | Dame Mary Leng | 26 | View details | |
| 1907-08 | 894 | House & Garden | Trs of Sir John Leng per Sturrock & Morrison, solicitors, 43 Nethergate, Dundee | | Dame Mary Leng | 150 | View details | |
| 1907-08 | 895 | Policy Ground | Trs of Sir John Leng per Sturrock & Morrison, solicitors, 43 Nethergate, Dundee | | Dame Mary Leng | 26 | View details | |
| 1905-06 | 874 | House and Garden | Sir John Leng, MP | | proprietor | 150 | View details | |
| 1905-06 | 875 | Policy Ground | Sir John Leng, MP | | proprietor | 26 | View details | |
| 1903-04 | 863 | House and Garden | Sir John Leng, MP | | proprietor | 150 | View details | |
| 1903-04 | 864 | Policy Ground | Sir John Leng, MP | | proprietor | 26 | View details | |
| 1901-02 | 675 | House and Garden | Sir John Leng, MP | | proprietor | 150 | View details | |
| 1901-02 | 676 | Policy Ground | Sir John Leng, MP | | proprietor | 26 | View details | |
| 1900-01 | 663 | House and Garden | Sir John Leng, MP | | proprietor | 150 | View details | |
| 1900-01 | 664 | Policy Ground | Sir John Leng, MP | | proprietor | 26 | View details | |
| 1899-00 | 633 | House and Garden | Sir John Leng, MP | | proprietor | 150 | View details | |
| 1899-00 | 634 | Policy Ground | Sir John Leng, MP | | proprietor | 26 | View details | |
| 1897-98 | 584 | House and Garden | Sir John Leng, MP | | proprietor | 150 | View details | |
| 1897-98 | 585 | Policy Ground | Sir John Leng, MP | | proprietor | 26 | View details | |
| 1896-97 | 561 | House and Garden | Sir John Leng, MP | | proprietor | 150 | View details | |
| 1896-97 | 562 | Policy Ground | Sir John Leng, MP | | proprietor | 26 | View details | |
| 1895-96 | 523 | House and Garden | Sir John Leng, MP | | proprietor | 150 | View details | |
| 1895-96 | 524 | Policy Ground | Sir John Leng, MP | | proprietor | 26 | View details | |
| 1894-95 | 481 | House and Garden | Sir John Leng, MP | | proprietor | 150 | View details | |
| 1894-95 | 482 | Policy Ground | Sir John Leng, MP | | proprietor | 26 | View details | |
| 1893-94 | 460 | House and Garden | Sir John Leng, MP | | proprietor | 150 | View details | |
| 1893-94 | 461 | Policy Ground | Sir John Leng, MP | | proprietor | 26 | View details | |
| 1892-93 | 449 | House and Garden | John Leng Esq. MP | | proprietor | 150 | View details | |
| 1892-93 | 450 | Policy Ground | John Leng Esq. MP | | proprietor | 26 | View details | |
| 1891-92 | 436 | House and Garden | John Leng Esq. MP | | proprietor | 150 | View details | |
| 1891-92 | 437 | Policy Ground | John Leng Esq. MP | | proprietor | 26 | View details | |
| 1890-91 | 408 | House and Garden | John Leng Esq. | | proprietor | 150 | View details | |
| 1890-91 | 409 | Policy Ground | John Leng Esq. | | proprietor | 26 | View details | |
| 1889-90 | 387 | House and Garden | John Leng Esq. | | proprietor | 150 | View details | |
| 1889-90 | 388 | Policy Ground | John Leng Esq. | | proprietor | 26 | View details | |
| 1885-86 | 358 | House and Garden | John Leng Esq. | | proprietor | 150 | View details | |
| 1885-86 | 359 | Policy Ground | John Leng Esq. | | proprietor | 26 | View details | |
| 1881-82 | 253 | House and Garden of Kinbrae | John Leng Esq. | | Said John Leng | 150 | View details | |
| 1881-82 | 254 | Policy Ground, Kinbrae | John Leng Esq. | | Said John Leng | 26 | View details | |
| 1878-79 | 249 | House and Garden of Kinbrae | John Leng Esq. | | Said John Leng | 150 | View details | |
| 1878-79 | 250 | Policy Ground, Kinbrae | John Leng Esq. | | Said John Leng | 26 | View details | |
| 1875-76 | 222 | House and Garden of Kinbrae | John Leng Esq. | | Said John Leng | 140 | View details | |
| 1875-76 | 223 | Policy Ground, Kinbrae | John Leng Esq. | | Said John Leng | 26 | View details | |
| 1871-72 | 205 | Policy ground | John Leng | | John Leng | 36 | View details | |
| 1871-72 | 204 | House and Garden | John Leng | | John Leng | 30 | View details | |
Early Sasines:
Sasine Plots:
Sasine Abridgements:
| Ref | In Brief | Abridgement | Recorded | Plots | |
| --- | --- | --- | --- | --- | --- |
| 1873.02117 | Reduction of feu duty | Disch by John Berry, Tayfield disburd to extent of £57-15-0 yearly of the yearly feu duty of £93-15-0 ... of feu 4 Dec 1869 to John Leng, Editor of Dundee Advertiser then residing Wellgate House, presently at Kinbrae ... over 4 acres 2 roods grnd no. 2 on plan, : N by t/p Newport - Woodhaven, : W by proposed Abercraig St, : S by proposed Seamills St, pt of field of lands of Tayfield immediately S of t/p road adjacent to the policies of Tayfield, declaring subjects to be held in feu of £36 yearly | 25 Mar 1873 | 305 | |
| 1869.00920 | Tayfield to John Leng | Feu ch by John Berry, Tayfield to John Leng, editor Dundee Advertiser, residing Wellgate House, Newport of 4 acres 2 roods ground no. 2 oon plan, : N t/p Newport - Woodhaven, : W by proposed street called Abercraig Street, : S by proposed street called Seamills Street, being pt of that field of the lands of Seamills immediately S of said t/p road & adjacent to the policies of Tayfield | 4 Dec 1869 | 305 | |
Brief explanation of sasine abridgements Explanation of the format of a sasine
Abbreviations in the notes
t/on - thereon; t/p - turnpike; dw - dwelling; ho - house; pt - part; pce - piece; grnd - ground; bldg - building; Tr/Trs - Trustee/Trustees; ... - words omitted; pol - poles; yd - square yards; : - bounded
Return to: Home Page Present-day Addresses Properties Map Old House Names Directories Valuation Rolls Sasines Census