Location : drinking fountain, Tay Street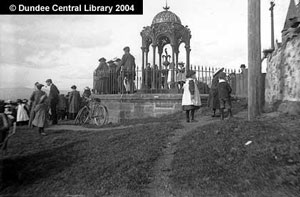 Photo / old map: Historic photograph from Photopolis.

= Property still standing
Notes:
Introduction
Manufactured by Walter Macfarlane & Co at the Saracen Foundry, Glasgow. Donated by Mrs Blyth-Martin in 1882.
Location and Old Maps
Latitude, longitude: 56.441692,-2.940821
View location on the 1855 6-inch map, the 1895 25-inch map, the 1914 25-inch map, the 1966 25-inch map, or a 1944-50 aerial photograph at the National Library of Scotland website.
Nearby properties (demolished in red): 1 Robert Street (formerly 2, Robert Street) 3 Robert Street 5 Robert Street 7 Robert Street 18 Tay Street 20 Tay Street 22 Tay Street 24 Tay Street 26 Tay Street 28 Tay Street 30 Tay Street (formerly 32, Tay Street) (formerly 34, Tay Street) (formerly 36, Tay Street) (formerly 38, Tay Street) (formerly 40, Tay Street) (formerly 42, Tay Street) (formerly 44, Tay Street) (formerly 46, Tay Street) (formerly 48, Tay Street) (formerly Royal Bar, 50, Tay Street) 52 Tay Street 54 Tay Street (house on site of 26, Tay Street) (house on site of Royal Hotel, Tay Street) (Royal Hotel, Tay Street) (Royal Hotel, part [2], Tay Street) (Royal Hotel, part [3], Tay Street) (Royal Hotel, part [4], Tay Street) (Royal Hotel, part [5], Tay Street) (Royal Hotel, part [6], Tay Street) (Royal Hotel, part [7], Tay Street) (Royal Hotel, part [8], Tay Street) (Royal Hotel, part [9], Tay Street) (Royal Hotel, part [10], Tay Street) (Royal Hotel, part [11], Tay Street) (Royal Hotel, part [12], Tay Street) (Royal Hotel, part [13], Tay Street) (Royal Hotel, part [14], Tay Street) (Bathing Shelter, Tay Street) (Boat House, Tay Street)
Information and Photographs on Other Sites (open in a new window)
Old Addresses (any dates are approximate and are usually the latest occurence of the address)
House Names (any dates are approximate and are usually the latest occurence of the name)
Directory entries (before 1970)
Census records
Valuation Roll entries
Year
No.
Property
Proprietor
Tenant
Occupier
Value
-
Early Sasines:
Sasine Plots:
Sasine Abridgements:
| Ref | In Brief | Abridgement | Recorded | Plots | |
| --- | --- | --- | --- | --- | --- |
| 1882.02586 | Berry, Tayfield to Parochial Board of Parish of Forgan | Feu ch by Berry, Tayfield to Parochial Board of Parish of Forgan of (as a site for a public drinking fountain) an octagonally-shaped pce grnd (30.25 sq yd) on the Sea Braes of Tayfield to N of and immediately adjoining the high road between Newport and Tayport at the part known as Tay Street | 6 Dec 1882 | 237 | |
Brief explanation of sasine abridgements Explanation of the format of a sasine
Abbreviations in the notes
t/on - thereon; t/p - turnpike; dw - dwelling; ho - house; pt - part; pce - piece; grnd - ground; bldg - building; Tr/Trs - Trustee/Trustees; ... - words omitted; pol - poles; yd - square yards; : - bounded
Return to: Home Page Present-day Addresses Properties Map Old House Names Directories Valuation Rolls Sasines Census