Location : Boat House, Tay Street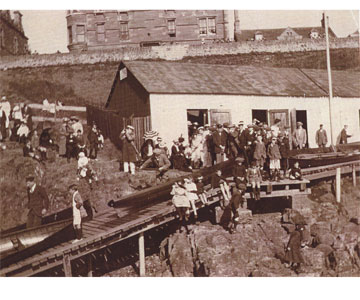 = Property demolished or site redeveloped
Notes: demolished
Introduction
There were 3 sheds on the shore by the Big Rock (official name: Sea Craig). The largest, a boat house, was furthest north, right beside the Big Rock, shown on 1895 and 1914 Ordnance Survey maps. The southernmost shed was 67 metres south of the boat shed, was smaller and had a slip, but this was a bathing shelter. This is shown only on the 1914 map. In between was the smallest shelter, right on the beach, no slipway, used as a bathing shelter. This is shown on the 1914 map close to the large boat house, but on the 1895 map it is shown midway between the two locations with slipways.
Location and Old Maps
Latitude, longitude: 56.442020,-2.941210
View location on the 1855 6-inch map, the 1895 25-inch map, the 1914 25-inch map, the 1966 25-inch map, or a 1944-50 aerial photograph at the National Library of Scotland website.
Nearby properties (demolished in red): drinking fountain, Tay Street
Information and Photographs on Other Sites (open in a new window)
1909-10 Finance Act - Valuation Office: Field Surveys
Reference no. &nbsp369 &nbsp406
Old Addresses (any dates are approximate and are usually the latest occurence of the address)
House Names (any dates are approximate and are usually the latest occurence of the name)
Directory entries (before 1972) There are 221 entries
Source
Entry
1930-31 dir
Mackay, W., Lorneville, Tayport road, East Newport; Hon. Secretary and Treasurer, [under Newport Boating Club]
location 2
1929-30 dir
Mackay, W., Lorneville, Tayport road, East Newport; Hon. Secretary and Treasurer, [under Newport Boating Club]
location 2
1928-29 dir
Ramsay, S. F.; Rear Commodore, [under Newport Boating Club]
1928-29 dir
Leng, John A.; Commodore, [under Newport Boating Club]
1928-29 dir
Mitchell, C. W.; Vice-Commodore, [under Newport Boating Club]
1928-29 dir
Mackay, W., Lorneville, Tayport road, E. Newport; Hon., Secretary and Treasurer, [under Newport Boating Club]
location 2
1927-28 dir
Leng, John A.; Commodore, [under Newport Boating Club]
1927-28 dir
Ramsay, S. F.; Rear Commodore, [under Newport Boating Club]
1927-28 dir
Mitchell, C. W.; Vice-Commodore, [under Newport Boating Club]
1927-28 dir
Mackay, W., Lorneville, Tayport road, E. Newport; Hon. Secretary and Treasurer, [under Newport Boating Club]
location 2
1926-27 dir
Mitchell, C. W.; Vice-Commodore, [under Newport Boating Club]
1926-27 dir
Leng, John A.; Commodore, [under Newport Boating Club]
1926-27 dir
Ramsay, S. F.; Rear Commodore, [under Newport Boating Club]
1926-27 dir
Mackay, W., Lorneville, Tayport road, E. Newport; Hon. Secretary and Treasurer, [under Newport Boating Club]
location 2
1925-26 dir
Leng, John A.; Commodore, [under Newport Boating Club]
1925-26 dir
Mitchell, C. W.; Vice-Commodore, [under Newport Boating Club]
1925-26 dir
Mackay, W., Lorneville, Tayport road, E. Newport; Hon. Secretary and Treasurer, [under Newport Boating Club]
location 2
1925-26 dir
Ramsay, S. F.; Rear Commodore, [under Newport Boating Club]
1923-24 dir
Scott, Hugh, 5 Alma terrace, West Newport; Hon. Secretary and Treasurer, [under Newport Boating Club]
location 2
1923-24 dir
Ramsay, S. F.; Rear Commodore, [under Newport Boating Club]
1923-24 dir
Leng, John A.; Commodore, [under Newport Boating Club]
1923-24 dir
Mitchell, C. W.; Vice-Commodore, [under Newport Boating Club]
1922-23 dir
Mitchell, C. W.; Vice-Commodore, [under Newport Boating Club]
1922-23 dir
Scott, Hugh, 5 Alma terrace. West Newport; Hon. Secretary and Treasurer, [under Newport Boating Club]
location 2
1922-23 dir
Ramsay, S. F.; Rear Commodore, [under Newport Boating Club]
1922-23 dir
Leng, John A.; Commodore, [under Newport Boating Club]
1920-21 dir
Mackay, J. H., Lorneville, East Newport; Hon. Secretary and Treasurer, [under Newport Boating Club]
location 2
1920-21 dir
Mitchell, James; Rear Commodore, [under Newport Boating Club]
1920-21 dir
Mitchell, C. W.; Vice-Commodore, [under Newport Boating Club]
1920-21 dir
Leng, John A.; Commodore, [under Newport Boating Club]
1918-19 dir
Leng, John A.; Commodore, [under Newport Boating Club]
1918-19 dir
Mackay, J. H., Lorneville, East Newport; Hon. Secretary and Treasurer, [under Newport Boating Club]
location 2
1918-19 dir
Mitchell, James; Rear Commodore, [under Newport Boating Club]
1918-19 dir
Mitchell, C. W.; Vice-Commodore, [under Newport Boating Club]
1915-16 dir
Mitchell, James; Rear Commodore, [under Newport Boating Club]
1915-16 dir
Mitchell, C. W.; Vice-Commodore, [under Newport Boating Club]
1915-16 dir
Leng, John A.; Commodore, [under Newport Boating Club]
1915-16 dir
Mackay, J. H., Lorneville, East Newport; Hon. Secretary and Treasurer, [under Newport Boating Club]
location 2
1914-15 dir
Mitchell, C. W.; Vice-Commodore, [under Newport Boating Club]
1914-15 dir
Leng, John A.; Commodore, [under Newport Boating Club]
1914-15 dir
Mackay, J. H., Lorneville, East Newport; Hon. Secretary and Treasurer, [under Newport Boating Club]
location 2
1914-15 dir
Mitchell, James; Rear Commodore, [under Newport Boating Club]
1913-14 dir
Kay, D. M.; Hon. Auditor, [under Newport Boating Club]
1913-14 dir
Mackay, J. H.; Committee [under Newport Boating Club]
1913-14 dir
Bruce, James, Seabank, E. Newport; Hon. Secretary and Treasurer, [under Newport Boating Club]
location 2
1913-14 dir
Allison, C. L; Committee, [under Newport Boating Club]
1913-14 dir
Macdougald, G. D.; Commodore, [under Wormit Boating Club]
1913-14 dir
Ritchie, B; Committee [under Newport Boating Club]
1913-14 dir
Ramsay, S. F.; Rear Commodore, [under Newport Boating Club]
1913-14 dir
Berry, William; Commodore, [under Newport Boating Club]
1913-14 dir
Leng, John A.; Vice-Commodore, [under Newport Boating Club]
1912-13 dir
Ritchie, B; Committee [under Newport Boating Club]
1912-13 dir
Thomson, Fred; Committee [under Newport Boating Club]
1912-13 dir
Berry, William; Commodore, [under Newport Boating Club]
1912-13 dir
Leng, John A.; Vice-Commodore, [under Newport Boating Club]
1912-13 dir
Mackay, J. H; Committee [under Newport Boating Club]
1912-13 dir
Ramsay, S. F.; Rear Commodore, [under Newport Boating Club]
1912-13 dir
Allison, C. L.; Committee, [under Newport Boating Club]
1912-13 dir
Bruce, James, Seabank, E. Newport; Hon. Secretary and Treasurer, [under Newport Boating Club]
location 2
1912-13 dir
Kay, D. M.; Hon. Auditor, [under Newport Boating Club]
1912-13 dir
Macdougald, G. D.; Commodore, [under Wormit Boating Club]
1911-12 dir
Ramsay, S. F.; Committee, [under Newport Boating Club]
1911-12 dir
Berry, William; Commodore, [under Newport Boating Club]
1911-12 dir
Thomson, J. D.; Committee [under Newport Boating Club]
1911-12 dir
Allison, C. L.; Committee [under Newport Boating Club]
1911-12 dir
Leng, John A.; Vice-Commodore, [under Newport Boating Club]
1911-12 dir
Mackay, Charles U.; Hon. Auditor, [under Newport Boating Club]
1911-12 dir
Sturrock, J. Percy; Rear Commodore, [under Newport Boating Club]
1911-12 dir
Carswell, D., Linden avenue; Hon. Secretary and Treasurer, [under Newport Boating Club]
location 2
1911-12 dir
Kay, D. M.; Committee [under Newport Boating Club]
1911-12 dir
Macdougald, G. D.; Commodore, [under Wormit Boating Club]
location 2
1910-11 dir
Leng, John A.; Vice-Commodore, [under Newport Boating Club]
1910-11 dir
Mackay, Charles U.; Committee [under Newport Boating Club]
1910-11 dir
Carswell, David; Rear Commodore, [under Newport Boating Club]
1910-11 dir
Geddes, John C, Greystone, Wormit; Hon. Secretary and Treasurer, [under Newport Boating Club]
[?]
location 2
1910-11 dir
Geddes, Alexander S.; Committee [under Newport Boating Club]
1910-11 dir
Ramsay, S. F.; Committee [under Newport Boating Club]
1910-11 dir
Berry, William; Commodore, [under Newport Boating Club]
1910-11 dir
Sturrock, J. Percy; Hon. Auditor, [under Newport Boating Club]
1910-11 dir
Chapman, David; Committee, [under Newport Boating Club]
1909-10 dir
Berry, William; Commodore, [under Newport Boating Club]
1909-10 dir
Leng, John A.; Vice- Commodore, [under Newport Boating Club]
1909-10 dir
Mackay, Charles W., King street; Hon. Secretary and Treasurer, [under Newport Boating Club]
1909-10 dir
Thomson, John D.; Committee, [under Newport Boating Club]
1909-10 dir
Chapman, David; [under Newport Boating Club]
1909-10 dir
Carswell, David; Rear Commodore, [under Newport Boating Club]
1909-10 dir
Ramsay, S. F; Committee, [under Newport Boating Club]
1908-09 dir
Berry, William; Commodore, [under Newport Boating Club]
1908-09 dir
Cram, James G., 3 Prospect terrace, East Newport; Hon. Secretary and Treasurer, [under Newport Boating Club]
location 2
1908-09 dir
Ramsay, Stewart; Committee [under Newport Boating Club]
1908-09 dir
Scott, A. L.; Vice-Commodore, Captain [under Newport Boating Club]
1908-09 dir
Allan, Alf.; Committee [under Newport Boating Club]
1908-09 dir
Belford, Douglas; Committee [under Newport Boating Club]
1908-09 dir
Carswell, D.; Committee, [under Newport Boating Club]
1908-09 dir
Leng, John A.; Vice-Commodore [under Newport Boating Club]
1908-09 dir
Yeaman, Charles W.; Rear Commodore, [under Newport Boating Club]
1908 Tayside Annual
Ramsay, S. F.; Auditor, [under Newport Boating Club.]
1908 Tayside Annual
Allan, Alf.; Committee [under Newport Boating Club.]
1908 Tayside Annual
Scott, Captain Lennox; Vice-Commodore, [under Newport Boating Club.]
1908 Tayside Annual
Carswell, D.; Committee [under Newport Boating Club.]
1908 Tayside Annual
Keenan, A. H.; Committee [under Newport Boating Club.]
1908 Tayside Annual
Robertson, W. S.; Committee [under Newport Boating Club.]
1908 Tayside Annual
Berry, William, of Tayfield; Commodore, [under Newport Boating Club.]
location 2
1908 Tayside Annual
Yeaman, C. W.; Rear Commodore, [under Newport Boating Club.]
1908 Tayside Annual
Kay, D. M., Woodside, East Newport; Secretary and Treasurer, [under Newport Boating Club.]
[?]
1907-08 dir
Yeaman, Charles W.; Rear Commodore, [under Newport Boating Club]
1907-08 dir
Allan, Alf.; Committee [under Newport Boating Club]
1907-08 dir
Carswell, D.; Committee, [under Newport Boating Club]
1907-08 dir
Scott, Captain; Vice-Commodore, [under Newport Boating Club]
1907-08 dir
Keenan, A. H.; Committee [under Newport Boating Club]
1907-08 dir
Berry, William; Commodore, [under Newport Boating Club]
1907-08 dir
Robertson, W. S.; Committee [under Newport Boating Club]
1907-08 dir
Kay, David M., Woodside, East Newport; Hon. Secretary and Treasurer, [under Newport Boating Club]
[?]
1907 Tayside Annual
Scott, Hugh W.; Rear-Commodore, [under Newport Boating Club.]
1907 Tayside Annual
Allan, Alf.; Committee [under Newport Boating Club.]
1907 Tayside Annual
Mitchell, Sydney; Committee [under Newport Boating Club.]
1907 Tayside Annual
Scott, Captain Lennox; Vice-Commodore, [under Newport Boating Club.]
1907 Tayside Annual
Yeaman, C.; Committee [under Newport Boating Club.]
1907 Tayside Annual
Berry, William, of Tayfield; Commodore, [under Newport Boating Club.]
location 2
1907 Tayside Annual
Salmond, James, The Firs, West Newport; Secretary and Treasurer, [under Newport Boating Club.]
location 2
1906-07 dir
Scrymgeour, G. K.; Committee [under Newport Boating Club]
1906-07 dir
Salmond, James, The Firs, West Newport; Hon. Secretary and Treasurer, [under Newport Boating Club]
location 2
1906-07 dir
Allan, Alf.; Committee [under Newport Boating Club]
1906-07 dir
Scott, Hugh W.; Rear Commodore, [under Newport Boating Club]
1906-07 dir
Mitchell, S.; Committee, [under Newport Boating Club]
1906-07 dir
Yeaman, C. W.; Committee [under Newport Boating Club]
1906-07 dir
Scott, Captain; Vice-Commodore, [under Newport Boating Club]
1906-07 dir
Berry, William; Commodore, [under Newport Boating Club]
1905-06 dir
Scott, Hugh W.; Rear Commodore, [under Newport Boating Club]
1905-06 dir
Berry, William; Commodore, [under Newport Boating Club]
1905-06 dir
Mitchell, S.; Committee [under Newport Boating Club]
1905-06 dir
Yeaman, C. W.; Committee [under Newport Boating Club]
1905-06 dir
Scott, Captain; Vice-Commodore, [under Newport Boating Club]
1905-06 dir
Ferguson, William; Committee, [under Newport Boating Club]
1905-06 dir
Murdoch, H.; Committee [under Newport Boating Club]
1905-06 dir
Salmond, James, The Firs, West Newport; Hon. Secretary and Treasurer, [under Newport Boating Club]
location 2
1904-05 dir
Scott, Hugh W.; Rear Commodore, [under Newport Boating Club]
1904-05 dir
Heggie, D.; Committee, [under Newport Boating Club]
1904-05 dir
Ferguson, William, Norwood ; Secretary and Treasurer, [under Newport Boating Club]
[assumed]
location 2
1904-05 dir
Salmond, James; Committee, [under Newport Boating Club]
1904-05 dir
Scott, Captain; Vice-Commodore, [under Newport Boating Club]
1904-05 dir
Cappon, V. A; Committee, [under Newport Boating Club]
1904-05 dir
Lindsay, M; Committee, [under Newport Boating Club]
1904-05 dir
Leng, Sir John, M.P. ; Commodore, [under Newport Boating Club]
1903-04 dir
Leng, Sir John, M.P; Commodore, [under Newport Boating Club]
1903-04 dir
Scott, Captain; Vice-Commodore, [under Newport Boating Club]
1903-04 dir
Brown, A. E.; Committee, [under Newport Boating Club]
1903-04 dir
Ferguson, W.; Committee [under Newport Boating Club]
1903-04 dir
Scott, Hugh W., Duncraig, West Newport; Secretary and Treasurer, [under Newport Boating Club]
location 2
1903-04 dir
Lord, H.; Committee [under Newport Boating Club]
1903-04 dir
Adie, R. N.; Rear Commodore, [under Newport Boating Club]
1903-04 dir
Cappon, Victor A.; Committee [under Newport Boating Club]
1902-03 dir
Lord, H.; Committee [under Newport Boating Club]
1902-03 dir
Brown, A. E.; Committee [under Newport Boating Club]
1902-03 dir
Leng, Sir John, M.P. ; Commodore, [under Newport Boating Club]
1902-03 dir
Scott, Hugh W., Duncraig, West Newport; and Treasurer, [under Newport Boating Club]
location 2
1902-03 dir
Scott, Captain; Vice-Commodore, [under Newport Boating Club]
1902-03 dir
Adie, R. N.; Secretary; Rear Commodore, [under Newport Boating Club]
1902-03 dir
Ferguson, W.; Committee [under Newport Boating Club]
1902-03 dir
Cappon, Victor A.; Committee [under Newport Boating Club]
1901-02 dir
Cappon, Victor A., Committee, [under Newport Boating Club]
1901-02 dir
Duncan, A. B.; Committee [under Newport Boating Club]
1901-02 dir
Mitchell, T. E.; Committee [under Newport Boating Club]
1901-02 dir
Scott, Hugh W., Duncraig, West Newport ; Secretary and Treasurer [under Newport Boating Club]
location 2
1901-02 dir
Scott, Captain; Vice-Commodore, [under Newport Boating Club]
1901-02 dir
Adie, R. N.; Rear Commodore, [under Newport Boating Club]
1901-02 dir
Leng, John A.; Committee [under Newport Boating Club]
1901-02 dir
Leng, Sir John, M.P; Commodore, [under Newport Boating Club]
1900-01 dir
Scott, Hugh W.; Committee, [under Newport Boating Club]
1900-01 dir
Duncan, James B; Committee, [under Newport Boating Club]
1900-01 dir
Leigh, Frank; Committee, [under Newport Boating Club]
1900-01 dir
Scott, Captain; Vice-Commodore, [under Newport Boating Club]
1900-01 dir
Mitchell, T. E., Ivybank, West Newport; and Treasurer, [under Newport Boating Club]
location 2
1900-01 dir
Adie, R. N.; Secretary; Rear Commodore, [under Newport Boating Club]
1900-01 dir
Leng, Sir John, M.P. ; Commodore, [under Newport Boating Club]
1900-01 dir
Leng, John A; Committee, [under Newport Boating Club]
1899-00 dir
Scott, Hugh W.; Committee [under Newport Boating Club]
1899-00 dir
Duncan, James B.; Committee [under Newport Boating Club]
1899-00 dir
Leng, John A; Committee [under Newport Boating Club]
1899-00 dir
Scott, Captain; Vice-Commodore, [under Newport Boating Club]
1899-00 dir
Mitchell, T. E., Holly cottage. West Newport; Secretary and Treasurer, [under Newport Boating Club]
[could be 2 or 3]
location 2
1899-00 dir
Leigh, Frank; Committee [under Newport Boating Club]
1899-00 dir
Leng, Sir John, M.P. ; Commodore, [under Newport Boating Club]
1899-00 dir
Adie, R. N.; Rear Commodore, [under Newport Boating Club]
1898-99 dir
Scott, Captain; Vice-Commodore, [under Newport Boating Club]
1898-99 dir
Leigh, Frank; Committee, [under Newport Boating Club]
1898-99 dir
Mitchell, J. E., Holly cottage, West Newport; Secretary and Treasurer, [under Newport Boating Club]
[could be 2 or 3]
location 2
1898-99 dir
Leng, Sir John, M.P. ; Commodore, [under Newport Boating Club]
1898-99 dir
Adie, R. N.; Rear Commodore, [under Newport Boating Club]
1898-99 dir
Leng, John A; Committee, [under Newport Boating Club]
1898-99 dir
Brand, F.; Committee, [under Newport Boating Club]
1898-99 dir
Reid, W. P; Committee, [under Newport Boating Club]
1897-98 dir
Leng, Sir John, M.P; Commodore, [under Newport Boating Club]
1897-98 dir
Adie, R. N.; Rear Commodore, [under Newport Boating Club]
1897-98 dir
Scott, Captain; Vice-Commodore, [under Newport Boating Club]
1897-98 dir
Leigh, Frank; Committee, [under Newport Boating Club]
1897-98 dir
Reid, W. P.; Committee, [under Newport Boating Club]
1897-98 dir
Brown, A. E.; Committee, [under Newport Boating Club]
1897-98 dir
Leng, John A; Committee, [under Newport Boating Club]
1896-97 dir
Adie, R. N.; Rear Commodore, [under Newport Boating Club]
1896-97 dir
Leigh, Frank; Committee [under Newport Boating Club]
1896-97 dir
Reid, W. P; Committee [under Newport Boating Club]
1896-97 dir
Brown, A. E.; Committee [under Newport Boating Club]
1896-97 dir
Leng, John A; Committee, [under Newport Boating Club]
1896-97 dir
Leng, Sir John, M.P; Commodore, [under Newport Boating Club]
1896-97 dir
Scott, Captain; Vice-Commodore, [under Newport Boating Club]
1895-96 dir
Leng, John A; Committee [under Newport Boating Club]
1895-96 dir
Brand, F. G. H.; Committee [under Newport Boating Club]
1895-96 dir
Reid, W. P; Committee [under Newport Boating Club]
1895-96 dir
Cunningham, David; Vice-Commodore, [under Newport Boating Club]
1895-96 dir
Adie, R. N.; Rear Commodore, [under Newport Boating Club]
1895-96 dir
Leng, Sir John, M.P; Commodore, [under Newport Boating Club]
1895-96 dir
Brown, W. K; Committee [under Newport Boating Club]
1894-95 dir
Cunningham, David; Vice-Commodore, [under Newport Boating Club]
1894-95 dir
Leng, Sir John, M.P; Commodore, [under Newport Boating Club]
1894-95 dir
Maxwell, D; Committee [under Newport Boating Club]
1894-95 dir
Brown, W. K; Committee [under Newport Boating Club]
1894-95 dir
Leigh, Frank, Woodside, Newport; Secretary and Treasurer, [under Newport Boating Club]
1894-95 dir
Mitchell, G. G.; Committee [under Newport Boating Club]
1894-95 dir
Leng, John A; Committee [under Newport Boating Club]
1894-95 dir
Adie, R. N.; Rear Commodore, [under Newport Boating Club]
Census records
Valuation Roll entries There are 15 entries
| Year | No. | Property | Proprietor | Tenant | Occupier | Value | | |
| --- | --- | --- | --- | --- | --- | --- | --- | --- |
| 1927-28 | 581 | Stance for Boathouse | William Berry per Hagart & Burn Murdoch WS, 10 Atholl Cresc., Edinburgh | | James Y Watson per James Allison | 0-5-0 | View details | |
| 1927-28 | 583 | Boat Shed & Slip | James Y Watson per James Allison, solicitor, 61 Reform St, Dundee | | proprietor | 4 | View details | |
| 1925-26 | 566 | Stance for Boathouse | William Berry per Hagart & Burn Murdoch WS, 140 Princes St, Edinburgh | Trs for Newport Boating Club | same | 0-5-0 | View details | |
| 1925-26 | 567 | Boat Shed & Slip | Trs for Newport Boatin Club per James Allison, solicitor, 61 Reform St, Dundee | | proprietor | 4 | View details | |
| 1922-23 | 539 | Boat Shed & Slip | Trs for Newport Boat Shed Co. per James Allison, solicitor, 61 Reform St, Dundee | | proprietor | 4 | View details | |
| 1922-23 | 559 | Boathouse | William Berry per Hagart & Burn Murdoch WS, 140 Princes St, Edinburgh | Trs for the Newport Boating Club | same | 0-5-0 | View details | |
| 1920-21 | 517 | Boat Shed & Slip | Trs for Newport Boat Shed Co. per James Allison, solicitor, 61 Reform St, Dundee | | proprietor | 4 | View details | |
| 1917-18 | 516 | Boat Shed & Slip | Trs for Newport Boat Shed Co. per James Allison, solicitor, 61 Reform St, Dundee | | proprietor | 4 | View details | |
| 1915-16 | 511 | Boat Shed & Slip | Trs for Newport Boat Shed Co. per James Allison, solicitor, 61 Reform St, Dundee | | proprietor | 4 | View details | |
| 1912-13 | 660 | Boat Shed & Slip | Trs for Newport Boat Shed Co. per James Allison, solicitor, 61 Reform St, Dundee | | proprietor | 4 | View details | |
| 1907-08 | 640 | Boat Shed | Trs for Newport Boat Shed Co. per James Allison, solicitor, 61 Reform St, Dundee | | proprietor | 4 | View details | |
| 1905-06 | 628 | Boat Shed | Trs for Newport Boat Shed Co, per James Allison, solicitor, 31 Albert Sq, Dundee | | proprietor | 4 | View details | |
| 1903-04 | 620 | Boat Shed | Trs for Newport Boat Shed Co, per James Allison, solicitor, 31 Albert Sq, Dundee | | proprietor | 4 | View details | |
| 1901-02 | 1216 | Boat Shed | Trs for Newport Boat Shed Co. per James Allison, solicitor, 31 Albert Sq, Dundee | | proprietor | 4 | View details | |
| 1900-01 | 1199 | Boat Shed | Tay Boat Club per James Allison, solicitor, Newport | | proprietor | 4 | View details | |
Early Sasines:
Return to: Home Page Present-day Addresses Properties Map Old House Names Directories Valuation Rolls Sasines Census