Location : Tayfield House, High Road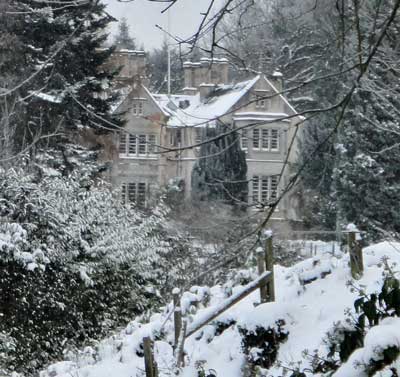 = Property still standing
Notes:
Introduction
Original house built 1788, harled, 2-storey & basement. Altered & enlarged 1827-8. (The Buildings of Scotland, Fife, Gifford.)
Location and Old Maps
Latitude, longitude: 56.436697,-2.939782
View location on the 1855 6-inch map, the 1895 25-inch map, the 1914 25-inch map, the 1966 25-inch map, or a 1944-50 aerial photograph at the National Library of Scotland website.
1854 Ordnance Survey Name Book Entry (originals at ScotlandsPlaces) (more information on the O.S. Name Books page)
| | | | | | | |
| --- | --- | --- | --- | --- | --- | --- |
| List of names to be corrected if necessary | Orthography, as recommended to be used in the new plans | Other modes of spelling the name | Authorities for these other modes of spelling when known | Situation | Descriptive remarks or other general observations which may be considered of interest | Source |
| Tayfield House | Tayfield House | Tayfield House; Tayfield House; Tayfield House; Tayfield; Tayfield | John Berry Esq, proprietor; James Shepherd, Newport Pier; Alexander Dingwall, Seamills; Leighton's Hist. of Fife; Johnston's Co. Map. | About 12 chains S.E. of the village of Newport. | This is the mansion house of the estate of Tayfield, is of recent erection and in the Elizabethan style of architecture. It is a large building four storeys high. A few yards from the house is the garden, which is large and well kept, the home farm buildings and stabling are north of the garden. In the parks around the house are some fine timber. There are two lodges, from their position called the north and south lodges, occupied by the gardeners. The present tenant is James Paton, Merchant, Montrose, the proprietor is John Berry W.S., Edinburgh. | OS1/13/34/9 |
Information and Photographs on Other Sites (open in a new window)
Old Addresses (any dates are approximate and are usually the latest occurence of the address)
House Names (any dates are approximate and are usually the latest occurence of the name)
Directory entries (before 1972) There are 268 entries
Source
Entry
1971 dir
Berry, Dr John, Tayfield
1970 dir
Berry, Dr John, Tayfield
1969 dir
Berry, Dr John, Tayfield
1968 dir
Berry, Dr John, Tayfield
1967 dir
Berry, Dr. John, Tayfield
1966 dir
Berry, Dr. John, Tayfield
1965 dir
Berry, Dr. John, Tayfield
1964 dir
Berry, Dr. John, Tayfield
1963 dir
Berry, Dr. John, Tayfield
1962 dir
Berry, Dr. John, Tayfield
1961 dir
Berry, Dr. John, Tayfield
1960 dir
Berry, Dr. John, Tayfield
1958-59 dir
Berry, Dr. John, Tayfield
1957-58 dir
Berry, Dr. John, Tayfield
1953-54 dir
Berry, William, of Tayfield, Tayfield House, Newport
1953-54 dir
Berry, William, of Tayfield ; [under Justices Of The Peace Resident At Newport]
1952-53 dir
Berry, William, Tayfield house, East Newport
1952-53 dir
Berry, William, of Tayfield; [under Justices Of The Peace Resident At Newport]
1951-52 dir
Berry, William, of Tayfield; [under Justices Of The Peace Resident At Newport]
1951-52 dir
Berry, William, Tayfield House, High road, East Newport
1950-51 dir
Berry, William, of Tayfield; [under Justices Of The Peace Resident At Newport]
1950-51 dir
Berry, William, Tayfield house, High road, East Newport
1949-50 dir
Berry, William, Tayfield house, High road, East Newport
1949-50 dir
Berry, William, of Tayfield; [under Justices Of The Peace Resident At Newport]
1948-49 dir
Berry, William, Tayfield house, High road, East Newport
1948-49 dir
Berry, William, of Tayfield; [under Justices Of The Peace Resident At Newport]
1947-48 dir
Berry, William, Tayfield house, High road, East Newport
1947-48 dir
Berry, William, of Tayfield; [under Justices Of The Peace Resident At Newport]
1946-47 dir
Berry, William, of Tayfield ; [under Justices Of The Peace Resident At Newport]
1946-47 dir
Berry, William, Tayfield house, High road, East Newport
1942-43 MacDonald dir
Berry, Wm., of Tayfield, Tayfield House
1942-43 dir
Berry, William, Tayfield house, High road, East Newport
1942-43 dir
Berry, William, of Tayfield; [under Justices Of The Peace Resident At Newport]
1941-42 MacDonald dir
Berry, Wm., of Tayfield, Tayfield House
1941-42 dir
Berry, William, of Tayfield ; [under Justices Of The Peace Resident At Newport]
1941-42 dir
Berry, William, Tayfield house, High road, East Newport
1940-41 MacDonald dir
Berry, Wm., of Tayfield, Tayfield House
1940-41 dir
Berry, William, of Tayfield; [under Justices Of The Peace Resident At Newport]
1940-41 dir
Berry, William, Tayfield house, High road, East Newport
1939-40 MacDonald dir
Berry, Wm., of Tayfield, Tayfield House
1939-40 dir
Berry, William, of Tayfield ; [under Justices Of The Peace Resident At Newport]
1939-40 dir
Berry, William, Tayfield house, High road, East Newport
1938-39 MacDonald dir
Berry, Wm., of Tayfield, Tayfield House
1938-39 dir
Berry, William, Tayfield house, High road, East Newport
1938-39 dir
Berry, William, of Tayfield; [under Justices Of The Peace Resident At Newport]
1937-38 MacDonald dir
Berry, Wm., of Tayfield, Tayfield House
1937-38 dir
Berry, William, of Tayfield; [under Justices Of The Peace Resident At Newport]
1937-38 dir
Berry, William, Tayfield house, High road, East Newport
1936-37 MacDonald dir
Berry, Wm., of Tayfield, Tayfield House
1936-37 dir
Berry, William, of Tayfield; [under Justices Of The Peace Resident At Newport]
1936-37 dir
Berry, William, Tayfield house, High road, East Newport
1935-36 dir
Berry, William, Tayfield house, High road, East Newport
1935-36 dir
Berry, William,. of Tayfield; [under Justices Of The Peace Resident At Newport]
1934-35 MacDonald dir
Berry, Wm., of Tayfield, Tayfield House
1934-35 dir
Berry, William, of Tayfield; [under Justices Of The Peace Resident At Newport]
1934-35 dir
Berry, William, Tayfield house, East Newport
1933-34 MacDonald dir
Berry, Wm., of Tayfield, Tayfield House
1933-34 dir
Berry, William, of Tayfield ; [under Justices Of The Peace Resident At Newport]
1933-34 dir
Berry, William, Tayfield house, fast Newport
1932-33 dir
Berry, William, of Tayfield; [under Justices Of The Peace Resident At Newport]
1932-33 dir
Berry, William, Tayfield house, East Newport
1931-32 MacDonald dir
Berry, Wm., of Tayfield, Tayfield House
1931-32 dir
Berry, William, Tayfield house, East Newport
1931-32 dir
Berry, William, of Tayfield; [under Justices Of The Peace Resident At Newport]
1930-31 MacDonald dir
Berry, Wm., of Tayfield, Tayfield House
1930-31 dir
Berry, William, of Tayfield; [under Justices Of The Peace Resident At Newport]
1930-31 dir
Berry, William, Tayfield house, East Newport
1929-30 MacDonald dir
Berry, Wm., of Tayfield, Tayfield House
1929-30 dir
Berry, William, of Tayfield; [under Justices Of The Peace Resident In Newport]
1929-30 dir
Berry, William, Tayfield house, East Newport
1928-29 MacDonald dir
Berry, Wm., of Tayfield, Tayfield House
1928-29 dir
Berry, William, of Tayfield; [under Justices Of The Peace Resident At Newport]
1928-29 dir
Berry, William, Tayfield house, East Newport
1928 Kelly dir
Berry William J.P. Tayfield, W
1928 Kelly dir
Berry, William, esq. O.B.E., J.P; [under Principal Landowners]
1927-28 MacDonald dir
Berry, Wm., of Tayfield, Tayfield House
1927-28 dir
Berry, William, of Tayfield; [under Justices Of The Peace Resident At Newport]
1927-28 dir
Berry, William, Tayfield house, East Newport
1926-27 MacDonald dir
Berry, Wm., of Tayfield, Tayfield House
1926-27 dir
Berry, William, of Tayfield; [under Justices Of The Peace Resident At Newport]
1926-27 dir
Berry, William, Tayfield house, East Newport
1925-26 MacDonald dir
Berry, Wm., of Tayfield, Tayfield House
1925-26 dir
Berry, William, of Tayfield; [under Justices Of The Peace Resident At Newport]
1925-26 dir
Berry, William, Tayfield house
1924-25 MacDonald dir
Berry, Wm., of Tayfield, Tayfield House
1923-24 MacDonald dir
Berry, Wm., of Tayfield, Tayfield House
1923-24 dir
Berry, William, of Tayfield ; [under Justices Of The Peace Resident At Newport]
1923-24 dir
Berry, William, Tayfield house
1922-23 dir
Berry, William, of Tayfield; [under Justices Of The Peace Resident At Newport]
1922-23 dir
Berry, William, of Tayfield, Tayfield house
1921-22 MacDonald dir
Berry, Wm., of Tayfield, Tayfield House
1921 Slater dir
Berry William J.P. Tayfield, W
1921 Slater dir
Berry Mrs. Tayfield,
1921 Slater dir
Berry, William, esq. O.B.E., J.P; [under Principal Landowners]
1920-21 dir
Berry, William, of Tayfield; [under Justices Of The Peace Resident At Newport]
1920-21 dir
Berry, William, of Tayfield, Tayfield house
1919-20 MacDonald dir
Berry, Wm., of Tayfield, Tayfield House
1918-19 MacDonald dir
Berry, Wm., of Tayfield, Tayfield House
1918-19 dir
Berry, William, of Tayfield; [under Justices Of The Peace Resident At Newport]
1918-19 dir
Berry, William, of Tayfield, Tayfield house
1917-18 MacDonald dir
Berry, Wm., of Tayfield, Tayfield House
1916-17 MacDonald dir
Berry, Wm., of Tayfield, Tayfield House
1915-16 MacDonald dir
Berry, Wm., of Tayfield, Tayfield House
1915-16 dir
Berry, William, of Tayfield, Tayfield house
1915-16 dir
Berry, William, of Tayfield ; [under Justices Of The Peace Resident At Newport]
1915 Slater dir
Berry, William, esq. J.P; [under Principal Land Owners]
1915 Slater dir
Berry Mrs. Tayfield, W
1915 Slater dir
Berry William J.P. Tayfield, W
1914-15 MacDonald dir
Berry, Wm., of Tayfield, Tayfield House
1914-15 dir
Berry, William, of Tayfield ; [under Justices Of The Peace Resident At Newport]
1914-15 dir
Berry, William, of Tayfield, Tayfield house
1913-14 MacDonald dir
Berry, Wm., of Tayfield, Tayfield House
1913-14 dir
Berry, William, of Tayfield, Tayfield house
1913-14 dir
Berry, William, of Tayfield; [under Justices Of The Peace Resident At Newport]
1912-13 MacDonald dir
Berry, Wm., of Tayfield, Tayfield House
1912-13 dir
Berry, William, of Tayfield; [under Justices Of The Peace Resident At Newport]
1912-13 dir
Berry, William, of Tayfield, Tayfield house
1911-12 MacDonald dir
Berry, Wm., of Tayfield, Tayfield House
1911-12 dir
Berry, William, Tayfield; [under Justices Of The Peace Resident At Newport]
1911-12 dir
Berry, William, of Tayfield, Tayfield house
1911 Slater dir
Berry Mrs. Tayfield, W
1911 Slater dir
Berry, William, esq. J.P. of Tayfield; [under Principal Landowners]
1911 Slater dir
Berry William, J.P. Tayfield, W
1910-11 MacDonald dir
Berry, Wm., of Tayfield, Tayfield House
1910-11 dir
Berry, William, of Tayfield, Tayfield house
1910-11 dir
Berry, William, of Tayfield ; [under Justices Of The Peace Resident At Newport.]
1909-10 MacDonald dir
Berry, Wm., of Tayfield, Tayfield House
1909-10 dir
Berry, William, of Tayfield; [under Justices Of The Peace Resident At Newport]
1909-10 dir
Berry, William, of Tayfield, Tayfield house
1908-09 MacDonald dir
Berry, Wm., of Tayfield, Tayfield House
1908-09 dir
Berry, William, of Tayfield; [under Justices Of The Peace Resident At Newport.]
1908-09 dir
Berry, William, of Tayfield, Tayfield house
1908 Tayside Annual
Berry, William, of Tayfield, Tayfield House.
1908 Tayside Annual
Berry, William, of Tayfield; Commodore, [under Newport Boating Club.]
location 2
1908 Tayside Annual
Berry, William, of Tayfield; President, [under Newport Orchestral Society.]
1908 Tayside Annual
Berry, William, of Tayfield; [under Newport Justices Of The Peace.]
1908 Tayside Annual
Berry, William, of Tayfield; Hon. President, [under Newport Quoiting Club. Grounds, Cupar Road.]
location 2
1907-08 MacDonald dir
Berry, Wm., Tayfield House, also The Cliff
location 2
1907-08 dir
Berry, William, of Tayfield; Hon. President, [under Newport Quoiting Club; Grounds, Cupar Road.]
location 2
1907-08 dir
Berry, William, of Tayfield, Tayfield house
1907-08 dir
Berry, William, of Tayfield; [under Justices Of The Peace Resident At Newport]
1907-08 dir
Berry, W., of Tayfield; President, [under Newport Orchestral Society]
1907 Tayside Annual
Berry, William, of Tayfield; Hon. President, [under Newport Quoiting Club. Grounds, Cupar Road.]
location 2
1907 Tayside Annual
Berry, William, of Tayfield; [under Newport Justices Of The Peace]
1907 Tayside Annual
Berry, William, of Tayfield; Commodore, [under Newport Boating Club.]
location 2
1907 Tayside Annual
Berry, William, of Tayfield, Tayfield House.
1907 Tayside Annual
Berry, William, of Tayfield; President, [under Newport Orchestral Society.]
1907 Slater dir
Berry William J.P. Tayfield, W
1907 Slater dir
Berry Mrs. Tayfield, W
1906-07 MacDonald dir
Berry, Wm., Tayfield House, also The Cliff
location 2
1906-07 dir
Berry, William, of Tayfield; Hon. President, [under Newport Quoiting Club, Grounds, Cupar Road.]
location 2
1906-07 dir
Berry, William, of Tayfield, Tayfield house
1906-07 dir
Berry, William, of Tayfield; [under Justices of the Peace Resident at Newport]
1906-07 dir
Berry, W., of Tayfield; President, [under Newport Orchestral Society]
1905-06 MacDonald dir
Berry, Wm., Tayfield House
1905-06 dir
Berry, William, of Tayfield, Tayfield house
1905-06 dir
Berry, William, Tayfield; Hon. President, [under Newport Quoiting Club; Grounds, Cupar Road.]
location 2
1905-06 dir
Berry, William, of Tayfield; [under Justices Of The Peace Resident At Newport]
1905-06 dir
Berry, W., of Tayfield; President, [under Newport Orchestral Society]
1904-05 MacDonald dir
Berry, Wm., Tayfield House
1904-05 dir
Berry, William, of Tayfield; [under Justices Of The Peace Resident At Newport]
1904-05 dir
Berry, W., of Tayfield ; President, [under Newport Orchestral Society]
1904-05 dir
Berry, William, of Tayfield; Hon. President, [under Newport Quoiting Club]
location 2
1904-05 dir
Berry, William, of Tayfield, Tayfield house
1903-04 MacDonald dir
Berry, Wm., Tayfield House
1903-04 dir
Berry, William, of Tayfield, Tayfield house
1903-04 dir
Berry, William, of Tayfield; [under Justices Of The Peace Resident At Newport]
1903-04 dir
Berry, W., of Tayfield; President, [under Newport Orchestral Society]
1903-04 dir
Berry, William, of Tayfield; Hon. President, [under Newport Quoiting Club; Grounds, Cupar Road.]
location 2
1903 Slater dir
Berry William J.P. Tayfield, W Newport
1903 Slater dir
Berry Mrs. Tayfield, W Newport
1902-03 MacDonald dir
Berry, Wm., Tayfield House
1902-03 dir
Berry, W., of Tayfield ; President, [under Newport Orchestral Society]
1902-03 dir
Berry, William, of Tayfield; Hon. President, [under Newport Quoiting Club. Grounds, Cupar Road.]
location 2
1902-03 dir
Berry, William, of Tayfield; [under Justices Of The Peace Resident At Newport]
1902-03 dir
Berry, William, of Tayfield, Tayfield house
1901-02 MacDonald dir
Berry, Wm., Tayfield House
1901-02 dir
Berry, William, of Tayfield; [under Justices Of The Peace Resident At Newport]
1901-02 dir
Berry, William, of Tayfield, Tayfield house
1901-02 dir
Berry, William, of Tayfield; Hon. President, [under Newport Quoiting Club. Grounds, Cupar Road.]
location 2
1901-02 dir
Berry, W., of Tayfield; President, [under Newport Orchestral Society]
1900-01 dir
Berry, William, of Tayfield, Tayfield house
1900-01 dir
Berry, William, of Tayfield; Patron, [under Newport Quoiting Club, Grounds, Cupar Road.]
location 2
1900-01 dir
Berry, W., of Tayfield; President, [under Newport Orchestral Society]
1900-01 dir
Berry, William, of Tayfield; [under Justices Of The Peace Resident At Newport]
1899-00 dir
Berry, W., Esq., of Tayfield ; Patron, [under Newport Quoiting Club, Grounds, Cupar Road.]
location 2
1899-00 dir
Berry, William, of Tayfield, Tayfield house
1899-00 dir
Berry, William, of Tayfield; [under Justices Of The Peace Resident At Newport]
1899 Slater dir
Berry Mrs. Tayfield, W
1899 Slater dir
Berry William J.P. Tayfield, W
1898-99 dir
Berry, William, of Tayfield; [under Justices Of The Peace Resident At Newport]
1898-99 dir
Berry, W., Esq., of Tayfield ; Patron, [under Newport Quoiting Club; Grounds, Cupar Road.]
location 2
1898-99 dir
Berry, William, of Tayfield, Tayfield house
1897-98 dir
Berry, W., Esq., of Tayfield ; Patron, [under Newport Quoiting Club; Grounds, Cupar Road.]
location 2
1897-98 dir
Berry, William, of Tayfield; [under Justices Of The Peace Resident At Newport.]
1897-98 dir
Berry, William, of Tayfield, Tayfield house
1896-97 dir
Berry, William, of Tayfield, Tayfield house
1896-97 dir
Berry, William, of Tayfield; [under Justices Of The Peace Resident At Newport]
1896-97 dir
Berry, W., Esq., of Tayfield; Patron, [under Newport Quoiting Club, Grounds, Cupar Road.]
location 2
1896 Slater dir
Berry William J.P. Tayfield,
1896 Slater dir
Berry Mrs. Tayfield,
1895-96 dir
Berry, William, of Tayfield, Tayfield house
1895-96 dir
Berry, William, of Tayfield; [under Justices Of The Peace Resident At Newport]
1894-95 dir
Berry, William, of Tayfield, Tayfield house
1894-95 dir
Berry, William, of Tayfield; [under Justices Of The Peace Resident At Newport]
1893-94 dir
Berry, William, of Tayfield, Tayfield house
1893-94 dir
Berry, William, of Tayfield; [under Justices Of The Peace Resident At Newport]
1893 Slater dir
Berry Mrs. Margaret, (of Tayfield), Tayfield House
1893 Slater dir
Berry William, Esq. Tayfield House
1892-93 dir
Berry, William, of Tayfield, Tayfield house
1892-93 dir
Berry, William, of Tayfield; [under Justices Of The Peace Resident At Newport]
1891-92 dir
Berry, William, of Tayfield; [under Justices Of The Peace Resident At Newport]
1891-92 dir
Berry, William, of Tayfield, Tayfield house
1890-91 dir
Berry, William, of Tayfield, Tayfield house
1890-91 dir
Berry, William; President, [under Newport Cricket Club, Ground - Tayfield Park.]
1890-91 dir
Berry, William, of Tayfield; [under Justices Of The Peace Resident At Newport]
1889-90 dir
Berry, William, of Tayfield, Tayfield house
1889-90 dir
Berry, William; President, [under Newport Cricket Club, Ground Tayfield Park.]
1889-90 dir
Berry, William, of Tayfield ; [under Justices Of The Peace Resident At Newport.]
1889 Slater dir
Berry Mrs Margaret, (of Tayfield), Tayfield House, Newport. Fife
1889 Slater dir
Berry Mr William, (of Tayfield), Tayfield House, Newport, Fife
1888-89 dir
Berry, William; President, [under Newport Cricket Club, Ground Tayfield Park]
1888-89 dir
Berry, William, of Tayfield; [under Justices Of The Peace Resident At Newport]
1888-89 dir
Berry, William, of Tayfield, Tayfield house
1887-88 dir
Berry, William, of Tayfield; [under Justices Of The Peace Resident At Newport.]
1887-88 dir
Berry, William, of Tayfield, Tayfield house
1886-87 dir
Berry, William, of Tayfield; [under Justices Of The Peace Resident At Newport]
1886-87 dir
Berry, William, of Tayfield, Tayfield house
1886 Slater dir
Berry Mrs Margaret, of Tayfield, Tayfield House
1886 Slater dir
Berry William, Tayfield House
1885-86 dir
Berry, William, of Tayfield, Tayfield house
1884-85 dir
Berry, William, of Tayfield, Tayfield house
1882-83 dir
Berry, William, of Tayfield, Tayfield house
1882 Slater dir
Berry Mrs. Margaret, of Tayfield, Tayfield House
1880-81 dir
Berry, Mrs John, of Tayfield, Tayfield house
1878-79 dir
Berry, Mrs John, of Tayfield, Tayfield house
1878 Slater dir
Berry John, Esq. J.P. of Tayfield, Tayfield
1877 Worrall dir
Berry John, Esq., Tayfield
1876-77 dir
Berry, John, of Tayfield, Tayfield house [* ms. alteration - 'John' deleted]
1876-77 dir
Berry, John, Tayfield; [under Justices Of The Peace Resident At Newport]
1874-75 dir
Berry, John, of Tayfield, Tayfield House
1873 Slater dir
Berry John, Esq. Tayfield, Ferry-Port-on-Craig [sic]
1871-72 dir
Berry, Mrs, of Tayfield; Patroness [under Newport Curling Club]
location 2
1871-72 dir
Berry, John, Esq. of Tayfield; Patron [under Newport Curling Club]
location 2
1871-72 dir
Berry, John, of Tayfield, Tayfield House
1869-70 dir
Berry, John, of Tayfield, Tayfield House
1869-70 dir
Berry, Mrs, of Tayfield; Patroness [under Newport Curling Club]
location 2
1869-70 dir
Berry, John, Esq. of Tayfield; Patron [under Newport Curling Club]
location 2
1867-68 dir
Berry, John, Esq. of Tayfield; Patron [under Newport Curling Club]
location 2
1867-68 dir
Berry, Mrs, of Tayfield; Patroness [under Newport Curling Club]
location 2
1867-68 dir
Berry, John, of Tayfield, Tayfield House
1867 Slater dir
Berry John, Esq. Tayfield
1866 Fife dir
Berry, John, Tayfield House
1862 Fife dir
Berry, John, Tayfield House
1862 County dir
Berry, John, Tayfield, Newport, Fifeshire
1861 Slater dir
Berry John, Esq. Tayfield
1858-59 Dundee dir
Paton, James M, of J & G Paton, merchants & Flaxspinners, 8 St Andrews Street, Dundee; h. Tayfield, Newport
1857 Noblemen dir
Paton, James M, Tayfield, Newport, Fife
1857 Noblemen dir
Berry, John, proprietor, Tayfield, Newport, Fife
1856-57 Dundee dir
Paton, James M, of J & G Paton, flaxspinners & merchants, 8 St Andrew's Street, Dundee; h. Tayfield, Newport
1853-54 dir
Paton, James M., Tayfield.
1853-54 dir
Berry, John, of Tayfield, Tayfield.
1852 Slater dir
Berry, William, Tayfield
1852 Noblemen dir
Berry, William, Tayfield, Newport, Fife
1843 Gentlemen's Seats
Berry, William, Tayfield, Newport, Fife
1842-43 Dundee dir
Berry, William, of Tayfield : Committee of Trustees of the Tay Ferries
1837 Pigot dir
Berry, William, Tayfield
1834 dir
Berry, William, of Tayfield
Entries in the Registers of Voters
Source
Enrol Date
Name
Occup.
Address
Qualification
Property
at
Notes
1900 Male Voters
Berry, William
Landed Proprietor
Tayfield, Newport
Proprietor of Estate
Tayfield
1874 Voters
Berry, John
1873 Voters
Berry, John
1846-1862 Voters
3 September 1857
Paton, James M
merchant, Dundee
tenant
mansion house, garden and pertinents
Tayfield
[entry deleted] Disqualified
1844-1861 Voters
3 September 1857
Paton, James M
merchant, Dundee
tenant
mansion house, garden and pertinents
Tayfield
Census records
Valuation Roll entries There are 46 entries
| Year | No. | Property | Proprietor | Tenant | Occupier | Value | | |
| --- | --- | --- | --- | --- | --- | --- | --- | --- |
| 1969-70 | 2135 | House, School & Offices | John Berry CBE PhD | | proprietor | 230 | View details | |
| 1967-68 | 789 | House, School & Offices | John Berry PhD per Murray Beith & Murray WS, 39 & 43 Castle St, Edinburgh 2 | | proprietor | 230 | View details | |
| 1964-65 | 789 | House & Offices | John Berry PhD per Hagart & Burn Murdoch WS, 10 Atholl Cres, Edinburgh | | proprietor | 310 | View details | |
| 1961-62 | 2326 | House & Offices | John Berry PhD per Hagart & Burn Murdoch WS, 10 Atholl Cres, Edinburgh | | proprietor | 320 | View details | |
| 1958-59 | 968 | House, Offices & Garden | John Berry PhD per Hagart & Burn Murdoch WS, 10 Atholl Cres, Edinburgh | | proprietor | 151-10-0 | View details | |
| 1957-58 | 948 | House, Offices & Garden | John Berry PhD per Hagart & Burn Murdoch WS, 10 Atholl Cres, Edinburgh | | proprietor | 151-10-0 | View details | |
| 1952-53 | 926 | House, Offices & Garden | William Berry per Hagart & Burn Murdoch WS, 10 Atholl Cres, Edinburgh | | proprietor | 151-10-0 | View details | |
| 1947-48 | 894 | House, Offices & Garden | William Berry per Hagart & Burn Murdoch WS, 10 Atholl Cres, Edinburgh | | proprietor | 151-10-0 | View details | |
| 1942-43 | 875 | House, Offices & Garden | William Berry per Hagart & Burn Murdoch WS, 10 Atholl Cres, Edinburgh | | proprietor | 151-10-0 | View details | |
| 1940-41 | 876 | House, Offices & Garden | William Berry per Hagart & Burn Murdoch WS, 10 Atholl Cres, Edinburgh | | proprietor | 151-10-0 | View details | |
| 1937-38 | 888 | House, Offices & Garden | John Berry per Hagart & Burn Murdoch WS, 10 Atholl Cres, Edinburgh | | proprietor | 151-10-0 | View details | |
| 1935-36 | 857 | House, Offices & Garden | William Berry per Hagart & Burn Murdoch WS, 10 Atholl Cres, Edinburgh | | proprietor | 151-10-0 | View details | |
| 1932-33 | 828 | Tayfield House, Garden & Offices | William Berry per Hagart & Burn Murdoch WS, 10 Atholl Cres, Edinburgh | | proprietor | 151-10-0 | View details | |
| 1930-31 | 825 | Tayfield House, Garden & Offices | William Berry per Hagart & Burn Murdoch WS, 10 Atholl Cres, Edinburgh | | proprietor | 151-10-0 | View details | |
| 1927-28 | 819 | Tayfield House, Garden & Offices | William Berry per Hagart & Burn Murdoch WS, 10 Atholl Cres, Edinburgh | | proprietor | 151-10-0 | View details | |
| 1925-26 | 802 | Tayfield House, Garden & Offices | William Berry per Hagart & Burn Murdoch WS, 140 Princes St, Edinburgh | | proprietor | 151-10-0 | View details | |
| 1922-23 | 781 | Tayfield House, Garden & Offices | William Berry per Hagart & Burn Murdoch WS, 140 Princes St, Edinburgh | | proprietor | 151-10-0 | View details | |
| 1920-21 | 761 | Tayfield House, Garden & Offices | William Berry per Hagart & Burn Murdoch WS, 140 Princes St, Edinburgh | | proprietor | 151-10-0 | View details | |
| 1917-18 | 759 | Tayfield House, Garden & Offices | William Berry per Hagart & Burn Murdoch WS, 140 Princes St, Edinburgh | | proprietor | 159-10-0 | View details | |
| 1915-16 | 754 | Tayfield House, Garden & Offices | William Berry per Hagart & Burn Murdoch WS, 140 Princes St, Edinburgh | | proprietor | 159-10-0 | View details | |
| 1912-13 | 668 | Tayfield House, Garden & Offices | William Berry per Hagart & Burn Murdoch WS, 140 Princes St, Edinburgh | | proprietor | 159-10-0 | View details | |
| 1907-08 | 649 | Tayfield House, Garden & Offices | William Berry per Hagart & Burn Murdoch WS, 140 Princes St, Edinburgh | | proprietor | 159-10-0 | View details | |
| 1905-06 | 632 | Tayfield House, Garden & Offices | William Berry Esq. per Haggart & Burn Murdoch, WS, 140 Princes St, Edinburgh | | proprietor | 159-10-0 | View details | |
| 1903-04 | 624 | Tayfield House and Garden | William Berry Esq. per Haggart & Burn Murdoch, WS, 140 Princes St, Edinburgh | | proprietor | 135 | View details | |
| 1901-02 | 409 | Tayfield House and Garden | William Berry Esq. per Haggart & Burn Murdoch, WS, 140 Princes St, Edinburgh | | proprietor | 135 | View details | |
| 1900-01 | 396 | Tayfield House and Garden | William Berry Esq. per Haggart & Burn Murdoch, WS, 140 Princes St, Edinburgh | | proprietor | 135 | View details | |
| 1899-00 | 367 | Tayfield House and Garden | William Berry Esq. per Haggart & Burn Murdoch, WS, 140 Princes St, Edinburgh | | proprietor | 135 | View details | |
| 1897-98 | 319 | Tayfield House and Garden | William Berry Esq. per Haggart & Burn Murdoch, WS, 140 Princes St, Edinburgh | | proprietor | 135 | View details | |
| 1896-97 | 297 | Tayfield House and Garden | William Berry Esq. per Haggart & Burn Murdoch, WS, 140 Princes St, Edinburgh | | proprietor | 135 | View details | |
| 1895-96 | 270 | Tayfield House and Garden | William Berry Esq. per Haggart & Burn Murdoch, WS, 140 Princes St, Edinburgh | | proprietor | 135 | View details | |
| 1894-95 | 91 | Tayfield House and Garden | William Berry Esq. per Haggart & Burn Murdoch, WS, 140 Princes St, Edinburgh | | proprietor | 135 | View details | |
| 1893-94 | 84 | Tayfield House and Garden | William Berry Esq. per Haggart & Burn Murdoch, WS, 140 Princes St, Edinburgh | | proprietor | 135 | View details | |
| 1892-93 | 88 | Tayfield House and Garden | William Berry Esq. per Haggart & Burn Murdoch, WS, 140 Princes St, Edinburgh | | proprietor | 135 | View details | |
| 1891-92 | 88 | Tayfield House and Garden | William Berry Esq. per Haggart & Burn Murdoch, WS, 140 Princes St, Edinburgh | | proprietor | 135 | View details | |
| 1890-91 | 84 | Tayfield House and Garden | William Berry Esq. per Haggart & Burn Murdoch, WS, 140 Princes St, Edinburgh | | proprietor | 135 | View details | |
| 1889-90 | 80 | Tayfield House and Garden | William Berry Esq. per Haggart & Burn Murdoch, WS, 140 Princes St, Edinburgh | | proprietor | 135 | View details | |
| 1885-86 | 73 | Tayfield House and Garden | William Berry Esq. per Haggart & Burn Murdoch, WS, Edinburgh | | proprietor | 135 | View details | |
| 1881-82 | 31 | Tayfield House and Garden | William Berry Esq. (a minor), per J D Hannan, factor | | Said William Berry | 135 | View details | |
| 1878-79 | 33 | Tayfield House and Garden | William Berry Esq. (a minor) | | Said William Berry | 135 | View details | |
| 1875-76 | 34 | Tayfield House and Garden | John Berry Esq. | | Said John Berry | 125 | View details | |
| 1871-72 | 36 | Tayfield House and Garden | John Berry | | John Berry | 100 | View details | |
| 1867-68 | 35 | House, Offices, and Garden of Tayfield | John Berry | | Said John Berry | 85 | View details | |
| 1865-66 | 35 | House, Offices, and Garden of Tayfield | John Berry of Tayfield | | Said John Berry | 70 | View details | |
| 1864-65 | 32 | House, Offices, and Garden of Tayfield | John Berry of Tayfield | | Said John Berry | 65 | View details | |
| 1860-61 | 45 | Tayfield House, gdn & lodges | John Berry of Tayfield | | John Berry | 65 | View details | |
| 1855-56 | 34 | Mansion House, garden etc | John Berry of Tayfield | James M Paton | said James M Paton | 60 | View details | |
Early taxation records (either at this exact location or an earlier one)
| Date | Taxpayer | Taxable items | Duty paid | Tax | Source ref | Note |
| --- | --- | --- | --- | --- | --- | --- |
| 18 Nov 1798 | John Berry Esq, Tayfield | Duties on houses & 14 windows | £3 18s. | Consolidated schedules | E326/15/11/18 | |
| 18 Nov 1798 | John Berry Esq, Tayfield | Duties on inhabited houses & £10 rents | 6s. 8d. | Consolidated schedules | E326/15/11/18 | |
| 18 Nov 1798 | John Berry Esq, Tayfield | Duty on 1 male servant | £1 10s. | Consolidated schedules | E326/15/11/18 | |
| 18 Nov 1798 | John Berry Esq, Tayfield | Duty on 1 carriage with 4 wheels for private use | £9 12s. | Consolidated schedules | E326/15/11/18 | |
| 18 Nov 1798 | John Berry Esq, Tayfield | Duty on 3 horses (for riding or drawing 2- or 4-wheel carriages) | £6 6s. | Consolidated schedules | E326/15/11/18 | |
| 18 Nov 1798 | John Berry Esq, Tayfield | Duty on 2 horses used in husbandry or trade, or mules | 12s. | Consolidated schedules | E326/15/11/18 | |
| 18 Nov 1798 | John Berry Esq, Tayfield | Duty on 8 dogs at 6 shillings | £2 8s. | Consolidated schedules | E326/15/11/18 | |
| 18 Nov 1798 | John Berry Esq, Tayfield | Total | £24 12s. 8d. | Consolidated schedules | E326/15/11/18 | |
| 2 Oct 1797 | John Berry Esq, Tayfield | 2 horses, 2 liable for duty | 4s. 6d. + 10.8d. | Farm Horse Tax | E326/10/9/31 | |
| 8 Oct 1797 | Mr Berry Tayfield | 3 horses (1 at 10s. + 2 at 17s. 6d.) | £2 5s. 0d. + 4s. 6d. + £2 5s. 0d. | Horse Tax | E326/9/29/123 | |
| 2 Oct 1797 | John Berry, Tayfield | 1 private carriage with 4 wheels | £8 + 16s. | Carriage Tax | E326/8/19/52 | |
| 2 Oct 1797 | John Berry Esq, Tayfield | 2 horses, 2 liable for duty at 2 shillings each | 4s. 0d. | Farm Horse Tax | E326/10/2/303 | |
| 2 Oct 1797 | Mr Berry Tayfield | 3 horses | 11s. 3d. + 2s. 3d. | Horse Tax | E326/9/32/67 | |
| 2 Oct 1797 | Mr Berry Tayfield | 1 house [rated] £10 | 5s. + 6d. + 6d. | Inhabited House Tax | E326/3/15/142 | |
| 2 Oct 1797 | Mr Berry Tayfield | 1 servant: Wm Marshall, Ho[use] Servant | £1 5s. 0d. + 2s. 6d. + 2s. 6d. | Male Servants Tax | E326/5/25/82 | |
| 2 Oct 1797 | Mr Berry Tayfield | 1 house, 14 windows | £1 1s. 0d. (windows) + 1s. (house) + 2s. 2.4d. (10%) + 2s. 2.4d. (10%) | House & Window Tax | E326/1/49/143 | |
| Oct 1797 | John Berry Esq, Tayfield | Duty on 8 dogs at 5 shillings each | £2 | Dog Tax | E326/11/1/102 | |
| 2 Oct 1797 | Mr Berry, Tayfield | 1 clock, 2 silver or metal watches | 7s. 6d. | Clock & Watch Tax | E326/12/2/29 | |
| 4 Aug 1794 | John Berry Esq, Tayfield | 1 private carriage with 4 wheels | £8 + 16s. | Carriage Tax | E326/8/17/65 | |
| 4 Aug 1794 | John Berry Esq Tayfield | 3 horses (1 at 10s. + 2 at 17s. 6d.) | £2 5s. 0d. + 4s. 6d. | Horse Tax | E326/9/26/123 | |
| 4 Aug 1794 | John Berry of Tayfield | 1 house [rated] £8 | 4s. + 4.8d. | Inhabited House Tax | E326/3/15/125 | |
| 4 Aug 1794 | John Berry Esqr Tayfield | 1 servant | £1 5s. 0d. + 2s. 6d. | Male Servants Tax | E326/5/23/81 | |
| 4 Aug 1794 | John Berry Esq Tayfield | 1 house, 14 windows | £1 1s. 0d. (windows) + 1s. (house) + 2s. 2.4d. (10%) | House & Window Tax | E326/1/49/119 | |
| 18 Jul 1793 | John Berry Esqr Tayfield | 1 servant: Andw. Lanceman, Servant | £1 5s. 0d. + 2s. 6d. | Male Servants Tax | E326/5/21/81 | |
| 18 Jul 1793 | John Berry Esq Tayfield | 1 house, 14 windows | £1 1s. 0d. (windows) + 1s. (house) + 2s. 2.4d. (10%) | House & Window Tax | E326/1/49/99 | |
| 26 Jul 1792 | John Berry, Tayfield | 1 private carriage with 4 wheels | £8 + 16s. | Carriage Tax | E326/8/15/58 | |
| 25 Jul 1792 | John Berry Tayfield | 3 horses (1 at 10s. + 2 at 17s. 6d.) | £2 5s. 0d. + 4s. 6d. | Horse Tax | E326/9/23/117 | |
| 25 Jul 1792 | John Berry Tayfield | 1 house [rated] £8 | 4s. + 4.8d. | Inhabited House Tax | E326/3/15/115 | |
| 25 Jul 1792 | John Berry Tayfield | 1 house, 14 windows | £1 1s. 0d. (windows) + 1s. (house) + 2s. 2.4d. (10%) | House & Window Tax | E326/1/49/82 | |
| - Jul 1792 | John Berry Tayfield | 1 servant | £1 5s. 0d. + 2s. 6d. | Male Servants Tax | E326/5/19/75 | |
| 1 Jul 1791 | John Berry Esqr of Hayfield | 1 house [rated] £8 | 4s. + 4.8d. | Inhabited House Tax | E326/3/15/107 | [Tayfield] |
| 1 Jul 1791 | John Berry Esq Tayfield | 1 servant: John McIntosh, House Servt. | £1 5s. 0d. + 2s. 6d. | Male Servants Tax | E326/5/17/67 | |
| 1 Jul 1791 | John Berry Hayfield | 1 house, 14 windows | £1 1s. 0d. (windows) + 1s. (house) + 2s. 2.4d. (10%) | House & Window Tax | E326/1/49/60 | [Tayfield] |
| 5 Jun 1791 | John Berry Esq, Tayfield | 1 private carriage with 4 wheels | £8 + 16s. | Carriage Tax | E326/8/13/55 | |
Early Sasines:
Return to: Home Page Present-day Addresses Properties Map Old House Names Directories Valuation Rolls Sasines Census