Location : 26 High Street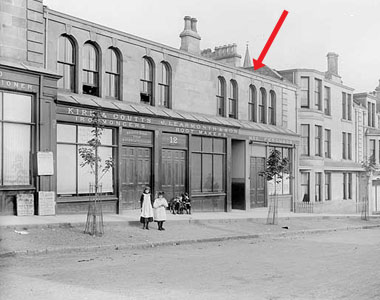 = Property still standing
Notes:
Other properties at the same location : 24 High Street
Using the information here, it is impossible to be certain who lived in each property or part of the building before 1952. Other properties involved : 28a High Street One possible interpretation is given below.
Location and Old Maps
Latitude, longitude: 56.43959,-2.941611
View location on the 1855 6-inch map, the 1895 25-inch map, the 1914 25-inch map, the 1966 25-inch map, or a 1944-50 aerial photograph at the National Library of Scotland website.
Nearby properties (demolished in red): 2 Blyth Street 4 Blyth Street 6 Cupar Road 4 Cupar Road shop, formerly 2, Cupar Road (Burgh Yard, formerly 11, Granary Lane) 3 High Street 5 High Street 7 High Street 8 High Street shop, 9, High Street 10 High Street St Mary's Church, High Street shop, 11, High Street 12 High Street shop, 13, High Street 14 High Street shop, 15, High Street shop, 16, High Street 18 High Street 20 High Street 22 High Street shop, 24, High Street 28a, High Street shop, 28, High Street shop, 30, High Street shop, 32, High Street 34 High Street 36 High Street shop, 38, High Street shop, 40, High Street shop, 46, High Street shop, 48, High Street shop, 52, High Street shop, 54, High Street shop, 50, High Street (house at gasworks, High Street) (Gas Office, High Street) downstairs property, 9, High Street (Bowling Green, High Street) (Newport House, High Street) (old house [north 1], High Street) (old house [north 2], High Street) (old house [north 3], High Street) (old house [south 1], High Street) (old house [south 2], High Street) (old house [south 3], High Street) (old house [south 4], High Street) (Congregational Church, Kilnburn) (the Waterside (East Water), Old Places)
Old Addresses (any dates are approximate and are usually the latest occurence of the address)
| | | |
| --- | --- | --- |
| High Street (ward 2) | | |
| 13 High Street | 1912 | |
House Names (any dates are approximate and are usually the latest occurence of the name)
Directory entries (before 1972) There are 47 entries
Source
Entry
1971 dir
Murray, Mrs M. 26 High Street
1970 dir
Murray, Mrs M. 26 High Street
1969 dir
Murray, Mrs M., 26 High Street
1968 dir
Murray, Mrs M., 26 High Street
1967 dir
Murray, A. J., inspector, 26 High street
1966 dir
Murray, A. J., inspector, 26 High street
1965 dir
Murray, A. J., inspector, 26 High street
1964 dir
Murray, A. J. inspector, 13 High street
1963 dir
Murray, A. J., inspector, 13 High street
1962 dir
Murray, A. J., inspector. 13 High street
1961 dir
Murray, A. J., inspector, 13 High street
1960 dir
Murray, A. J., inspector, 13 High street
1958-59 dir
Murray, A. J., inspector, 13 High street
1957-58 dir
Murray, A. J., inspector, 13 High street
1926-27 dir
Russell, Mrs John, 13 High street, East Newport
1925-26 dir
Russell, Mrs John, 13 High street, East Newport
1923-24 dir
Russell, Mrs John, 13 High street, East Newport
1922-23 dir
Russell, Mrs John, 13 High street. East Newport
1920-21 dir
Russell, Mrs John, 13 High street, East Newport
1918-19 dir
Russell, John, bootmaker, 13 High street, East Newport
1915-16 dir
Russell, John, bootmaker, 13 High street, East Newport
1914-15 dir
Russell, John, bootmaker, 13 High street
1913-14 dir
Russell, John, bootmaker, 13 High street
1912-13 dir
Russell, John, bootmaker, High street
1911-12 dir
Russell, John, bootmaker, High street
1910-11 dir
Russell, John, bootmaker. High street
1909-10 dir
Russell, John, bootmaker. High street
1908-09 dir
Russell, John, bootmaker, High street
1907-08 dir
Russell, John, bootmaker, High street
1902-03 dir
St John, F. A., High street
1901-02 dir
St John, F. A., High street
1901-02 dir
St. John, F. A., High Street; Hon. Joint Secretary and Treasurer, [under Newport Literary Society, Founded 1879]
1896-97 dir
Watt, George (tea merchant, Dundee), 13 High street
1896-97 dir
Watt, George, jun. (tea merchant, Dundee), High street
1895-96 dir
Watt, George, jun. (tea merchant, Dundee), High street
1895-96 dir
Watt, George (tea merchant, Dundee), 13 High street
1894-95 dir
Watt, George (tea merchant, Dundee), 13 High street
1893-94 dir
Watt, George (tea merchant, Dundee), 13 High street
1892-93 dir
Watt, George (tea merchant, Dundee), 13 High street
1891-92 dir
Morrison, Matthew, jun., butcher, 2 High street ; h. 13
location 2
1890-91 dir
Morrison, Matthew, jun., butcher, 2 High street; h. 13
location 2
1889-90 dir
Morrison, Matthew, jun., butcher, 2 High street; h. 13
location 2
1888-89 dir
Morrison, Matthew, jun., butcher, 2 High street; h. 15
location 2
1887-88 dir
Morrison, Matthew, jun., butcher, 2 High street; h. 13
location 2
1880-81 dir
Barrett, Mrs H., teacher of music and dancing, 13 High st., E. Newport
1880-81 dir
Barrett, H., tobacconist. Pierhead ; h. 13 High street
1878-79 dir
Barrett, Mrs H., teacher of music and dancing, High street
Entries in the Registers of Voters
Source
Enrol Date
Name
Occup.
Address
Qualification
Property
at
Notes
1900 Female Voters
Dorward, Elizabeth
High Street, Newport
Tenant of House
High Street
1879-1880 Voters
Barret, Henry
Newport
1878-1879 Voters
Barret, Henry
Newport
Census records
Valuation Roll entries There are 39 entries
| Year | No. | Property | Proprietor | Tenant | Occupier | Value | | |
| --- | --- | --- | --- | --- | --- | --- | --- | --- |
| 1969-70 | 2174 | House | Scottish Gas Board, 340 West Granton Rd, Edinburgh 5 | | Arthur Murray | 41 | View details | |
| 1967-68 | 821 | House | Scottish Gas Board, 340 West Granton Rd, Edinburgh 5 | | Arthur Murray | 41 | View details | |
| 1964-65 | 821 | House | Scottish Gas Board, 26 Drumsheugh Gardens, Edinburgh 3 | | Arthur Murray | 41 | View details | |
| 1961-62 | 2416 | House | Scottish Gas Board, 26 Drumsheugh Gardens, Edinburgh 3 | | Arthur Murray | 41 | View details | |
| 1958-59 | 993 | House | Scottish Gas Board, 26 Drumsheugh Gdns, Edinburgh 3 | | Arthur Murray | 26-9-0 | View details | |
| 1957-58 | 973 | House | Scottish Gas Board, 6 Randolph Cresc, Edinburgh 3 | | Arthur Murray | 26-9-0 | View details | |
| 1952-53 | 949 | House | Scottish Gas Board, 6 Randolph Cresc, Edinburgh 3 | | John A L Murray | 26-9-0 | View details | |
| 1947-48 | 917 | House | Frank H Morrison, solicitor per Sturrock, Morrison & Horne, solicitors, Dundee | | Annie M Galloway | 26-9-0 | View details | |
| 1942-43 | 898 | House | Frank H Morrison, solicitor per Sturrock, Morrison & Horne, solicitors, Dundee | | Annie M Galloway | 26-9-0 | View details | |
| 1940-41 | 899 | House | Frank H Morrison, solicitor per Sturrock, Morrison & Horne, solicitors, Dundee | | Annie M Galloway | 26-9-0 | View details | |
| 1937-38 | 911 | House | Frank H Morrison, solicitor per Sturrock, Morrison & Horne, solicitors, Dundee | | Annie M Galloway | 21-5-4 | View details | |
| 1935-36 | 880 | House | Frank H Morrison, solicitor per Sturrock & Morrison, solicitors, Dundee | | Annie M Galloway | 21-5-4 | View details | |
| 1932-33 | 853 | House | Frank H Morrison, solicitor per Sturrock & Morrison, solicitors, Dundee | | Annie M Galloway | 21-5-4 | View details | |
| 1930-31 | 850 | House | Frank H Morrison, solicitor per Sturrock & Morrison, solicitors, Dundee | | Annie M Galloway | 21-5-4 | View details | |
| 1927-28 | 843 | House | Frank H Morrison, solicitor per Sturrock & Morrison, solicitors, Dundee | | Annie Galloway | 21-5-4 | View details | |
| 1925-26 | 826 | House | Frank H Morrison, solicitor per Sturrock & Morrison, solicitors, Dundee | Mrs John Russell | same | 21-5-4 | View details | |
| 1922-23 | 805 | House | Frank H Morrison, solicitor per Sturrock & Morrison, solicitors, Dundee | Mrs John Russell | same | 21-5-4 | View details | |
| 1920-21 | 785 | House | Frank H Morrison, solicitor per Sturrock & Morrison, solicitors, Dundee | Mrs John Russell | same | 16 | View details | |
| 1917-18 | 783 | House | Frank H Morrison, solicitor per Sturrock & Morrison, solicitors, Dundee | Mrs John Russell | same | 16 | View details | |
| 1915-16 | 778 | House | Frank H Morrison, solicitor per Sturrock & Morrison, solicitors, Dundee | John Russell, bootmaker | same | 16 | View details | |
| 1912-13 | 982 | House | Frank H Morrison, solicitor per Sturrock & Morrison, solicitors, Dundee | John Russell, bootmaker | same | 16 | View details | |
| 1907-08 | 957 | House | Frank H Morrison, solicitor per Sturrock & Morrison, solicitors, Dundee | John Russell, bootmaker | same | 16 | View details | |
| 1905-06 | 937 | House | Frank H Morrison, solicitor per Sturrock & Morrison, solicitors, Dundee | John Russell, bootmaker | same | 16 | View details | |
| 1903-04 | 921 | House | William B Morrison, merchant per J & E Shepherd, 31 Panmure St, Dundee | Elizabeth Dorward | same | 16 | View details | |
| 1901-02 | 769 | House | William B Morrison, merchant per J & E Shepherd, 31 Panmure St, Dundee | Elizabeth Dorward | same | 16 | View details | |
| 1900-01 | 757 | House | William B Morrison, merchant per J & E Shepherd, 31 Panmure St, Dundee | Elizabeth Dorward | same | 16 | View details | |
| 1899-00 | 726 | House | William B Morrison, merchant per J & E Shepherd, 31 Panmure St, Dundee | Elizabeth Dorward | same | 16 | View details | |
| 1897-98 | 677 | House | William B Morrison, merchant per J & E Shepherd, 31 Panmure St, Dundee | William Luke, ironmonger | same | 16 | View details | |
| 1896-97 | 622 | House | James Brown, builder | George Watt, traveller | same | 16 | View details | |
| 1895-96 | 584 | House | James Brown, builder | George Watt, traveller | same | 16 | View details | |
| 1894-95 | 541 | House | James Brown, builder | George Watt, traveller | same | 16 | View details | |
| 1893-94 | 521 | House | James Brown, builder | George Watt, traveller | same | 16 | View details | |
| 1892-93 | 511 | House | James Brown, builder | George Watt, traveller | same | 15 | View details | |
| 1891-92 | 497 | House | James Brown, builder | Matthew Morrison jun, butcher | same | 15 | View details | |
| 1890-91 | 465 | House | James Brown, builder | Matthew Morrison jun, butcher | same | 15 | View details | |
| 1889-90 | 444 | House | James Brown, builder | Matthew Morrison jun, butcher | same | 15 | View details | |
| 1885-86 | 415 | House | James Brown, builder | Miss Maggie Mann | same | 15 | View details | |
| 1881-82 | 310 | House | James Brown, builder | same | Miss Turnbull | 16 | View details | |
| 1878-79 | 299 | House | James Brown, builder | same | Henry Barret | 18 | View details | |
Early Sasines:
Return to: Home Page Present-day Addresses Properties Map Old House Names Directories Valuation Rolls Sasines Census