Location : St Thomas's Church, 1, Blyth Street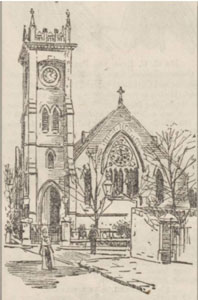 Photo / old map: Sketch from Evening Telegraph 6 Jul 1899 British Newspaper Archive

= Property still standing
Notes:
Other references can be found at : St Thomas' Manse
Introduction
Built 1871, cost £1350. 400 sittings.
Location and Old Maps
Latitude, longitude: 56.439906,-2.940501
View location on the 1855 6-inch map, the 1895 25-inch map, the 1914 25-inch map, the 1966 25-inch map, or a 1944-50 aerial photograph at the National Library of Scotland website.
Nearby properties (demolished in red): 3 Blyth Street (Newport School, 5, Blyth Street) Blyth Hall, Blyth Street 7 Cupar Road 9 Cupar Road 11 Cupar Road 13 Cupar Road 15 Cupar Road 17 Cupar Road 19 Cupar Road 21 Cupar Road 23 Cupar Road (Newport Toll, Cupar Road) formerly part of 15, Cupar Road Burgh Offices, 1, Scott Street 3 Scott Street 1 St Marys Lane 3 St Marys Lane 2 Tay Street
Information and Photographs on Other Sites (open in a new window)
1909-10 Finance Act - Valuation Office: Field Surveys
Reference no. &nbsp908
Old Addresses (any dates are approximate and are usually the latest occurence of the address)
House Names (any dates are approximate and are usually the latest occurence of the name)
Directory entries (before 1970) There are 281 entries
Source
Entry
1969 dir
Howieson, R. A., MA., The Manse, Blyth Street; Newport-on-Tay Parish Church of St. Thomas, Rev. [under Places Of Worship]
location 2
1969 dir
Howieson, Rev. Robert A., M.A., Parish Church of St. Thomas; h. The Manse, Blyth Street
location 2
1968 dir
Howieson, R. A., M.A., The Manse, Blyth Street; Newport-on-Tay Parish Church of St. Thomas, Rev. [under Places Of Worship]
location 2
1968 dir
Howieson, Rev. Robert A., M.A., Parish Church of St. Thomas; h. The Manse, Blyth Street
location 2
1967 dir
Howieson, R. A., MA., The Manse, Blyth Street; Newport-on-Tay Parish Church of St Thomas, Rev. [under Places Of Worship.]
location 2
1967 dir
Howieson, Rev. Robert A., M. A., Parish Church of St. Thomas ; h. The Manse, Blyth street
location 2
1966 dir
Howieson, R. A., M.A., The Manse, Blyth Street; Newport-on-Tay Parish Church of St Thomas, Rev. [under Places Of Worship]
location 2
1966 dir
Howieson, Rev. Robert A., M. A., Parish Church of St. Thomas ; h. The Manse, Blyth street
location 2
1965 dir
Howieson, Rev. Robert A., M. A., Parish Church of St. Thomas ; h. The Manse, Blyth street
location 2
1965 dir
Howieson, R. A., M.A., The Manse, Blyth street; Newport-on-Tay Parish Church of St Thomas, Rev. Blyth [under Places Of Worship]
location 2
1964 dir
Howieson, R. A., M.A., The Manse. Blyth street; Newport-on-Tay Parish Church of St Thomas Rev. [under Places Of Worship.]
location 2
1964 dir
Howieson, Rev. Robert A., M.A., Parish Church of St Thomas; h. The Manse, Blyth street
location 2
1963 dir
Howieson, Rev. Robert A., M.A., Parish Church of St Thomas; h. The Manse, Blyth street
location 2
1963 dir
Howieson, R. A., M.A., The Manse, Blyth Street; Newport-on-Tay Parish Church of St Thomas, Rev. [under Places Of Worship]
location 2
1962 dir
Howieson, R. A., M.A., The Manse, Blyth street; Newport-on-Tay Parish Church of St Thomas, Rev. [under Places Of Worship.]
location 2
1962 dir
Howieson, Rev. Robert A., M.A., Parish Church of St Thomas; h. The Manse, Blyth street
location 2
1961 dir
Howieson, Rev. Robert A., M.A., Parish Church of St Thomas; h. The Manse, Blyth street
location 2
1961 dir
Howieson, R. A., M.A., The Manse; Newport-on-Tay Parish Church of St Thomas, Rev. [under Places Of Worship.]
location 2
1960 dir
Howieson, Rev. Robert A., M.A., Parish Church of St Thomas; h. The Manse, Blyth street
location 2
1960 dir
Howieson, R. A., The Manse, Blyth Street; Newport-on-Tay Parish Church of St Thomas, Rev. [under Places Of Worship]
location 2
1958-59 dir
Howieson, R. A., M.A., The Manse; Newport-on-Tay Parish Church of St Thomas, Rev. [under Places Of Worship.]
location 2
1958-59 dir
Howieson, Rev. Robert A., M.A., Parish Church of St Thomas; h. The Manse, Blyth street
location 2
1957-58 dir
Howieson, R. A., M.A., The Manse; Newport-on-Tay Parish Church of St Thomas, Rev. [under Places Of Worship.]
location 2
1957-58 dir
Howieson, Rev. Robert A., M.A., Parish Church of St Thomas; h. The Manse, Blyth street
location 2
1956-57 dir
Howieson, Rev. Robert A., M.A., Parish Church of St Thomas; h. The Manse, Blyth street
location 2
1956-57 dir
Howieson, R. A., M.A., The Manse, Blyth street; Parish Church of St Thomas, Rev. [under Places Of Worship.]
location 2
1955-56 dir
Howieson, Rev. Robert A., M.A., Parish Church of St Thomas; h. The Manse, Blyth street, Newport
location 2
1955-56 dir
Howieson, R. A., The Manse, Blyth street, East Newport; Newport St Thomas' Parish Church, Rev. [under Places Of Worship]
location 2
1954-55 dir
Howieson, R. A., The Manse, Blyth street, East Newport; Newport St Thomas' Parish Church of Scotland Rev. [under Places Of Worship.]
location 2
1954-55 dir
Howieson, Rev. Robert A., M.A., Parish Church of St Thomas; h. The Manse, Blyth street, Newport
location 2
1953-54 dir
Howieson, R. A., The Manse, Blyth street, East Newport; St Thomas' Parish Church of Scotland, Rev. [under Places Of Worship.]
location 2
1953-54 dir
Howieson, Rev. Robert A., M.A., Parish Church of St Thomas; h. The Manse, Blyth street, Newport
location 2
1952-53 dir
Guttridge, S. P., Mus. Bac., F.R.C.O. (organist. St Thomas' Church), 28 Kilnburn, East Newport : Musicians, Organists, And Teachers Of Music.
location 2
1952-53 dir
Howieson, Rev. Robert A., M.A., Parish Church of St Thomas; h. The Manse, Blyth street, Newport
location 2
1952-53 dir
Howieson, R. A., The Manse, Blyth street, East Newport; Newport St Thomas' Parish Church of Scotland, Rev. [under Places Of Worship.]
location 2
1952-53 dir
Guttridge, S. P., Mus.Bac., F.R.C.O. (teacher of music, Dundee), organist, St Thomas' Church ; h. 28 Kilnburn, East Newport
location 2
1951-52 dir
Howieson, Rev. Robert A., M.A., St. Thomas' Church; h. The Manse, Blyth street, Newport
location 2
1951-52 dir
Howieson, R. A., The Manse, Blyth street, East Newport; Newport St Thomas' Parish Church of Scotland, Rev. [under Places Of Worship.]
location 2
1951-52 dir
Guttridge, S. P., Mus.Bac., F.R.C.O. (teacher of music, Dundee), organist, St Thomas' Church ; h. 28 Kilnburn, East Newport
location 2
1951-52 dir
Guttridge, S. P., Mus. Bac., F.R.C.O. (organist, St Thomas' Church), 28 Kilnburn, East Newport : Musicians, Organists, And Teachers Of Music.
location 2
1950-51 dir
Guttridge, S. P., Mus.Bac., F.R.C.O. (organist, St Thomas' Church), 28 Kilnburn, East Newport : Musicians, Organists, And Teachers Of Music.
location 2
1950-51 dir
Guttridge, S. P., Mus.Bac., F.R.C.O. (teacher of music, Dundee), organist, St Thomas' Church ; h. 28 Kilnburn, East Newport
location 2
1949-50 dir
Guttridge, S. P., Mus.Bac., F.R.C.O. (teacher of music, Dundee), organist, St Thomas' Church ; h. 28 Kilnburn, East Newport
location 2
1949-50 dir
Mutch, Rev. John S., B.D., St Thomas' Church ; h. The Manse, Blyth street
location 2
1949-50 dir
Mutch, John S., B.D., Blyth street; Newport St Thomas' Church of Scot., Rev. [under Places Of Worship]
location 2
1949-50 dir
Guttridge, S. P., Mus. Bac., F.R.C.O. (organist, St Thomas' Church), 28 Kilnburn, East Newport : Musicians, Organists, And Teachers Of Music.
location 2
1948-49 dir
Mutch, John S., B.D., Blyth street; St Thomas' Church of Scotland, Rev. [under Places Of Worship.]
location 2
1948-49 dir
Guttridge, S. P. Mus.Bac., F.R.C.O. (teacher of music, Dundee), organist, St Thomas' Church ; h. 28 Kilnburn, East Newport
location 2
1948-49 dir
Guttridge, S. P., Mus. Bac., F.R.C.O. (organist, St Thomas' Church), 28 Kilnburn, East Newport : Musicians, Organists, And Teachers Of Music.
location 2
1948-49 dir
Mutch, Rev. John S., B.D., St Thomas' Church ; h. The Manse, Blyth street
location 2
1947-48 dir
Mutch, Rev. John S., B.D., St Thomas' Church ; h. The Manse, Blyth street
location 2
1947-48 dir
Mutch, John S., B.D., Blyth street; St Thomas' Church of Scotland, Rev. [under Places Of Worship.]
location 2
1947-48 dir
Guttridge, S. P., Mus.Bac., F.R.C.O. (teacher of music, Dundee), organist, St Thomas' Church ; h. 28 Kilnburn, East Newport
location 2
1947-48 dir
Guttridge, S. P., Mus. Bac., F.R.C.O. (organist, St Thomas' Church), 28 Kilnburn, East Newport : Musicians, Organists, And Teachers Of Music.
location 2
1946-47 dir
Guttridge, S. P., Mus. Bac., F.R.C.O. (organist, St Thomas' Church), 28 Kilnburn, East Newport : Musicians, Organists, And Teachers Of Music.
location 2
1946-47 dir
Guttridge, S. P., Mus.Bac., F.R.C.O. (teacher of music, Dundee), organist, St Thomas' Church ; h. 28 Kilnburn, East Newport
location 2
1946-47 dir
Mutch, John S., B.D., Blyth street; Newport St Thomas' Church of Scot. Rev. [under Places Of Worship]
location 2
1946-47 dir
Mutch, Rev. John S., B.D., St Thomas' Church ; h. The Manse, Blyth street
location 2
1942-43 dir
Guttridge, S. P. Mus.Bac., F.R.C.O. (teacher of music, Dundee), organist, St P., Church ; h. 28 Kilnburn, East Newport
location 2
1942-43 dir
Mutch, Rev. John S., B.D., St Thomas' Church ; h. The Manse, Blyth street
location 2
1942-43 dir
Guttridge, S. P., Mus. Bac., F.R.C.O. (organist, St Thomas' Church), 28 Kilnburn, East Newport : Musicians, Organists, And Teachers Of Music.
location 2
1942-43 dir
Mutch, John S., B.D., Blyth street; Newport St Thomas' Church of Scot., Rev. [under Places Of Worship]
location 2
1941-42 dir
Mutch, Rev. John S., B.D., St Thomas' Church ; h. The Manse, Blyth street
location 2
1941-42 dir
Guttridge, S. P., Mus. Bac., F.R.C.O. (organist, St Thomas' Church), 28 Kilburn, East Newport : Musicians, Organists, And Teachers Of Music.
location 2
1941-42 dir
Mutch, John S., B.D., Blyth street; St Thomas' Church of Scotland, Rev. [under Places Of Worship]
location 2
1941-42 dir
Guttridge, S. P., Mus.Bac., F.R.C.O. (teacher of music, Dundee), organist, St Thomas' Church ; h. 28 Kilnburn, East Newport
location 2
1940-41 dir
Guttridge, S. P., Mus.Bac., F.R.C.O. (teacher of music, Dundee), organist, St Thomas' Church ; h. 28 Kilnburn, East Newport
location 2
1940-41 dir
Mutch, John S., B.D., Blyth street; St Thomas' Church of Scotland, Rev. [under Places Of Worship.]
location 2
1940-41 dir
Mutch, Rev. John S., B.D., St Thomas' Church; h. The Manse, Blyth street
location 2
1940-41 dir
Guttridge, S. P., Mus. Bac., F.R.C.O. (organist, St Thomas' Church), 28 Kilnburn, East Newport : Musicians, Organists, And Teachers Of Music.
location 2
1939-40 dir
Mutch, John S., B.D., Blyth street; Newport St Thomas' Church of Scot., Rev. [under Places Of Worship]
location 2
1939-40 dir
Guttridge, S. P., Mus.Bac., F.R.C.O. (teacher of music, Dundee), organist, St Thomas' Church ; h. 28 Kilnburn, East Newport
location 2
1939-40 dir
Guttridge, S. P., Mus. Bac., F. R. C. O. (organist, St Thomas' Church), 28 Kilnburn, East Newport : Musicians, Organists, And Teachers Of Music.
location 2
1939-40 dir
Mutch, Rev. John S., B.D., St Thomas' Church ; h. The Manse, Blyth street
location 2
1938-39 dir
Guttridge, S. P., Mus.Bac., F.R.C.O. (teacher of music, Dundee), organist, St Thomas' Church ; h. 28 Kilnburn, East Newport
location 2
1938-39 dir
Guttridge, S. P., Mus. Bac., F.R.C.O. (organist, St Thomas' Church), 28 Kilnburn, East Newport : Musicians, Organists, And Teachers Of Music.
location 2
1938-39 dir
Mutch, Rev. John S., B.D., St Thomas' Church ; h. The Manse, Blyth street
location 2
1938-39 dir
Mutch, John S., B.D., Blyth street; St Thomas' Church of Scotland, Rev. [under Places Of Worship]
location 2
1937-38 dir
Guttridge, S. P., Mus. Bac., F.R.C.O. (organist, St Thomas' Church), 28 Kilnburn, East Newport : Musicians, Organists, And Teachers Of Music.
location 2
1937-38 dir
Guttridge, S. P., Mus.Bac., F.R.C.O. (teacher of music, Dundee), organist, St Thomas' Church ; h. 28 Kilnburn, East Newport
location 2
1937-38 dir
Mutch, John S., B. D., Blyth street; Newport St Thomas' Church of Scotland, Rev. [under Places Of Worship]
location 2
1937-38 dir
Mutch, Rev. John S., B.D., St Thomas' Church ; h. The Manse, Blyth street
location 2
1936-37 dir
Guttridge, S. P., Mus.Bac., F.R.C.O. (teacher of music, Dundee), organist, St Thomas' Church ; h. 28 Kilnburn, East Newport
location 2
1936-37 dir
Mutch, John S., B.D., Blyth street; Newport St. Thomas' Church of Scotland, Rev. [under Places Of Worship.]
location 2
1936-37 dir
Mutch, Rev. John S., B.D., St Thomas' Church ; h. The Manse, Blyth street
location 2
1936-37 dir
Guttridge, S. P., Mus. Bac., F.R.C.O. (organist, St Thomas' Church), 28 Kilnburn, East Newport : Musicians, Organists, And Teachers Of Music.
location 2
1935-36 dir
Guttridge, S. P., Mus.Bac., F.R.C.O. (teacher of music, Dundee), organist, St Thomas' Church ; h. 28 Kilnburn, East Newport
location 2
1935-36 dir
Mutch, John S., B.D., Blyth street; Newport St Thomas' Church of Scot., Rev. [under Places Of Worship]
location 2
1935-36 dir
Mutch, Rev. John S., B.D., St Thomas' Church ; h. The Manse, Blyth street
location 2
1935-36 dir
Guttridge, S. P., Mus. Bac., F.R.C.O. (organist. St Thomas' Church), 28 Kilnburn, East Newport : Musicians, Organists, And Teachers Of Music.
location 2
1934-35 dir
Guttridge, S. P, Mus. Bac., F. R. C.O. (organist, St Thomas' Church), 28 Kilnburn, East Newport : Musicians, Organists, And Teachers Of Music.
location 2
1934-35 dir
Mutch, John S., B.D., Blyth street; Newport St Thomas' Church of Scot., Rev. [under Places Of Worship]
location 2
1934-35 dir
Guttridge, S. P., Mus.Bac., F. R.C.O. (teacher of music, Dundee), organist, St Thomas' Church ; h. 28 Kilnburn, East Newport
location 2
1934-35 dir
Mutch, Rev. John S., B.D., St Thomas' Church ; h. The Manse, Blyth street, East Newport
location 2
1933-34 dir
Guttridge, S. P., Mus. Bac., F. R. C.O. (organist, St Thomas' Church), 28 Kilnburn, East Newport : Musicians, Organists, And Teachers Of Music.
location 2
1933-34 dir
Guttridge, S. P., Mus.Bac., F.R.C.O. (teacher of music, Dundee), organist, St Thomas' Church ; h. 28 Kilnburn, East Newport
location 2
1933-34 dir
Mutch, Rev. John S., B.D., St Thomas' Church ; h. The Manse, Blyth street, East Newport
location 2
1933-34 dir
Mutch, John S., B.D., Blyth street, East Newport; St Thomas' Church of Scotland, Rev. [under Places Of Worship.]
location 2
1932-33 dir
Mutch, Rev. John S., St Thomas' Church ; h. The Manse, Blyth street, East Newport
location 2
1932-33 dir
Guttridge, S. P., Mus.Bac., F.R.C.O. (teacher of music, Dundee), organist, St Thomas' Church ; h. 28 Kilnburn, East Newport
location 2
1932-33 dir
Mutch, John S., B.D., Blyth street, East Newport; St Thomas' Church of Scotland, Rev. [under Places Of Worship.]
location 2
1932-33 dir
Guttridge, S. P., Mus. Bac., F.R.C.O., (organist, St Thomas' Church), 28 Kilnburn, East Newport : Musicians, Organists, And Teachers Of Music.
location 2
1931-32 dir
Mutch, John S., B.D., Blyth street, East Newport; St Thomas' Church of Scotland, Rev. [under Places Of Worship.]
location 2
1931-32 dir
Mutch, Rev. John S., B.D., St Thomas' Church ; h. The Manse, Blyth street, East Newport
location 2
1931-32 dir
Guttridge, S. P., Mus. Bac., F. R. C.O. (organist, St Thomas' Church), 28 Kilnburn, East Newport : Musicians, Organists, And Teachers Of Music.
location 2
1931-32 dir
Guttridge, S. P., Mus.Bac., F.R.C.O. (teacher of music, Dundee), organist, St Thomas' Church ; h. 28 Kilnburn, East Newport
location 2
1930-31 dir
Mutch, John S., B.D., Blyth street, East Newport; Newport St Thomas' Church of Scotland, Rev. [under Places Of Worship.]
location 2
1930-31 dir
Guttridge, S. P., Mus.Bac., F.R.C.O. (teacher of music, Dundee), organist, St Thomas' Church ; h. 28 Kilnburn, East Newport
location 2
1930-31 dir
Mutch, Rev. John S., B.D., St Thomas' Church ; h. The Manse, Blyth street, East Newport
location 2
1930-31 dir
Guttridge, S. P., Mus. Bac., F.R.C.O. (organist, St Thomas' Church), 28 Kilnburn, East Newport : Musicians, Organists, And Teachers Of Music.
location 2
1929-30 dir
Mutch, John S., B.D., Blyth street, East Newport; Newport Parish Church, Rev. [under Places Of Worship.]
location 2
1929-30 dir
Mutch, Rev. John S., B.D., Newport Parish Church ; h. The Manse, Blyth street, East Newport
location 2
1929-30 dir
Don, John J., Seamills, High road, Newport - Newport Parish Church : Church-Officers.
location 2
1929-30 dir
Guttridge, S. P., Mus. Bac., F.R.C.O. (teacher of music, Dundee), organist, Newport Parish Church ; h. 28 Kilnburn, East Newport
location 2
1929-30 dir
Guttridge, S. P., Mus. Bac., F.R.C.O. (organist, Parish Church), 28 Kilnburn, East Newport : Musicians, Organists, And Teachers Of Music.
location 2
1928-29 dir
Don, John J., Seamills, High road : Newport Parish Church : Church-Officers.
location 2
1928-29 dir
Mutch, Rev. John S., B.D., Newport Parish Ch. ; h. Blyth st., E. Newport
location 2
1928-29 dir
Guttridge, S. P., Mus. Bac., F.R.C.O. (organist, Parish Church), 28 Kilnburn, East Newport : Musicians, Organists, And Teachers Of Music.
location 2
1928-29 dir
Mutch, John S., B.D., Blyth street, East Newport; Newport Parish Church, Rev. [under Places Of Worship.]
location 2
1928-29 dir
Guttridge, S. P., Mus.Bac., F.R.C.O. (teacher of music, Dundee); organist, Newport Parish Church ; 28 Kilnburn, East Newport
location 2
1928 Kelly dir
Mutch Rev. John S., B.D. (Established), The Manse, E
location 2
1928 Kelly dir
Mutch, John S., B.D; Established Church Newport, St. Thomas', Rev. [under Places Of Worship.]
location 2
1927-28 dir
Don, John J., Seamills, High road : Newport Parish Church : Church-Officers.
location 2
1927-28 dir
Mutch, Rev. John S., B.D., Newport Parish Ch. ; h. Blyth st., E. Newport
location 2
1927-28 dir
Mutch, John S., B.D., Blyth street, East Newport; Newport Parish Church, Rev. [under Places Of Worship.]
location 2
1927-28 dir
Guttridge, S. P., Mus. Bac., F.R.C.O. (organist, Parish Church), 10 Kilnburn, East Newport : Musicians, Organists, And Teachers Of Music.
location 2
1927-28 dir
Guttridge, S. P., Mus.Bac., F.R.C.O. (teacher of music, Dundee), organist, Newport Parish Church ; h. 28 Kilnburn, East Newport
location 2
1926-27 dir
Guttridge, S. P., Mus. Bac., F.R.C.O. (organist, Parish Church), 10 Kilnburn, East Newport : Musicians, Organists, And Teachers Of Music,
location 2
1926-27 dir
Mutch, Rev. John S., B. D., Newport Parish Ch.; h. The Manse, Newport
location 2
1926-27 dir
Mutch, John S., B.D., The Manse, Newport; Newport Parish Church, Rev. [under Places Of Worship]
location 2
1926-27 dir
Don, John J., Seamills, High road - Newport Parish Church : Church-Officers.
location 2
1926-27 dir
Guttridge, S. P., Mus.Bac., F.R.C.O. (teacher of music, Dundee), organist, Newport Parish Church ; h. 28 Kilnburn, East Newport
location 2
1925-26 dir
Guttridge, S. P., Mus. Bac., F.R.C.O. (organist, Parish Church), 10 Kilnburn, East Newport : Musicians, Organists, And Teachers Of Music.
location 2
1925-26 dir
Don, John J., Seamills, High road - Newport Parish Church : Church-Officers.
location 2
1925-26 dir
Guttridge, S. P., Mus. Bac., F.R.C.O. (teacher of music, Dundee), organist, Newport Parish Church ; h. 10 Kilnburn., E. Newport
location 2
1925-26 dir
Mutch, John S., The Manse, Newport; Newport Parish Church, Rev. [under Places Of Worship]
location 2
1925-26 dir
Mutch, Rev. John S., B. D., Newport Parish Ch.; h. The Manse, Newport
location 2
1923-24 dir
Guttridge, S. P., Mus.Bac., F.R.C.O. (teacher of music, Dundee), organist, Newport Parish Church ; h. 10 Kilnburn pl., E. Newport
location 2
1923-24 dir
Don, John J., James' square - Newport Parish Church : Church Officers
location 2
1923-24 dir
Grant, Donald M., Blyth street; Newport Parish Church, Rev. [under Places Of Worship.]
location 2
1923-24 dir
Grant, Rev. Donald M., B.D., Newport Parish Church ; h. The Manse, Newport
location 2
1922-23 dir
Guttridge, S. P., Mus.Bac, F.R.C.O. (teacher of music, Dundee), organist, Newport Parish Church ; h. 10 Kilnburn pl., E. Newport
location 2
1922-23 dir
Grant, Donald M.; Newport Parish Church, Rev. [under Places Of Worship. ]
1922-23 dir
Grant, Rev. Donald M., B.D., Newport Parish Church ; h. The Manse, East Newport
location 2
1921 Slater dir
Macgregor-Grant, Donald, B.D; Established Church Newport, St. Thomas', Rev, [under Places Of Worship]
1921 Slater dir
Grant Rev. Donald Macgregor B.D (Estab.) The Manse
location 2
1920-21 dir
Grant, Donald M.; Newport Parish Church, Rev. [under Places Of Worship]
1920-21 dir
Grant, Rev. Donald M., Newport Parish Church ; h. The Manse, East Newport
location 2
1919-20 MacDonald dir
Coulter, Rev. H., B.D., Blyth st.
location 2
1918-19 MacDonald dir
Coulter, Rev. H., B.D., Blyth st.
location 2
1918-19 dir
Coulter, Henry, B.A., B.D; Newport Parish Rev. [under Places Of Worship]
1918-19 dir
Coulter, Rev. Henry, B.A.,B. D.,Parish Church ; h. The Manse, East Newport
location 2
1917-18 MacDonald dir
Coulter, Rev. H., B.D., Blyth st.
location 2
1916-17 MacDonald dir
Coulter, Rev. H., B.D., Blyth st.
location 2
1915-16 MacDonald dir
Fraser, Rev. Thos., D.D., The Manse
location 2
1915-16 dir
Coulter, Henry, B.A., B.D; Newport Parish Church, Rev. [under Places Of Worship]
1915-16 dir
Coulter, Rev. Henry, B.A., B.D., Parish Church ; h. The Manse, East Newport
location 2
1915-16 dir
Christie, David A., organist, Newport Parish Church ; 18 Baxter Park terrace, Dundee
1915 Slater dir
Coulter, Henry, B.A., B.D; Established Church Newport, St. Thomas', Rev. [under Places Of Worship.]
1915 Slater dir
Coulter Rev. Henry B.A., B.D. (Established), The Manse, E
location 2
1914-15 MacDonald dir
Fraser, Rev. Thos., D.D., The Manse
location 2
1914-15 dir
Coulter, Rev. Henry, B.A., B.D., Parish Church ; h. The Manse, East Newport
location 2
1914-15 dir
Christie, David A., organist, Newport Parish Church ; h. 18 Baxter Park terrace, Dundee
1914-15 dir
Coulter, Henry, B.A., B.D; Newport Parish Church - Rev. [under Places Of Worship]
1913-14 MacDonald dir
Fraser, Rev. Thos., D.D., The Manse
location 2
1913-14 dir
Christie, David. A., organist, Newport Parish Church ; h. 18 Baxter Park terrace, Dundee
1913-14 dir
Coulter, Rev. Henry, B.A., B.D., Parish Church ; h. The Manse, East Newport
location 2
1913-14 dir
Coulter, Henry, B.A., B.D; Newport Parish Church, Rev. [under Places Of Worship]
1912-13 MacDonald dir
Fraser, Rev. Thos., D.D., The Manse
location 2
1912-13 dir
Christie, David. A., organist, Newport Par. Ch.; h. 5 Pitkerro rd., Dundee
1912-13 dir
Fraser, Thomas, D.D; Newport Parish Church, Rev. [under Places Of Worship]
1912-13 dir
Fraser, Rev. Thos., D. D., Parish Church ; h. The Manse, E. Newport
location 2
1911-12 MacDonald dir
Fraser, Rev. Thos., D.D., The Manse
location 2
1911-12 dir
Fraser, Thomas, D.D; Newport Parish Church, Rev. [under Places Of Worship.]
1911-12 dir
Christie, David. A., organist, Newport Par. Ch.; h. 5 Pitkerro rd., Dundee
1911-12 dir
Fraser, Rev. Thos., D.D., Parish Church ; h. The Manse, Cupar road
location 2
1911 Slater dir
Fraser Rev. Thos. D.D.(Estab.),The Manse, E
location 2
1911 Slater dir
Fraser, Thomas, D.D; Established Church Newport, St. Thomas', Rev. [under Places Of Worship.]
1910-11 MacDonald dir
Fraser, Rev. Thos., D.D., The Manse
location 2
1910-11 dir
Christie, David A., organist, Newport Par. Ch.; h. 28 Dura st., Dundee
1910-11 dir
Fraser, Thomas, D.D; Newport Established Church, Rev. [under Places Of Worship]
1910-11 dir
Fraser, Rev. Thos., D.D., Parish Church ; h. The Manse, Cupar road
location 2
1909-10 MacDonald dir
Fraser, Rev. Thos., D.D., The Manse
location 2
1909-10 dir
Fraser, Thomas, D.D; Newport Established Church, Rev. [under Places Of Worship ]
1909-10 dir
Fraser, Rev. Thos., D.D., Parish Church ; h. The Manse, Cupar road
location 2
1908-09 MacDonald dir
Fraser, Rev. Thos., D.D., The Manse
location 2
1908-09 dir
Fraser, Thomas, D.D; Newport Established Church, Rev. [under Places Of Worship]
1908-09 dir
Fraser, Rev. Thos., D.D., Parish Church ; h. The Manse, East Newport
location 2
1908 Tayside Annual
Pae, William J.; Organist and Choirmaster, [under Newport Parish Church]
1908 Tayside Annual
Don, John J., James Square; Church Officer, [under Newport Parish Church]
location 2
1908 Tayside Annual
Pae, David; Session Clark, Treasurer, and Clerk to Managers, [under Newport Parish Church]
1908 Tayside Annual
Scrimgeour, John, Elmbank; Superintendent of Sabbath School [under Newport Parish Church]
location 2
1908 Tayside Annual
Fraser, Thomas, D.D., The Manse; Minister, Rev. [under Newport Parish Church]
location 2
1908 Tayside Annual
Fraser, Rev. Thomas, D.D., Parish Church, The Manse.
location 2
1907-08 MacDonald dir
Fraser, Rev. Thos., D.D., The Manse
location 2
1907-08 dir
Fraser, Thomas, D.D; Newport Established Church, Rev. [under Places Of Worship]
1907-08 dir
Fraser, Rev. Thos., D.D., Parish Church ; h. The Manse, East Newport
location 2
1907 Tayside Annual
Fraser, Thomas, D.D., The Manse; Minister, Rev. [under Newport Parish Church]
location 2
1907 Tayside Annual
Fraser, Rev. Thomas, D.D., Parish Church, The Manse.
location 2
1907 Tayside Annual
Pae, William J.; Organist and Choirmaster, [under Newport Parish Church]
1907 Tayside Annual
Don, John J., James Square; Church Officer, [under Newport Parish Church]
location 2
1907 Tayside Annual
Pae, David; Session Clerk, Treasurer, and Clerk to Managers, [under Newport Parish Church]
1907 Tayside Annual
Scrimgeour, John, Elmbank; Superintendent of Sabbath School [under Newport Parish Church]
location 2
1907 Slater dir
Fraser, Thomas, D.D; Established Church, Newport (St. Thomas'), Rev. [under Places Of Worship]
1907 Slater dir
Fraser Rev. Thomas D.D. (Established), The Manse, E
location 2
1906-07 MacDonald dir
Fraser, Rev. Thos., D.D., The Manse
location 2
1906-07 dir
Fraser, Thomas, D.D; Newport Established Church, Rev. [under Places Of Worship.]
1906-07 dir
Fraser, Rev. Thomas, D.D., Parish Church ; h. The Manse, Cupar road
location 2
1905-06 MacDonald dir
Fraser, Rev. Thos., D.D., Woodstock, Laurel Terrace [should be Blyth Street]
location 2
1905-06 dir
Fraser, Thomas, D.D; Newport Established Church, Rev. [under Places Of Worship]
1905-06 dir
Fraser, Rev. Thomas, D.D., Parish Church ; h. The Manse, Cupar road
location 2
1904-05 MacDonald dir
Fraser, Rev. Thos., D.D., Woodstock, Laurel Terrace [should be Blyth Street]
location 2
1904-05 dir
Fraser, Rev. Thomas, D.D., Parish Church ; h. E.C. Manse, Cupar road
location 2
1904-05 dir
Fraser, Thomas, D.D; Newport Established Church, Rev. [under Places Of Worship]
1903-04 MacDonald dir
Fraser, Rev. Thos., D.D., Woodstock, Laurel Terrace [should be Blyth Street]
location 2
1903-04 dir
Fraser, Thomas, D.D; Newport Established Church, Rev. [under Places Of Worship]
1903-04 dir
Fraser, Rev. Thomas, D.D., Parish Church ; h. E.C. Manse, Cupar road
location 2
1903 Slater dir
Fraser, Thomas, D.D; Newport Established Church (St. Thomas'), Rev. [under Places Of Worship.]
1903 Slater dir
Fraser Rev. Thomas D.D. (Established), The Manse, E Newport
location 2
1902-03 MacDonald dir
Fraser, Rev. Thos., D.D., Woodstock, Laurel Terrace [should be Blyth Street]
location 2
1902-03 dir
Fraser, Rev. Thomas, D.D., Parish Church ; h. Woodstock, Cupar road
location 2
1902-03 dir
Fraser, Thomas, D.D; Newport Established Church, Rev. [under Places Of Worship]
1901-02 MacDonald dir
Fraser, Rev. Thos., D.D., Woodstock, Laurel Terrace [should be Blyth Street]
location 2
1901-02 dir
Fraser, Rev. Thomas, D.D., Parish Church ; h. Woodstock, Cupar road
location 2
1901-02 dir
Fraser, Thomas, D.D; Newport Established Church, Rev. [under Places Of Worship]
1900-01 dir
Fraser, Rev. Thomas, D.D., Parish Church ; h. Woodstock, Cupar road
location 2
1900-01 dir
Fraser, Thomas, D.D; Newport Established Church, Rev. [under Places Of Worship]
1899-00 dir
Fraser, Rev. Thomas, D.D., Parish Church ; h. Woodstock, Cupar road
location 2
1899-00 dir
Fraser, Thomas, D.D; Newport Established Church, Rev. [under Places Of Worship ]
1899 Slater dir
Fraser, Thomas, D.D; Established Church Newport (St. Thomas'), Rev. [under Places Of Worship]
1899 Slater dir
Fraser Rev. Thomas D.D. (Established), Woodstock, E
location 2
1898-99 dir
Fraser, Thomas, D.D; Newport Established Church, Rev. [under Places Of Worship]
1898-99 dir
Fraser, Rev. Thomas, D.D., Parish Church ; h. Woodstock, Cupar road
location 2
1897-98 dir
Fraser, Thomas, D.D; Established Church, Rev. [under Places Of Worship]
1897-98 dir
Fraser, Rev. Thomas, D.D., Parish Church ; h. Woodstock, Cupar roar
location 2
1896-97 dir
Fraser, Thomas, D.D; Rev. [under School Board Of Forgan]
1896-97 dir
Fraser, Rev. Thomas, D.D; Newport Established Church, [under Places Of Worship]
location 2
1896-97 dir
Fraser, Rev. Thomas, D.D., Parish Church ; h. Woodstock, Cupar road
location 2
1896 Slater dir
Fraser Rev. Thomas D.D. (Established) Woodstock. E
location 2
1896 Slater dir
Fraser, Thomas, DD; Established Church Newport (St. Thomas'), Rev. [under Places Of Worship & Their Ministers]
1895-96 dir
Fraser, Rev, Thomas, D.D., Parish Church ; h. Woodstock, Cupar road
location 2
1895-96 dir
Fraser, Thomas, D.D; Rev. [under School Board Of Forgan]
1895-96 dir
Fraser, Thomas, D.D; Newport Established Church, Rev. [under Places Of Worship]
1895 Edin. Almanac
Fraser, Thos., D.D; Established Church, Rev. [under Places Of Worship - Newport]
1894-95 dir
Fraser, Thomas, D.D; Rev. [under School Board Of Forgan]
1894-95 dir
Fraser, Thomas, D.D; Newport Established Church, Rev. [under Places Of Worship]
1894-95 dir
Fraser, Rev. Thomas, D.D., Parish Church ; h. Woodstock, Cupar road
location 2
1893-94 dir
Fraser, Thomas, D.D; Newport Established Church, Rev. [under Places Of Worship]
1893-94 dir
Fraser, Rev. Thomas, D.D., Parish Church ; h. Woodstock, Cupar road
location 2
1893 Slater dir
Fraser Rev. Thomas, D.D. Woodstock, E N
location 2
1893 Slater dir
Fraser Thomas, D.D., Rev., Newport St. Thomas Established Church : Places Of Worship And Their Ministers.
1892-93 dir
Fraser, Rev. Thomas, D.D., Parish Church ; h. Woodstock, Cupar road
location 2
1892-93 dir
Fraser, Thomas, D.D; Newport Established Church, Rev. [under Places Of Worship]
1891-92 dir
Fraser, Rev. Thomas, D.D., Parish Church ; h. Woodstock, Cupar road
location 2
1891-92 dir
Fraser, Thomas, D.D; Newport Established Church, Rev. [under Places Of Worship. ]
1890-91 dir
Fraser, Rev. Thomas, D. D., Parish Church ; h. Woodstock, E. Newport
location 2
1889-90 dir
Fraser, Rev. Thomas, D.D., Parish Church ; h. Woodstock, E. Newport
location 2
1889-90 dir
Fraser, Thomas, D.D; Newport Established Church, Rev. [under Places Of Worship]
1889 Slater dir
Fraser Rev. Thomas, D.D., Newport (St. Thomas') Established Church : Places Of Worship And Their Ministers.
1888-89 dir
Fraser, Rev. Thomas, D.D., Parish Church ; h. Woodstock, E. Newport
location 2
1888-89 dir
Fraser, Thomas, D.D; Newport Established Church Rev. [under Places Of Worship. ]
1887-88 dir
Fraser, Rev. Thomas, D.D., Parish Church ; h. Woodstock, E. Newport
location 2
1886-87 dir
Fraser, Rev. Thomas, Parish Church ; h. Woodstock, East Newport
location 2
1886 Slater dir
Fraser Rev Thomas, Woodstock, E N
location 2
1886 Slater dir
Fraser Rev. Thomas, Newport St Thomas Church
1885-86 dir
Fraser, Rev. Thomas, Parish Church ; h. Woodstock, East Newport
location 2
1885 Clark dir
Fraser, Rev. Thos., Newport (St. Thomas) Established Church : Places Of Worship.
1884-85 dir
Fraser, Rev. Thomas, Parish Church ; h. Woodstock, East Newport
location 2
1882-83 dir
Fraser, Rev. Thomas, Parish Church ; h. Woodstock, East Newport
location 2
1882 Slater dir
Fraser Rev. Thos., Established Church Newport (St. Thomas) : Places Of Worship And Their Ministers.
1880-81 dir
Fraser, Rev. Thos., Newport Parish Manse, Laurel terrace, E. Newport
location 2
1878-79 dir
Fraser, Rev. Thos., Newport Parish Manse, Laurel terrace, E. Newport
location 2
1878 Slater dir
Fraser Rev. Thomas, Tay terrace
location 2
1878 Slater dir
Fraser Thomas, Rev., Newport (St. Thomas) Established Church : Places Of Worship And Their Ministers.
1877 Worrall dir
Fraser Rev. Thomas, Newport (St. Thomas Established Church) : Places Of Worship And Their Ministers.
1877 Worrall dir
Fraser Rev. Thomas, Tay terrace
location 2
1876-77 dir
Fraser, Rev. Thomas, Tay terrace, East Newport [* ms. alteration - 'Tay terrace' deleted]
location 2
1874-75 dir
Fraser, Rev. Thomas, St Thomas' Church ; h. Tay terrace, East Newport
location 2
1873 Slater dir
Fraser Rev. Thomas, Established Church Newport (St. Thomas) : Places Of Worship And Their Ministers.
1873 Slater dir
Fraser Rev. Thomas, Tay terrace, Newport
location 2
1871-72 dir
Fraser, Rev. Thomas, St Thomas' Church, h. Tay Terrace, East Newport
location 2
Census records
Valuation Roll entries There are 4 entries
| Year | No. | Property | Proprietor | Tenant | Occupier | Value | | |
| --- | --- | --- | --- | --- | --- | --- | --- | --- |
| 1969-70 | 2045 | Church, St Thomas's | Church of Scotland General Trustees per Secretary, 121 George St, Edinburgh | | St Thomas's Kirk Session | 250 | View details | |
| 1967-68 | 726 | Church, St Thomas's | Church of Scotland General Trustees per Secretary, 121 George St, Edinburgh | | St Thomas's Kirk Session | 250 | View details | |
| 1964-65 | 726 | Church, St Thomas's | Church of Scotland General Trustees per Secretary, 121 George St, Edinburgh | | St Thomas's Kirk Session | 190 | View details | |
| 1961-62 | 2120 | Church, St Thomas's | Church of Scotland General Trustees per Secretary, 121 George St, Edinburgh | | proprietor | 190 | View details | |
Early Sasines:
Sasine Plots:
Sasine Abridgements:
| Ref | In Brief | Abridgement | Recorded | Plots | |
| --- | --- | --- | --- | --- | --- |
| 1875.04153 | Trs Congregation of Chapel of Ease to Trs Church & Parish of Newport | Disp by Trs Congregation … of Chapel of Ease of St Thomas of Seamylnes at Newport to Trs of Church & Parish of Newport Quoad Sacra of pce grnd & church t/on, pt of field immediately E of Tayfield Mansion (as in 2 Feb 1870 - 65.5 pol grnd, : N Prinlaws Place, : S Wester Bogie Place) | 24 Feb 1875 | 245 | |
| 1874.03883 | Discharge by Tayfield of all feu duties | Disch by Berry, Tayfield of feu duty remaining (£6-5-7d) over subjects in feu ch 2 Feb 1870 to Trs for Chapel of 'St Thomas of the Seamylnes' - declaring freed of all feu duties the 65.5 pol grnd … : N by Prinlaws Place … | 19 Nov 1874 | 245 | |
| 1870.00079 | Tayfield to Trs Congregation of Chapel of Ease, St Thomas of the Seamylnes | Feu ch by John Berry, Tayfield to Trs Congregation of Chapel of Ease to be erected at the village of Newport to be called 'The Church or Chapel of St Thomas of the Seamylnes' in connection with the Established Church of Scotland of 65.5 pol grnd as a site for said chapel, : N by porposed street to be called Prinlaws Place, : S by proposed street to be called Wester Bogie Place, : E t/p Newport - Cupar, being part of field immediately E of Tayfield Mansion House Park or Policies and in NE corner [sic, should be NW corner] of said field | 2 Feb 1870 | 245, 253 | |
Brief explanation of sasine abridgements Explanation of the format of a sasine
Abbreviations in the notes
t/on - thereon; t/p - turnpike; dw - dwelling; ho - house; pt - part; pce - piece; grnd - ground; bldg - building; Tr/Trs - Trustee/Trustees; ... - words omitted; pol - poles; yd - square yards; : - bounded
Return to: Home Page Present-day Addresses Properties Map Old House Names Directories Valuation Rolls Sasines Census