Location : Just's Land [1], West Road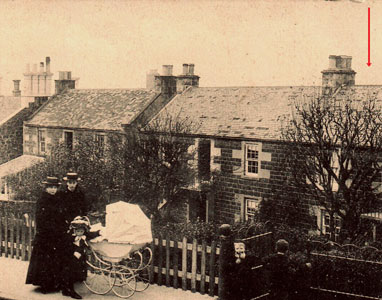 = Property demolished or site redeveloped
Notes: Demolished. lower floor, middle.
Part of a block. Other parts: Just's Land [2] Just's Land [3] Just's Land [4] Just's Land [5]
Commentary
Robert Just owned 5 properties at The Terrace and 8 at Woodend. His listings in the Valuation Rolls are frequently mixed up and untangling them has proved a challenge. People did move between the properties, which adds to the difficulties. Some directory entries remain unanswered.
Location and Old Maps
Latitude, longitude: 56.4352,-2.9495
View location on the 1855 6-inch map, the 1895 25-inch map, the 1914 25-inch map, the 1966 25-inch map, or a 1944-50 aerial photograph at the National Library of Scotland website.
Nearby properties (demolished in red): (Harris Land [1], West Road) (Harris Land [2], West Road) 7 West Road 11 West Road 10 West Road 9 West Road 28 West Road 30 West Road 32 West Road 34 West Road (River House [1], West Road) (River House [2], West Road) (River House [3], West Road) (Just's Land [2], West Road) (Just's Land [3], West Road) (Just's Land [4], West Road) (Just's Land [5], West Road) part of 10, West Road (Harris Land [3], West Road) (Harris Land [4], West Road) (Harris Land [5], West Road)
1909-10 Finance Act - Valuation Office: Field Surveys
Reference no. &nbsp443 &nbsp445
Old Addresses (any dates are approximate and are usually the latest occurence of the address)
| | | |
| --- | --- | --- |
| Newburgh Road, West Newport | | |
House Names (any dates are approximate and are usually the latest occurence of the name)
| | | |
| --- | --- | --- |
| Just's Land [1] | | |
| The Terrace | | |
Directory entries (before 1970) There are 38 entries
Source
Entry
1940-41 dir
Pattie, George, chauffeur, The Terrace, Newburgh rd., West Newport.
1939-40 dir
Pattie, George, chauffeur, The Terrace, Newburgh rd., West Newport
1938-39 dir
Pattie, George, chauffeur, The Terrace, Newburgh rd., West Newport
1937-38 dir
Pattie, George, chauffeur, The Terrace, Newburgh rd., West Newport
1936-37 dir
Pattie, George, chauffeur, The Terrace, Newburgh rd., West Newport
1935-36 dir
Pattie, George, chauffeur, The Terrace, Newburgh rd., West Newport
1934-35 dir
Pattie, George, chauffeur, The Terrace, Newburgh rd., West Newport
1933-34 dir
Pattie, George, chauffeur, The Terrace, Newburgh rd., West Newport
1932-33 dir
Pattie, George, chauffeur, The Terrace, Newburgh rd., West Newport
1931-32 dir
Don, John B., jun., blacksmith, The Terrace, Newburgh road, West Newport
1930-31 dir
Don, John B., jun., blacksmith, The Terrace, Newburgh road, West Newport
1929-30 dir
Pallant, Mrs, The Terrace, Newburgh road, West Newport
1928-29 dir
Pallant, Mrs, The Terrace, Newburgh road, West Newport
1927-28 dir
Pallant, Mrs, The Terrace, Newburgh road, West Newport
1926-27 dir
Pallant, Mrs, The Terrace, Newburgh road, West Newport
1925-26 dir
Pallant, Mrs, The Terrace, Newburgh road, West Newport
1923-24 dir
Pallant, Mrs, The Terrace, Newburgh road, West Newport
1920-21 dir
Aitken, Alex., seaman instructor , 'Mars'; h. The Terrace, W. Newport
location 2
1918-19 dir
Aitken, Alex., seaman instructor, 'Mars'; h. The Terrace, W. Newport
location 2
1915-16 dir
Aitken, Alex., seaman instructor, 'Mars'; h. The Terrace, W. Newport
location 2
1913-14 dir
Tucker, U. W., seaman instructor, 'Mars' ; h. The Terrace, W. Newport
location 2
1912-13 dir
Tucker, U. W., seaman instructor, 'Mars'; h. The Terrace, W. Newport
location 2
1911-12 dir
Tucker, U. W., seaman instructor, 'Mars' ; h. The Terrace, W. Newport
location 2
1910-11 dir
Tucker, U. W., seaman instructor, 'Mars' ; h. The Terrace, W. Newport
location 2
1909-10 dir
Tucker, H. W., seaman instructor, 'Mars' ; h. The Terrace, W. Newport
location 2
1908-09 dir
Tucker, H. W. seaman instructor, 'Mars' ; h. The Terrace, W. Newport
location 2
1903-04 dir
Gould, Robert J., clerk, The Terrace, West Newport
1902-03 dir
Gould, Robert J., clerk, The Terrace, West Newport
1901-02 dir
Henderson, Harry W. (manager, Dundee), The Terrace, West Newport
1898-99 dir
Ames, Mrs, The Terrace, West Newport
[could be either]
location 2
1895-96 dir
Honeyman, William, gardener, The Terrace, West Newport
1894-95 dir
Honeyman, William, gardener. The Terrace, West Newport
1893-94 dir
Honeyman, William, gardener, The Terrace, West Newport
1892-93 dir
Honeyman, William, gardener, The Terrace, West Newport
1891-92 dir
Honeyman, William, gardener, The Terrace, West Newport
1877 Worrall dir
Young Mrs. Thos., The Terrace, W.
1869-70 dir
Young, Mrs T., Just's Buildings, West Newport
1867-68 dir
Young, Thomas, late shipmaster, West Newport
Entries in the Registers of Voters
Source
Enrol Date
Name
Occup.
Address
Qualification
Property
at
Notes
1900 Male Voters
M'Kenzie, Andrew
Gardener
West Newport
Tenant of House
West Newport
Census records
Valuation Roll entries There are 40 entries
| Year | No. | Property | Proprietor | Tenant | Occupier | Value | | |
| --- | --- | --- | --- | --- | --- | --- | --- | --- |
| 1957-58 | 1100 | House & Garden | Provost, Magistrates & Councillors of the Burgh of Newport-on-Tay per Burgh Chamberlain | | empty (condemned) | 0 | View details | |
| 1952-53 | 1066 | House & Garden | Mrs Christina Mackie, Abercraig, Newburgh Road, W Newport | | John Simpson | 13-11-7 | View details | |
| 1947-48 | 1032 | House & Garden | Mrs Christina Mackie, Abercraig, Newburgh Road, W Newport | | John Simpson, railwayman | 13-11-7 | View details | |
| 1942-43 | 1013 | House & Garden | Mrs Jane Just, Rose Cottage, W Newport | | John Simpson, railwayman | 13-11-7 | View details | |
| 1940-41 | 1012 | House & Garden | Mrs Jane Just, Rose Cottage, W Newport | | George Pattie, motor driver | 13-11-7 | View details | |
| 1937-38 | 1030 | House & Garden | Mrs Jane Just, Rose Cottage, W Newport | | George Pattie, motor driver | 13-11-7 | View details | |
| 1935-36 | 993 | House & Garden | Mrs Jane Just, Rose Cottage, W Newport | | George Pattie, motor driver | 13-11-7 | View details | |
| 1932-33 | 947 | House & Garden | Reps of late Robert Just per Jane Just, Rose Cottage, W Newport | | George Pattie, motor driver | 13-11-7 | View details | |
| 1930-31 | 945 | House & Garden | Reps of late Robert Just per Jane Just, Rose Cottage, W Newport | | John Don, blacksmith | 13-11-7 | View details | |
| 1927-28 | 934 | House & Garden | Reps of late Robert Just per Jane Just, Rose Cottage, W Newport | | Mrs Pallant | 13-11-7 | View details | |
| 1922-23 | 888 | House & Garden | Reps of late Robert Just per Jane Just, Rose Cottage, W Newport | Alexander Aitken, officer 'Mars' | same | 12-12-7 | View details | |
| 1917-18 | 865 | House & Garden | Robert Just, W Newport | Alexander Aitken, officer 'Mars' | same | 9-10-0 | View details | |
| 1915-16 | 858 | House & Garden | Robert Just, W Newport | Alexander Aitken, officer 'Mars' | same | 9-10-0 | View details | |
| 1912-13 | 760 | House & Garden | Robert Just | Uriah Tucker, officer 'Mars' | same | 9 | View details | |
| 1910-11 | 750 | House & Garden | Robert Just | Uriah Tucker, officer 'Mars' | same | 9 | View details | |
| 1909-10 | 745 | House & Garden | Robert Just | Uriah Tucker, officer 'Mars' | same | 9 | View details | |
| 1907-08 | 741 | House & Garden | Robert Just, Rose Cottage | Uriah Tucker, officer 'Mars' | same | 9 | View details | |
| 1905-06 | 724 | House and Garden | Robert Just | Thomas Sutherland, gardener | same | 9 | View details | |
| 1903-04 | 712 | House and Garden | Robert Just | Robert J Gould, clerk | same | 9 | View details | |
| 1901-02 | 512 | House and Garden | Robert Just | Harry Henderson, grocer | same | 9 | View details | |
| 1900-01 | 500 | House and Garden | Robert Just | Andrew McKenzie, gardener | same | 9 | View details | |
| 1899-00 | 470 | House and Garden | Robert Just | Andrew McKenzie, gardener | same | 9 | View details | |
| 1897-98 | 420 | House and Garden | Robert Just | David Blyth, railway servant | same | 9 | View details | |
| 1896-97 | 397 | House and Garden | Robert Just, retired joiner | David Blyth, railway servant | same | 9 | View details | |
| 1895-96 | 373 | House | Robert Just | William Honeyman, gardener | | 9 | View details | |
| 1894-95 | 340 | House | Robert Just | William Honeyman, gardener | | 9 | View details | |
| 1893-94 | 323 | House | Robert Just, retired joiner | William Honeyman, gardener | | 8 | View details | |
| 1892-93 | 312 | House | Robert Just, retired joiner | William Honeyman, gardener | same | 8 | View details | |
| 1891-92 | 302 | House | Robert Just, retired joiner | William Honeyman, gardener | same | 8 | View details | |
| 1890-91 | 275 | House | Robert Just, retired joiner | John McCaskell, postman | same | 8 | View details | |
| 1889-90 | 256 | House | Robert Just, retired joiner | John McCaskell, postman | same | 7 | View details | |
| 1885-86 | 225 | House and Garden | Robert Just, joiner | Mrs Thomas Young | same | 6 | View details | |
| 1881-82 | 132 | House and Garden | Robert Just, joiner | same | Mrs Thomas Young | 6 | View details | |
| 1878-79 | 135 | House and Garden | Robert Just, joiner | same | Mrs Thomas Young | 7-10-0 | View details | |
| 1875-76 | 136 | House and Garden | Robert Just, joiner | same | Mrs Thomas Young | 7-10-0 | View details | |
| 1871-72 | 131 | House and Garden | Robert Just, joiner | | Mrs Thomas Young | 7 | View details | |
| 1867-68 | 134 | House | Robert Just, joiner | | Thomas Young, shipmaster | 7 | View details | |
| 1865-66 | 130 | House | Robert Just, joiner | said Thomas Young | Thomas Young, shipmaster | 7 | View details | |
| 1860-61 | 111 | House and Garden | Robert Just, joiner | | Mrs Kidd | 4-15-0 | View details | |
| 1855-56 | 171 | House and Garden | Robert Just, joiner, Newport | Mrs Kidd | said Mrs Kidd | 4 | View details | |
Early Sasines:
Return to: Home Page Present-day Addresses Properties Map Old House Names Directories Valuation Rolls Sasines Census