Location : house at gasworks, High Street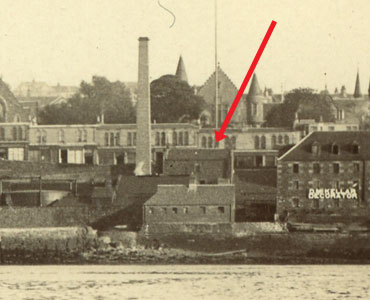 = Property demolished or site redeveloped
Notes: previously police office & house
Introduction
In the 1860s, it as rated as two parts: the police office and police officer's house. Property demolished & replaced by shops 1907.
Location and Old Maps
Latitude, longitude: 56.439776,-2.941827
View location on the 1855 6-inch map, the 1895 25-inch map, the 1914 25-inch map, the 1966 25-inch map, or a 1944-50 aerial photograph at the National Library of Scotland website.
Nearby properties (demolished in red): 2 Blyth Street 4 Blyth Street (formerly garages & workshop, 9, Boat Road) shop, 1, Cupar Road 6 Cupar Road 4 Cupar Road shop, formerly 2, Cupar Road (former house [1], Granary Lane) (former house [2], Granary Lane) (formerly 5, Granary Lane) (Smithy, formerly 9, Granary Lane) (Burgh Yard, formerly 11, Granary Lane) (Slaughter House, Granary Lane) (part of Gas Works Lane Granary [1], Granary Lane) (part of Gas Works Lane Granary [2], Granary Lane) (part of Gas Works Lane Granary [3], Granary Lane) (part of Gas Works Lane Granary [4], Granary Lane) (part of Gas Works Lane Granary [5], Granary Lane) (part of Gas Works Lane Granary [6], Granary Lane) (former house [3], Granary Lane) (former house [4], Granary Lane) (former house [5], Granary Lane) (former house [6], Granary Lane) (Old Granary [1], High Street) (Old Granary [2], High Street) (Old Granary [3], High Street) (Old Granary [4], High Street) (Old Granary [5], High Street) (Old Granary [6], High Street) (Old Granary [7], High Street) (Old Granary [8], High Street) (Old Granary [9], High Street) (Old Granary [10], High Street) (Old Granary [11], High Street) 3 High Street 5 High Street 7 High Street shop, 9, High Street St Mary's Church, High Street shop, 11, High Street 12 High Street shop, 13, High Street 14 High Street shop, 15, High Street shop, 16, High Street 18 High Street 20 High Street 22 High Street shop, 24, High Street 26 High Street 28a, High Street shop, 28, High Street shop, 30, High Street shop, 32, High Street 34 High Street 36 High Street shop, 38, High Street shop, 40, High Street shop, 46, High Street shop, 48, High Street shop, 52, High Street shop, 54, High Street shop, 50, High Street (Gas Office, High Street) downstairs property, 9, High Street (Bowling Green, High Street) (Newport House, High Street) (old house [north 1], High Street) (old house [north 2], High Street) (old house [north 3], High Street) (old house [south 1], High Street) (old house [south 2], High Street) (old house [south 3], High Street) (old house [south 4], High Street)
Later use of the site : 13 High Street 15 High Street
Old Addresses (any dates are approximate and are usually the latest occurence of the address)
House Names (any dates are approximate and are usually the latest occurence of the name)
| | | |
| --- | --- | --- |
| Old Cottage | 1905-6 | |
| Lockup House | pre 1867 | |
| Police Lockup | pre 1867 | |
| Police Office | pre 1867 | |
Directory entries (before 1972)
Census records
Valuation Roll entries There are 25 entries
| Year | No. | Property | Proprietor | Tenant | Occupier | Value | | |
| --- | --- | --- | --- | --- | --- | --- | --- | --- |
| 1903-04 | 888 | House | Town Council of Newport per John Scrimgeour | Mrs Ross | same | 5 | View details | |
| 1901-02 | 699 | House | Town Council of Newport per John Scrimgeour | Mrs Jane Ferguson | same | 5 | View details | |
| 1900-01 | 687 | House | Gas-Light Company per P F Husband, solicitor, Dundee | Mrs Jane Ferguson | same | 5 | View details | |
| 1899-00 | 657 | House | Gas-Light Company per P F Husband, solicitor, Dundee | Alexander Hardie, labourer | same | 4 | View details | |
| 1897-98 | 607 | House | Gas-Light Company per P F Husband, solicitor, Dundee | Alexander Hardie, labourer | same | 4 | View details | |
| 1896-97 | 581 | House | Gas-Light Company per P F Husband, solicitor, Dundee | Alexander Hardie, labourer | same | 4 | View details | |
| 1895-96 | 543 | House | Gas-Light Company per P F Husband, solicitor, Dundee | Alexander Hardie, labourer | same | 4 | View details | |
| 1894-95 | 501 | House | Gas-Light Company per P F Husband, solicitor, Dundee | Alexander Hardie, labourer | same | 4 | View details | |
| 1893-94 | 480 | House | Gas-Light Company per P F Husband, solicitor, Dundee | Alexander Hardie, labourer | same | 4 | View details | |
| 1892-93 | 469 | House | Gas-Light Company per P F Husband, solicitor, Dundee | Alexander Hardie, labourer | same | 4 | View details | |
| 1891-92 | 456 | House | Gas-Light Company per P F Husband, solicitor, Dundee | Alexander Hardie, labourer | same | 4 | View details | |
| 1890-91 | 428 | House | Gas-Light Company per P F Husband, solicitor, Dundee | Alexander Hardie, labourer | same | 4 | View details | |
| 1889-90 | 407 | House | Gas-Light Company per P F Husband, solicitor, Dundee | Exrs. of late Mrs Margaret McPherson | same | 3 | View details | |
| 1885-86 | 378 | House | Gas-Light Company per P F Husband, solicitor, Dundee | Mrs Margaret McPherson | same | 3 | View details | |
| 1878-79 | 264 | House or Office | Gas-Light Company | | Said Company | 13 | View details | |
| 1875-76 | 236 | House or Office | Gas-Light Company | | Said Company | 13 | View details | |
| 1871-72 | 216 | House or office | Gas Light Co | | Gas Light Co | 13 | View details | |
| 1867-68 | 150 | Police Office | Gas-Light Company | | Commissioners of Supply | 10-3-0 | View details | |
| 1867-68 | 151 | House | Gas-Light Company | | | 3 | View details | |
| 1864-65 | 137 | Police Office | George Just, builder | | Commissioners of Supply | 8-3-0 | View details | |
| 1864-65 | 138 | House | George Just, builder | | | 3 | View details | |
| 1860-61 | 126 | Police Office | George Just, builder | Police Committee | Police constable | 8-3-0 | View details | |
| 1860-61 | 127 | House | George Just, builder | | - | 2 | View details | |
| 1855-56 | 188 | House and Garden | George Just, builder | | | 1 | View details | |
| 1855-56 | 189 | Police Officer's house | George Just, builder | Police Officer | said Police Officer | 8 | View details | |
Early Sasines:
Sasine Plots:
| | | | | | |
| --- | --- | --- | --- | --- | --- |
| Plot: 218 | Newport | | 34' frontage to turnpike | on N side of turnpike from Newport Toll to Newport Pier; includes existing (in 1853) Lock Up house | view plot details |
Sasine Abridgements:
| Ref | In Brief | Abridgement | Recorded | Plots | |
| --- | --- | --- | --- | --- | --- |
| 1907.00453 | buildings now not to exceed 16'above level of High Street | Disch by William Berry disburd. the first of the burdens mentioned in 3 Dec 1853 to Gerge Just over the following subjects of which David Innes Young, baker, is now proprietor viz. pce grnd 34' frontage & bldgs t/on : E partly by a road, : S by t/p Newport Toll - Newport Pier, & declaring that in lieu of said first condition is the following real burden - any bldgs erected on said grnd shall not exceed 16' above level of the High Road now known as High Street, Newport | 23 Mar 1907 | 218 | |
| 1866.01505 | George Just to Newport Gas Light Co | Newport Gas Light Co regist disp to themselves by George Just consent of Robert Boyd of pce grnd & bldgs t/on on N side of t/p Newport Toll to Newport Pier | 23 Nov 1866 | 218 | |
| 1866.01504 | David Stewart loan repaid | David Stewart grants disch of bond & disp £100 by George Just & Arthur & Arthur Begg (Dec 1853) to Jessie Addison relict of Alexander Gordon & declares pce grnd & bldgs t/on, on N side of t/p Newport Toll to Newport Pier disburdened (see v7, 3068) | 23 Nov 1866 | 218 | |
| 1860.03068 | Halliburton loan transferred to David Stewart | David Stewart gets assig by Trs Jean Halliburton relict George Hill consent of George Just, Arthur Begg sen & Arthur Begg jun & Arthur Begg & Sons to bond & disp £100 by George Just & A & A Begg (9 Dec 1853) to Jessie Addison relict of Alexander Gordon over pce grnd & bldgs t/on on N of t/p Newport Toll to Newport Pier (see 932) | 27 Mar 1860 | 218 | |
| 1857.00932 | Addison loan transferred to Jean Halliburton / Hill | Trs Jean Halliburton relict of George Hill get assig by Jessie Addison relict of Alexandder Gordon, consent of George Just, Arthur Begg sen & Arthur Begg jun & Arthur Begg & Sons to bond & disp £100 by George Just & A & A Begg (9 Dec 1853) over pce grnd & bldgs t/on on N of t/p Newport Toll to Newport Pier (see v6, 2348) | 4 Jun 1857 | 218 | |
| 1853.02348 | loan by Jessie Addison / Gordon | Jessie Addison relict of Alexander Gordon gets bond & disp £100 by George Just & Arthur Begg & Arthur Begg jun, tailors & clothiers Dundee as individuals & as partners in company of Arthur Begg & Sons over pce grnd & bldgs t/on on N side of t/p Newport toll to Newport Pier | 12 Dec 1853 | 218 | |
| 1853.02332 | Tayfield to George Just | George Just seised pce grnd & bldgs t/on on N side of t/p road Newport Toll to Newport Pier on feu ch by John Berry, Tayfield | 2 Dec 1853 | 218 | sasine extract |
Brief explanation of sasine abridgements Explanation of the format of a sasine
Abbreviations in the notes
t/on - thereon; t/p - turnpike; dw - dwelling; ho - house; pt - part; pce - piece; grnd - ground; bldg - building; Tr/Trs - Trustee/Trustees; ... - words omitted; pol - poles; yd - square yards; : - bounded
Return to: Home Page Present-day Addresses Properties Map Old House Names Directories Valuation Rolls Sasines Census