Location : St Fillans Church, William Street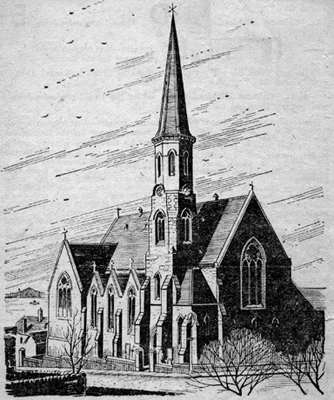 = Property demolished or site redeveloped
Notes:
Other references can be found at : St Fillans Manse
Introduction
Built 1868 as replacement for the smaller original church built in 1843. Seats for 600 plus gallery extension.
Location and Old Maps
Latitude, longitude: 56.440772,-2.939069
View location on the 1855 6-inch map, the 1895 25-inch map, the 1914 25-inch map, the 1966 25-inch map, or a 1944-50 aerial photograph at the National Library of Scotland website.
Nearby properties (demolished in red): 1 Gowrie Street 3 Gowrie Street 5 Gowrie Street 7 Gowrie Street 9 Gowrie Street 11 Gowrie Street 13 Gowrie Street 15 Gowrie Street 17 Gowrie Street 19 Gowrie Street 21 Gowrie Street 23 Gowrie Street 8 Hillside Place 10 Hillside Place 1 King Street 2 King Street 3 King Street (formerly 4, police house, King Street) 5 King Street (formerly 6, police station, King Street) 7 King Street (formerly 8, police house, King Street) 9 King Street (formerly 10, King Street) (The Cottage, King Street) 1-9, Maryton 2 Union Street 4 Union Street (formerly 6, Union Street) St Fillans Church Hall, William Street St Fillans Church Hall (pt), William Street 6 William Street 8 William Street 10 William Street 12 William Street 14 William Street
1854 Ordnance Survey Name Book Entry (originals at ScotlandsPlaces) (more information on the O.S. Name Books page)
| | | | | | | |
| --- | --- | --- | --- | --- | --- | --- |
| List of names to be corrected if necessary | Orthography, as recommended to be used in the new plans | Other modes of spelling the name | Authorities for these other modes of spelling when known | Situation | Descriptive remarks or other general observations which may be considered of interest | Source |
| Free Church | Free Church | Free Church; Free Church; Free Church | Revd. N. McLeod Manse; John Hislop School; Mr. Rhind Marytown | On the North side of William Street in the Village of Easter Newport. | A plain but neat edifice recently erected. And used as a place of worship by the Free Church Congregation in Newport, and its vicinity. It is well furnished with pews and seats but has no gallery and contains sittings for 400 hearers - average number of communicants 220, and is generally well attended. There is a small belfry and bell. | OS1/13/32/68 |
Information and Photographs on Other Sites (open in a new window)
1909-10 Finance Act - Valuation Office: Field Surveys
Reference no. &nbsp319 &nbsp905
Old Addresses (any dates are approximate and are usually the latest occurence of the address)
House Names (any dates are approximate and are usually the latest occurence of the name)
Directory entries (before 1972) There are 198 entries
Source
Entry
1971 dir
Maclean, Rev. Alex. L. M., B.D., St. Fillan's Church; h. St. Fillan's Manse, 8 Gowrie Street
location 2
1971 dir
Maclean, Alex. L. M., B.D., St. Fillan's Manse, 8 Gowrie Street; St. Fillan's Church, Rev. [under Places Of Worship]
location 2
1970 dir
Maclean, Alex. L. M., B.D., St. Fillan's Manse, 8 Gowrie Street; St. Fillan's Church, Rev. [under Places Of Worship]
location 2
1970 dir
Maclean, Rev. Alex. L. M., B.D., St. Fillan's Church; h. St. Fillan's Manse, 8 Gowrie Street
location 2
1969 dir
Maclean, Alex. L. M., B.D., St. Fillan's Manse, 8 Gowrie Street; St. Fillan's Church, Rev. [under Places Of Worship]
location 2
1969 dir
Maclean, Rev. Alex. L. M., B.D., St. Fillan's Church; h. St. Fillan's Manse, 8 Gowrie Street
location 2
1968 dir
Maclean, Rev. Alex. L. M., B.D., St. Fillan's Church; h. St. Fillan's Manse, 8 Gowrie Street
location 2
1968 dir
Maclean, Alex. L. M., B.D., St. Fillan's Manse 8 Cowrie Street; St. Fillan's Church, Rev. [under Places Of Worship]
location 2
1967 dir
Maclean, Alex. L. M., B.D., St Fillan's Manse, 8 Gowrie street; St Fillan's Church, Rev. [under Places Of Worship.]
location 2
1967 dir
Maclean, Rev. Alex. L. M., B.D., St. Fillan's Church ; h. St. Fillan's Manse, 8 Gowrie street
location 2
1966 dir
Maclean, Rev. Alex. L. M., B.D., St. Fillan's Church ; h. St. Fillan's Manse, 8 Gowrie street
location 2
1966 dir
Maclean, Alex L. M., B.D., St Fillan's Manse, 8 Gowrie Street; St Fillan's Church, Rev. [under Places Of Worship]
location 2
1965 dir
Maclean, Rev. Alex. L. M., B.D., St. Fillan's Church ; h. St. Fillan's Manse, 8 Gowrie street
location 2
1965 dir
Maclean, Alex. L. M., B.D., St Fillan's Manse, Gowrie street; Newport-on-Tay St Fillan's Church, Rev. [under Places Of Worship]
location 2
1964 dir
Maclean, Rev. Alex. L. M., B.D., St. Fillan's Church; h. St. Fillan's Manse, Gowriehill
location 2
1964 dir
Maclean, Alex. L. M., B.D., St Fillan's Manse, Gowriehill; St Fillan's Church Rev. [under Places Of Worship.]
location 2
1963 dir
Maclean, Alex. L. M., B.D., St Fillan's Manse, Gowriehill; St Fillan's Church, Rev. [under Places Of Worship]
location 2
1963 dir
Maclean, Rev. Alex. L. M., St. Fillan's Church; h. St. Fillan's Manse, Gowriehill
location 2
1962 dir
Maclean, Rev. Alex. L. M., St. Fillan's Church; h. St. Fillan's Manse, Gowriehill
location 2
1962 dir
Maclean, Alex. L. M., B.D., St Fillan's Manse, Gowriehill; St Fillan's Church, Rev. [under Places Of Worship.]
location 2
1961 dir
Maclean, Rev. Alex. L. M., St. Fillan's Church; h. St. Fillan's Manse, Gowriehill
location 2
1961 dir
Maclean, Alex. L. M., St Fillan's Manse, Gowriehill; Newport-on-Tay St Fillan's Church, Rev. [under Places Of Worship.]
location 2
1960 dir
Maclean, Rev. Alex. L. M., St. Fillan's Church; h. St. Fillan's Manse, Gowriehill
location 2
1960 dir
Maclean, Alex. L. M., St Fillan's Manse, Gowriehill; St Fillan's Church, Rev. [under Places Of Worship]
location 2
1958-59 dir
Maclean, Alex. L. M., St Fillan's Manse, Gowriehill; Newport-on-Tay St Fillan's Church, Rev. [under Places Of Worship.]
location 2
1958-59 dir
Maclean, Rev. Alex. L. M., St. Fillan's Church; h. St. Fillan's Manse, Gowriehill
location 2
1957-58 dir
Paterson, William, St Fillan's Manse, Gowriehill; St Fillan's Church, Rev. [under Places Of Worship.]
location 2
1956-57 dir
Paterson, William, St Fillan's Manse, Gowriehill; St Fillan's Church, Rev. [under Places Of Worship.]
location 2
1955-56 dir
Paterson, William, St Fillan's Manse, Gowriehill; Newport St Fillan's Church, Rev. [under Places Of Worship]
location 2
1954-55 dir
Paterson, William, St Fillan's Manse; St Fillan's Church of Scotland Rev. [under Places Of Worship.]
location 2
1953-54 dir
Paterson, William, St Fillan's Manse, Gowriehill; St Fillan's Church of Scotland, Rev. [under Places Of Worship.]
location 2
1952-53 dir
Paterson, William, St Fillan's Manse, Gowriehill; Newport St Fillan's Church of Scotland, Rev. [under Places Of Worship.]
location 2
1951-52 dir
Paterson, William, St Fillan's Manse, Gowriehill; Newport St Fillan's Church of Scotland, Rev. [under Places Of Worship.]
location 2
1950-51 dir
Paterson, William, St Fillan's Manse, Gowriehill; Newport St Fillan's Church of Scotland, Rev. [under Places Of Worship.]
location 2
1949-50 dir
Paterson, William, St Fillan's Manse, Gowriehill; Newport St Fillan's Church of Scotland, Rev. [under Places Of Worship]
location 2
1948-49 dir
Paterson, William, St Fillan's Manse, Gowriehill; St Fillan's Church of Scotland, Rev. [under Places Of Worship.]
location 2
1947-48 dir
Paterson, William, St Fillan's Manse, Gowriehill; St Fillan's Church of Scotland, Rev. [under Places Of Worship.]
location 2
1946-47 dir
Paterson, William, St Fillan's Manse; Newport St Fillan's Church of Scot. Rev. [under Places Of Worship]
location 2
1946-47 dir
Veitch, Robert, church-officer, St Fillan's Church ; h. Woodhill, King street, East Newport
location 2
1942-43 dir
Lees, A. R., St Fillan's Manse, Gowriehill; Newport St Fillan's Church of Scot., Rev. [under Places Of Worship]
location 2
1942-43 dir
Veitch, Robert, church-officer, St Fillan's Church ; h. Woodhill, King street, East Newport
location 2
1942-43 dir
Lees, Rev. A. R., St Fillan's Manse, Gowriehill
location 2
1941-42 dir
Veitch, Robert, church-officer, St Fillan's Church ; h. Woodhill, King street, East Newport
location 2
1941-42 dir
Lees, Rev. A. R., St Fillan's Manse, Gowriehill
location 2
1941-42 dir
Lees, A. R., St Fillan's Manse, Gowriehill; St Fillan's Church of Scotland, Rev. [under Places Of Worship]
location 2
1940-41 dir
Clark, John A., B.D. (sen. col.), 11 Glamis terrace, Dundee; St Fillan's Church of Scotland, Rev. [under Places Of Worship.]
1940-41 dir
Veitch, Robert, church-officer, St Fillan's Church ; h. Woodhill, King street, East Newport
location 2
1940-41 dir
Lees, A. R.; St Fillan's Church of Scotland, C. and S. Rev. [under Places Of Worship.]
location 2
1939-40 dir
Veitch, Robert, church-officer, St Fillan's Church ; h. Woodhill, King street, East Newport
location 2
1939-40 dir
Clark, John A., B.D. (sen. col., C. and S. vacant), 11 Glamis terrace, Dundee; Newport St Fillan's, Rev. [under Places Of Worship]
1938-39 dir
Clark, Rev. John A., B. D., St Fillan's Church ; h. Manse, Gowriehill, East Newport
location 2
1938-39 dir
Clark, John A., B.D., Gowriehill; St Fillan's Church of Scotland, Rev. [under Places Of Worship]
location 2
1938-39 dir
Veitch, Robert, church-officer, St Fillan's Church ; h. St Margaret's cottage, Tay terrace, East Newport
location 2
1937-38 dir
Clark, John A., B.D., Gowriehill; Newport St Fillan's Church, Rev. [under Places Of Worship]
location 2
1937-38 dir
Clark, Rev, John A., B. D., St Fillan's Church ; h. Manse, Gowriehill, East Newport
location 2
1937-38 dir
Veitch, Robert, church-officer, St Fillan's Church ; h. St Margaret's cottage, Tay terrace, East Newport
location 2
1936-37 dir
Clark, Rev. John A., B. D., St Fillan's Church ; h. Manse, Gowriehill, East Newport
location 2
1936-37 dir
Veitch, Robert, church-officer, St Fillan's Church ; h. St Margaret's cottage, Tay terrace, East Newport
location 2
1936-37 dir
Clark, John A., B.D., Gowriehill; St Fillans Church of Scotland, Rev. [under Places Of Worship.]
location 2
1935-36 dir
Veitch, Robert, church-officer, St Fillan's Church ; h. St Margaret's cottage, Tay terrace, East Newport
location 2
1935-36 dir
Clark, Rev. John A., B. D., St Fillan's Church ; h. Manse, Gowriehill, East Newport
location 2
1935-36 dir
Patrick, Douglas K. (organist, St Fillan's Church), 12 Rose street, Dundee : Musicians, Organists, And Teachers Of Music.
1935-36 dir
Clark, John A., B.D., Gowriehill; Newport St Fillan's Church of Scot., Rev. [under Places Of Worship]
location 2
1934-35 dir
Patrick, Douglas K. (organist, St Fillan's Church), 12 Rose street, Dundee : Musicians, Organists, And Teachers Of Music.
1934-35 dir
Clark, John A., B.D., Gowriehill; Newport St Fillan's Church, Rev. [under Places Of Worship]
location 2
1934-35 dir
Clark, Rev. John A., B. D., St Fillan's Church ; h. Manse, Gowriehill, East Newport
location 2
1934-35 dir
Veitch, Robert, church-officer, St Fillan's Church ; h. St Margaret's cottage, Tay terrace, East Newport
location 2
1933-34 dir
Veitch, Robert, church-officer, St Fillan's Church ; h. St Margaret's cottage, Tay terrace, East Newport
location 2
1933-34 dir
Clark, John A., B.D., Gowriehill; St Fillan's Church of Scotland, Rev. [under Places Of Worship.]
location 2
1933-34 dir
Clark, Rev. John A., B.D., St Fillan's Church ; h. Manse, Gowriehill, East Newport
location 2
1933-34 dir
Patrick, Douglas K. (organist, St Fillan's Church), 12 Rose street, Dundee : Musicians, Organists, And Teachers Of Music.
1932-33 dir
Clark, Rev. John A., B.D., St Fillan's Church ; h. Manse, Gowriehill, East Newport
location 2
1932-33 dir
Patrick, Douglas K. (organist, St Fillan's Church), 12 Rose street, Dundee : Musicians, Organists, And Teachers Of Music.
1932-33 dir
Veitch, Robert, church-officer, St Fillan's Church ; h. St Margaret's cottage, Tay terrace, East Newport
location 2
1932-33 dir
Clark, John A., B.D., Gowriehill; St Fillan's Church of Scotland, Rev. [under Places Of Worship.]
location 2
1931-32 dir
Clark, John A., B.D., Gowriehill; St Fillan's Church, Rev. [under Places Of Worship.]
location 2
1931-32 dir
Clark, Rev. John A., B.D., St Fillan's Church ; h. Manse, Gowriehill, East Newport
location 2
1931-32 dir
Veitch, Robert, church-officer, St Fillan's Church ; h. St Margaret's cottage, Tay terrace, East Newport
location 2
1931-32 dir
Patrick, Douglas K. (organist, St Fillan's Church), 12 Rose street, Dundee : Musicians, Organists, And Teachers Of Music.
1930-31 dir
Patrick, Douglas K. (organist, St Fillan's Church of Scotland), 12 Rose street, Dundee : Musicians, Organists, And Teachers Of Music.
1930-31 dir
Veitch, Robert, church-officer, St Fillan's Church of Scotland ; h. St Margaret's cottage, Tay terrace, East Newport
location 2
1930-31 dir
Clark, John A., B.D., Gowriehill; St Fillan's Church, Rev. [under Places Of Worship.]
location 2
1930-31 dir
Clark, Rev. John A., B.D., St Fillan's Church of Scotland ; h. Manse, Gowriehill, East Newport
location 2
1929-30 dir
Patrick, Douglas K. (organist, St Fillan's U.F. Church), 12 Rose st., Dundee : Musicians, Organists, And Teachers Of Music.
1929-30 dir
Clark, John A., B.D., Gowriehill; St Fillan's U.F. Church, Rev. [under Places Of Worship.]
location 2
1929-30 dir
Veitch, Robert, church-officer, St Fillan's U.F. Church ; h. The Terrace, Newburgh road, West Newport
location 2
1929-30 dir
Veitch, Robert, The Terrace, Newport - St Fillan's U.F. Church : Church-Officers.
location 2
1929-30 dir
Clark, Rev. John A., B.D., St Fillan's U.F. Church ; h. Manse, Gowriehill, East Newport
location 2
1928-29 dir
Clark, John A., B.D., Gowriehill; St Fillan's U.F. Church, Rev. [under Places Of Worship.]
location 2
1928-29 dir
Veitch, Robert, church-officer, St Fillan's U.F. Church ; h. The Terrace, Newburgh road, West Newport
location 2
1928-29 dir
Veitch, Robert, The Terrace : Newport St Fillan's U.F. Church : Church-Officers.
location 2
1928-29 dir
Clark, Rev. John A., B.D., St Fillan's U.F. Church ; h. Manse, Gowriehill, East Newport
location 2
1928-29 dir
Patrick, Douglas K. (organist, St Fillan's U.F. Church) 12 Rose st., Dundee : Musicians, Organists, And Teachers Of Music.
1928 Kelly dir
Clark Rev. John A., M.A., B.D. (U. F.), St. Fillans manse, E
location 2
1928 Kelly dir
Clark, John A., M.A., B.D; United Free Church St. Fillan's, Rev. [under Places Of Worship.]
1927-28 dir
Veitch, Robert, The Terrace, W. Newport - Newport St Fillan's U.F. Church : Church-Officers.
location 2
1927-28 dir
Clark, Rev. John A., B.D., St Fillan's U. F. Church ; h. Manse, Gowriehill, East Newport
location 2
1927-28 dir
Patrick, Douglas K. (organist, St Fillan's U.F. Church), 12 Rose st., Dundee : Musicians, Organists, And Teachers Of Music.
1927-28 dir
Clark, John A., B.D., Gowriehill; St Fillan's U.F. Church, Rev. [under Places Of Worship.]
location 2
1927-28 dir
Veitch, Robert, church-officer, St Fillan's U.F. Church ; h. The Terrace, Newburgh road, West Newport
location 2
1926-27 dir
Clark, John A., B.D., Gowriehill; Newport St Fillan's U.F. Church, Rev. [under Places Of Worship]
location 2
1926-27 dir
Veitch, Robert, church-officer, St Fillan's U.F. Church ; h. The Terrace, Newburgh road, West Newport
location 2
1926-27 dir
Veitch, Robert, The Terrace, W. Newport - Newport St Fillan's U.F. Church : Church-Officers.
location 2
1926-27 dir
Patrick, Douglas K. (organist, St Fillan's U.F. Church), 12 Rose st., Dundee : Musicians, Organists, And Teachers Of Music,
1926-27 dir
Clark, Rev. John A., B.D., St Fillan's U.F. Church ; h. Manse, Gowriehill, East Newport
location 2
1925-26 dir
Patrick, Douglas K., (organist, St Fillans U.F. Church), 12 Rose st., Dundee : Musicians, Organists, And Teachers Of Music.
1925-26 dir
Clark, John A., B.D., Gowriehill; Newport St Fillan's U.F. Church, Rev. [under Places Of Worship]
location 2
1925-26 dir
Clark, Rev. John A., BD., St Fillan's U.P. Church ; h. Manse, Gowriehill, East Newport
location 2
1923-24 dir
Drayden, Charles, church-officer, St Fillan's U.F. Church, James square, William street, East Newport
location 2
1923-24 dir
Clark, John A., B.D., Gowriehill; St Fillan's U.F. Church, Rev. [under Places Of Worship.]
location 2
1923-24 dir
Clark, Rev. John A., B.D., St Fillan's U.F. Church ; h. Manse, Gowriehill, East Newport
location 2
1923-24 dir
Drayden, Charles, James' square - Newport St Fillan's U.F. Church : Church Officers
location 2
1922-23 dir
Clark, Rev. John A., M.A., B.D, St Fillan's U.F. Church ; h. Manse, Gowriehill, East Newport
location 2
1922-23 dir
Clark, John A., B.D; Newport St Fillans U.F. Church, Rev. [under Places Of Worship. ]
1921 Slater dir
Clark Rev. John A., M.A., B.D. (U. F.), St. Fillans manse, E
location 2
1921 Slater dir
Clark, John A., M.A., B.D; United Free Church St. Fillan's, Rev. [under Places Of Worship]
1920-21 dir
Clark, Rev. John A., M.A., B.D., St Fillan's U.F. Church ; h. Manse, Gowriehill, East Newport
location 2
1920-21 dir
Clark, John A., M.A., B.D; Newport St Fillans U.F. Church, Rev. [under Places Of Worship]
1918-19 dir
Clark, Rev. John A., M.A., B.D., St Fillan's U.F. Church ; h. Manse, William street, East Newport
location 2
1918-19 dir
Clark, John A., M.A., B.D; Newport St Fillans U.F., Rev. [under Places Of Worship]
1915-16 dir
Clark, John A., M.A., B.D; Newport St Fillans U.F. Church, Rev. [under Places Of Worship]
1915-16 dir
Clark, Rev. John A., M.A. B.D., St Fillan's U.F. Church ; h. Manse, William street, East Newport
location 2
1915 Slater dir
Clark, John A., M.A; United Free Church St. Fillan Rev. [under Places Of Worship.]
1913-14 dir
M'Gregor, Peter, M.A; Newport St Fillans U.F. Church, Rev. [under Places Of Worship]
1912-13 dir
M'Gregor, Peter, M.A; Newport St Fillans U.F. Church, Rev. [under Places Of Worship]
1911-12 dir
M'Gregor, Peter, M.A; Newport St Fillans U.F. Church, Rev. [under Places Of Worship.]
1911 Slater dir
M'Gregor, Peter, M.A; United Free Church St. Fillan, Rev. [under Places Of Worship. ]
1910-11 dir
M'Gregor, Peter, M.A; Newport St Fillans U.F. Church, Rev. [under Places Of Worship]
1909-10 dir
M'Gregor, Peter, M.A; St Fillans United Free Church, Rev. [under Places Of Worship ]
1908-09 dir
M'Gregor, Peter, M.A; St Fillans United Free Church, Rev. [under Places Of Worship]
1908 Tayside Annual
Roger, Thomas; Treasurer for Foreign Missions, [under St Fillan's U.F. Church, Newport]
1908 Tayside Annual
Calderwood, J.; Organist and Choirmaster, [under St Fillan's U.F. Church, Newport]
1908 Tayside Annual
Smith, Thomas, Inverdovat; Session Clerk, [under St Fillan's U.F. Church, Newport]
location 2
1908 Tayside Annual
Fergusson, J.; Convener of Seat-Letting Committee, [under St Fillan's U.F. Church, Newport]
1908 Tayside Annual
M'Gregor, Peter, M.A., The Manse; Minister, Rev. [under St Fillan's U.F. Church, Newport]
location 2
1908 Tayside Annual
Brown, James, Seamills Cottages; Church Officer, [under St Fillan's U.F. Church, Newport]
location 2
1908 Tayside Annual
Scott, James M.; Treasurer to Sustentation Fund, [under St Fillan's U.F. Church, Newport]
1908 Tayside Annual
Dickson, William; Superintendent of Sabbath School, [under St Fillan's U.F. Church, Newport]
1908 Tayside Annual
Husband, James; Treasurer, [under St Fillan's U.F. Church, Newport]
1907-08 dir
M'Gregor, Peter, M.A; Newport United Free Church, Rev. [under Places Of Worship]
1907 Tayside Annual
M'Gregor, Peter, M.A., The Manse; Minister, Rev. [under St Fillan's U.F. Church, Newport.]
location 2
1907 Tayside Annual
Brown, James, Seamills Cottages; Church Officer, [under St Fillan's U.F. Church, Newport.]
location 2
1907 Tayside Annual
Scott, James M.; Treasurer to Sustentation Fund, [under St Fillan's U.F. Church, Newport.]
1907 Tayside Annual
Dickson, William; Superintendent of Sabbath School, [under St Fillan's U.F. Church, Newport.]
1907 Tayside Annual
Husband, James; Treasurer, [under St Fillan's U.F. Church, Newport.]
1907 Tayside Annual
Roger, Thomas; Treasurer for Foreign Missions, [under St Fillan's U.F. Church, Newport.]
1907 Tayside Annual
Calderwood, William J.; Organist and Choirmaster, [under St Fillan's U.F. Church, Newport.]
1907 Tayside Annual
Smith, Thomas, Inverdovat; Session Clerk, [under St Fillan's U.F. Church, Newport.]
location 2
1907 Tayside Annual
Fergusson, J.; Convener of Seat-Letting Committee, [under St Fillan's U.F. Church, Newport.]
1907 Slater dir
M'Gregor, Peter, M.A; United Free Church, Newport, Rev. [under Places Of Worship]
1906-07 dir
M'Gregor, Peter, M.A; Newport United Free Church, Rev. [under Places Of Worship.]
1904-05 dir
Rae, Frederick J.; Newport United Free Church, Rev. [under Places Of Worship]
1904-05 dir
Rae, Rev. Frederick J., Newport United Free Church ; h. St Fillan's Manse, East Newport
location 2
1903-04 dir
Rae, Rev. Frederick J., Newport United Free Church; h. St Fillan's Manse, East Newport
location 2
1903-04 dir
Rae, Frederick J.; Newport United Free Church, Rev. [under Places Of Worship]
1903 Slater dir
Rae, Frederick J., M.A; Newport United Free Church, Rev. [under Places Of Worship.]
1902-03 dir
Rae, Frederick J.; Newport United Free Church, Rev. [under Places Of Worship]
1902-03 dir
Rae, Rev. Frederick J., Newport United Free Church ; h. St Fillan's Manse, East Newport
location 2
1901-02 dir
Rae, Frederick J.; Newport United Free Church, Rev. [under Places Of Worship]
1901-02 dir
Rae, Rev. Frederick J., Newport United Free Church ; h. St Fillans Manse, East Newport
location 2
1900-01 dir
Rae, Frederick J.; Newport Free Church, Rev. [under Places Of Worship]
1899-00 dir
Rae, Frederick J.; Newport Free Church, Rev. [under Places Of Worship ]
1898-99 dir
Rae, Frederick J.; Free Church, Rev. [under Places Of Worship]
1897-98 dir
Rae, Frederick J.; Free Church, Rev. [under Places Of Worship]
1896-97 dir
Rae, Frederick J.; Newport Free Church, Rev. [under Places Of Worship]
1896 Slater dir
Rae, Frederick, M.A; Free Church Newport Rev. [under Places Of Worship & Their Ministers]
1896 Slater dir
M'Leod, Neil, D.D; Free Church Newport, Rev. [under Places Of Worship & Their Ministers]
1895-96 dir
Rae, Frederick J., colleague and successor; Newport Free Church, Rev. [under Places Of Worship]
1895-96 dir
MacLeod, Neil, D.D; Newport Free Church, Rev. [under Places Of Worship]
1895-96 dir
MacLeod, Rev. Neil, D.D., Free Church Manse, East Newport
location 2
1895 Edin. Almanac
MacLeod, Neil, M.A; Free Church, Rev. [under Places Of Worship - Newport]
1895 Edin. Almanac
Rae, Fred. J., M.A., junior pastor; Free Church, Rev. [under Places Of Worship - Newport]
1894-95 dir
Rae, Frederick J., colleague and successor; Newport Free Church, Rev. [under Places Of Worship]
1894-95 dir
MacLeod, Neil; Newport Free Church, Rev. [under Places Of Worship]
1893-94 dir
MacLeod, Neil; Newport Free Church, Rev. [under Places Of Worship]
1893-94 dir
Rae, Frederick J., colleague and successor; Newport Free Church, Rev. [under Places Of Worship]
1893 Slater dir
Rae Frederick, M.A., Rev., Newport Free Church : Places Of Worship And Their Ministers.
1893 Slater dir
M'Leod Neil, M.A., Rev., Newport Free Church : Places Of Worship And Their Ministers.
1892-93 dir
MacLeod, Neil; Newport Free Church, Rev. [under Places Of Worship]
1892-93 dir
Rae, Frederick J., colleague and successor; Newport Free Church, Rev. [under Places Of Worship]
1891-92 dir
MacLeod, Neil; Newport Free Church, Rev. [under Places Of Worship. ]
1890-91 dir
MacLeod, Neil; Newport Free Church, Rev. [under Places Of Worship ]
1889-90 dir
MacLeod, Neil; Newport Free Church, Rev. [under Places Of Worship]
1889 Slater dir
M'Leod Rev. Neil, M.A., Newport Free Church : Places Of Worship And Their Ministers.
1888-89 dir
MacLeod, Neil; Newport Free Church, Rev. [under Places Of Worship. ]
1886 Slater dir
McLeod Rev. Neil, Newport Free Church
1885 Clark dir
M'Leod, Rev. Neil, Newport Free Church : Places Of Worship.
1882 Slater dir
M'Leod Rev. Neil, Free Church Newport : Places Of Worship And Their Ministers.
1878 Slater dir
M'Leod Neil, Rev., Free Church, Newport : Places Of Worship And Their Ministers.
1877 Worrall dir
M'Leod Rev. Neil, Free Church Newport : Places Of Worship And Their Ministers.
1873 Slater dir
M'Leod Rev. Neil, Free Church Newport : Places Of Worship And Their Ministers.
1867-68 dir
Macleod, Rev. Neil, Free Church ; h. Free Church Manse
location 2
1867 Slater dir
M'Leod Rev. Neil, Free Church, Newport : Places Of Worship - And Their Ministers.
1866 Fife dir
McLeod, Neil, Rev. Free Ch. Newport, E Newport
1862 Fife dir
McLeod, Neil, Rev. Free Ch. Newport, E Newport
1861 Slater dir
M'Leod Rev Neil, Free Church, Newport : Places Of Worship
1853-54 dir
M'Leod, Neil. Free Church, Newport, Rev. [under Places Of Worship. ]
1852 Slater dir
Melson [sic] [Nelson], John, Rev., Free Church, Newport
Census records
Valuation Roll entries There are 4 entries
| Year | No. | Property | Proprietor | Tenant | Occupier | Value | | |
| --- | --- | --- | --- | --- | --- | --- | --- | --- |
| 1969-70 | 1826 | Church & Hall | Trs for St Fillan's Church of Scotland Congregation per William R Scott, 18 Tay Tce | | proprietor | 285 | View details | |
| 1967-68 | 674 | Church & Hall | Trs for St Fillan's Church of Scotland Congregation per William R Scott, 18 Tay Tce | | proprietor | 285 | View details | |
| 1964-65 | 674 | Church & Hall | Trs for St Fillan's Church of Scotland Congregation per David M Kerr, 11 Kilnburn | | proprietor | 200 | View details | |
| 1961-62 | 2008 | Church & Hall | Trs for St Fillan's Church of Scotland Congregation per David M Kerr, 3 Kilnburn | | proprietor | 200 | View details | |
Early Sasines:
Sasine Plots:
| | | | | | |
| --- | --- | --- | --- | --- | --- |
| Plot: 146 | Maryton | lot 13 | 35 falls (original has 37 falls) | on S side of Union Street | view plot details |
Sasine Abridgements:
Ref
In Brief
Abridgement
Recorded
Plots
1873.02730
Trs Free Church to Trs Free Church
Feu ch by Trs Free Church Congregation at Maryton to Trs for said congregation … of pce grnd 99 feet in length N - S, 62 feet breadth with school or schoolhouse thereon at Maryton adjacent to Free Church of Maryton, part of 35 falls of Seacraig, lot 13, : N by Union St, : S by King St …
3 Nov 1873
99, 146
1862.01451
apportionment of feu dutues by Church of Scotland
Trs General Assembly of Church of Scotland grant deed of appointment of trust declaring the following plots - plots 1st - 24th described in disp (11 Nov 1862) - held by them for payment out of the rents, feu duties, etc thereof of the annual sum of £80 to minister of parish of Ardallie, and surplus rents etc to Treasurer, Church of Scotland, for endowments of chapels of ease (see 01395)
24 Nov 1862
95, 102, 147, 148, 112, 113, 157, 117, 146, 100, 153, 194, 150, 165, 152, 202, 149, 75, 67
1862.01395
Tayfield to Church of Scotland (feu duties, rents) [1-21 Marytown, 22-23 south of Marytown, 24 Craighead, 25-43 St Phillans]
Trs General Assembly of Church of Scotland regist disp to themselves by John Berry, Tayfield of the following lands & others, pts of lands of Inverdovat, Craighead & Causewayhead, viz (1) 3 cottages in village of Marytown (now Easter Newport); pce grnd with the 2 cottages t/on on E side of E-most of said 3 cottages; self-contained cottage with attics & garden grnd; 19 falls 5 yd (22 pol 29 yd) grnd with the 2 cottages t/on on S side of road Newport - Ferryport, being all pts of subjects described in the title deeds as 2 roods 4 falls 24 ells grnd pt of lands of Seacraig etc and therein descr as marked no. 1 & no. 2 on a plan; [lot 3 not mentioned]; (2) 42 falls 17 ells (1 rood 13 pol 12 yd) grnd no. 4 on said plan & erections t/on; (3) 52 falls 10 ells grnd no.5 on said plan & ho etc t/on; (4) 52 falls 10 ells (1 rood 25 pol 28 yd) grnd no. 6on said plan & ho etc t/on; (5) 41 falls 31 ells grnd no. 7 on said plan; (6) 2 pces grnd extending to 1 rood 30 falls 34 ells nos. 8 & 9 on said plan & houses t/on; (7) E-most half with the houses etc t/on, and W-most half of 2 pces grnd 80 falls 29 ells no. 10 & 11 on said plan; (8) 29 falls 22 ells grnd lot no. 12 on plan; (9) 35 falls and (10) 35 falls grnd nos. 13 & 14 on plan; (11) 40 falls 4 ells grnd no. 15 on plan & bldgs t/on; (12) 40 falls 4 ells grnd no. 16 on certified copy of said plan; [lot 17 missing]; (13) 40 falls 4 ells grnd no. 18 on plan; (14) 35 falls (41 pol 4 yd) grnd no. 19 on certified copy of plan & ho etc t/on; (15) 49 falls 14 ells grnd no. 20 on plan & houses etc t/on; (16) 40 falls 4 ells grnd lot 21 on cert. copy of plan; (17-20) 4 pces grnd 40 falls 4 ells each nos. 22, 23, 24, 25; (21) 49 falls 14 ells grnd no. 26 all on said plan & houses t/on;
(22) 1 rood 34 falls 18 ells grnd no. 39 on a plan; (23) 3 roods 38 falls 15 ells (4 rood 39 pol & 14 sq yd) grnd to the S thereof with quarry therein, being all pts of lands of Seacraig;
(24) 10 acres 32 falls of lands of Craighead & houses t/on;
(25) lot of 41.66 pol and (26) lot of 42 pol grnd marked no. 1 & 2 of street called Hillside Crescent on a ground plan; (27) lot of 44 pol (28) lot of 34 pol and (29) lot of 35 pol 16 yd grnd nos. 3, 4 & 5 on said ground plan; (30) lot of 44 pol grnd no. 6 on said ground plan on which a ho or cottage has now been erected; (31)lot of 44 pol grnd forming lot 7 & pt of lot 8 on said plan; (32) lot of 39 pol 16 yd pt of lot 8 & pt of lot 9 on plan; (33) 39 pol 16 yd composed of stance marked no. 10 & pt of stance marked no. 9 on said plan; (34-41) lots of 29 pol 28 yd, 33 pol 4 yd, 28 pol 26 yd, 22 pol 14 yd, 22 pol 14 yd, 22 pol 12 yd, 25 pol 23 yd, 30 pol 21 yd of grnd lots 11, 12, 13,14,15,16,17,19 on said plan; (42) lot of 30 pol 7 yd grnd no. 20 on plan & ho etc t/on; (43) 58 pol 15 yd forming 2 lots marked no. 21 & 22 on said plan, being all pts of park or pce grnd bewteen village of Easter Newport & t/p Newport - Cupar, & teinds ... reserving the feu rights …
[43 plots listed, but 1863.02082 refers to 45 plots - which is correct? Were lots 3 & 17 of Marytown added later?]
11 Nov 1862
95, 102, 147, 148, 112, 113, 157, 117, 146, 100, 153, 194, 150, 165, 152, 202, 149, 75, 67, 243, 292, 291, 287, 288, 311, 289, 312, 308, 247, 256, 278, 285, 286, 284, 72, 204, 207, 290
1845.01968
Trs George Milln to Free Church
Trs Free Church at Maryton or Easter Newport in parish of Forgan seised 35 falls ground & bldgs t/on pt of lands of Seacraig - on disp by Trs George Milln, bookseller
30 Apr 1845
146
1840.04998
George Milln to Trs
Trs George Milln seised lodging or dwelling ho on N side of Union Street, Maryton, sm ho attached thereto & pce garden ground, in whole measuring 34 falls, the back court attached to said tenement & 3 stables (now converted to dw houses) t/on measuring in all 10 falls; & 35 falls & houses t/on on S side of Union Street in the lands of Seacraig - on disp by said George Milln, 8 Sep 1837
20 Jul 1840
146, 94
1834.01561
Scotscraig to George Milln
George Milln, now residing Maryton, seised 37 falls land of Seacraig on S side of Union St, Maryton, on feu ch by Tr seq. estate Robert Dalgleish of Scotscraig
15 Mar 1834
146, 250
Brief explanation of sasine abridgements Explanation of the format of a sasine
Abbreviations in the notes
t/on - thereon; t/p - turnpike; dw - dwelling; ho - house; pt - part; pce - piece; grnd - ground; bldg - building; Tr/Trs - Trustee/Trustees; ... - words omitted; pol - poles; yd - square yards; : - bounded
Return to: Home Page Present-day Addresses Properties Map Old House Names Directories Valuation Rolls Sasines Census